Crypto-verse has become an interesting topic in recent years. It quickly became a multi-billion dollar industry, and crypto investors rely on many technical tools, indicators, and chart patterns. So choosing the best charting tool enables functionalities to conduct the best technical analysis. Moreover, winners always use the best charting tools to generate trade ideas.
However, choosing the best chart provider platform requires checking several factors, including available tools, real-time data updates, sources for collecting data, etc. This article will introduce you to the best ten crypto charts available worldwide.
Best ten crypto charts provider platform
Crypto traders often spend a lot of time analyzing by observing various graphs and charts to determine the current sentiment of traders, how the price is trending, entry/exit points, etc. Professional crypto traders always use the best metrics and charts to generate the best trading ideas. 
The top ten crypto charting and visualization tools for crypto investors are:
Tradingview

CryptoWat.ch

Coinigy

Glassnode 

CoinParticle

Coin 360

Quantifycrypto

CryptoBubble

Coin Dance

Gocharting
Tradingview
The top among the list of best crypto charting sites in our list is Tradingview. It is maybe the most popular platform as a significant number of crypto analysts and traders use this platform. Many significant players like WazirX, CoinMarketCap, Binance, CoinGecko, etc., use Tradingview charts on their platforms.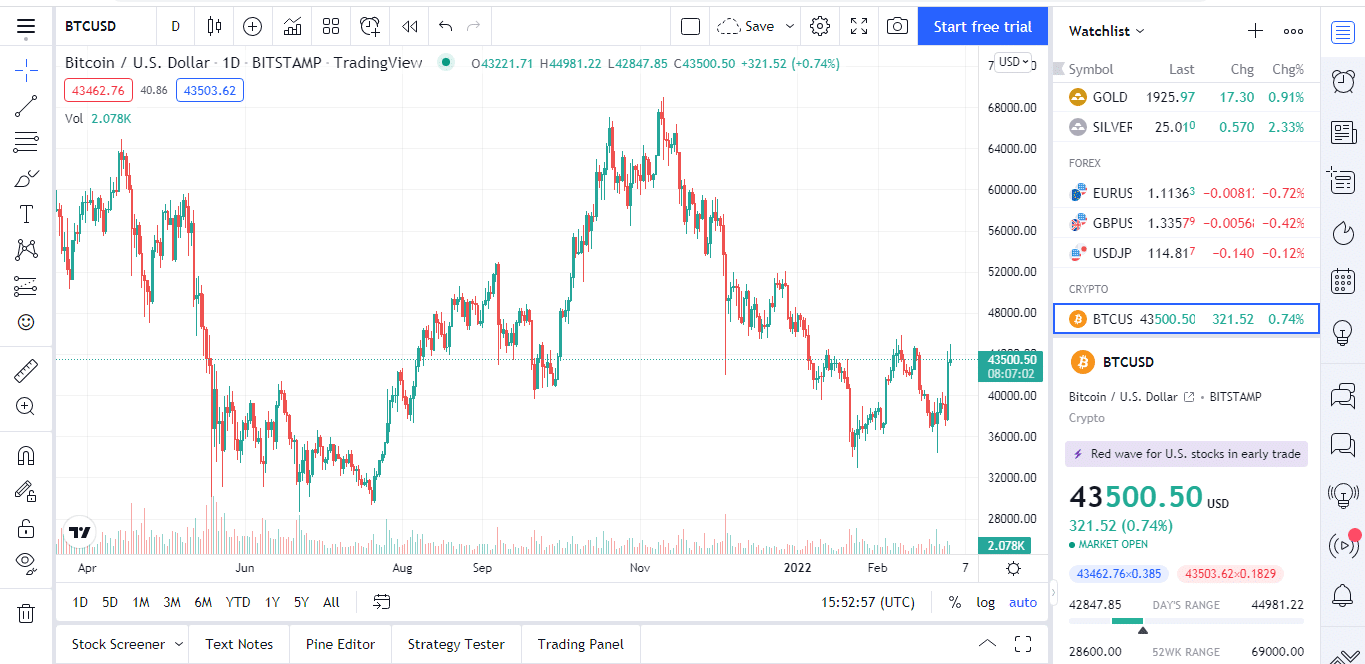 You can consider Tradingview a strategic platform as it involves various features such as charting tools like trendline, Fibonacci Retracement tool, multiple shapes, and technical indicators. You can learn to practice advanced charting using this platform. 
You can go to the browser and start charting, sharing, learning, and following various trading ideas. It enables browser-based charts and provides real-time data, so you can use this platform from anywhere without going through any complex installation process. You can overlay and compare various assets and symbols in Tradingview (Ex. Bitcoin vs. gold).
CryptoWat.ch
The second most preferable crypto charting platform in our list is CryptoWat.ch. It is a portfolio tracking, live crypto market data collecting, and an open-source platform that offers a mobile platform for Android devices alongside a web interface.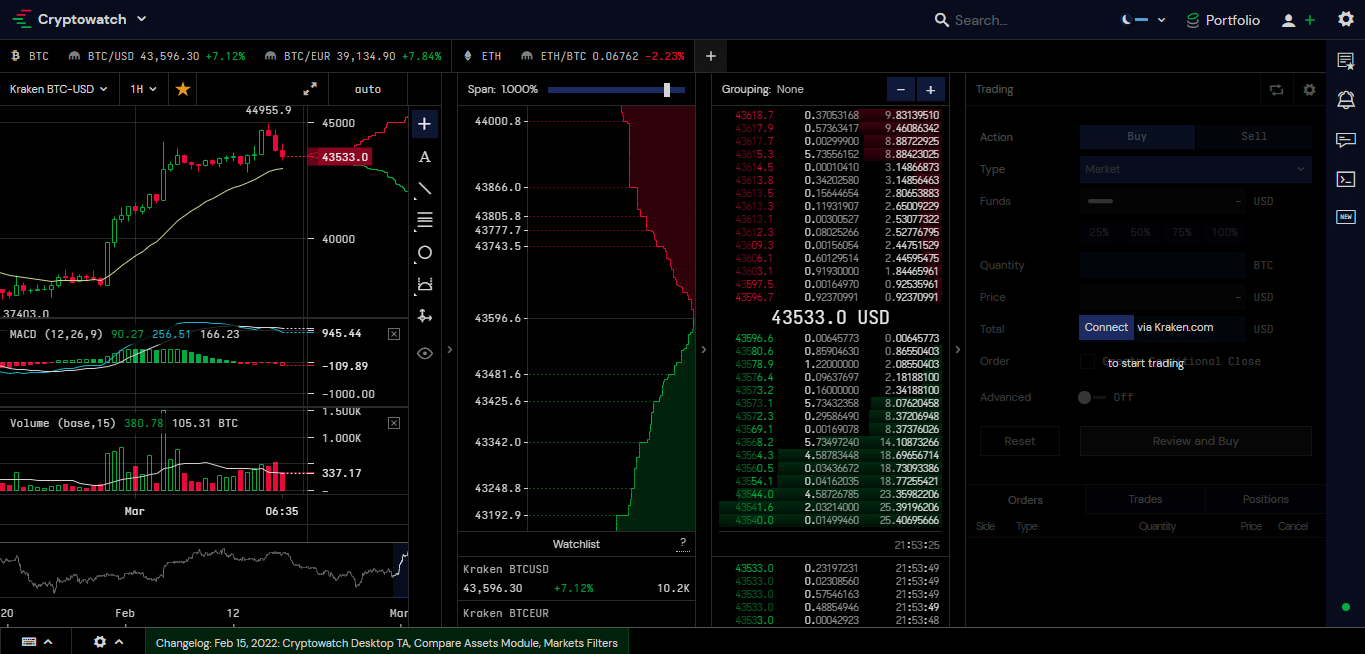 This platform contains an interactive global chatbox, where any crypto traders can communicate with other crypto investors from any region. CryptoWat.ch offers individuals different digital asset settings, including a time frame, crypto pair, and customizable period. The embed charts on blogs or website features make this platform rapidly popular to crypto investors worldwide.
Coinigy
It is another popular portfolio management and altcoin charting website. It enables professional-grade crypto charting that is worth checking as the design of this platform meets all requirements for professional crypto technical chart analysts. You can access 75+ technical indicators, historical data, real-time API, etc. many other attractive features.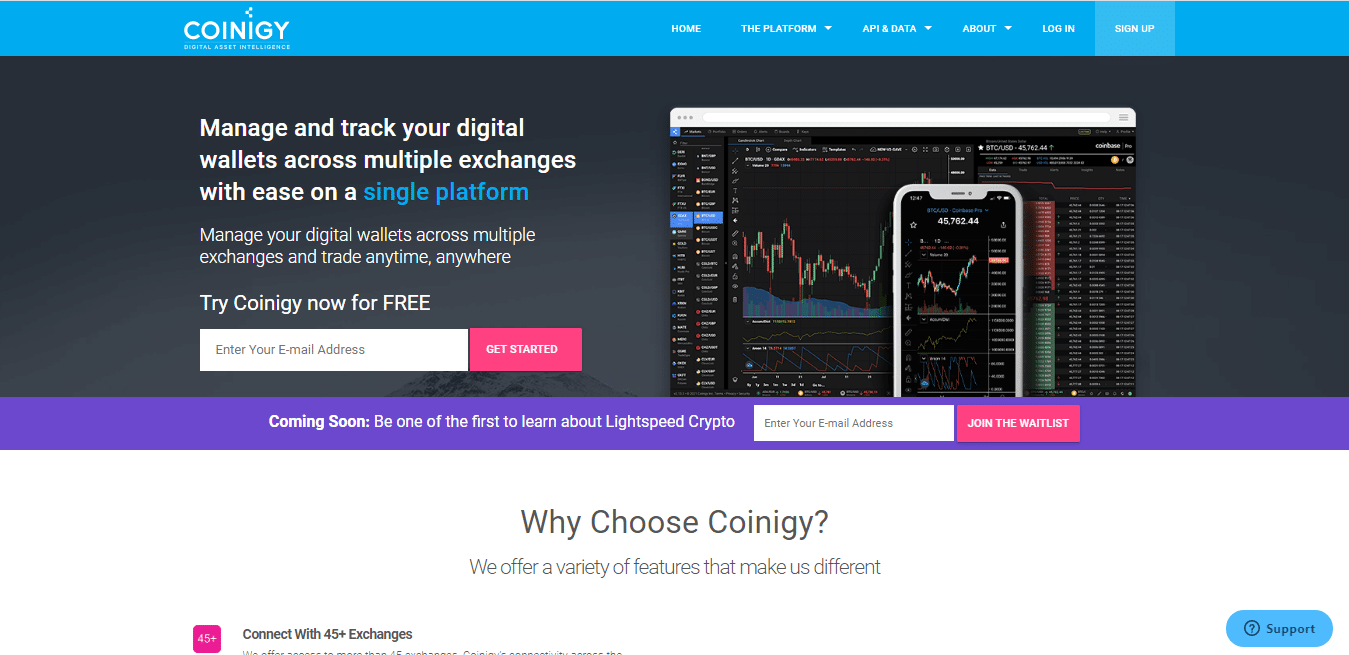 This platform has data connectivity with more than forty-five major crypto exchange platforms, including Kraken, Bitflyer, Binance, BitMEX, Deribit, Bitfinex, CEX.IO, OKEx, etc.
Glassnode
The next on our list is Glassnode, another popular platform. It provides intelligence on blockchain and data by generating innovative tools and on-chain metrics for crypto analysts, investors, and traders. This platform uses machine learning and science to deliver market intelligence. The unique insight features of this platform help both retailers and institutions.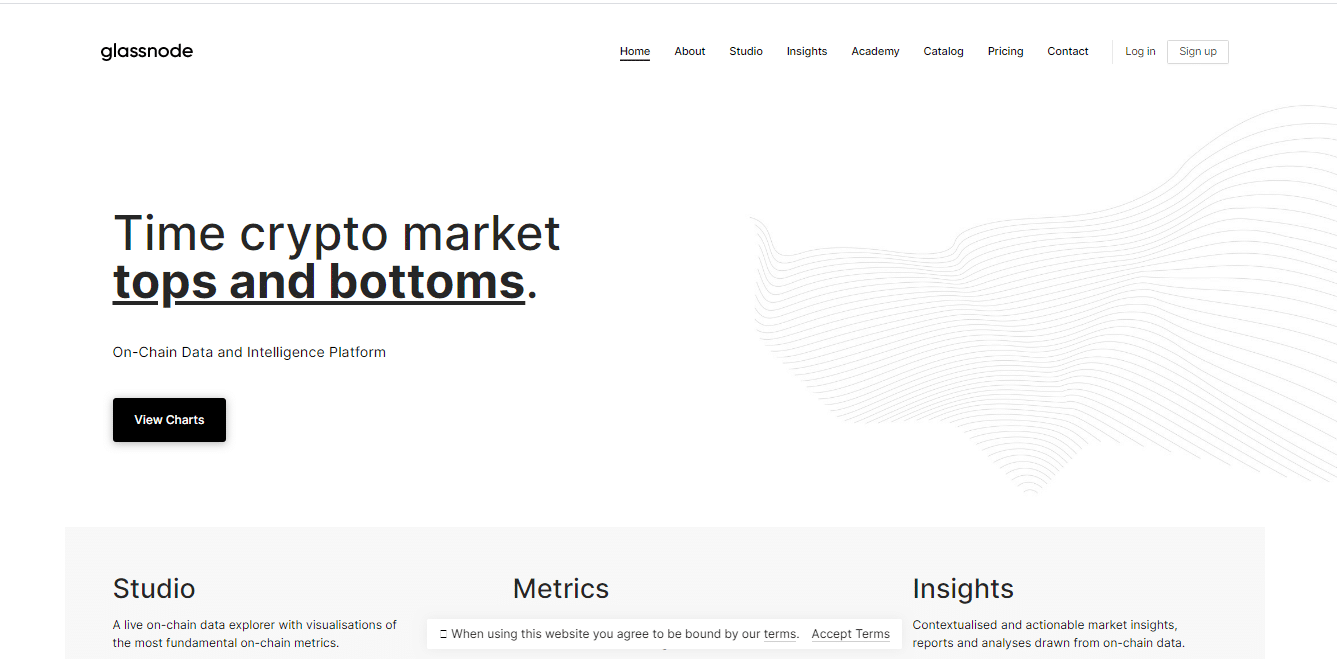 Glassnode provides intelligence and this data through their API and Glassnode Studio web app. Whereas through Glassnode Insights, users can get marketing analyses and commentary.
CoinParticle
It is the next on our list that you can consider as a live cryptocurrency data visualization tool. It provides a clear and new perspective of the cryptocurrency market through innovative visualization features.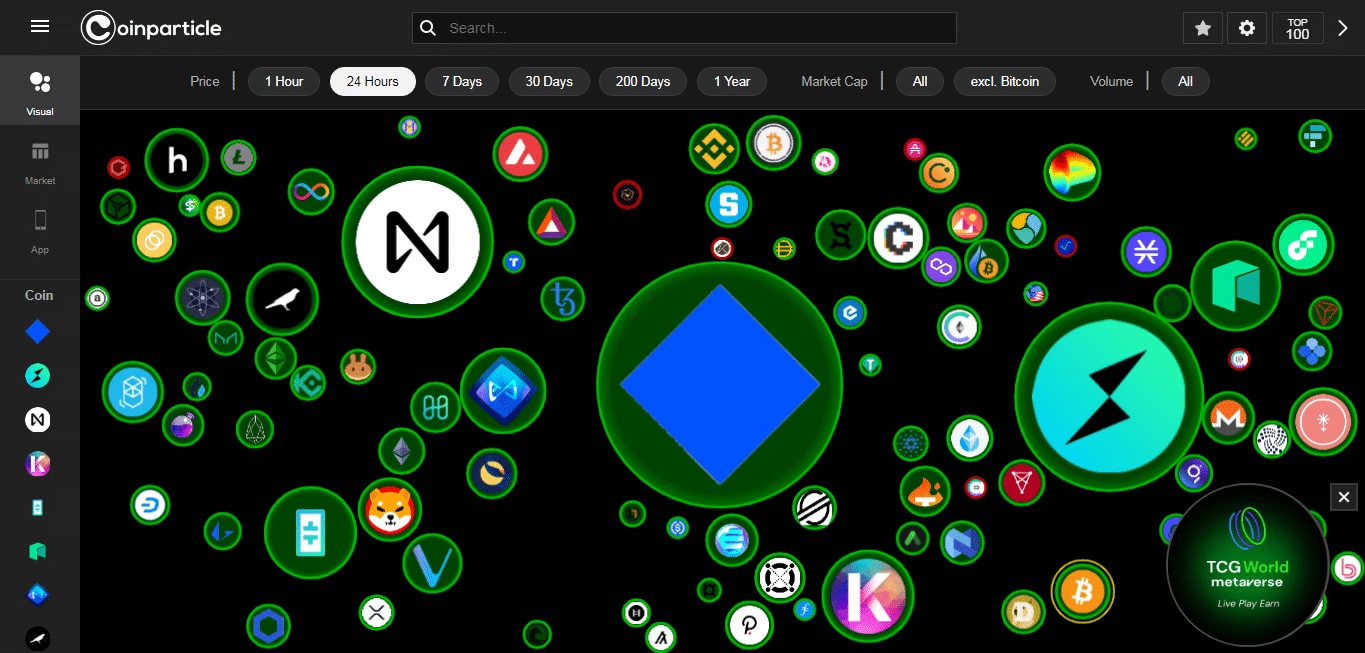 The particle-based visualization feature of this platform enables users to determine trends, patterns, and insights into the crypto marketplace. So no wonder that it has become a popular platform for hobbyists, a professional, a trader, or media outlets.
Coin360
The following top crypto chart provider on our list is Coin360. It offers to provide visual data and interactive crypto charts for users. Heatmap, liquidity book, watchlist, widget, news, and global chart are the typical tools and features of this platform. Coin360 collects data from more than twenty-five crypto exchanges to determine the volume and price.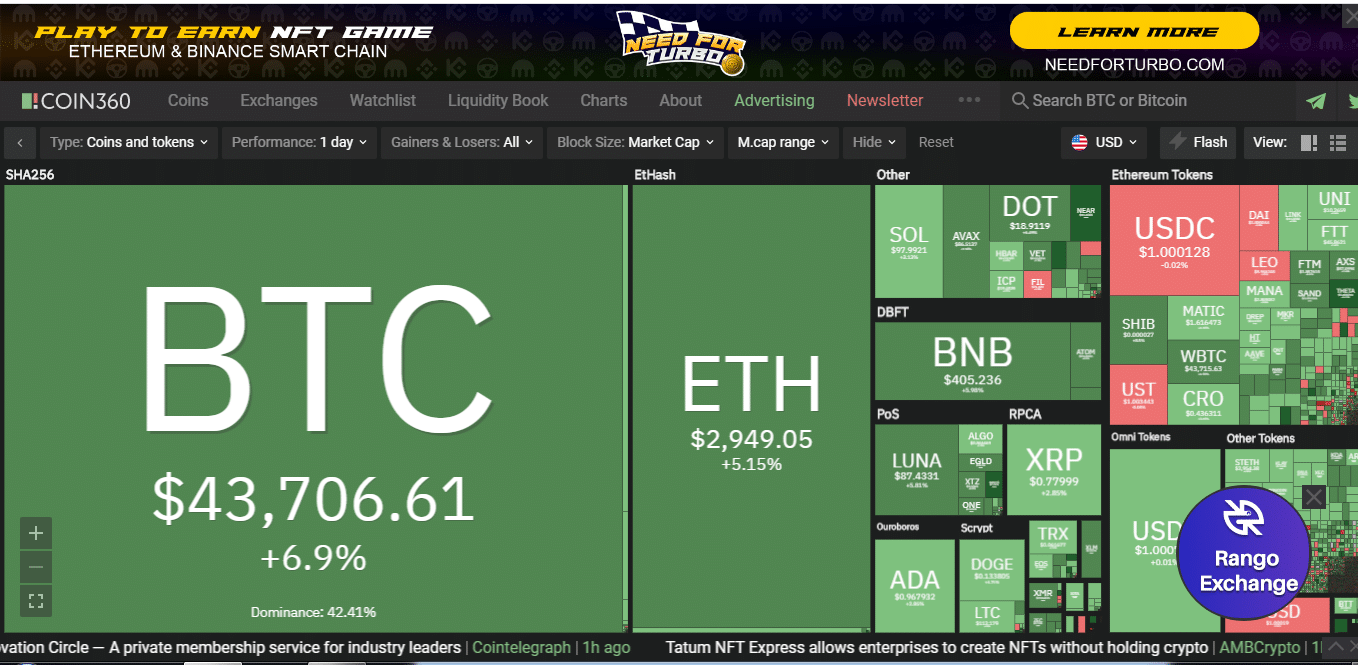 These sources include Bitmex, OKEX, Binance, HitBTC, Huobi Global, Upbit, Bithumb, Coinbase Pro, Bitfinex, Bitstamp, Kraken, Liquid, Gate.io, bitFlyer, Coinone, Gemini, Bittrex, Huobi (HBUS), itBit, Poloniex,  Korbit, Exmo, DSX, CEX.IO, IDEX, etc.
QuantifyCrypto
It is the following crypto chart provider tool on our list. This platform has a collection of different graphs, utility tools, and charts for serving intelligence purposes and conducting technical analysis for crypto expert traders.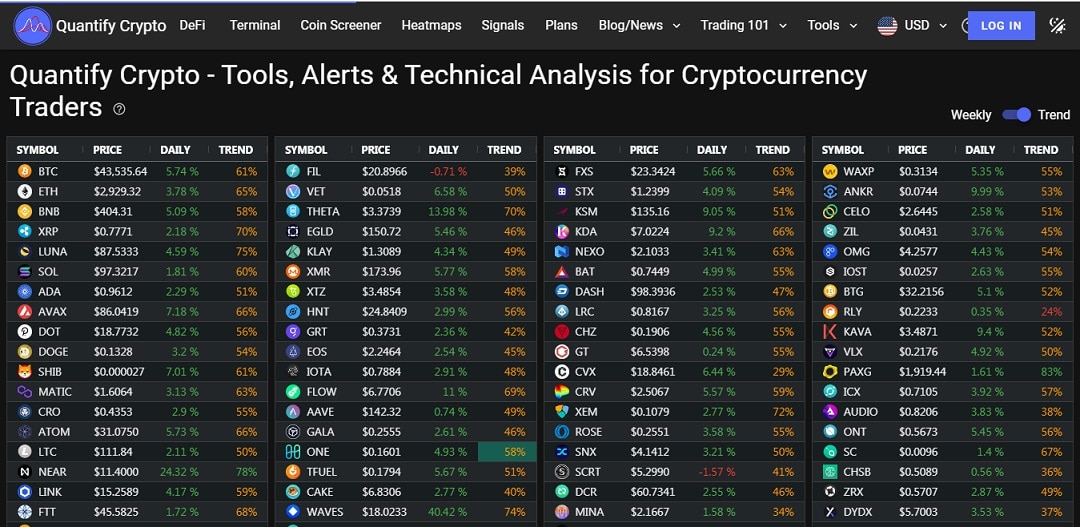 The terminal view of this platform delivers price trends, gainer/loser insight, market sentiment, heatmap, etc. At the same time, the coin screener view provides live prices of hundreds of crypto coins and DeFi projects. 
CryptoBubble
The following top crypto chart provider platform on our list is CryptoBubble. It shows an interactive bubble chart for more than a hundred crypto coins which is a valuable feature that enables sorting out the most winning coins of a particular period at a glance.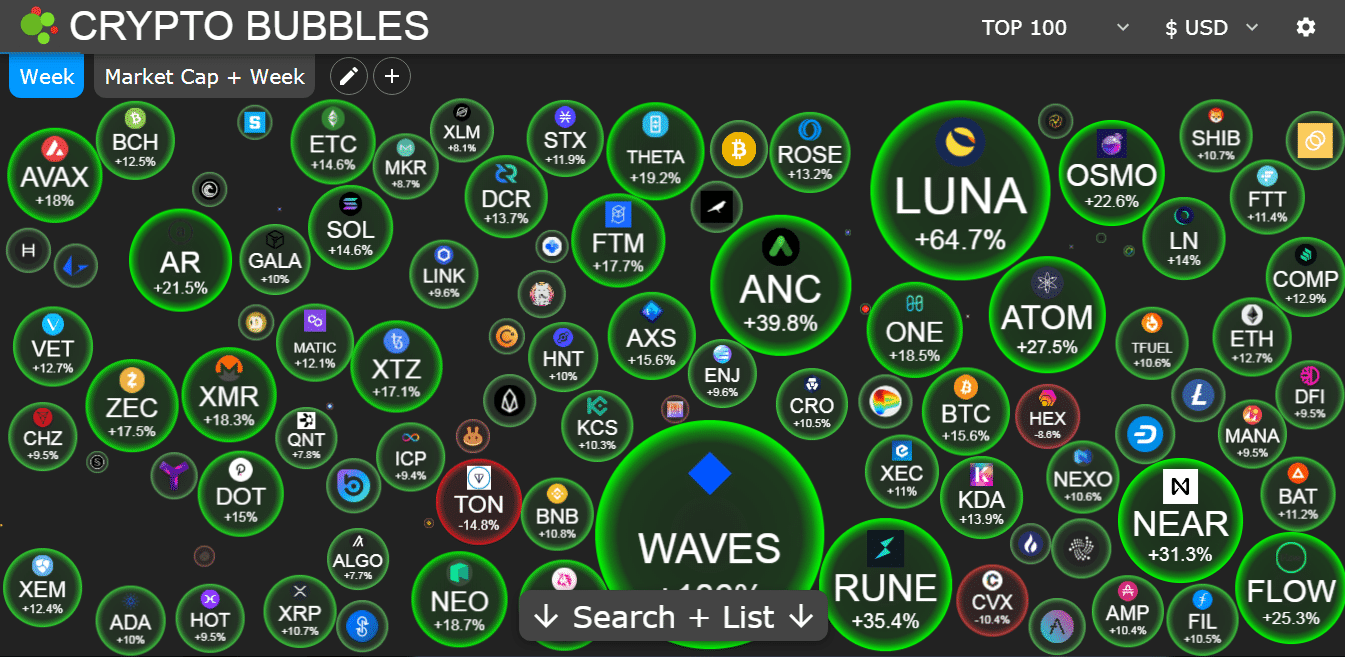 The top winners remain in big bubbles, and each bubble shows the gaining or losing percentages of specific crypto coins. This feature makes it an attractive charting platform for crypto traders.
Coin Dance
The next on our list is Coin Dance which is a community-driven platform. This platform has a "platform team" that conducts Bitcoin surveys by collecting market data such as trading volume, investor sentiment, etc. Depending on topics, they split this platform into eight parts.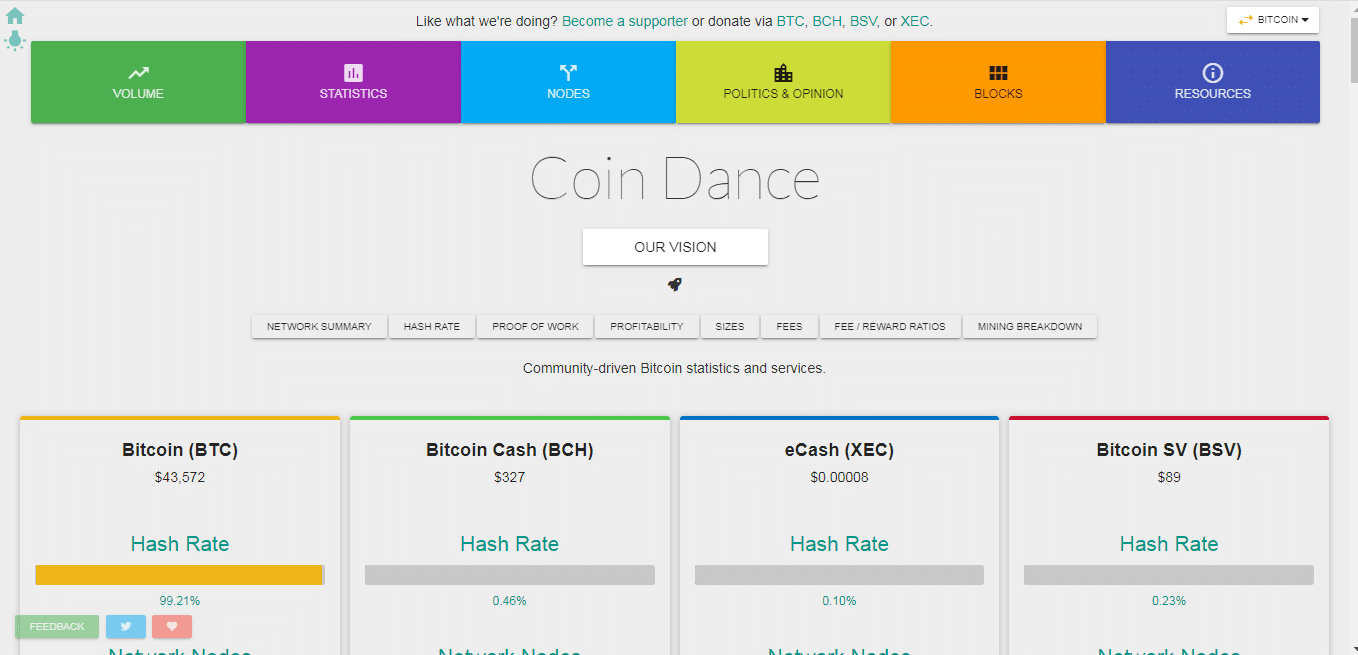 This platform provides much info about blockchain technology and cryptocurrencies with an easy access interface to facilitate the flourishing of comprehensive ideas and the diversity of various communities to grow.
Gocharting
Gocharting is the last of our top ten crypto chart providers. It enables individuals to track a massive range of crypto marketplace and shares similarities with the Tradingview platform.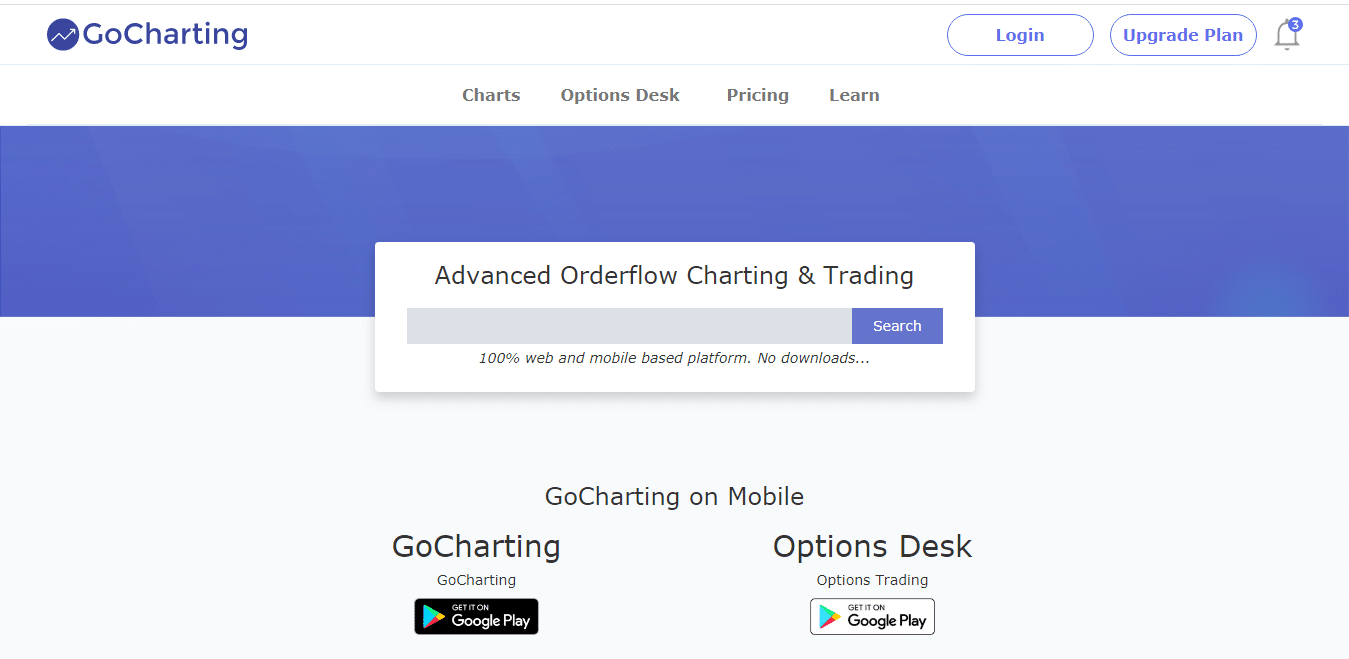 The exciting thing about this platform is it offers access to many free features, while you may need to pay in Tradingview to use the same features. It provides mobile platforms alongside a web interface.
Final thought
We make a list of the top-charting tools on our list. The best crypto chart providers we list here are helpful for any crypto investor, whether professional or novice. Expert traders always use the best charting sites to analyze, identify trends, and generate trade ideas.