On Wednesday, August 18, CoinDesk reported that Bitcoin rebounded from the 24-hour lows of $44,248 following Tuesday's profit-taking period amid short-term selling. As of a 24-hour high of $47,157, Bitcoin is changing hands for around $45,000, according to CoinDesk.
Institutional investors are taking more interest in the Bitcoin investment.
Bitcoin price sees a pullback after rising 63% from July 20 lows.
Seasonal effects could be the cause of the recent pullback.
Bitcoin fundamental analysis: institutions poised to raise investment in BTC
After repeatedly trying to set a price of $50,000, BTC has continued to cool despite multiple price changes in the past, although some believe this may not be an issue now, given the demand from prominent players.
Matrixport
According to Cynthia Wu, sales director at digital asset services company Matrixport, the current bull races are taking on a more mature trend than in 2017 and 2018. As a result, market landscapes have become much more institutionalized — hedge funds trade, forex brokers offer cryptocurrencies, and institutions trade at an institutional level.
In Wu's view, the ongoing Bitcoin price trend and the merger of private and institutional investors indicate that the search for profits has gone beyond stocks and bonds to digital currency and will last forever.
CoinShares
An analysis by CoinShares suggests that the low level of investor participation may result from seasonal effects in other asset classes.
Fidelity
The world's largest investment firm, said 90% of its biggest clients are interested in investing in leading cryptocurrencies and other digital assets. As a result, asset managers will make new asset classes more accessible to institutions.
The Fidelity Digital Assets sales and marketing director stated that institutional interest in Bitcoin is growing. Tom Jessop, head of the company's cryptocurrency division, added that governments worldwide are printing money due to the Covid-19 pandemic, one of the main factors driving investors to invest in cryptocurrencies.
Investors can access the digital asset market directly via Fidelity's long-term financial infrastructure.
Luno crypto exchange
The markets have shown positive momentum this week. According to Byron Goldberg, altcoins are growing, and Bitcoin is stagnating, the Luno cryptocurrency exchange manager. Interestingly, we see that Ether is slightly outperforming Bitcoin every week.
Long term trend
After rebounding more than 63% from its July 20 low, Bitcoin prices are experiencing a pullback. Probably due to seasonal effects, institutional interest in investment products from leading cryptocurrencies has declined. However, a major financial institution has shown increasing interest in accessing BTC, which provides some hope for BTC investors.
Since its August 14 peak of $48,251, the Bitcoin price has been trending downwards. For the second consecutive week, institutional investments in cryptocurrency experienced outflows of $22 million.
Bitcoin technical analysis: bears aiming to test 20-DMA
In the daily chart, the Momentum Reversal Indicator (MRI) reached a peak on August 13, which indicates a pullback is imminent. As BTC has now had a lower closing price for four consecutive days, its price continues to struggle.
Due to this, Bitcoin's 200-day simple moving average (SMA) no longer serves as a support, which exposes it to further losses.
Bitcoin's first line of defense is the 20-day moving average, which coincides with the 23.6% Fibonacci retracement level of $43,673.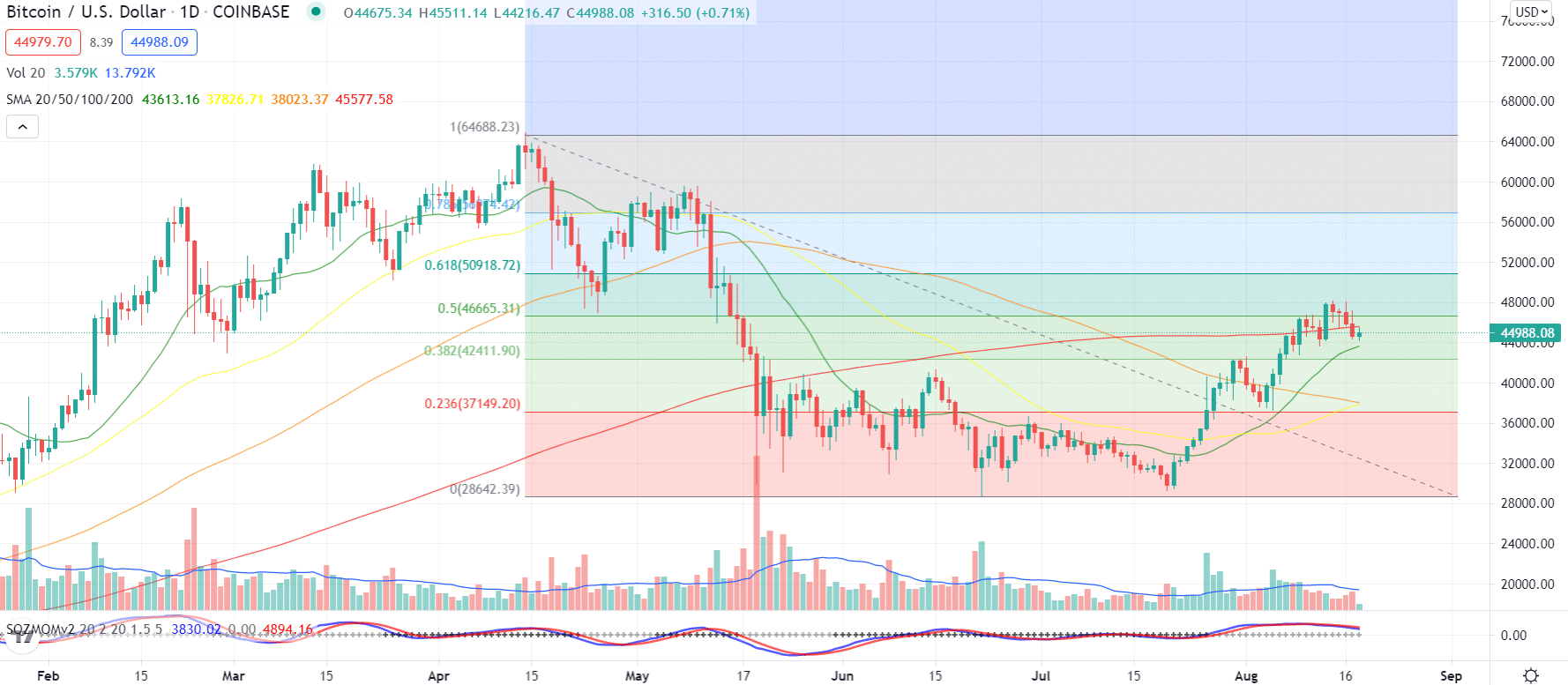 The largest cluster at the current price is $43,399, according to IntoTheBlocks In / Out of the Money Around Price (IOMAP), which shows 144,910 addresses bought 401,160 Bitcoin.