Index funds are attractive options for financial investors who may seek to make profits without spending much time doing analysis. These funds allow making profits only by paying small management fees depending on capital sizes. The Blackrock Equity Index Fund is a potential fund among similar types.
This article will introduce you to the Blackrock Equity Index Fund, a complete review. After completing this article, making an investment decision on the asset will be easier. However, it requires checking the asset from several angles, such as performance measurement, ranking info, fees/costs, historical data, volatility measurement, etc., before choosing any fund.
What is the Blackrock Equity Index Fund?
BlackRock is an American multinational investment management corporation with many subsidiaries such as Aperio Group, BlackRock real estate, etc. The fund seeks to track the performance of the S&P 500 index. It follows the replicate indexing method to manage the asset.
This fund belongs to the large bend category. The legal name of this fund is the Blackrock equity index fund, which goes by the symbol "WBREOX." Meanwhile, the complete form of this fund is "Wilmington Trust Retirement & Institutional Services Co. – Blackrock Equity Index Fund." This fund invests in many sectors such as basic materials, financial services, real estate, energy, technology, utilities, healthcare, consumer defensives, etc.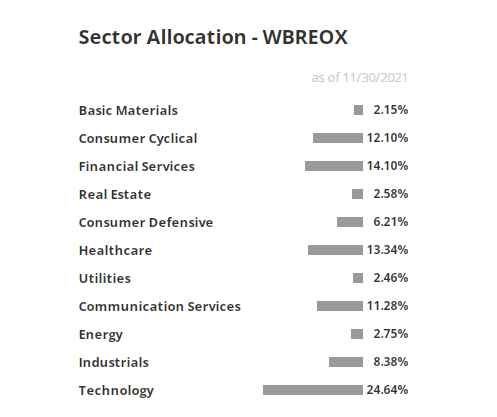 Most investments this fund makes are on the stocks of these sectors above. This fund has net assets of $4.5 billion.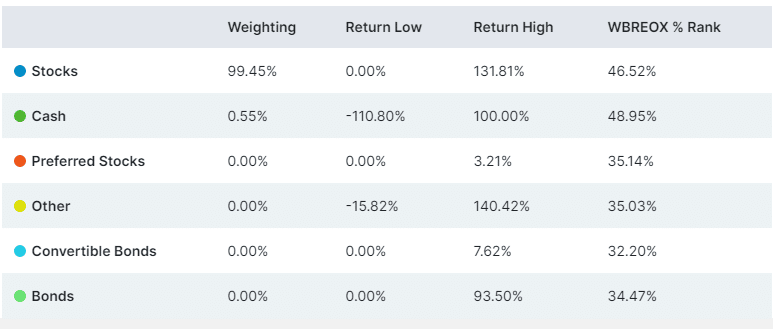 History of fund
BlackRock is a reputed asset management company. The founding year of this company is 1988, and the CEO has been Larry Fink since then. As of Oct 2021, this company has US$9.5 trillion assets under management, which groups it among one of the largest asset management companies.
The inception date of the Blackrock index fund is July 24, 2017. Although Blackrock has been operating for over two decades, this index fund is a comparatively new product. As of writing, the fund price is floating near $648.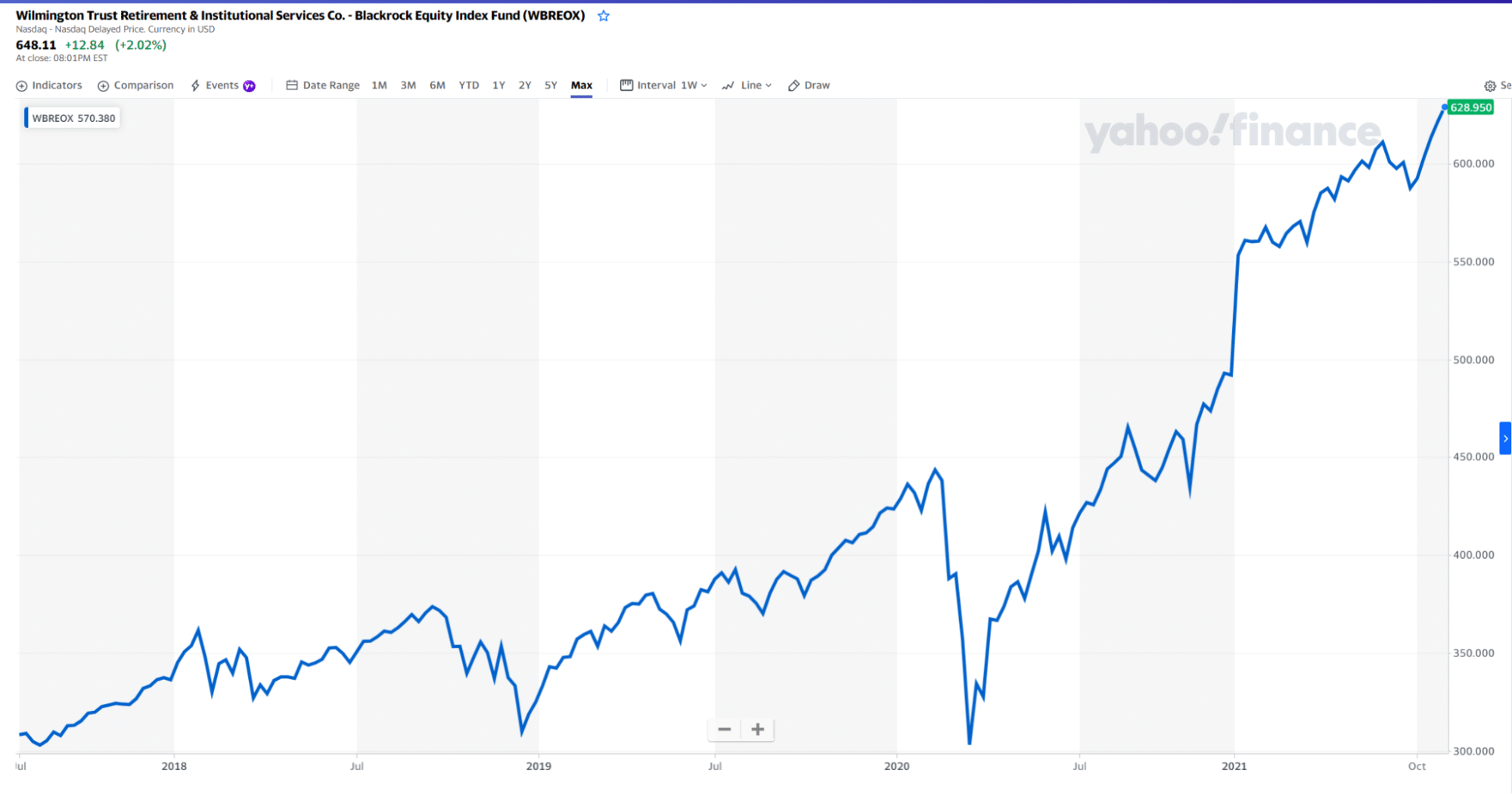 Rankings info
Morningstar is the organization that categorizes or gives a rating to various investment assets depending on many factors such as risk, return ratio, volatility, etc. This firm gives ratings from one to five. Any asset gets a five-star rating among the top ten per cent, and the worst assets get a one-star rating.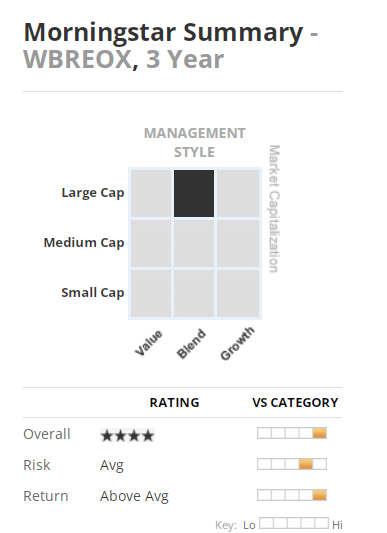 This company gives an overall four-star rating for this fund depending on three years duration performance.
Trailing total returns
The trailing return info is an essential factor for any asset. The recent one-month return is -0.70%, and the quarterly or three-month return is 1.32%. Meanwhile, the year-to-date return is 23.19% and one year return is 27.93%.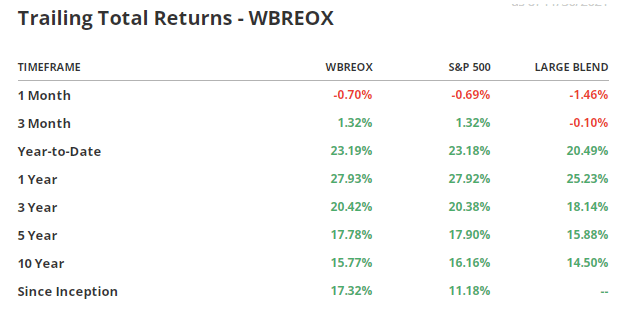 The chart above includes return info for many other durations. The total return of this fund has been 17.32% since inception. Meanwhile, the three-year average return is 20.4%, and a five-year average return is 17.8% for the fund WBREOX.
Performance measurement
It is mandatory to observe performance measurements on any particular asset before investing. When measuring performance, it requires highlighting return info.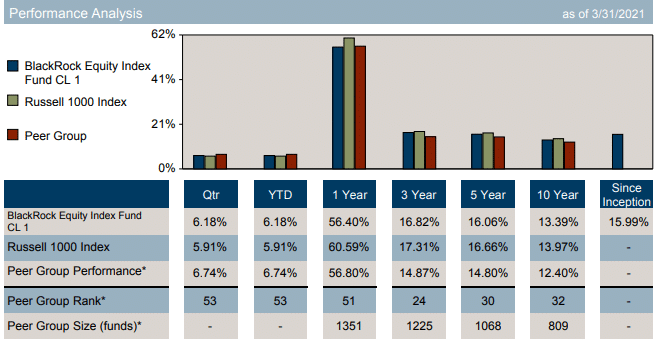 The chart below includes the return info of the WBREOX besides the category return low, category return high, and rank in the category yearly.

We are attaching a chart of the WBREOX on a different duration basis besides the category return alone, the category return high, and the rank in the category.

The concentration analysis chart will enable you to precisely understand the index fund context. It includes the number of holdings, net assets into ten, weighting assets in the top ten based on category low, category high, and WBREOX% rank.

Fees and costs
The fund WBREOX has an expense ratio of 0.02%, which is comparatively low among similar types of assets.

Meanwhile, this fund involves no sales fees or trading fees.

The turnover fee for the fund WBREOX is 9.09%.

Risks factors
When choosing any investment asset, it is always mandatory to check on risk factors. The fund WBREOX tracks the performance of many assets that involve many affecting factors. This fund invests in international securities that involve many risk factors such as geopolitical risks, currency risks, etc. Moreover, it involves investing in various sectors, which can be affected by many fundamental events or uncertainty. Past performance doesn't guarantee any future profit. So this large blend fund involves risks like small-cap funds, mid-cap funds, stable value funds, money market funds, etc. However, index funds always involve lower risks than other financial assets such as currencies, commodities, stocks, etc.
Volatility measurement
Volatility measurement is essential for any investment asset to learn the potentiality and risk factors. The standard deviation value of the fund WBREOX is 18.40. Meanwhile, no alpha or beta value is available till now.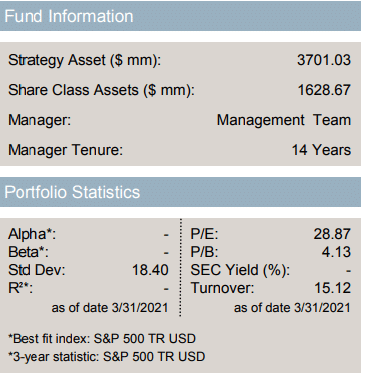 The Blackrock Equity Index fund forecast 2022
Since its inception, the Blackrock Equity Index fund has been gaining smoothly. We have been looking at every primary data of this fund during our research. Every elementary data suggests this is a potential investment asset in the next year, 2022, so we find that this index will continue to gain further upside without any uncertain events. This fund has some declining periods, but it recovers faster and grows every time.

Additionally, a strong management team is behind the fund, a positive feature for WBREOX. However, index funds have some risk factors as various factors can affect the price movement. So it is better to check on the additional info twice before making investments, such as capital size, return expectations, investment duration, etc.
Final thought
The index fund WBREOX is an attractive investment asset with many positive features. We list all available basic info about the index fund in our article. We hope you find this article sufficiently informative and educational besides answering your questions about this fund. It requires capital allocation besides checking on investment duration and return info before making investments.