BTC reached beyond September highs on October 6, settling near $56,000.
Bitcoin is moving in a sharp upward rally on the path to a new all-time high price.
BTC's ETF approval may add a surge in prices in the upcoming weeks.
The crypto king returns to a $1 trillion asset cap amid yesterday's jump, yet supply on exchanges continues to drop.
BTC fundamental forecast
Buyers remained active yesterday, and the price continued to rise. During the day, the coin broke through the psychological level of $55,000. While a short-term drop can occur, the long-term drop looks positive.
ETF approval
BTC prices have risen by 7% in the last 24 hours and a staggering 32 percent last week.
This positive price movement for BTC only might be a sort of front-running by big bag holders in anticipation of the US Securities and Exchange Commission's approval of a futures ETF.
Given remarks made by SEC Chairman Gary Gensler, a futures product allowing institutional investors to acquire exposure to BTC and speculate on its future price without actually holding any is likely to be authorized first.
Supply shocks
BTC supply shocks have driven the asset's price higher in the past. A decrease in supply across exchanges and a surge in whale accumulation have sparked past Bitcoin rallies.
BTC has risen beyond $55,000 as more institutions back the world's largest cryptocurrency. In addition, since El Salvador accepted Bitcoin as legal money, the asset has risen in value.
The balance of the most significant crypto coin across exchanges is seen as a leading signal of a positive trend reversal. However, the asset's on-chain activity is pretty neutral across exchanges, and there have been no big BTC inflows in the last week.
Surprisingly, the supply of Bitcoin is decreasing. Sell-side pressure on Bitcoin is relatively modest due to the lack of increased exchange BTC balance. Low sell-side pressure is usually regarded as a sign of a positive turnaround in the price of BTC.
El-Salvadorian president rejoice
Nobody is happier than El-Salvadorian president Nayib Bukele as the BTC price surges. He says that residents are on a BTC purchasing frenzy, claiming that $2 million per day is being transferred through the Chivo network and that bitcoin purchases are rising.
What's next?
Despite a reduction in purchasing activity this morning, the price has maintained over $54,000. Besides, it may continue to rise towards the next objective of $58,000.
Many analysts predict that BTC will soon cross the $100,000-mark, as everything looks green for the most prominent cryptocurrency.
BTC technical analysis: key levels in action
On the 4H chart, the 100-day moving average is way below the current price. However, the MACD is also pointing upwards. This signifies an expected bullish trend.
On the upside, resistance can be found at USD 55,500. The first significant barrier is at $56,200, beyond which the price may accelerate upward towards $57,800.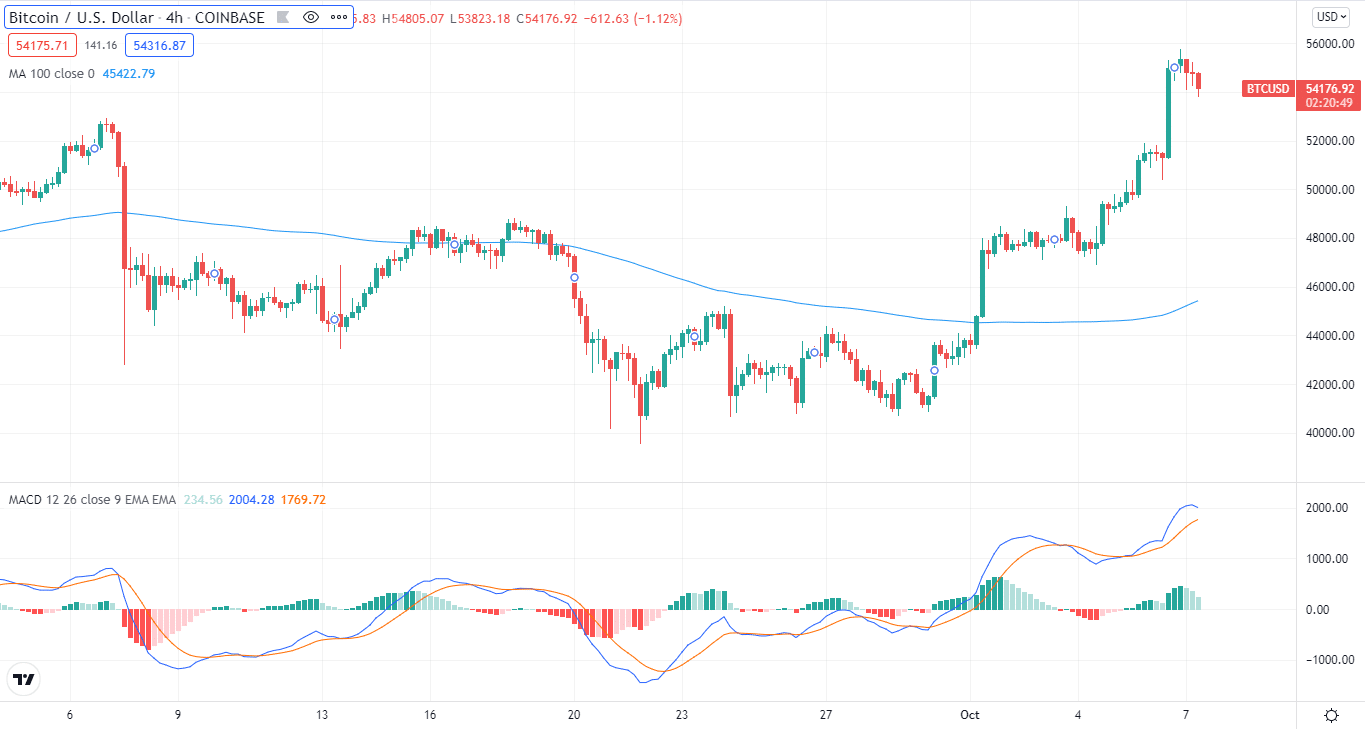 On the flip side, support lies at the $50,000 mark. If the price dips below this level, it'll further see a downward trend. However, this is unlikely, as all indicators suggest a bullish trend.
Even if we see a downtrend, it'll be temporary, and the bulls will soon take over.