The crypto market was down by 0.71% on September 7 amid China's decision to shut down BTC mining and El Salvador becoming the first nation to adopt BTC.
Bitcoin and other cryptos dipped as China stopped BTC mining.
El Salvador became the first country to adopt Bitcoin.
El Salvador has taken advantage of the drop in Bitcoin's price to stockpile additional coins.
Fundamental forecast
On September 7, the cryptocurrency market was down 0.71 percent. Cryptocurrencies are experiencing a tumultuous period with unpredictable price fluctuations after a year of increases and record highs.
Putting stops on mining
After a stunning 13 percent increase two weeks ago, Bitcoin's mining difficulty, a statistic that defines how tough it is for miners to identify new BTC blocks and receive rewards, has experienced a modest increase.
Mining BTC is growing more expensive due to the enormous amounts of current mining computing resources and increased rivalry among miners to find new blocks.
The most extensive cryptocurrency's recent bull run has countered rising expenses and kept Bitcoin mining viable, according to miners and mining pool managers.
In the latest wave of a crypto crackdown, China ordered BTC mining in its Sichuan province to be entirely shut down and told banks to stop facilitating crypto transactions. The migration of Chinese miners caused a severe scarcity of crypto king mining hosting facilities overseas.
While miners and hosting service providers race to construct new infrastructure, the hosting supply has yet to absorb all of the second-hand equipment from China, as well as the enormous numbers of new machines ordered by public miners in North America.
El Salvador approves BTC
El Salvador commemorated Bitcoin Day on September 7 by becoming the first country to adopt Bitcoin as a national currency. The risky project, however, had a rocky start.
The leading cryptocurrency's price fell by almost $7,000 in less than an hour on El Salvador's "Bitcoin Day," resulting in $2.6 billion in liquidations.
President Bukele took advantage of the chance to increase his BTC wager by acquiring 150 additional coins.
On the day El Salvador's BTC law went into effect, Bitcoin's price dropped $7,000 in a matter of minutes. After that, BTC dropped below $43,000 but soon rebounded to $47,000 before the end of the day.
Although the Latin American country's decision to accept BTC as a national currency has been lauded by the cryptocurrency world, many Salvadorans have expressed worries about the digital asset's use in the region for criminal purposes.
Protests have erupted in El Salvador only weeks before the legislation takes effect, as many fear that the move would jeopardize the country's already fragile economy. In addition, citizens are concerned about Bitcoin's instability since it is a volatile currency.
Introduction of Chivo wallet
Despite public protests, the new Bitcoin legislation went into effect on September 7, allowing Salvadorans to keep the cryptocurrency as part of a long-term investment strategy or withdraw it in the form of cash at ATMs around the nation.
El Salvador has developed Chivo, a Bitcoin wallet that would allow residents living abroad to transfer money back home to their relatives at lower remittance rates. President Bukele earlier stated that the Chivo Wallet would be available as soon as the new law is implemented.
BTC technical analysis: key levels in action
As mentioned earlier, BTC's price went down by almost $7000 before recovering back. At the time of writing, BTC is trading at 46308. BTC is below the 100-MA, and the RSI is near its oversold level on the daily chart.
Any downward movement will trigger a support level at 43000. If the coin falls below this level, it can further go below the 40000-mark.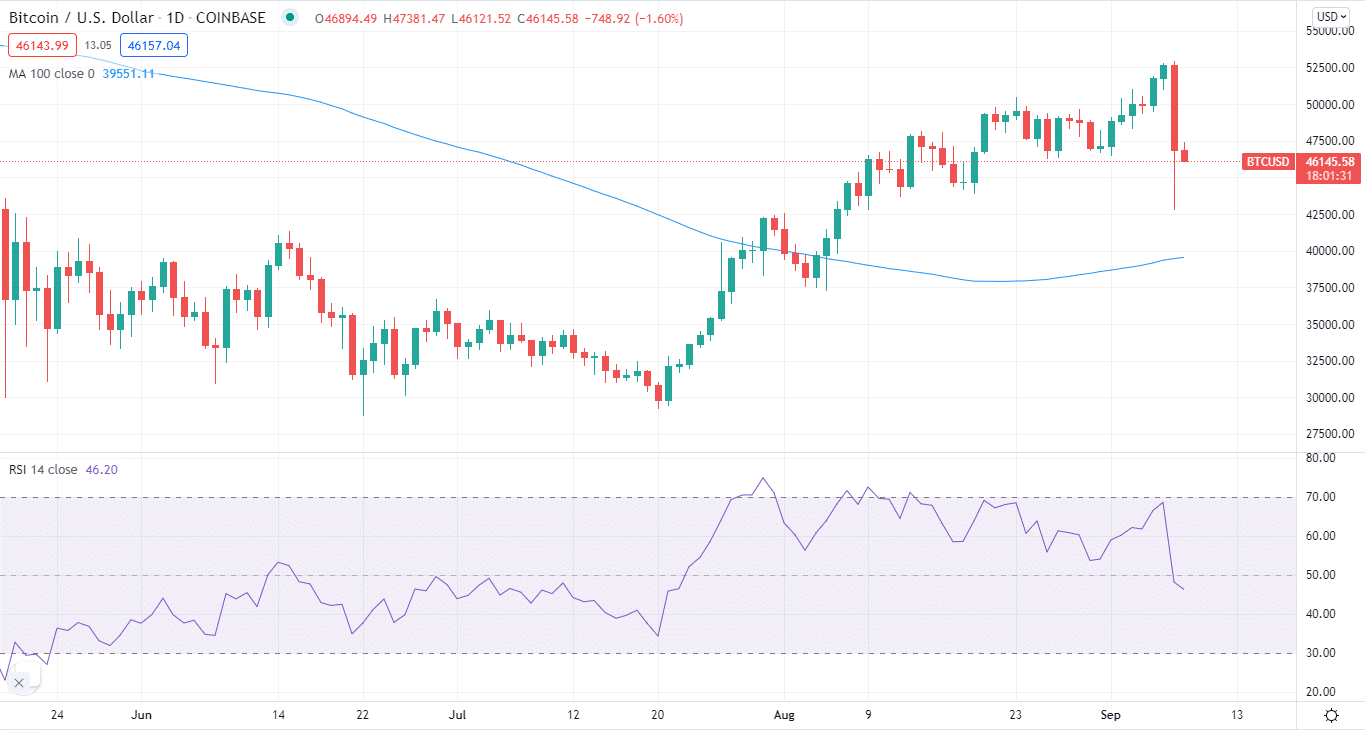 On the flip side, if the coin makes an upward trajectory, it can go towards the 50000-mark, which is its previous high.