On Thursday, stocks DJIA fell more than 350 points after Fed Chairman Jerome Powell signaled more interest rate hikes in May.
Dow Jones Industrial Average DJIA fell 368.03 points, or 1.1%, to 34,792.76.
On Thursday, Fed Chairman Powell said that 50 basis points might raise interest rates.
The 10-year US Treasury note has reached its highest level since December 2018.
DJIA fundamental forecast
On Thursday, the stocks fell sharply, reversing previous gains, as bond rates increased and oil, communications, and technology companies slowed down.
50 bps on cards 
DJIA losses accelerated as Fed Chair Powell stated his support for "front-end loading" of interest rate rises, including a possible 50 basis point move in May.
Powell stated that "returning inflation to the 2% target" is a critical policy necessity. He went on to say that "absolutely essential" pricing stability is needed to ensure labor market stability and overall economic stability.
US treasury on high 
The 10-year Treasury yield increased by around 8.1 basis points to 2.91% since December 4, 2018. The 30-year Treasury bond yield increased by two basis points to 2.95%. Yields move in the opposite direction of prices, and one basis point equals 0.01%.
Gainers and losers
The Dow Jones Industrial Average increased 2.92% to 69.5 points at the closing on Thursday. In late activity, International Business Machines gained 1.11% or 1.53 points to close at 139.85, while Verizon Communications Inc gained 1.10% or 0.60 points to close at 55.01.
Tesla shares rose 3.2% after the electric vehicle manufacturer reported higher-than-expected earnings thanks to pricing increases. The Tesla numbers helped mitigate the earlier shock from rival mega-cap technology behemoth Netflix Inc. NFLX, which plummeted 35% on Wednesday after estimating a two million-subscriber loss in the current quarter. 
The largest losers were Salesforce.com Inc, which fell 4.83% or 9.00 points in late trading to trade at 177.23. Chevron Corporation was down 4.61% or 7.95 points to 164.58, while Walt Disney Company fell 2.34 or 2.91 points to 121.66.
What's next? 
The opinions of Fed members from across the policy horizon on the next few meetings remain quite consistent. This is particularly true for May, when we may expect a 50-basis-point increase and the beginning of balance-sheet contraction.
Investors are especially concerned about the potential drag on economic development that growing inflation and the Fed's efforts to curb these price pressures may have. So, the markets will take fresh impetus from the Fed policies.
DJIA technical analysis: towards bearish bias?
At the end of Thursday's session, DJIA closed the day at 34792, dropping 368.03 points. The index is slightly below its 100-day MA on the daily chart, and the RSI points downwards.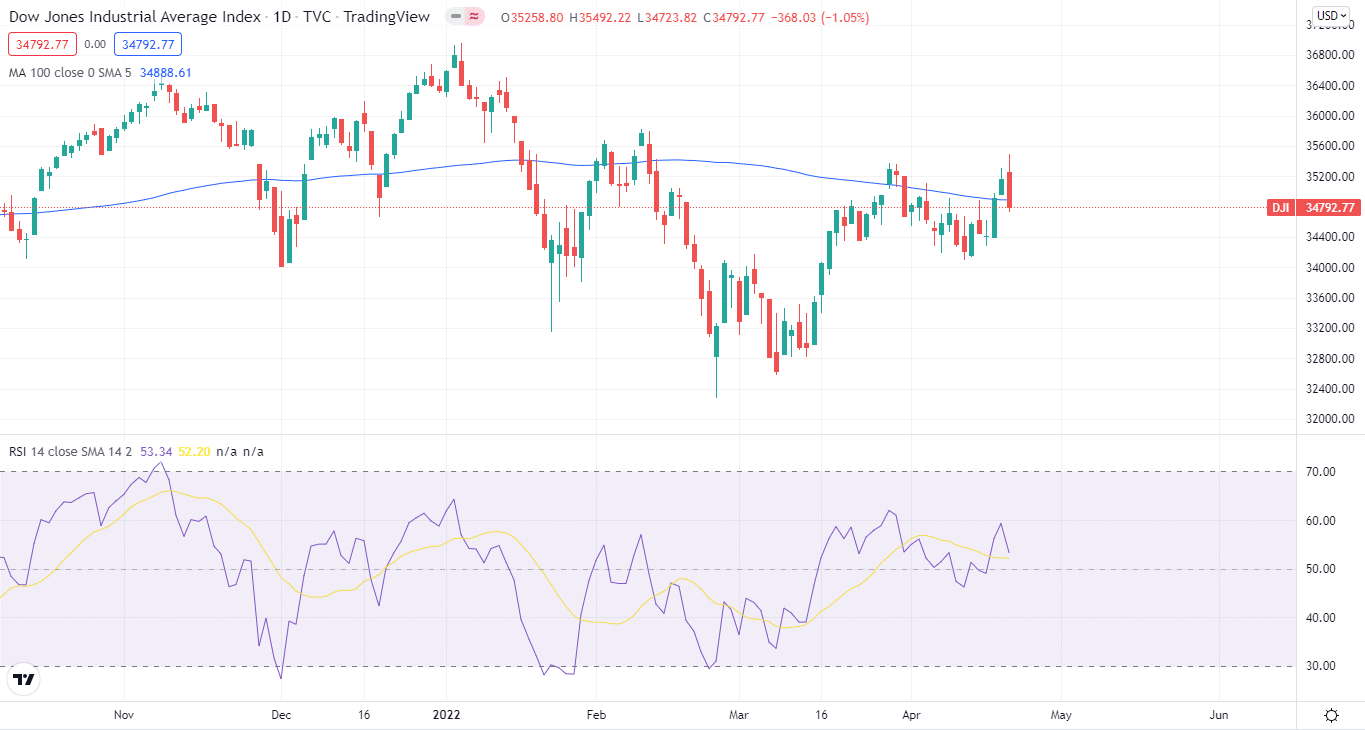 A break above 35000 would open the door to 35238. If it can cross that level, we'll see the index touching 35588. On the flip side, the next support for the index lies around 34671. If the index slips below this level, we can see a downward movement towards the 34104 level.