On Thursday, stocks fell sharply due to rising tensions between Russia and Ukraine, with investors fleeing riskier assets in favor of bonds.
On a point and percentage basis, the Dow Jones Industrial Average had its worst day performance of the year.
The blue-chip average fell 622.24 points, or 1.8 percent, to 34,312.03, dropping gradually throughout the day.
The continuous tensions between Russia and Ukraine had investors on the edge of their seats.
DJIA fundamental forecast
As geopolitical tensions between Washington and Russia over Ukraine escalated, investors hastened a shift late in the day toward defensive sectors and safe havens such as US Treasuries and gold.
According to Dow Jones Market Data, the Dow's 1.8 percent dip was its worst daily decrease since Nov. 30.
A sigh of relief?
Investors applaud US Secretary of State Antony Blinken's meeting with Russian Foreign Minister Sergei Lavrov. The former has agreed to meet late next week on the condition that Russia does not invade Ukraine again, according to the US State Department.
The Asian markets, S&P500 futures, and risk-sensitive currencies have benefited from encouraging developments in the Russia-Ukraine conflict.
We'll have to see the DJIA direction when today's bell rings. 
POTUS weigh in 
After Ukrainian military and pro-Russian separatists exchanged fire in eastern Ukraine, President Joe Biden said there was every sign Russia intended to attack Ukraine in the next days and created a pretext to explain it.
According to the Canadian Prime Minister's office, US President Biden will convene a conference on Friday with leaders from Canada, Germany, France, Italy, Romania, Poland, the United Kingdom, the European Union, and NATO Russia-Ukraine conflict.
US treasury dips 
The benchmark 10-year Treasury note yield plummeted more than eight basis points as investors flocked to buy US government paper, regarded as one of the safest investments.
The 10-year yield rose briefly before the Fed minutes were out on Wednesday but fell back to the flat line.
Weekly jobless numbers 
According to a Dow Jones estimate, weekly unemployment claims rose to 248,000, up from 218,000 the previous week and more than the 218,000 forecasts. In addition, housing permits increased unexpectedly in January, while housing starts fell short of forecasts.
What's next? 
There's a lot of anxiety out there. Nothing has been addressed between Russia and Ukraine as we approach the weekend.
The persistent downturn, particularly in the growth names, reflects increasing uncertainty, selling swamping buyers in almost every stock.
As today's geopolitical developments lowered prospects for a diplomatic settlement to prevent military strikes in Ukraine, safe havens are excelling.
DJIA technical analysis: towards bearish bias?
At the end of Thursday's session, DJIA closed the day at 34312, dropping 600 points. The index is way below its 100-day MA on the daily chart, and the RSI points downwards. 
A break above 34500 would open the door to 35000. If it can cross that level, we'll see the index touching 35500.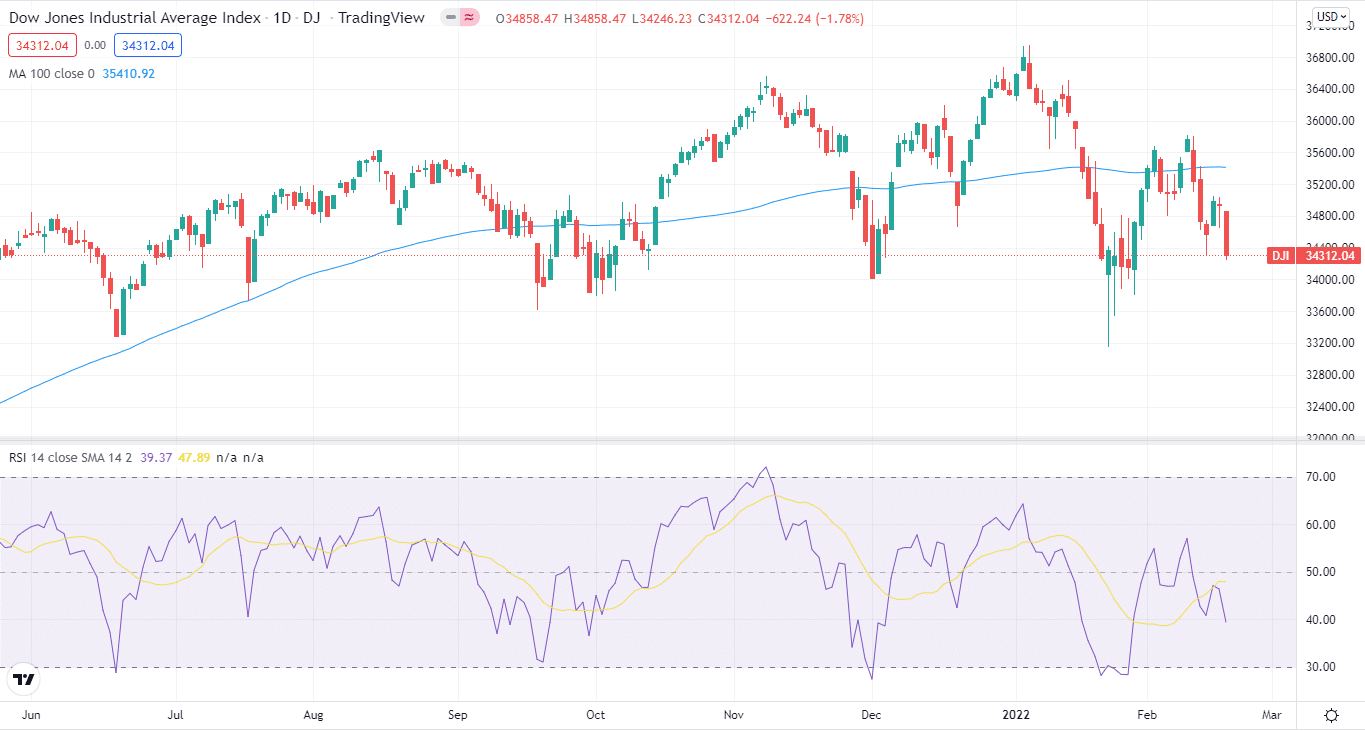 On the flip side, the next support for the index lies around 33800. If the index slips below this level, we can see a downward movement towards the 33150 level.