You can consider the Fidelity Mid Cap Index fund among the most attractive investment assets that require no frequent actions, making money by spending small management fees. Index funds are attractive to investors for generating considerable passive income without regular activities. So it makes sense that you become interested in the Fidelity Mid Cap Index fund.
However, it is mandatory to check various related info of any index fund before making investment decisions, such as historical data, price-performance info, risk factors, fees/costs, volatility measurements, etc. This article contains a complete review of the Fidelity Mid Cap Index Fund. 
What is the FIdelity Mid Cap Index fund?
FSMDX, is an investment asset that tracks the price performance of Medium Capitalization Company stocks in the United States. This fund invests 80% of its total assets in the Russell Midcap Index securities. It also lends securities to generate income over a particular period. 
FSMDX belongs to the mid-cap core category, the fund family is Fidelity, and the portfolio style is mid-cap. The fund status is "open" and has net assets of approx. $25.89B.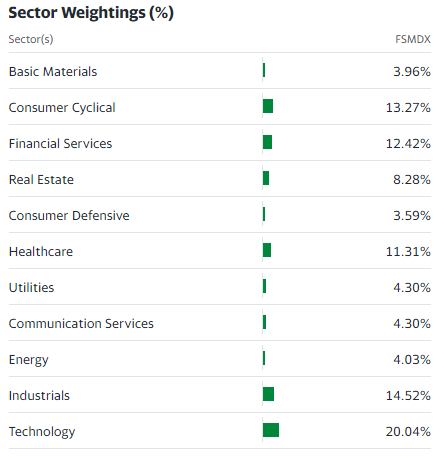 This fund, FSMDX, usually invests in several types of company stocks; the top ten weighting sectors include healthcare, technology, real estate, financial services, energy, basic materials, etc.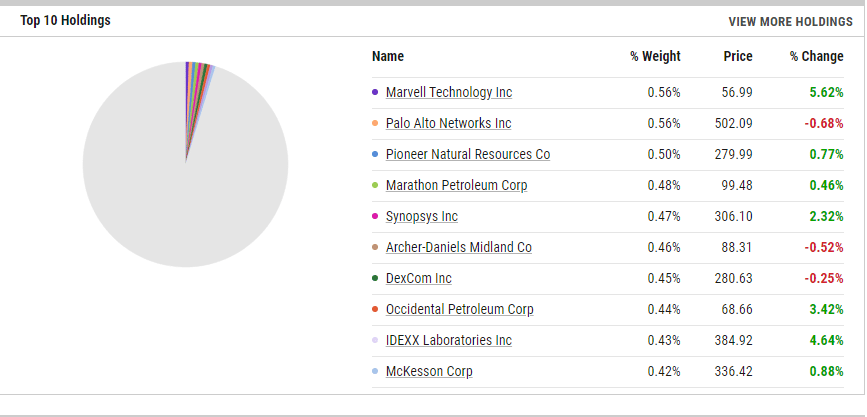 Meanwhile, the top ten holdings include CrowdStrike Holdings Inc Class A, Marvell Technology Inc, DexCom Inc, MSCI Inc, IDEXX Laboratories Inc, Lululemon Athletica Inc, Cloudflare Inc, etc. 
History of the fund
Fidelity Mid Cap Index fund has been operating for decades. The inception date is 7 Sep 2011, and Louis Kapoor Bottari has been the lead fund manager. Before joining here, Mr. Bottari was a former assistant portfolio manager, portfolio manager, and senior portfolio manager with Geode. Meanwhile, Peter Matthew, Payal Gupta, Robert Regan, and Navid Sohrabi are other managers.

The price per share of this index fund is floating near $27.49 as of writing.
Ranking info
It is better to check on rating info of any index fund before deciding to deposit, as it enables getting an overall idea about that asset. Many companies conduct research to group and rank similar types of assets depending on several essential info and historical performances.

Morningstar is a famous organization that does this ranking; it gives five-star ratings for the top 10% funds, and the next 22.5% get four-star ratings. This organization lists FSMDX with an overall four-star rating. So you can count this fund among the suitable categories.
Trailing return info 
Return info enables getting the idea of any investment assets' potentiality. Professional index fund investors check on return info to match their expectations and understand the fund's future potential. This fund, FSMDX, remains on a short-term downtrend. 
The YTD return is -14.07%, and the one-year return is -7.43%. Meanwhile, the three-year return is 11.50%, and the five-year return is 10.13%. For a better understanding, check the chart below that contains return info of the fund FSMDX alongside other info.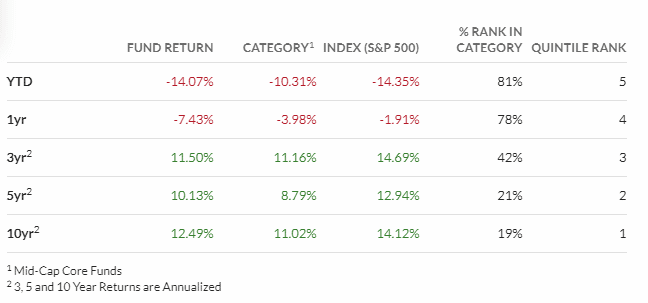 We are attaching the calendar year return info to specify each year's return info. By checking this chart, you can also compare the Midcap blend category and Russel Midcap fund return with FSMDX.

Performance measurement
Checking on performance measurement info enables enlightening past performances. Professional investors check this data to predict future movement and understand historical performance. In the last ten years, this fund FSMDX has had seven years of upward and only three years of downwards. Check the performance overview chart below to get a better idea. 

Now check the trailing return vs. benchmark info better to understand the previous performance of the fund FSMDX.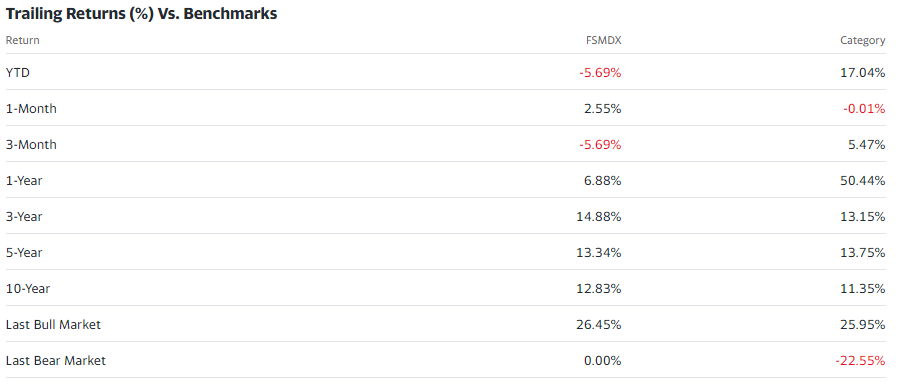 Although past performance doesn't guarantee any future profitability, you can easily learn the potential. So we are attaching a hypothetical growth chart of 10K investment in FSMDX below, and it shows a smooth growth since its inception and is floating near 31K.

Fees and costs
Fees and costs are a vital factor and worth checking before investing as it enables getting the idea of how much you have to spend over a particular period. This fund is open for new investors alongside existing investors, and there is no minimum or initial investment amount for FSMDX. 

Meanwhile, the net expense ratio of this fund is 0.03%, which is too little and affordable for investors.
Risks measurement
It is mandatory to check risk measurement info before estimating investment. Index funds are comparatively low-risk investments than many other investment assets like cryptocurrencies, forex pairs, stocks, etc. Moreover, it enables board diversification as it invests in many company stocks. Many of those companies operate outside the United States and work with several types of assets.
According to Morningstar, this fund belongs to the three-star category when measured by risk factors. So they list it above the average category. Several fundamental factors can affect the fund price, including government regulations, interest rate, war, pandemic, etc. 
Volatility measurement
Volatility measurement is essential as it mirrors the uncertainty of the price change. The standard deviation value of this fund is 21.38. Meanwhile, the mean value is 1.025, and the Sharpe ratio is 0.544.

Fidelity Mid Cap Index Fund 2022 forecast
We conduct sufficient research during our review on this fund, FSMDX. When forecasting, we check all primary info. This fund remains on a downtrend after making a peak near $33.65 in Q4 last year and currently finds support near $26.04 and starts bouncing back. During the recent corona pandemic, this fund made a low near $24.65 from a high near $24.54. Then it gains sharply and creates a new higher high.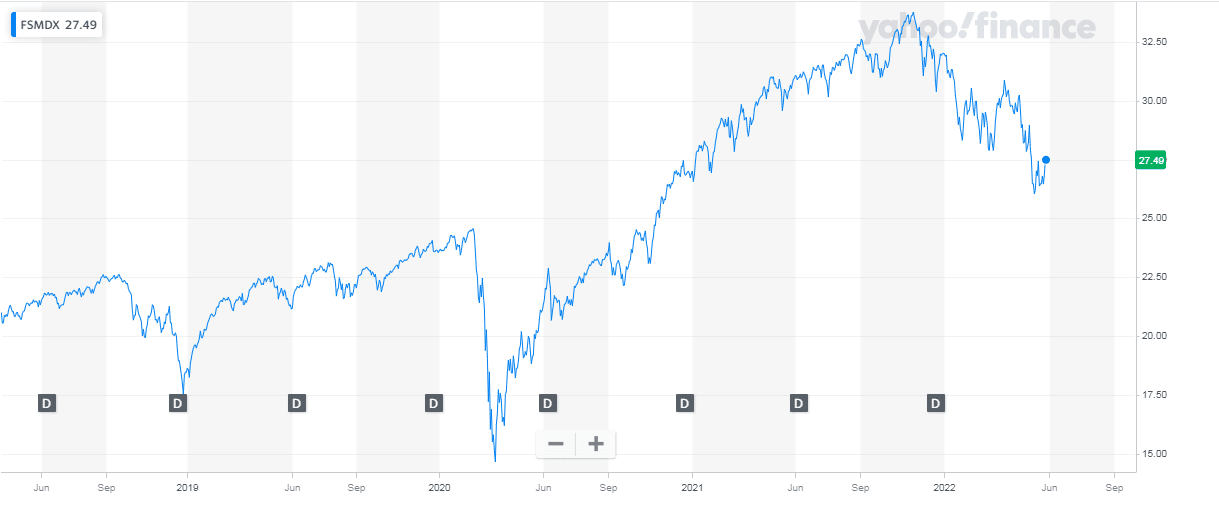 We check all essential fundamental and technical info and reckon this fund is a potential investment for 2022. If there is no uncertainty, it may gain the recent peak soon and reach above that level within the next 12-months period. 
Final thought
We check all essential fundamental and technical info and reckon this fund is a potential investment for 2022. It may gain the recent peak soon and reach above that level within the next 12-months period if there is no uncertainty.