Euro tournament victories for England or Italy could uplift stocks of either country that carries the trophy home. Goldman Sachs prediction reflects past outcomes of eventual winners of the continental trophy.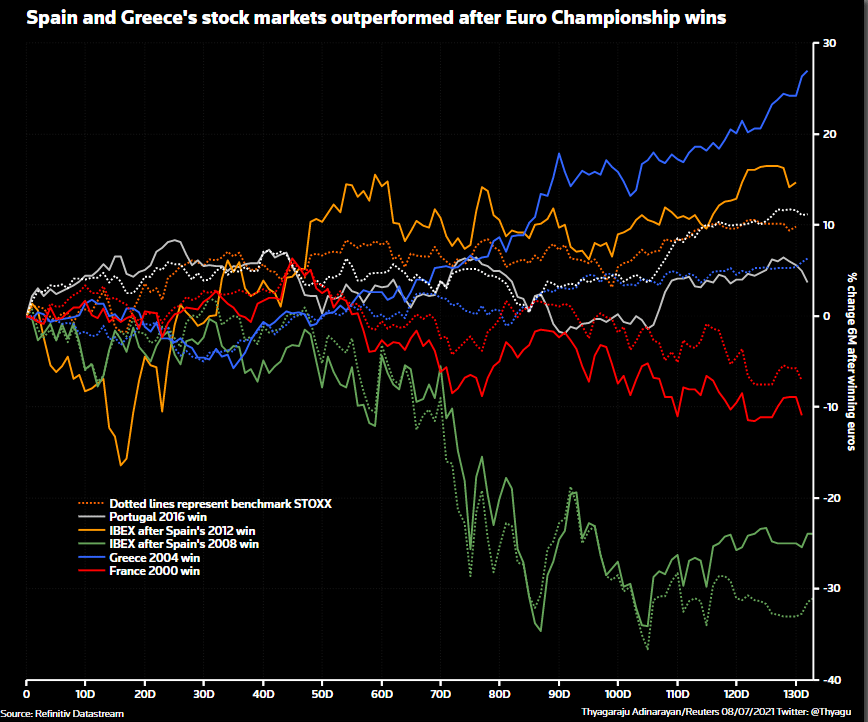 In Athens, stocks outperformed by a robust 20% after six months that Greece won the tournament in 2004.
At the height of the global financial crisis in 2008 and 2012, Spanish bourse lost 5% less compared to the Euro STOXX 600 following back-to-back euro wins.
A 2014 Goldman Sachs study revealed that stocks of every World Cup winner since 1974 outperformed, except the 2002 tournament in which Brazil was under deep recession.
Goldman points out that every local bourse outperformed its global peers by 3.5% in the first month of winning the world cup, with the boost fading over three months and underperforming by 4% on average after a year.
So far, Copenhagen's bourse outperformed London's FTSE 100 by almost 5% since the tournament started and eclipsed Italy and Spain by about 6% and 8% respectively. Sterling has also underperformed despite England booking the final, with Deutsche Bank warning that there is no correlation between currency and on-pitch performance.
FTSE 100 is up +0.71%, IT40 is up +1.24%, GBPUSD is up +0.06%Source: Reuters