For a trader, the most important thing is profit. In the past decade alone, the global trading environment has undergone significant changes. New markets have appeared, for example, the cryptocurrency market, but the good old forex is not giving up its positions.
The problem is that both markets have their nuances and complexities, and inexperienced users can find it challenging to make a choice.
What is the difference? What do they have in common? How do you choose the market that's right for you? We will answer these questions in our article.
What is the forex market?
It is the most liquid market globally, which deals with 180 'fiat' currencies, where the major participants are central banks. The daily transaction is approximately $6.6 trillion for the FX.
Here traders usually buy/sell currency or major pairs, which involve the USD. Meanwhile, the currency pairs without insolvency of the USD are known as cross pairs.
The forex pairs offer trading as contracts for differences (CFDs), which means traders don't have actual ownership of certain currencies. Instead, traders agree to make a loss or profit by a defined amount according to the price movement at the broker's price feed.
Many factors influence the FX, such as central bank data (interest rate decision, inflation, deflation, etc.), social and political announcements, foreign policies, GDP, job data, etc.
Let's see the price chart of EUR/USD as an example of the FX.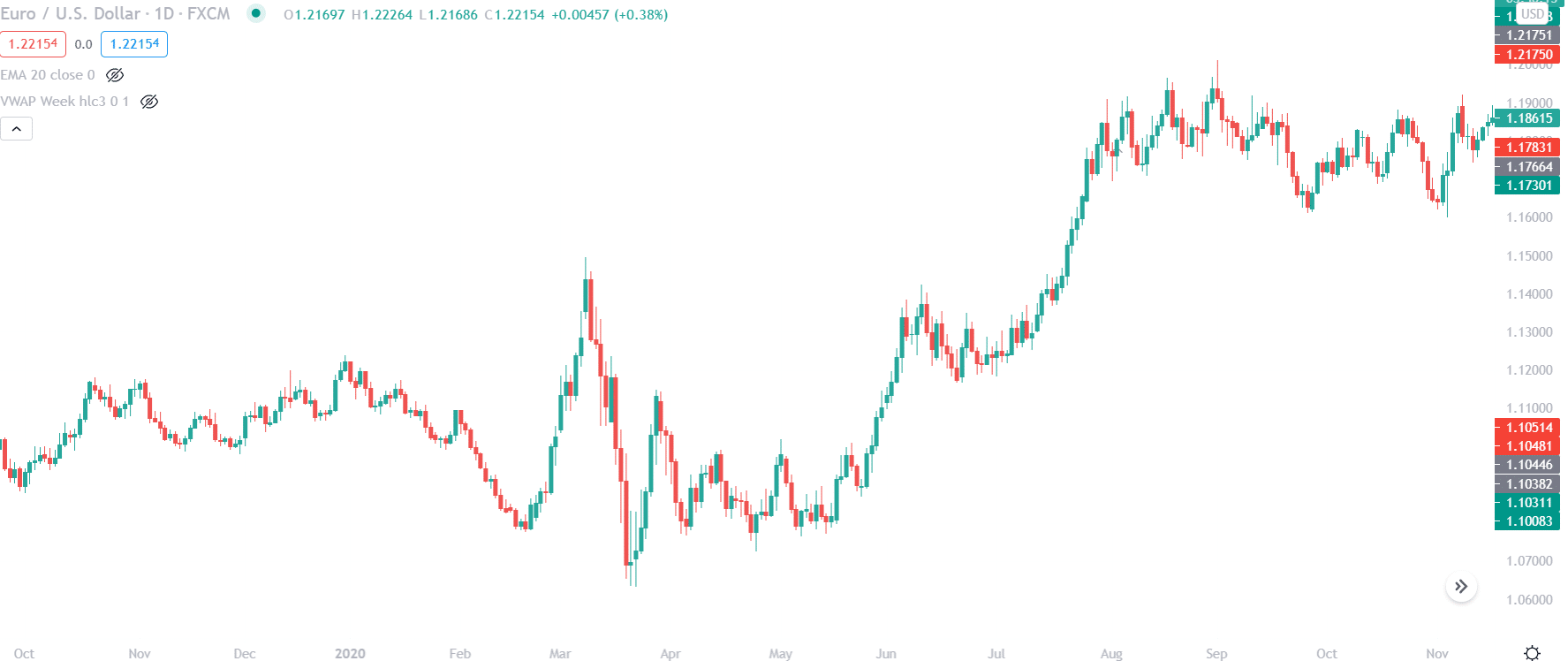 What is the crypto market?
Cryptocurrencies are often referred to as digital currencies that people can use to buy goods/services but not like the Euro/Pound or others. Crypto uses a peer-to-peer authentication process not to require any middleman to make a transaction. So it prevents users from using this type of currency more than one time.
People got familiar with the crypto world since the creation of 'Bitcoin' back in 2009. Since then, this market is always young and operates 24/7.
Different parts of the world have different rules and regulations, and it is decentralized. The crypto miners are working to secure the network and check entries in exchange for digital cash. This market currently has a daily volume of about $100 billion and previously reached a market cap of more than $700 billion. Anyway, this market is less affected by global economic news or events. So it is not mandatory to always keep track of headlines but concentrate on charts and analysis.
Historically the cryptocurrency market is volatile and unpredictable. In comparison to volatility, any extreme foreign currency pair or established currencies have a 1% and 5%, where Bitcoin has volatility around 5% to 15%.
Let's see the price chart of BTC/USD as an example of this market type.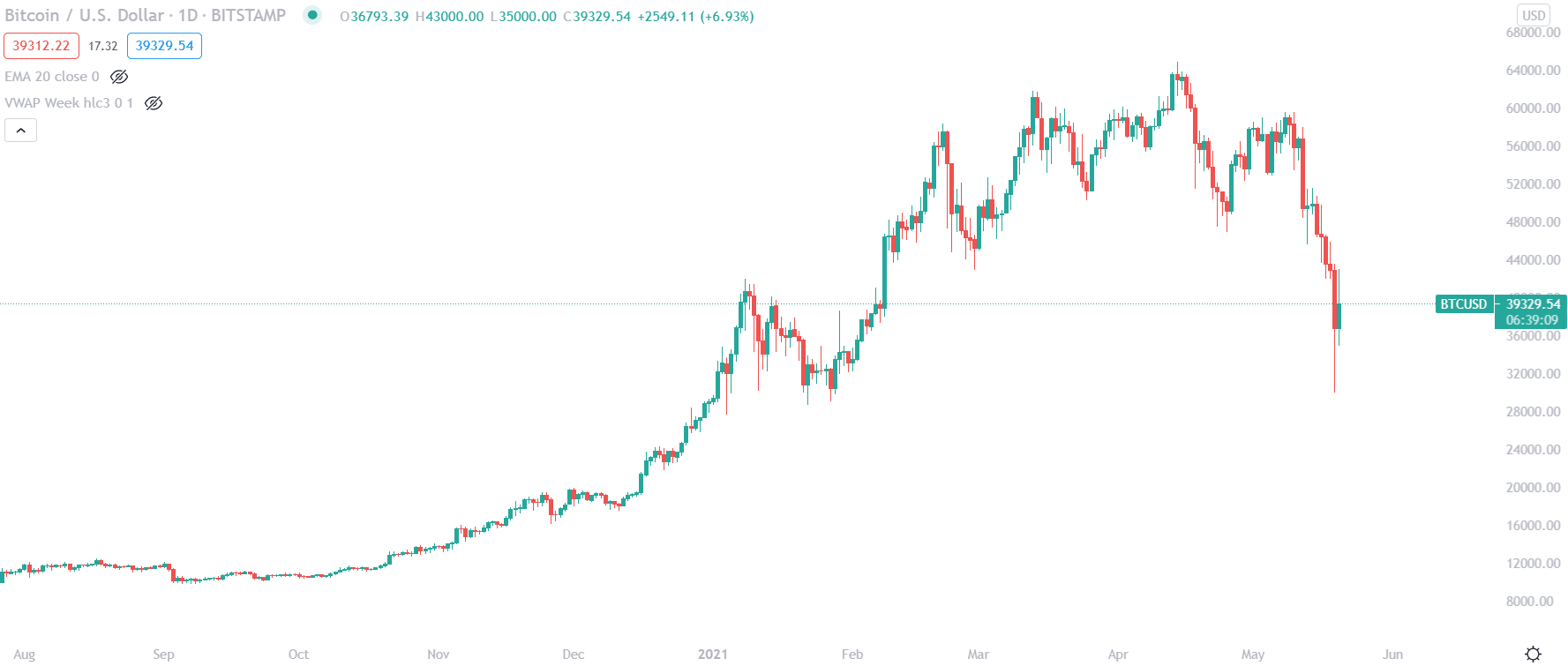 Forex vs. cryptocurrency: a critical comparison
Both markets are similar and include currency exchange. If there is anything about crypto, the term 'decentralize' comes up, which means no central regulations on the market. The FX is also decentralized. The fact that it is decentralized doesn't mean that the market is less stable. It means you have to watch your back on investing.
The same essential money physics is applicable for both markets. These are the similarities between the two. Now we'll discuss the differences.
Forex vs. crypto market

| | | | |
| --- | --- | --- | --- |
| | Market liquidity | Availability of instrument | CFDs trading |
| Forex | It is the biggest financial market in the world for larger volume and margin. It is a marketplace that has a daily transaction average of approximately $6.6 trillion. | It offers traders currencies from 180 countries worldwide. You can trade all available currency pairs or make transactions by banks, brokers, intermediaries, or financial institutes. In most cases, traders have to pay money for services. | It offers the CFDs trading, which means no actual ownership of any currency. Meanwhile, anyone can buy any principal cryptocurrency and hold it as an owner. But typically have to pay some for ensuring the security of the custodianship plus a commission, which is a suitable plan for long-term investment. |
| Crypto | It currently has a daily volume of about $100 billion and previously reached a market cap of more than $700 billion. However, experts say the number may increase for cryptocurrency. | It has had dramatic growth since 2016. So over 40 million crypto wallets were created and over 1,600 cryptocurrencies in existence. | Some can also trade these currencies with most major forex/CFD brokers today packaged as CFDs and just betting on price fluctuations here, not worrying about security and storage and any such associated fees. |
Future potentiality
As it is a matter of future potentiality, there comes liquidity, volatility, profitability. Simply the growth. Forex offers more liquidity where crypto is popular for volatility. Consider someone who invested $1,000 in Bitcoin in 2013 would be worth over $400,000 less than five years later. But, of course, the chance for higher rewards also means more considerable potential risks.
Here we can see how Bitcoin moved higher from $1000 to $60,000 in 8 years.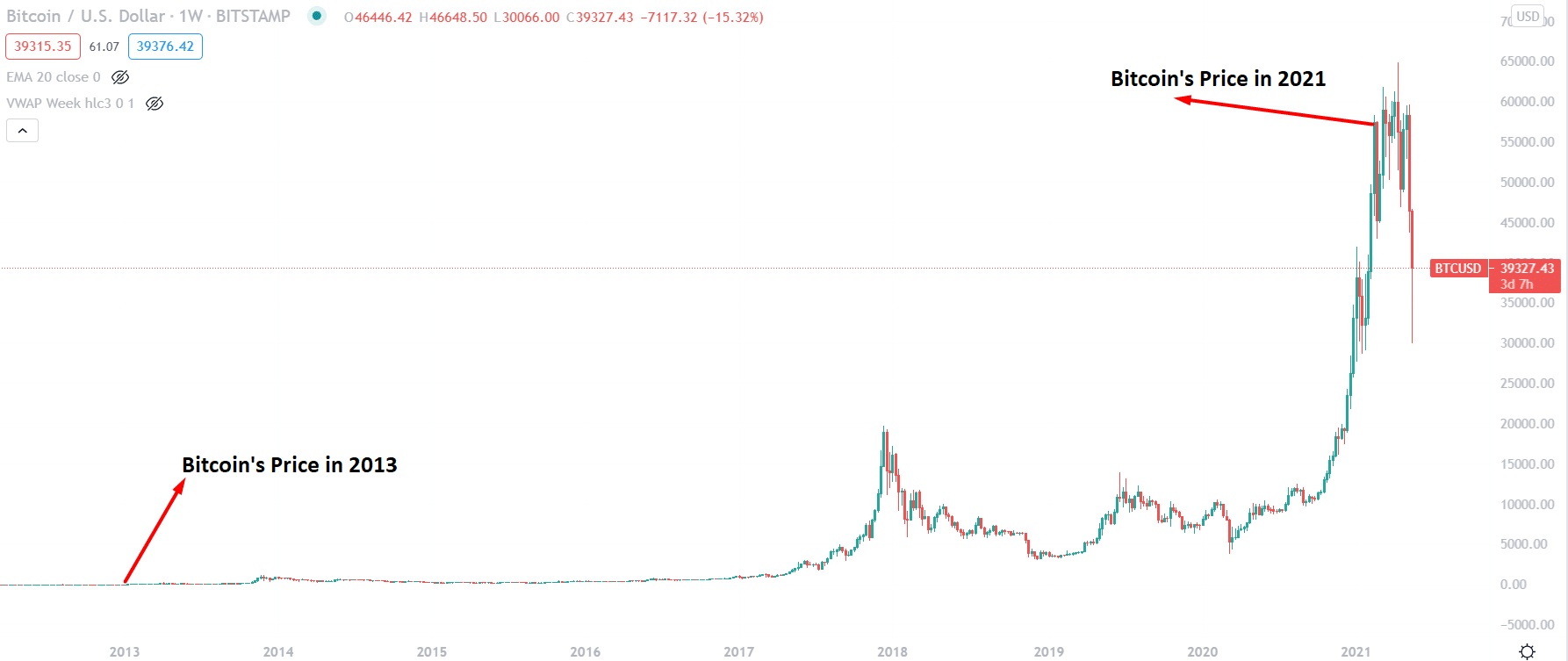 What market is better to choose?
These markets are different, and comparing them is like comparing an apple and an orange. However, opportunities know no boundaries. So many forex traders switched to crypto traders inspired by the recent growth of the crypto market.
Forex trading is more stable, secure, and less volatile, liquidity is high, and unlimited commodities can be traded. There is a great option to increase the leverage for your transactions.
Crypto trading offers lower fees and potentially higher profits, and it is straightforward to enter and exit the market.
The size, structure, and behavior of markets are different. Thus, you will need different strategies to trade each of them. Count your risk tolerance and your resources. Then, before making a decision, carefully analyze both of them.