US equities fell on Thursday, giving back gains made on Wall Street the day before, as traders continued to ponder the Federal Reserve's latest monetary policy decision.
The NASDAQ has its worst day since June 2020.
Cloud computing and e-commerce firms were among the worst performers on Thursday.
The 10-year Treasury yield increased to 3.066%.
NASDAQ fundamental forecast
On Thursday, Wall Street finished substantially down, reversing the previous trading session's surge. The NASDAQ suffered its most significant one-day fall since June 2020 and the steepest U-turn since the pandemic began.
Down the hill 
The NASDAQ plunge happened only one day after the Federal Reserve lifted interest rates by a half-point for the first time in two decades, with Chairman Jerome Powell signaling that the economy could escape a recession. 
The Federal Reserve hiked its main interest rate from 0.75 %to 1%, the highest level since the pandemic hit two years ago.
The central bank also announced intentions to begin removing assets from its $9 trillion balance sheet on June 1. The announced rate of balance sheet reduction roughly corresponded to Wall Street's estimates before Wednesday's Fed announcement.
The market initially reacted favorably to the Fed's comments on Wednesday, when Chair Jerome Powell stated that the Federal Open Market Committee was not actively discussing a rate rise of more than a half-point. However, the threat of further rate hikes fueled bearish sentiment on Thursday, sending markets down.
Treasury on high 
The Treasury market had a sharp reversal of Wednesday's rise as well. The 10-year Treasury yield, which rises in the opposite direction of price, jumped back over 3% on Thursday, reaching its highest level since 2018. Rising interest rates can pressure growth-oriented technology stocks by making long-term earnings less appealing to investors.
Cloud and e-commerce stocks tumble
Following some disappointing quarterly results on Thursday, e-commerce stocks were a major source of weakness. After announcing weaker-than-expected revenue forecasts, Etsy and eBay fell 16.8 % and 11.7%. Shopify slumped almost 15% after missing top and bottom-line projections.
Cloud stocks, which grew popular during the pandemic as companies sought services they could utilize remotely, were also hammered hard on Thursday. Bill.com's shares of bill-payment software maker Bill.com plunged 13%, while Asana, a project management software business, lost 11%.
What's next? 
Markets have taken a beating this year as investors downgrade global growth projections due to fears about a slowing in China and the consequences of Russia's invasion of Ukraine. This year, the value of the US stock market has been reduced by more than $8 trillion as hedge funds and other investors reduced their holdings.
With Fed tightening along the road, markets will stay cautious as inflation and geopolitical factors continue to play a part. 
NASDAQ technical analysis: trading in red
At the end of Thursday's session, NASDAQ closed the day at 12850.55, dropping more than 5%. The index is below its 100-day MA on the daily chart, and the RSI points downwards.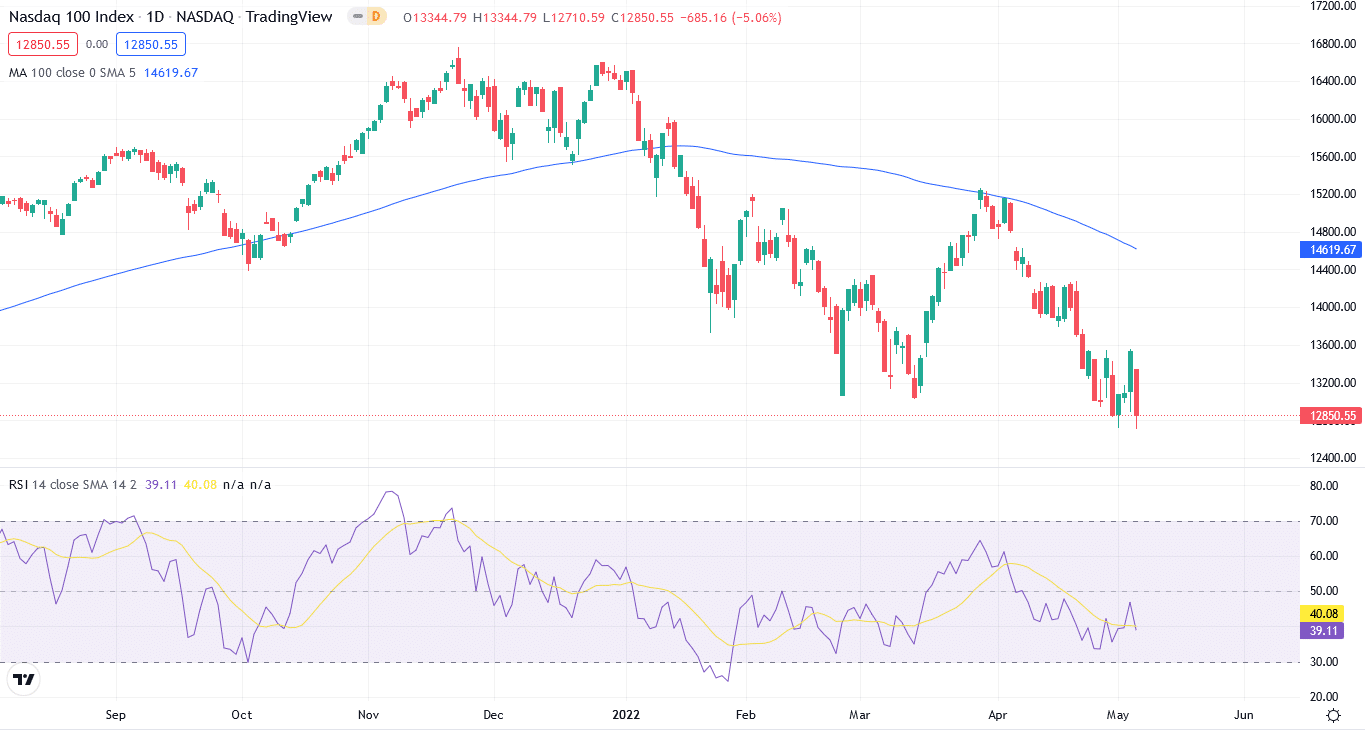 A break above 13026.58 would open the door to 13159.03. If it can cross that level, we'll see the index touching 13347.60. On the flip side, the next support for the index lies around 12730.24. If the index slips below this level, we can see a downward movement towards the 12465.34 level.