Populous is a network that provides invoice liquidity for small and medium-sized businesses (SMEs) for up to 90 days. Populous, launched in 2017, is intended to facilitate peer-to-peer (P2P) interaction between firms, enhance liquidity, and solve working capital concerns for SMEs.
This update will provide a quick overview of the Populous coin, its technical perspective, and prospects. So strap in for a brief review.
What is the Populous coin? PPT explained
Populous is a peer-to-peer (P2P) network that employs blockchain technology to make invoice financing more effective and scalable for small and medium-sized businesses (SMEs). Many start-ups and SMEs struggle to maintain a stable and constant cash flow, leading to overextending credit. In addition, late invoice payments cost small businesses billions of dollars in fees and missed opportunities each year. As a result, companies can sell their outstanding invoices at a discount through invoice financing to swiftly free up cash and eliminate admin and liabilities.
When the client pays, the person who buys the invoice effectively takes it over and receives the money. Stephen Williams, who has worked as an analyst in finance and big data, developed Populous in the United Kingdom. Steve Williams holds a philosophy degree from London Metropolitan University and has been the acting CEO of Populous since November 2016. Sam Williams developed The Trend View and Zloadr, among other businesses. He was fascinated by XBRL (Extensible Business Reporting Language) and began building a program that drew out a list of companies with many assets but little cash. He began selling this information to financial organizations through a basic door-to-door sales strategy.
Around that time, blockchain technology was gaining traction, and Williams jumped at the chance to adapt his business model to this new technology stack. As a result, the Populous team adopted his business strategy. It turned it into a real-time financial marketplace by expanding XBRL data and protecting it with smart contracts on the Ethereum blockchain already in use.
Populous (PPT) coin: is it a good investment?
The forecasts of Populous (PPT) are a bit mixed up. Future potential growth is contingent on several elements, including announcements, new technology solutions developed by Populous projects, the crypto ecosystem in general, legal status, etc. According to professional PPT projections, its network has all of the characteristics of an excellent investment, so all signals lead to a substantial price gain. Populous currency, according to tradingbeasts.com, is not going anywhere.
Only time will tell if Populous will be able to attract new customers. The token's popularity might skyrocket if potential customers transfer from traditional invoicing to their brand new peer-to-peer invoice network. PPT is a global platform with no transaction fees and blockchain capabilities. All of these characteristics give it a significant advantage over non-digital competitors. Finally, investors should be aware that the Populous platform is on its way to becoming a success.
According to Populous coin projections, prices are expected to climb in five years. Therefore, Populous is a good investment in the long term. It is also one of the most promising blockchain initiatives in application cases, aside from the technology. Furthermore, the blockchain is being employed in many real-world applications, increasing its value. However, the short-term forecast seems slightly bearish.
What will the Populous coin be worth in 2022?
With a live market cap of $26,652,377, the current CoinMarketCap ranking is №751. It has a total quantity of 53,252,246 PPT coins and a circulating supply of 53,252,246 PPT coins. According to the Populous projection price and technical analysis, the PPT price is predicted to cross an average price level of $0.68 in 2022. The Populous minimum price value is expected to be $0.35 by the end of the current year. Furthermore, PPT has a maximum price level of $0.76.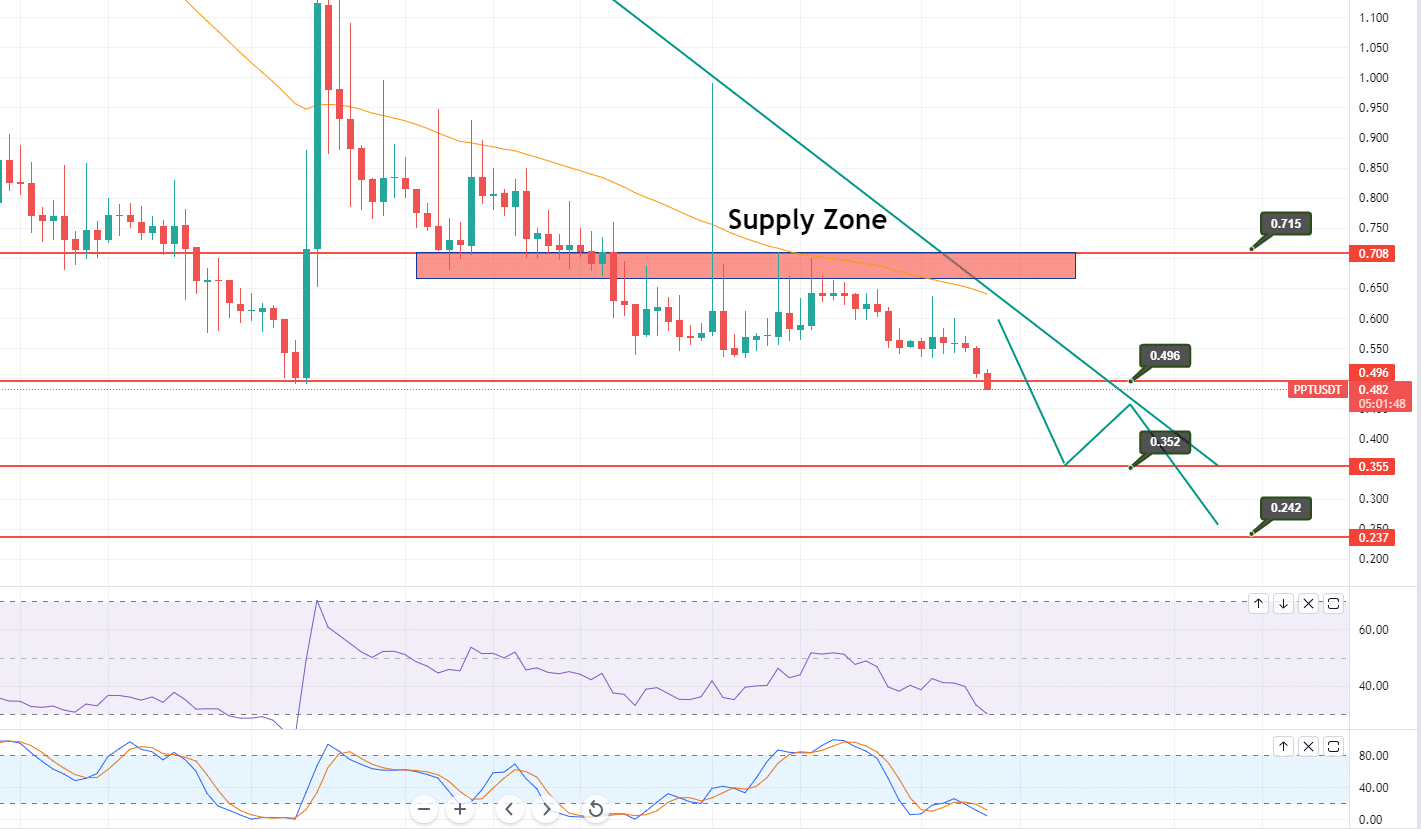 The year 2022 seems to have started on a bearish note as most of the top cryptocurrencies are taking a bearish turn. Likewise, the PPT has also plunged below the $0.49 support zone. So let's take a look at the price prediction section for a more technical outlook.
Populous price prediction for 2022
Populous is trading sharply bearish at $0.48 per coin. The PPT has disrupted the support level of $0.49 level on the weekly time frame, having formed a bearish engulfing pattern. The breakout of the $0.49 level pushes the PPT price further lower towards the $0.35 support zone.
Technical indicators such as RSI and Stochastic RSI support a selling trend. Thus, the breakout of 0.35 could expose the PPT price towards the $0.24 level. Therefore, the PPT price prediction looks pretty bearish.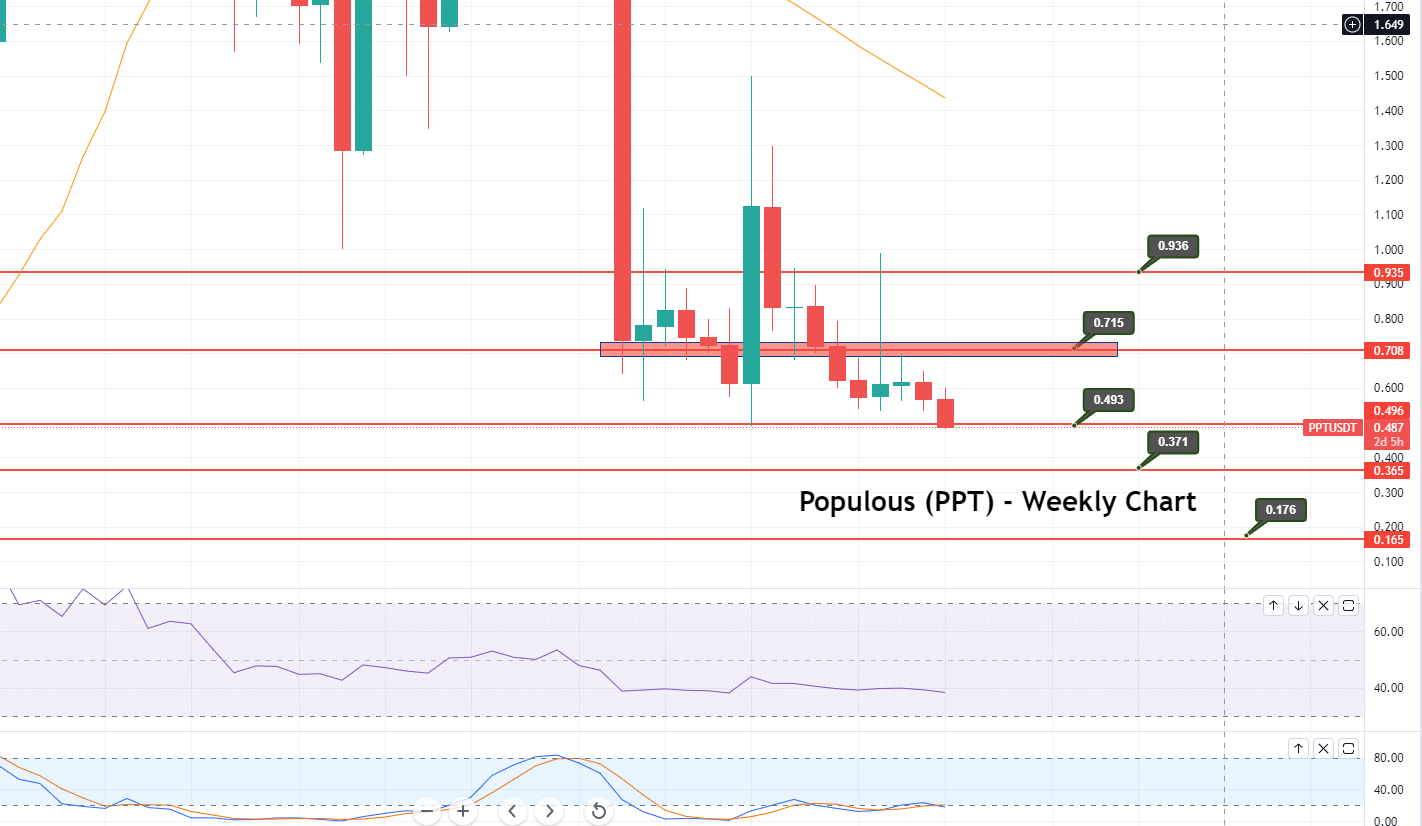 On the bullish side, the PPT coin could surge to $0.64 or $0.71 through 2022, whereas an upward breakout of $0.71 exposes the coin towards $0.93. Alternatively, a break below 0.49 can trigger a downtrend until $0.37 or $0.24.
How to buy a Populous coin?
If you're wondering where to buy Populous, the top cryptocurrency exchanges for trading Populous coin right now are OKEx, KuCoin, HitBTC, Bitrue, and LATOKEN.
If you are a newbie, follow these steps:
Open an account with a crypto exchange. Regardless of the options stated above, the first step is to join up for OKEx or any exchange that trades Populous tokens.
Purchase BTC to exchange it for Populous coins.
Use the exchange to convert BTC into Populous.