Index funds have become popular among investors for various features such as low cost, lower risks, diversification, attractive returns, etc. Schwab S&P 500 is one of the best funds to invest in, potentially profitable among other funds in this group.
However, choosing a fund to invest in for a certain period relates to several facts such as location, market opportunity, business type, etc. Checking complete reviews or researching the history, risk factors, performance, growth, volatility, etc., data will help you to understand and make decisions to invest in particular assets.
This article contains all information of our research on the Schwab S&P 500 fund index. Let's check it out.
What is Schwab S&P 500 Index Fund?
Schwab S&P 500 index fund tracks the performance of the leading index Standard and Poor 500. The S&P 500 index covers nearly 80% of the investable capitalization of the US market. The fund Schwab S&P 500 tracks the S&P 500 index generally and very closely.
The primary differences between these two are on the return from the investment and in expense ratio. You can count this fund and morningstar's large-blend category, an ultimate core large-cap stocks holdings.
Fund holdings are the same as the index that includes Microsoft Corp., Johnson & Johnson, Apple inc., JPMorgan Chase & Co and Exxon Mobil Corp. Sponsor of this fund, Schwab S&P 500, is Charles Schwab, whose name still reminds investors with respect.
As of August 2021, this funt got a $64 billion investment on 508 different holdings.
History of fund
Charles Schwab, the sponsor of this fund, focuses on creating an investor-friendly product. The inception date for this fund is May 1997. So this fund has been operating for more than two decades. At the time of writing, this fund price is $69.77. We attach the recent price chart of the Schwab S&P 500 fund below.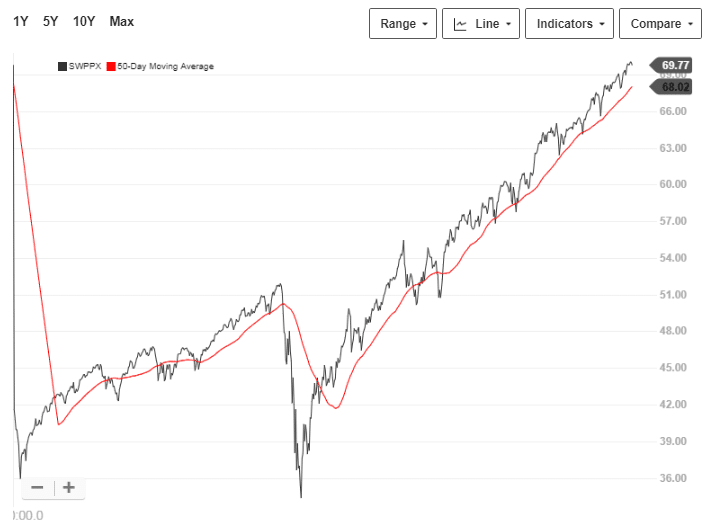 Fund managers for this fund, SWPPX, are Ferian Juwono since 2013, David Rios since 2015, and Agnes Hong since 2012. They all are veteran fund managers who take care of several other funds for Schwab S&P 500.
Rankings
Currently, this fund is not on any rank list. We check on the evaluation fund list of the US news of large blend funds. You can check on the top ranking of the top-rated funds for long-term investors. This fund's role is a core large-cap holding in a portfolio.
Trailing total returns
The return percentage is different for the time duration of this fund. You will get an overall idea about the return from this fund by looking at the figure below.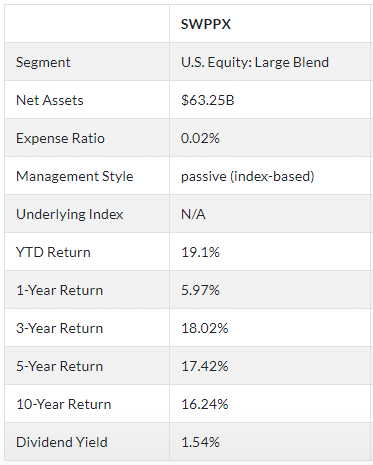 This fund has had a 36.41 percent return over the past year. The figure above shows the rest, an 18.02 percent return of three years, 17.42 percent return on five years duration, and 16.24 percent return at ten years duration. Now check on the chart below.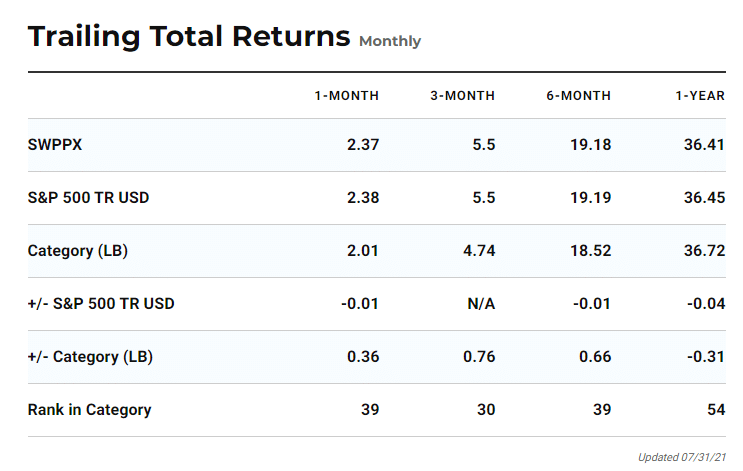 This figure shows the fund has been ranked 39 for the return of monthly and six-month duration. Meanwhile, it remains at 30 for three years and at 54 by looking at the yearly return.
Performance
This fund SWPPX may invest principally in future contracts, derivatives and lend its securities to minimize the performance gap between the corresponding fund and index fund. Look at the chart below, which is a hypothetical growth chart of $10,000 in SWPPX.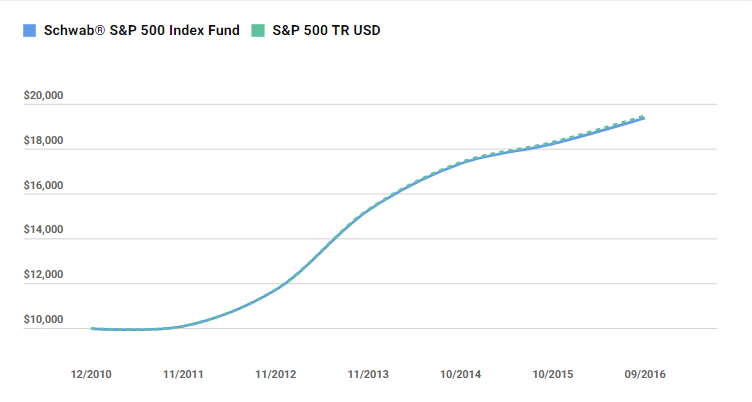 The figure above shows a smooth growth of SWPPX in recent years. This fund has been on an uptrend for 18 years and had a bearish movement for five years in the total 23 years period. Morningstar already classifies this fund as one of the top-rated funds.

You can check on the yearly return info below.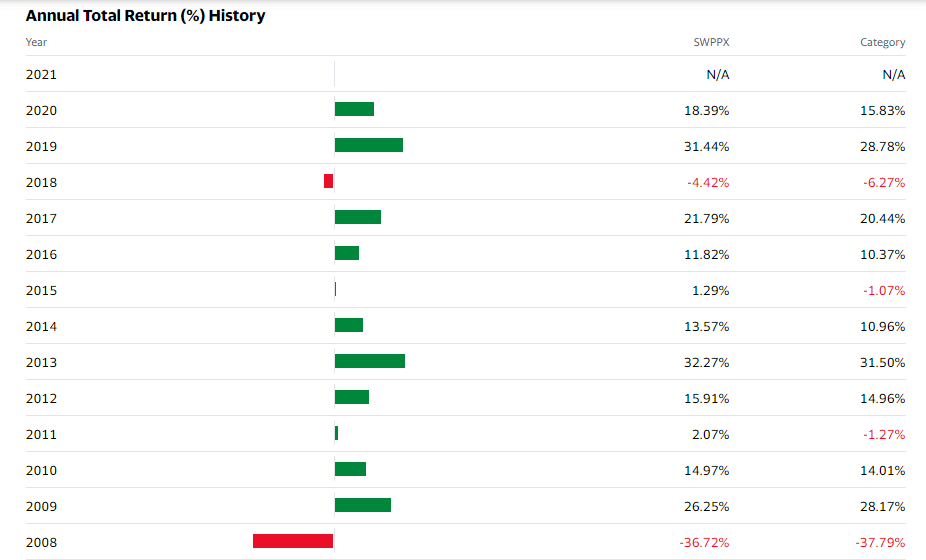 We are attaching the quarterly return info of this fund for the last ten years to understand better performance.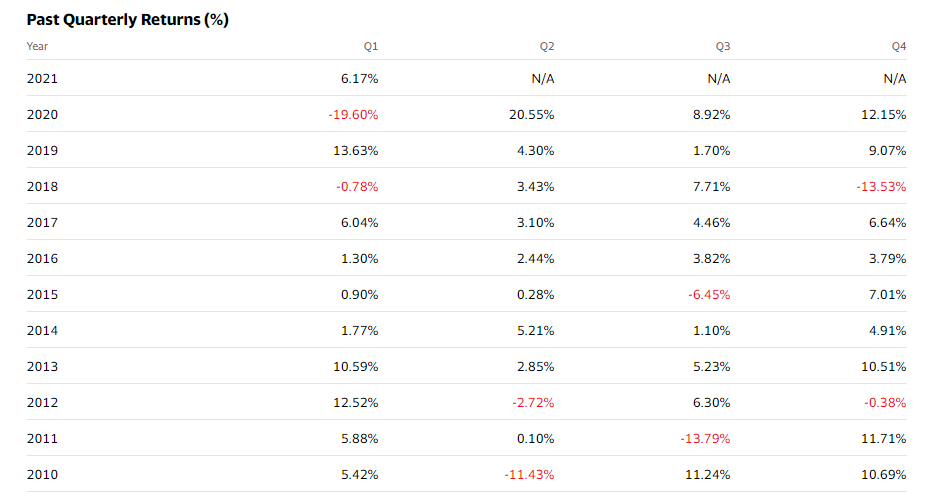 Fees
It's better to get knowledge about expenses, costs, and fees before investing in mutual funds. There can be several costing sectors for mutual fund holders, such as distributions, marketing, transaction costs, etc. You can group these fees into two categories such as net expense ratio, management fees.

The net expense ratio is 0.02 percent annually, which is low. Now, look at the figure below that shows the expense of $10,000 investment on SWPPX for different periods.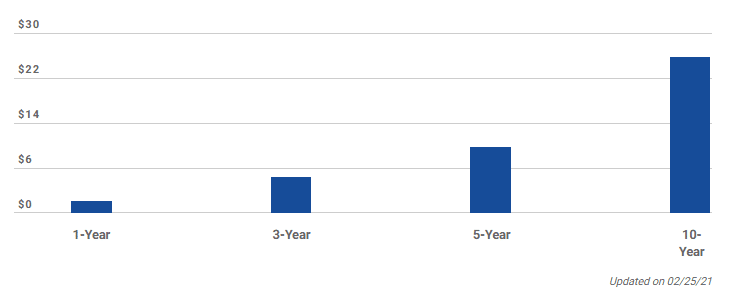 Risks
Schwab S&P 500 fund has ties with the US equity market and S&P 500 index. We know the equities allow depreciation values as any other financial asset. So there are also risk factors in these types of mutual funds. This type of investment has lower risk than other financial assets such as currencies, cryptocurrencies, or commodities.
Volatility measurements
If you want to mature volatility, check on risk insolvency or uncertainty of price changing for target security. The standard deviation for this fund is 18.484, and the mean value is 1.538. Meanwhile, the Sharpe ratio for this fund is 0.932.
Schwab S&P 500 Index Fund forecast 2022
According to our research, by observing various factors such as cost, volatility, performance, and other data, it seems 2022 will also be a positive year for SWPPX.
This fund has been doing well for decades. Investors generally invest between $3000 and $10,000 and pay the annual costs to maintain the fund. The expense ratio is comparatively low for SWPPX. Examining all these facts, if no uncertainty happens, we declare this fund as a potential investment for the following year.
Final thought
Undoubtedly, SWPPX is a potential investment if you seek to invest in these types of funds. You have to check on the duration of times, and the return percentage suits your expectation. We suggest achieving more profound knowledge about SWPPX by doing additional research before investing.