Skycoin has been flying under the radar for the past two years. While some projects have raised millions of dollars in questionable ICOs, the Skycoin team has worked hard on their latest blockchain application platform, Skywire. Skywire's goal is to provide consumers with a cheaper, faster, and more customizable internet connection that will allow them to earn money by leasing this bandwidth to others. Skycoins, the native currency of these ecosystems, will permit payments in this "Web 3.0" ecology.
Furthermore, Skycoin is being developed by several of the original contributors to the Bitcoin and Ethereum projects. Many people believe that Skycoin will be one of the most exciting cryptocurrencies to watch in the coming year, especially with the upcoming launch of the Skywire testnet.
Let's take a closer look at this project to determine if it's worth your time.
What is the Skycoin coin? SKY explained
Skycoin is the native cryptocurrency that will be used within the decentralized ecosystem of the Skycoin project. According to the team, this cryptocurrency has been under development for some years and is one of the oldest cryptocurrencies in existence.
Skycoin's developers appear to have taken a close look at the issues that Bitcoin and Ethereum are now facing. They have implemented several enhancements that will make Skycoin the most appealing option. They have, for example, elected to employ the Obelisk consensus process. This method also addresses many of the flaws of Proof-of-Work (PoW) and Proof-of-Stake (PoS) algorithms.
Skycoin will benefit from the protocol's unique features in the following ways.
Transaction times are less than two seconds.

Transactions will incur no costs.

Skycoin, written in the GO programming language, is one of the most secure cryptocurrencies.

Skycoin can combine transactions from several wallets via the CoinJoin protocol, making it impossible to identify the parties to the transaction.

Skycoin transaction verifications are substantially more sustainable because no PoW mining is necessary.

The SKY has a use case and is backed by usefulness. It is the mesh network's money, and it is backed by bandwidth as an asset.

There will be 100 million Skycoins in circulation at any given time. These have already been mined, and no new ones can be generated or destroyed. The limited amount of coins will be gradually released to the public. At first, 25% of all coins will be distributed.
There are 100 million coins in all, and they cannot be destroyed or manufactured. Skycoin is distributed in a decentralized manner. The more tokens made available to the public, the slower the distribution will be. In consequence, the community gains power rather than miners or traders.
Until the first 25 million tokens are distributed, 75% of the coin supply remains frozen. After the initial 25% of the tokens are released, only 5% of the remaining tokens will be available each year. Skycoin's code includes this rate.
Skycoin (SKY) coin: is it a good investment?
Skycoin appears to be a promising project. The concept is fantastic, and they have a reasonable plan for the future and a fantastic team. Will they, however, be the ones to triumph in that space? It's difficult to say. Numerous rival efforts seek to accomplish the same purpose.
Investing in SKY at this moment could be a very appealing proposition. They have precious technology, a limited coin supply, an incredible idea, and are the best startup in this field. To begin with, you'll be able to use the tokens to purchase internet access. You will not be required to sign any contracts with an ISP, and you will not be required to provide them with any of your personal information. 
Furthermore, a centralized platform cannot limit your access, and your activities will not be traced. This can also be useful in nations where severe censorship and information freedom are severely restricted. Therefore, Skycoin's long-term outlook seems optimistic.
Lastly, Skycoin is losing momentum, and its price has plunged significantly to $0.23 ever since it set a high of $50 in December 2017. Therefore, long-term investment in Skycoin (SKY) cryptocurrency can be rewarding, but a short-term investment may not yield profits.
What will the Skycoin coin be worth in 2022?
With a live market cap of $5,286,965, the current CoinMarketCap ranking is №1256. It has a total quantity of 22,000,000 SKY coins and a circulating supply of 100,000,000 SKY coins. According to the Skycoin projection price and technical analysis, the Skycoin price is predicted to drop below a support level of $0.2350 in 2022.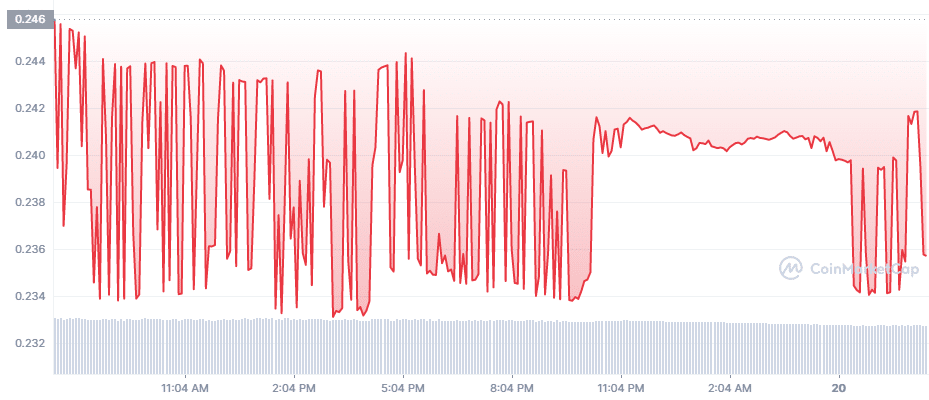 The technical outlook for 2022 isn't very optimistic as the SKY may drop a little further until the $0.23 level before taking a bullish reversal. By the end of 2022, the SKY/USDT price could reach a high of $0.45.
Skycoin price prediction for 2022
Skycoin is trading sharply bearish at $0.2358 per coin at the time of writing. Now that we've arrived in the year 2022, we'd like to inform you that the token price has the potential to hit $0.45 to $0.60. There is a good probability that the token will hit this price, as the sellers seem to have expected it. SKY has retested $0.2300 quite a few times now and has bounced off every time.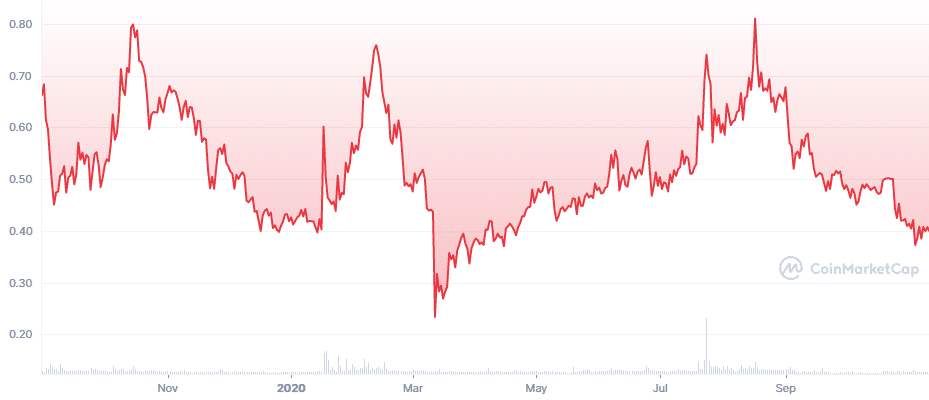 There may be a little drop in this price to the triple bottom area of $0.2300, and you may also experience some volatility. So, if you're investing right now, be prepared for any eventuality that may arise concerning the coin. On the upside, the SKY/USDT may encounter immediate resistance at $0.4500 and $0.6000.
How to buy a Skycoin coin?
If you're wondering where and how to buy Skycoin, the top cryptocurrency platforms for buying Skycoin stock right now are LBank, Finexbox, Hotbit, ExMarkets, and Bitbns.
If you are a beginner, take the following steps:
Create an account with a cryptocurrency exchange. Whatever option you choose, the first step is to sign up for Hotbit or any other platform that trades Skycoin.
Purchase BTC to exchange it for Skycoin coins.
Use the exchange to convert BTC into Skycoin.