Gold is a metal that had existed since 2000 BC when ancient Egyptians discovered it and started its mining. Physical gold is a yellow glowing metal that, just like other metals, does not rust.
It was used as a medium of exchange in earlier times, and even now. The vast majority of traders and investors trade gold in the FX. Due to its increasing value and popularity, this metal is a top choice among investors as gold has proven to be a reliable investment of times.
In the currency market, gold is packed into commodities and just traded like other currencies. XAU internationally accepted code for gold, a symbol used under the ISO 4217 currency standard to denote one troy ounce of gold.
What is XAU trading?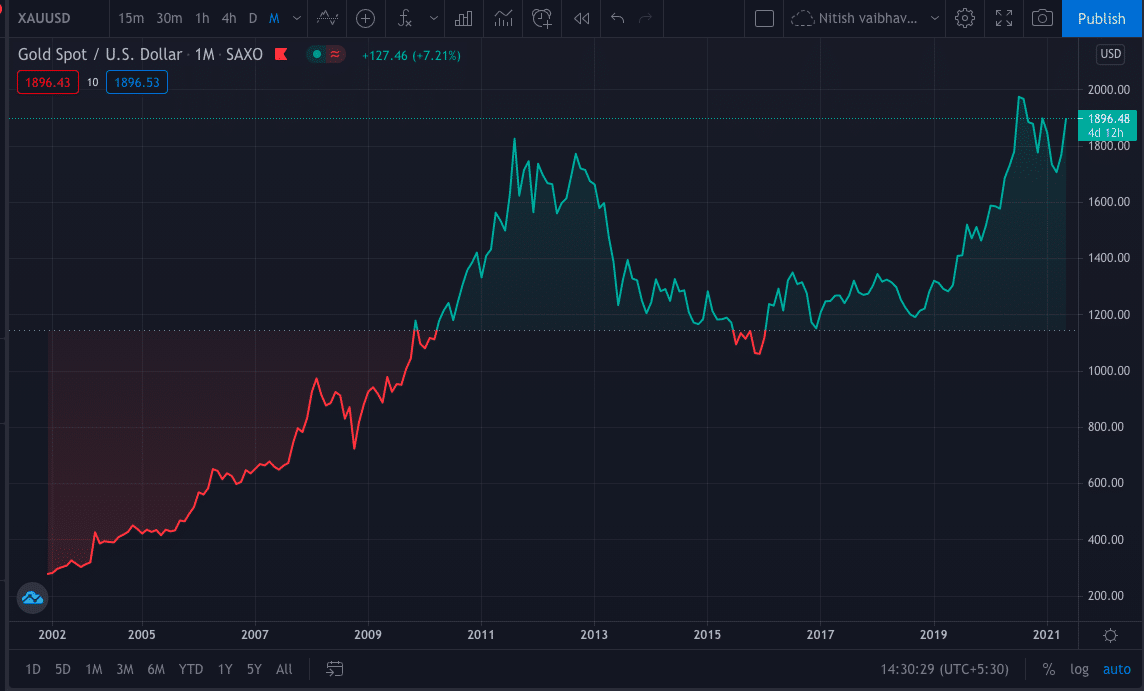 XAU/USD is a quote for the price of gold against the price of the dollar. The popularity of XAU/USD makes it a highly volatile market. Therefore, before trading this asset, you must know the risk involved and follow a proper risk management strategy.
Trading XAU/USD is challenging but not impossible. Gold has always proven to be an attractive trading asset to investors and traders in the FX market. But trading it is not easy because of its high volatility in the market.
XAU is known as a "safe haven" because of its increasing value, popularity, and reliability among people around the globe. Traders can use many strategies to trade gold, but who knows if they are effective in such a volatile market.
So, let's dive into the section to see the system that works for everyone almost all the time and can help you win in the XAU/USD market.
What affects the gold market?
Due to so many people trading gold each day, XAU/USD is highly volatile most of the time. Therefore, much news and happening can impact XAU/USD, but few essential assets influence gold the most.
Important assets impacting XAU/USD:
EUR and USD
XAU (Philadelphia Gold and Silver Sector Index), Hui (AMEX Gold BUGS), and GDM (NYSE Arca Gold Miners Index), the Chicago Board of Trade, New York Mercantile Exchange (COMEX), the Euronext/LIFFE, the Tokyo Commodity Exchange, the London Bullion Market, the Bolsa de Mercadorias e Futuros and the Korea Futures Exchange
Silver
T-Note and bund
Trading gold as a day trader
Analyzing the trend
Drawing your supply and demand zone
Identifying breakout and retest (advance)
Applying price action for signal confirmation
Applying risk-reward ratio
As we are talking about day trading, we will see how traders can make a deal in gold and come out of the market in one trading session. XAU/USD moves in one direction for a long time. So, Identifying the trend is an essential part of trading gold.
First, we will see the overall market scenario and momentum because we do not want to enter the market having less volume. We will then start identifying the swing highs and lows once we see the market has sufficient volume and mid-range volatility.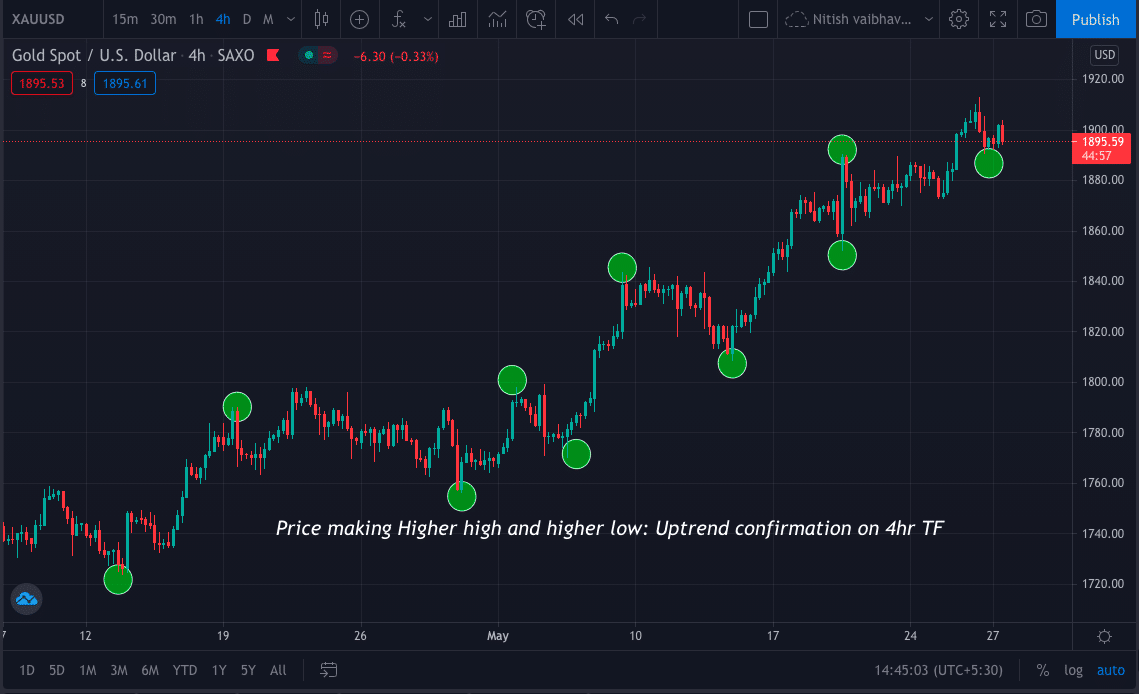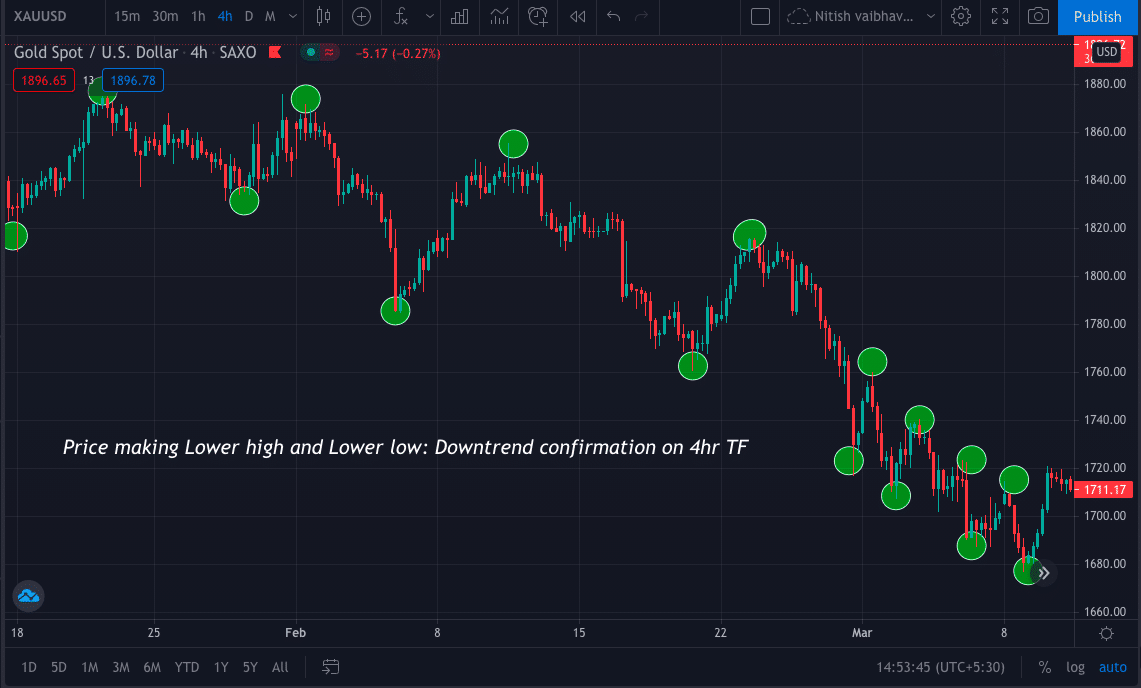 High high, high low makes an uptrend, whereas lower high and lower low make a downtrend. Remember to use 1D and then 4hr to confirm the overall trend and not just the current market trend for day trading.
Drawing support and resistance zone
Supply and demand zones have a lot of eyeballs on them. So, we need to draw our evident support and resistance zone. Here, we will pay attention to the current market trend after knowing the overall direction. This will allow us to trade in the direction where the big sharks are.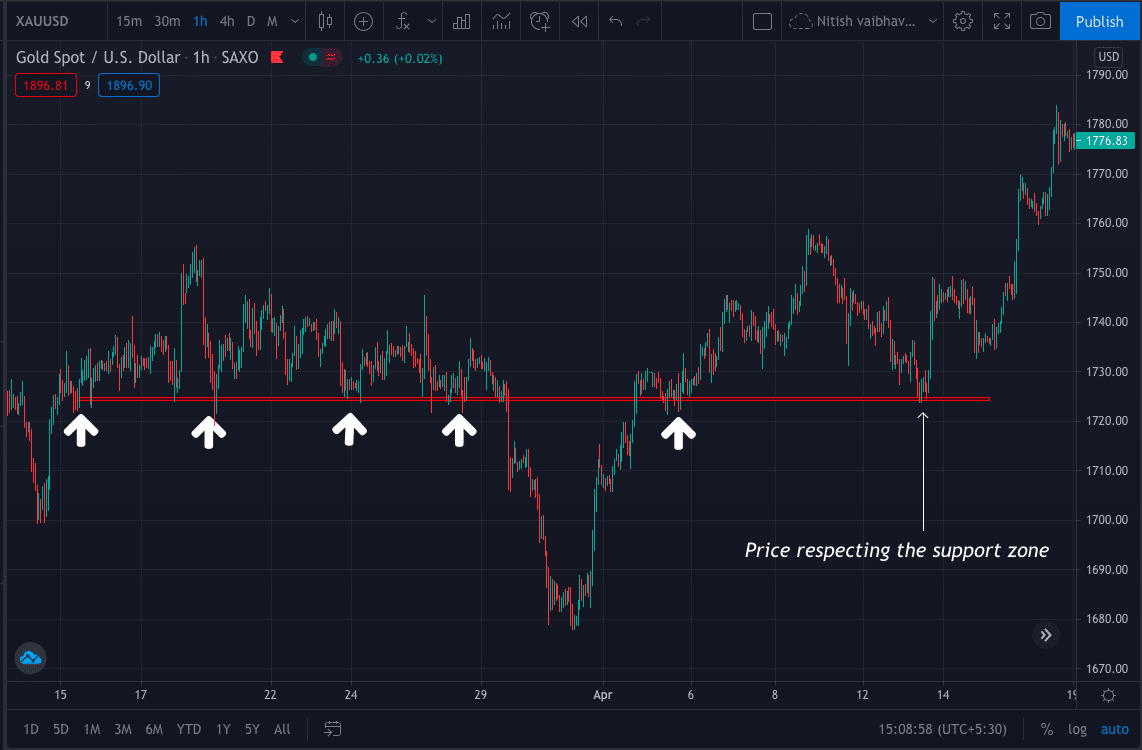 Trading at breakout and retest
There will be a time when the market will move sideways (choppy market), which we usually avoid. But in gold, we will take this as a trading opportunity.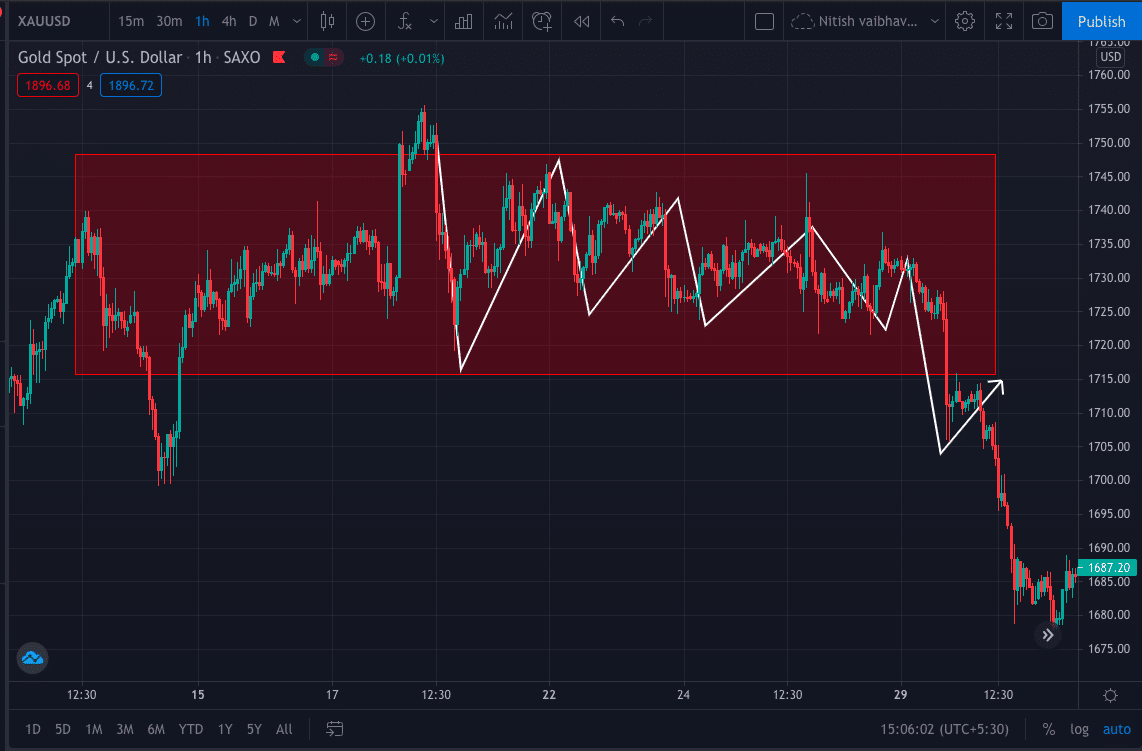 When the market is in consolidation, we will wait for it to break that zone and retest the current support or resistance. Of course, we always do not necessarily wait for the retest, but it is an excellent practice to get a reasonable risk: ratio position and tight confirmation.
Applying the price action into action
Price action, the best strategy according to the successful traders around the globe, gives more accurate trading signals and allows us to trade with confidence.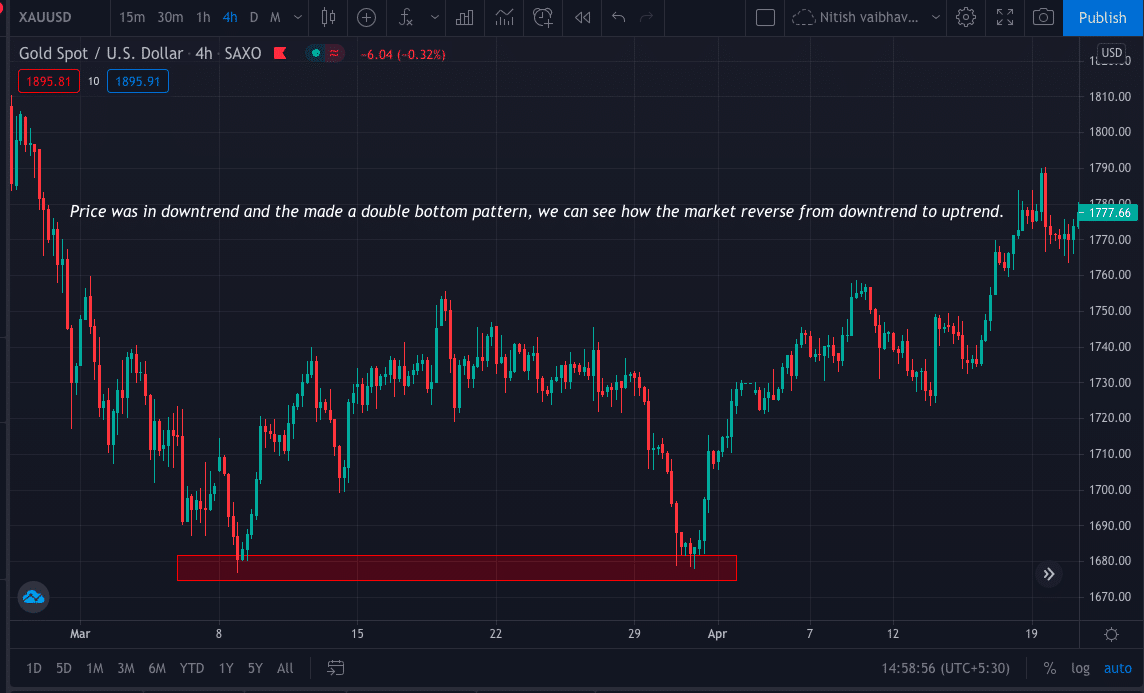 Trading patterns are constantly visible on the chart if you have a piece of good knowledge about them. After we make our S/R zones, we will look for indecision, continuation, and reverse candles and patterns. These candles like Doji, Pinbar, and patterns like a double bottom, double top, head and shoulders are highly accurate.
Applying risk to reward ratio
As discussed already, XAU/USD is very volatile, and trading this asset is risky even for experienced traders. But now, when we know, XAU/USD moves in one direction for a long time. Therefore, we can use this information in our trading format.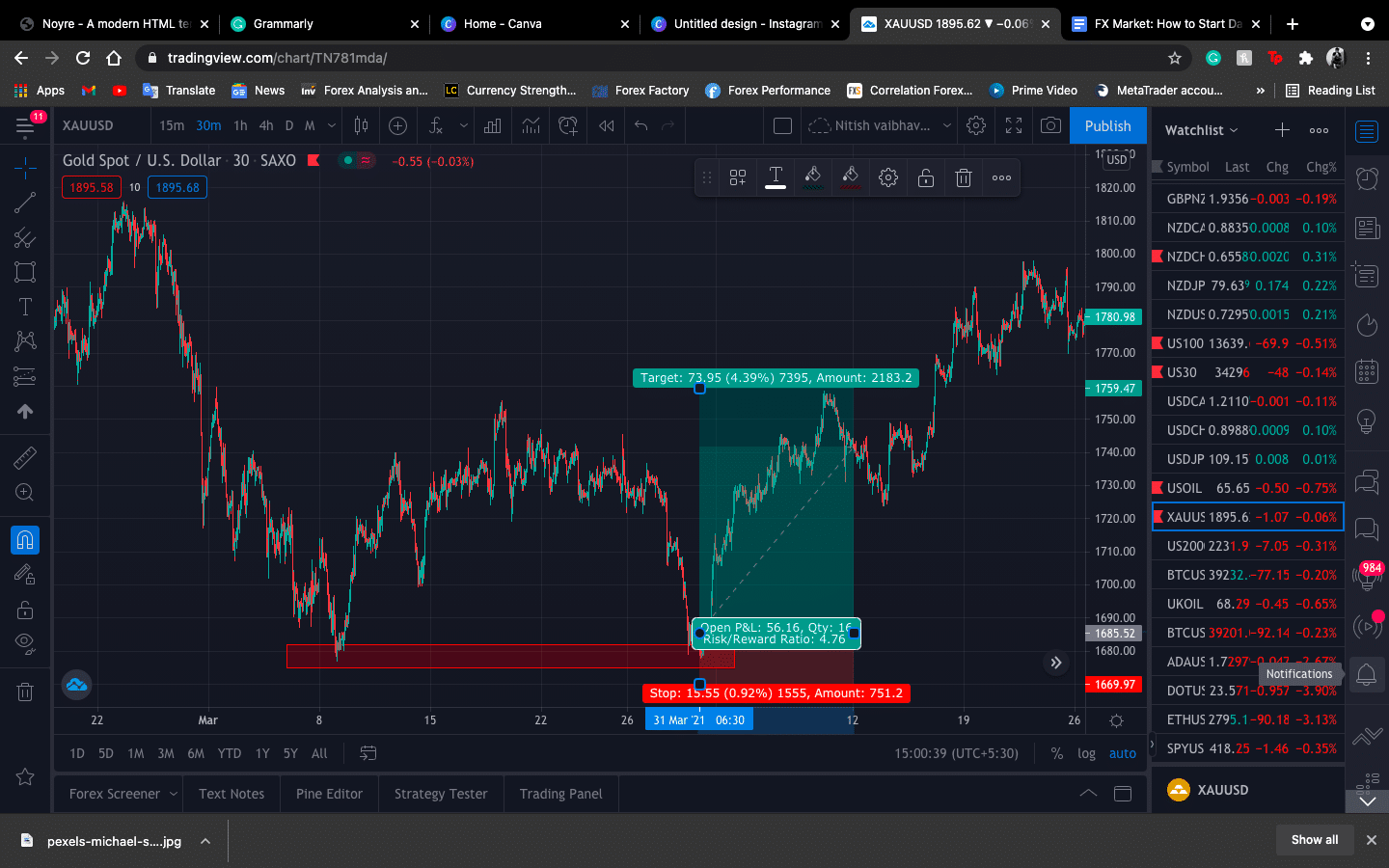 It is better to use more than a 1:2 RR ratio in all trading setups. Using a top-down approach is always better, So we will start with one day and move to 4hr for trend confirmation and take in a 30 min or 15 min time frame.
Conclusion
With so much information, it's now known that XAU/USD is a highly volatile market that means it has a high probability of giving money and risking your amount at the same time.
Price action is a strategy that can help you master XAU/SUD, as this trading style involves only the real-time market momentum and trend. It is advisable not to trade gold if you have less than $500 in your trading account as the sudden downfall or bullish moment due to news and happening can blow your account.