The US posted a 0.7% jump in retail sales to reach $618.7 billion in August from July. The retail sales beat forecasted 0.8% drop and were 15.1% above the prior year.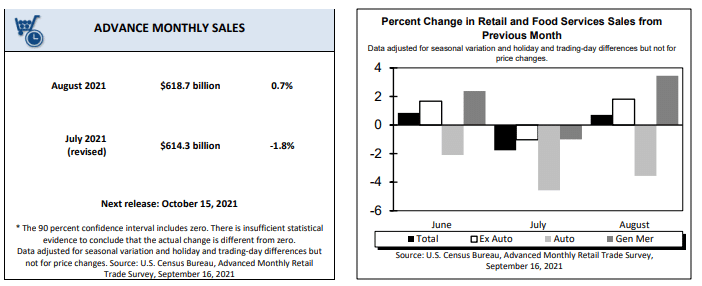 Fig: Retail and Food Services Sales
From June to August 2021, retail sales jumped by 16.3% from the comparable period of last year
Retail trade sales posted a monthly increase of 0.8% in August to remain 13.1% elevated to the prior year.
Sales at clothing and clothing accessories stores had an increase of 38.8% in August compared to last year. Gasoline stations posted a sales increase of 35.7% in the same period.
The increase in retail sales shed mixed signals given the chip shortages that has affected production. and could alter expectations of economic slowdowns in the third quarter.
SPY is down -0.098% on premarket, DXY is up +0.46%Source: Census Bureau