Investing in index funds is a popular option for investors who like a passive investment. It enables opportunities to obtain profits by investing in some assets and paying fees for the fund's management. The Vanguard Growth index fund is a popular investment for investors.
However, it requires some research on the investing asset before investing. You have to check on some apparent data such as history, performance, risk factors, fees, and costs, etc., to confirm the fund's potential.
This article contains all helpful information about the Vanguard Growth Index Fund to help you understand and make investment decisions.
What is the Vanguard Growth Index fund?
It is an investment fund that seeks to track the performance of the CRSP US Large-Cap Growth Index, which measures the investment return of large-capitalization growth stocks.
The fund invests in the US large companies stocks that have tendencies to grow more rapidly than the board market. VIGAX belongs to the large growth category, and the asset class is Domestic stocks general. Meanwhile, the advisor of this fund is Vanguard Equity Index Group.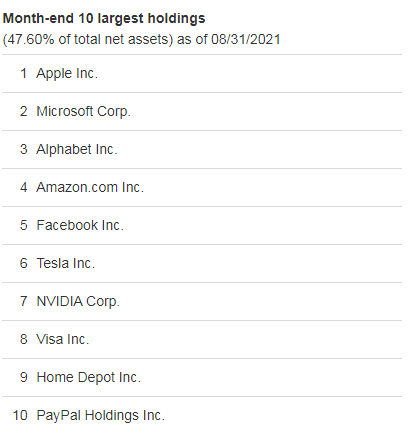 This fund has investments in some famous company's stocks that operate across the globe, such as Facebook, Amazon, Tesla, Visa, Paypal, etc. The fund number of VIGAX is 0509, and this fund is available as an ETF.
Fund's total assets are $178.9 billion, and its net asset is $165.53 billion. The number of stocks of this fund is 285; the top ten holdings have nearly 47.6% of the net asset of VIGAX. Meanwhile, the foreign holdings have only 0.1%.
History of fund
The Vanguard Group, Malvern, Pennsylvania, is one of the largest organizations with significant securities and fixed income managers. Gregory Davis, chief investment officer, CFA, overseas Quantitative Equity, Fixed Income Groups, and Vanguard's Equity Index. Principal and global head of Vanguard's Equity Index Group, Rodney Comegys, is responsible for all equity index funds. Since 1992, the Vanguard group has been advising the Vanguard Growth Index Fund. This fund VIGAX has been operating for nearly three decades.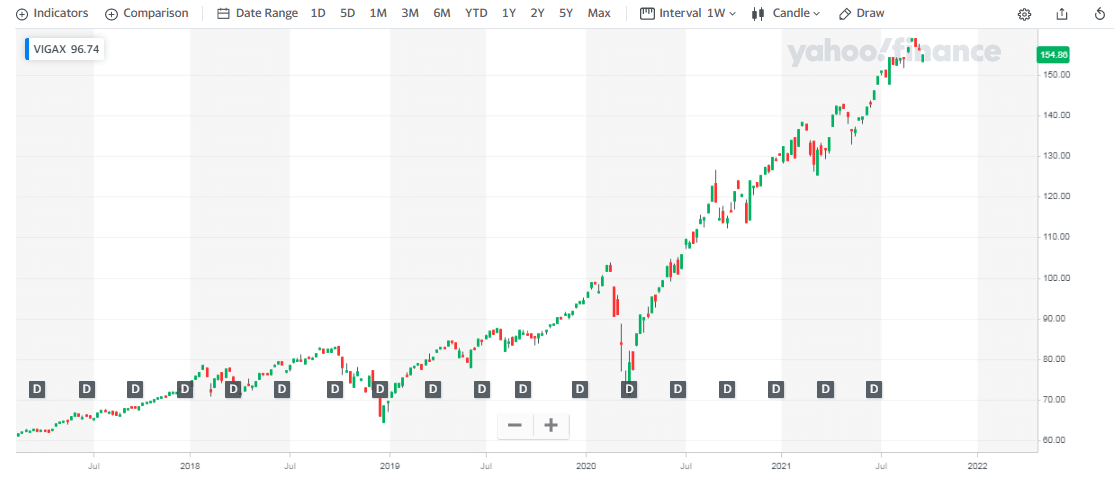 The current portfolio manager of Vanguard Equity Index Group is Walter Nejman, advising since 2016. This fund is floating near $154.86 as of writing.
Rankings
This fund, VIGAX, is operating under Morningstar's large growth category. The rating team tags the' star' rating on assets by observing at least three years of performance. The top 10% of each category fund gets a five-star rating; the next 22.5% receives a four-star rating, the following 35% receives a three-star rating, so the subsequent 22.5% gets a two-star rating and a one-star rating for the bottom 10%.

This fund has a four-star rating overall by morningstar. Duration matters include three years, five years, and ten years; this fund gets a four-star rating, according to Morningstar. Another popular scale that investors follow is the Lipper ranking.

This fund has been at the position of 1874 out of 2786 funds for the yearly duration. Meanwhile, for five years, the place is 293 among 2271 funds and 153 out of 1613 funds for ten years.
Trailing total returns
Return information is essential info to look at before choosing any asset class before investing. VIGAX has a yearly return of 28.92%, for a three years period that is 25.20%.

Meanwhile, the fund has a 23.65% return in a five-year duration and a 19.02% return for ten years. The return figure for this fund is attractive. For better understanding, we are attaching a calendar year return chart that will show you the return percentage of each year from 2011 to 2021.

The above figure has additional information besides VIGAX cumulative return info, such as S&P 500 growth, large growth, etc. Now check on the cumulative return info for the fund VIGAX. It has a YTD(daily) return of 17.83%, YTD(monthly) figure is 21.34%.

Performance measurement
The performance measurement of any investment asset will help you to understand the potentiality of that asset class. This fund has a year-to-date return of 10.28%, and the five-year average return figure is 12.10%.

In the past twenty years, this fund had sixteen bullish years and four years of bearish movements. Now we are attaching Trailing Returns vs. Benchmarks info is below for checking the performance.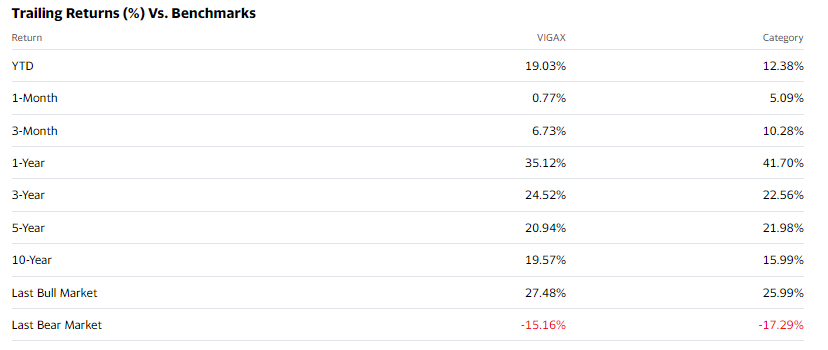 Now, for a better understanding of performance, look at the hypothetical chart below, which will show you the growth of 10k investment in the Vanguard Growth Index Fund.

Fees and costs
This fund has no purchase fee or redemption fee. The expanse ratio of VIGAX is 0.05% which is low as the average of the similar funds has an expense ratio of 0.99%. Look at the hypothetical chart to understand your fee for ten years from a 10k investment.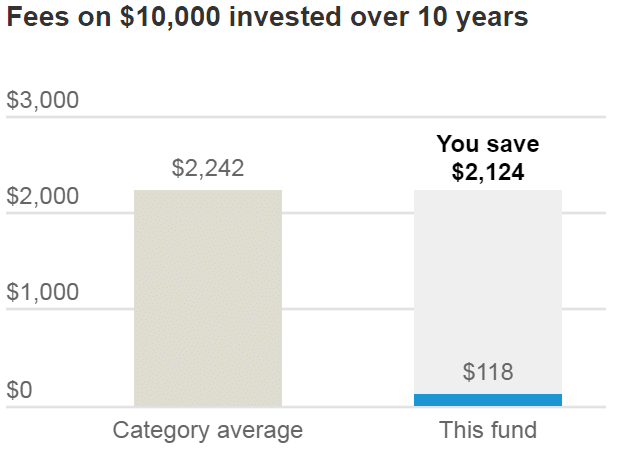 The minimum investment amount for VIGAX is 3k. You may have to pay an additional $20 service fee annually.
Risk measurement
Several risk factors affect this fund VIGAX, such as stock market risk, investment style risk, sector risk, and non-diversification risk.
As this fund makes money from investing in stocks of large companies, any decline in stock prices can affect this fund. The stock market can decline in response to several factors such as economic crisis, political uncertainty, interest rate, currency exchange rate, etc. Investment style and duration pattern are also essential factors. For a better understanding, we are attaching a risk statistic chart of VIGAX below.

Again, several sectors this fund targets to invest in. For example, technology, e-commerce, manufacturing, etc. Any depreciation in these factors may reason to fall stocks of those companies, which can cause declines in this fund index.
Volatility measurement
The beta value of VIGAX is 1.00. Meanwhile, the Sharpe ratio is 1.20, and the standard deviation for this fund is 19.94.
Vanguard Growth Index fund 2022 forecast
We checked all the valuable information during our research purpose about the Vanguard Growth index fund. This fund has managed to have a smoothly growing figure since the beginning.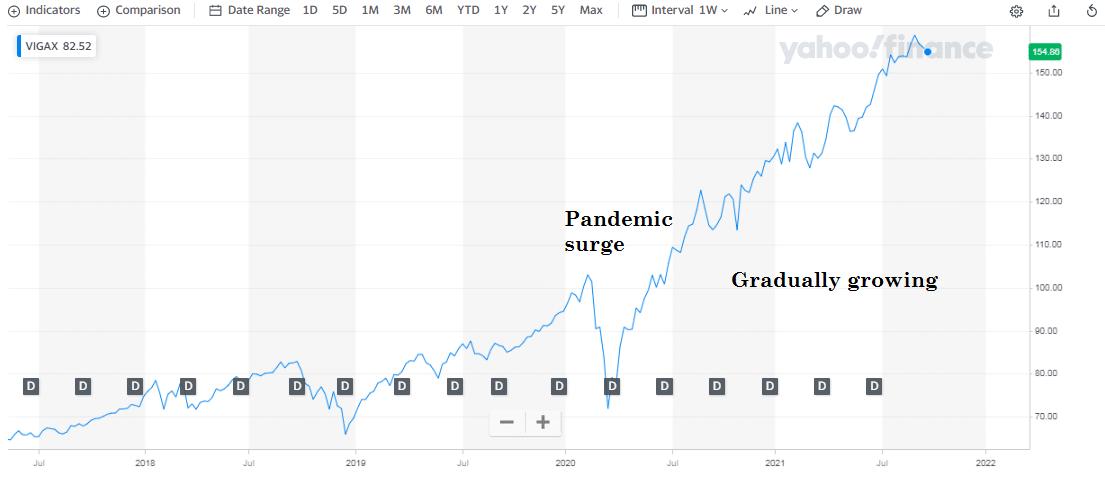 Despite the recent Covid-19 pandemic surge, the index fund recovers and continues to grow. By observing all factors such as performance, risks, investment amount, cost, fees, return info, ranking, and history, we recon this fund VIGAX as a potential investment for the subsequent year 2022.
Final thought
Finally, you have good research on VIGAX as you know all preliminary information about this index fund. We suggest checking on several facts before deciding to invest in VIGAX, such as time duration, return expectations, region, transaction fees, etc. You may apply some technical analysis on the price chart for making a more accurate trading position.