The Vanguard institutional index fund is one of the most considerable funds to invest in, allowing significant returns. It will enable investors to make money just by investing and following the price movement. They don't need to perform any additional activities.
However, finding a reasonable investment opportunity requires basic knowledge and understanding about that fund or asset. You have to examine some essential attributes of these assets before investing, such as costs, volatility, performance, etc.
This article covers all this data about Vanguard institutional index fund. Let's review the VINIX index that every market participant should know before investing.
What is VINIX?
VINIX is a fund that seeks to track the performance of a measurement that determines the return of investments from large-capitalization stocks. Specifically, this fund tracks the performance of the S&P 500 index, which is a popular measurement to understand the US stock market. You can find large US companies' shares in this index. The advisor of this fund tends to invest all or a sufficient portion in all those indexes and hold those stocks. Meanwhile, holding each stock in approximately the same ratio as the weighting in the index.
History of fund
The launching date of The Vanguard Group is 1975 in Malvern, Pennsylvania, which is among the most considerable fixed income and equity managers. This index is a product of this group, and the formation date for this fund was back in July 1990.
Donald M. Butler is the current manager of this fund who has been playing this role since 2000. According to recent data, VINIX is worth $111.45 billion in accumulating assets. At the time of writing, the index is 397.17.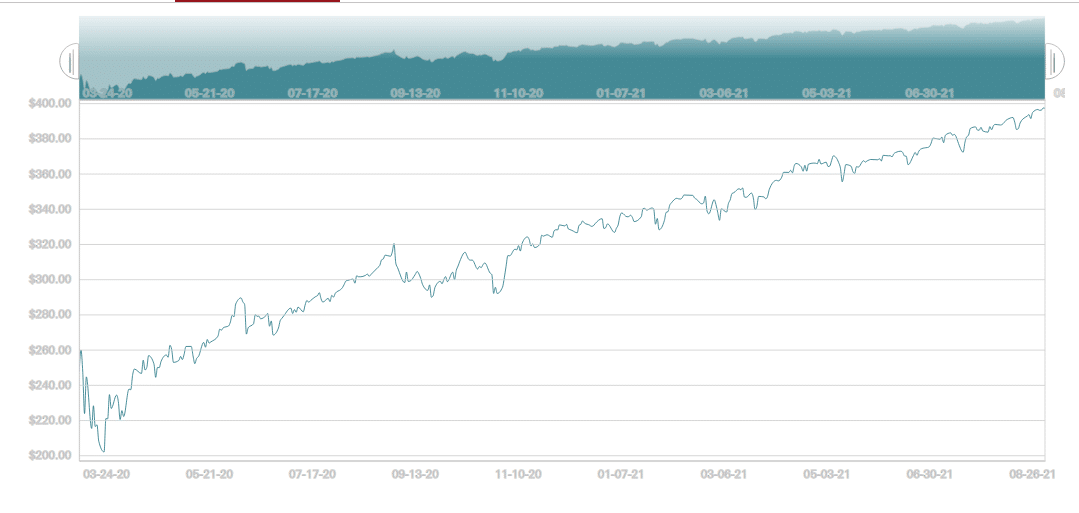 Rankings
According to the evaluation of 1,257 significant bend funds, VINIX does not have any current rank. We have gone through long-term investments, top-rated funds, and ratings of leading fund industry researchers to rank out this mutual fund. It has been a potentially profitable fund for decades but currently has no ranking tag.
Trailing total returns
This fund, VINIX, shows an excellent long-term return in comparison to other funds. Observation says this fund shows an annual return of 13.08% in 5-years, the top third among these types of funds. It also has a 12.48% annualization return on a 3-years duration, which is also the top three among these types of funds.
The growth of the past three years for this fund has a standard deviation of 10.25%. Meanwhile, the average of this category funds got 9.16% in departure. When you look at the standard deviation of this fund for 5-years, you will get it as 9.71%. Compared to the assets of this category, the average has a 9.41% variation. So it seems this fund has been volatile for the past half decades.
Performance
This fund got an expense ratio of 0.035%, which is cheaper in comparison to other funds. Performance is also potential and attractive. This fund currently has 8.54% growth for the quarter-end, a year-to-date 15.24%, and a 40.77% yearly growth rate. We attach a figure below showing the growth rate from inception to the recent quarter-end for VINIX.

Vanguard institutional index fund has a 14.81% return in ten years duration.

This figure above shows the benchmark, average expense ratio, residual error, etc., information besides the growth rate since the beginning. The average expense ratio is 0.01% for quarter-end and 0.04% for yearly to ten years.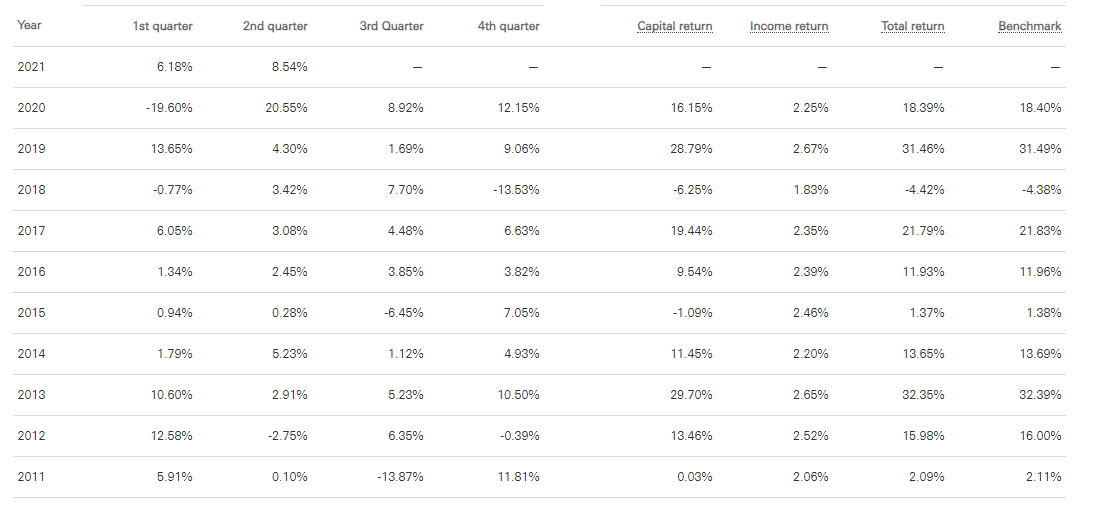 The figure above shows the last ten years' performance of VINIX. You can quickly check on the total return, income return, capital return, and quarterly growth of each quarter in these months. However, observing these figures will give you a general idea of the validity of this fund in recent years.
Fees
When you are in some mutual funds, the cost and fees become essential factors to consider. Despite all other things as an equal, you can consider a low-cost product as an outperformer.
There is no load fund in VINIX when it comes to fees. Additional funds in this category got a 0.85% expense ratio on average. Meanwhile, VINIX has a 0.04% expense ratio. So if you compare from the cost perspective, then VINIX is comparatively cheaper. You have to make an initial investment of $5 million and require at least $1 investment for each following.
Risks
Any investor should always consider the downside risk for the asset in which he may invest. In that case, VINIX has lost 50.9% in the most recent bear market and the outperformance for its peer group by 4.35%. These results can imply that this fund is better than its peer group, as the study says. Keep in mind that this fund has been volatile for the past few years, generating negative alpha over the past five years of -0.03.
Holdings of VINIX
It is a valuable exercise to invest in equity holdings of mutual funds. This fund mainly focuses significantly on the tradable equities in the United States. VINIX has a market cap of $242.73 billion and currently holding stocks of 98.98%. It got the heaviest exposure to the technology and finance sector. Turnover is about 10% of VINIX and places fewer trades than others in this group.
Vanguard Institutional Index Fund forecast 2022
We examine the VINIX from several angles during the research. We find this fund is a potentially profitable investment for the following years. If no uncertainty happens, the fund will grow fine in 2022, as is being for several years. Moreover, the expense is also low for VINIX, so investors can enjoy an enormous return by the end of 2022 from investing in this fund.
Final thought
Finally, you know the basic info that you need to learn about VINIX. We suggest learning more about this fund before investing. Additionally, check on the facts of the duration of the investment. Check on other articles for more profound knowledge and understanding. You can always check on the ranking data and others, no matter what type of investor you are.