Absolute is a Forex expert advisor that was launched in April 2021. As per the developer's claims, this robot has had 99.5% profitable trades in backtests conducted from 2015 to 2020. Since there is no official website for this expert advisor, we must consult the MQL5 marketplace for all information related to it. Here, the seller has provided a short introduction, followed by a list of features and recommendations. We also have the links to the set files and a set of input parameters. Finally, there are a few screenshots showing the backtesting results and the live performance. 
The developer behind this system is Aleksei Ostroborodov, a resident of Russia. This person is the founder of Smart Forex Lab and has their own Telegram channel. We don't have any background information on the developer, other than the fact that they have been present on MQL5 for four years. Their other systems include True Range Pro, Good Morning, Candelabrum, and Euphoria. To get in touch with the seller, you can message them via Telegram or MQL5.
Key features 
The current price of this EA is $99. Compared to other robots on the market, it's low-priced. There is a monthly rental option that costs $30. However, the vendor does not offer a money-back guarantee. 
This EA trades in EUR/USD and GBP/USD. The developer has not explicitly mentioned the timeframe, but the set files are for the M30 timeframe. You can get started with a minimum deposit of $200 and the vendor recommends trading with leverage exceeding 1:50. They also recommend using a Weltrade hedge account and a TradingFx VPS. 
Absolute uses calculated hard stop loss and take profit for risk management. It has a spread control feature and both regular and relative levels. You can manually select the volume for each order or enable the auto volume parameter for the automatic calculation of lot size. 
Absolute trading approach 
This EA follows a scalping strategy based on reversal patterns. It avoids using risky strategies like martingale or grid. Instead, it relies on pure price action. According to the vendor, the robot achieves the maximum win rate when it follows the trend. To determine the direction of the trend, it uses Bollinger Bands and SMA.
Backtesting results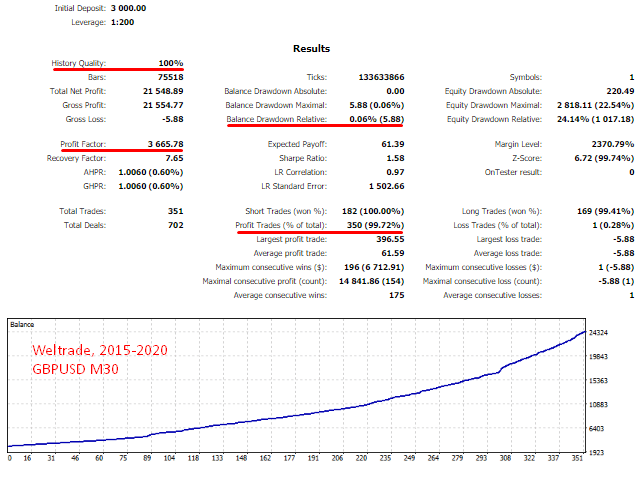 This backtest was conducted on the GBP/USD pair from 2015 to 2020 using an initial deposit of $3000. The EA conducted 351 trades for the testing period, winning 99.72% of them and generating a total profit of $21548.89. 
The relative equity drawdown was 24.14%. There were 196 maximum consecutive wins and 1 maximum consecutive loss for this backtest. 
Absolute live trading results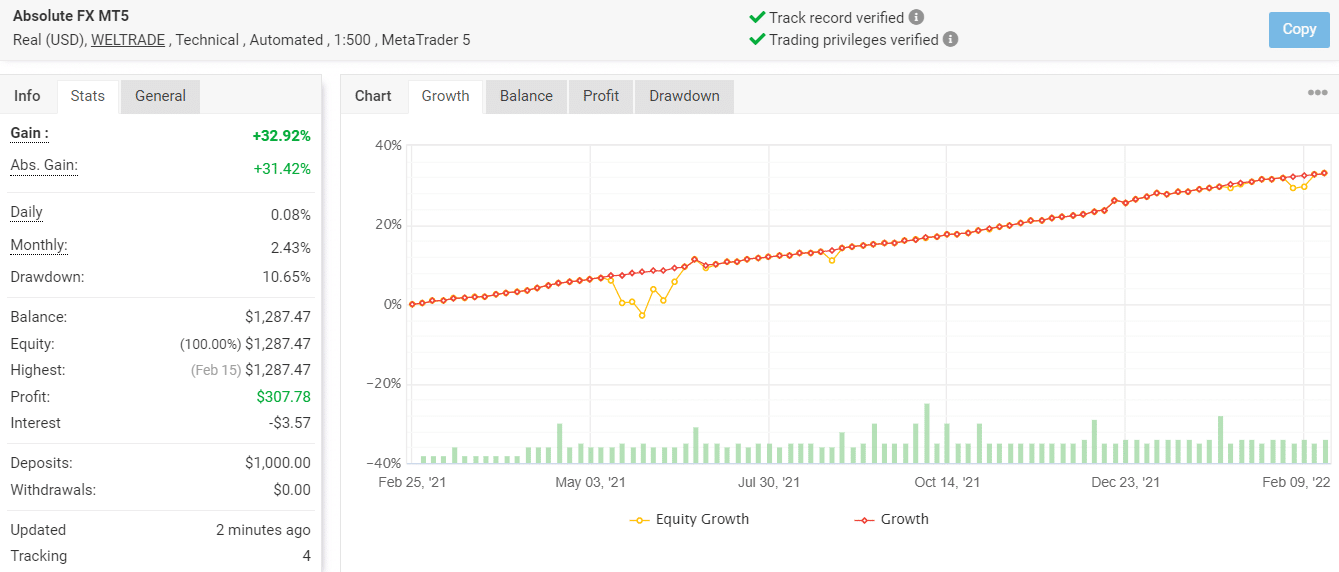 This live trading account on Myfxbook was launched on February 25, 2021. To date, the EA has conducted 103 trades, winning all of them. Although the win rate is perfect, it is based on a small number of trades. The total profit currently stands at $307.78, while the time-weighted return is 32.92%.
Currently, the daily and monthly gains are 0.08% and 2.43%, respectively. The drawdown of 10.65% is much lower than what we saw in the backtest.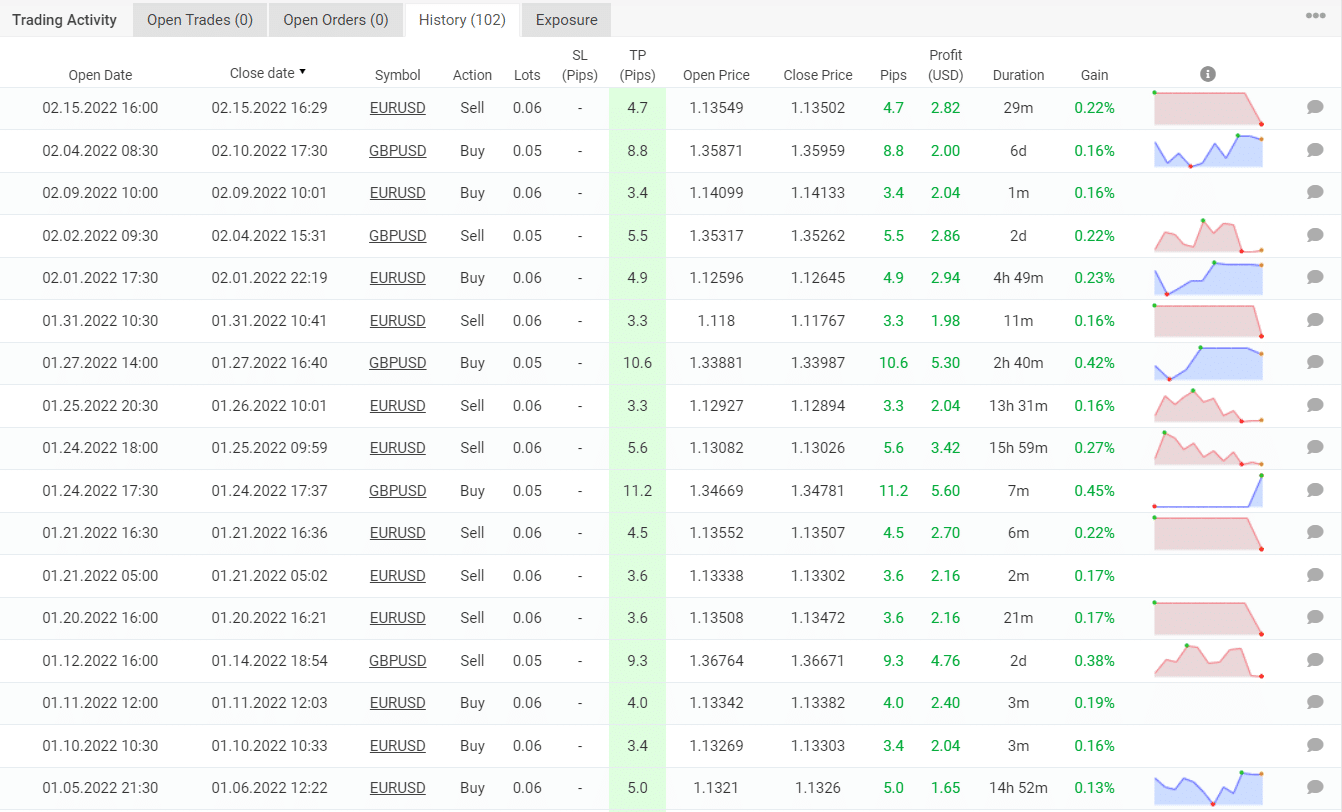 From the recent trading history, we can see that the lot size is between 0.05-0.06. The EA generates profits at a steady rate. This account has an average profit and loss of 6.73 pips/$2.99 and 0 pips/$0.00, respectively. 
What are the risks with Absolute?
Absolute suffers from a lack of transparency. The vendor does not offer a money-back guarantee, and the trading history is too short.
Worth noting!

There are no user reviews for this expert advisor on trusted third-party websites. We have some reviews on MQL5, but we cannot consider them authentic.
What are the pros & cons of investing in Absolute?
| | |
| --- | --- |
| Pros | Cons |
| Verified trading statistics  | No refund policy |
| | Short trading history |
| | Lack of vendor transparency |
Although there are verified trading results for this robot, it has only conducted 103 trades. Also, we don't know too much about the seller.
Absolute Conclusion
Absolute is a Forex EA that is a low-cost trading tool that is supported by verified statistics. Although this EA has a high win rate, it is based on a small number of trades. We have very little background information on the vendor and there is no money-back guarantee.