Aelf is a next-generation multi-chain blockchain platform built on a cloud computing network to provide optimum functionalities such as resource segregation and governance structure. ELF does not operate in the typical blockchain manner, in which one node runs swiftly on a single server, influencing overall performance.
Ma Haobo founded the Aelf coin in December 2017. The advisory board includes important persons like Ma Haobo, FGB Capital founder Zhou Shouji, and Techcrunch founder Michael Arrington.
This article will walk you through the most recent Aelf (ELF) price prediction for 2022 and prospects. So strap in for a brief review.
What is the Aelf coin? ELF explained
The Aelf coin is presently regarded as one of the most promising crypto solutions on the market. This decentralized blockchain network, which powers cloud computing infrastructure, aims to provide the best possible services to businesses and individuals worldwide. The main goals are to deliver unrestricted scalability, performance, and security. The project built a smart and advanced secure blockchain cloud infrastructure that separates cloud computing networks and enables scalability for its solutions to work. The mainnet's self-contained nodes offer users performance, stability, and scalability.
The main component of the Aelf blockchain network is its infinite scalability. It accomplishes this by installing as many servers as are required to handle rising network traffic. This is made feasible through sidechains, which run on many hosts independently. As a result, all of the client's computing needs can be covered. Aelf crypto also has interoperability with several networks. For instance, it indicates that if the network can connect to its computer center, data or digital assets could eventually be transferred to other computers through internal procedures.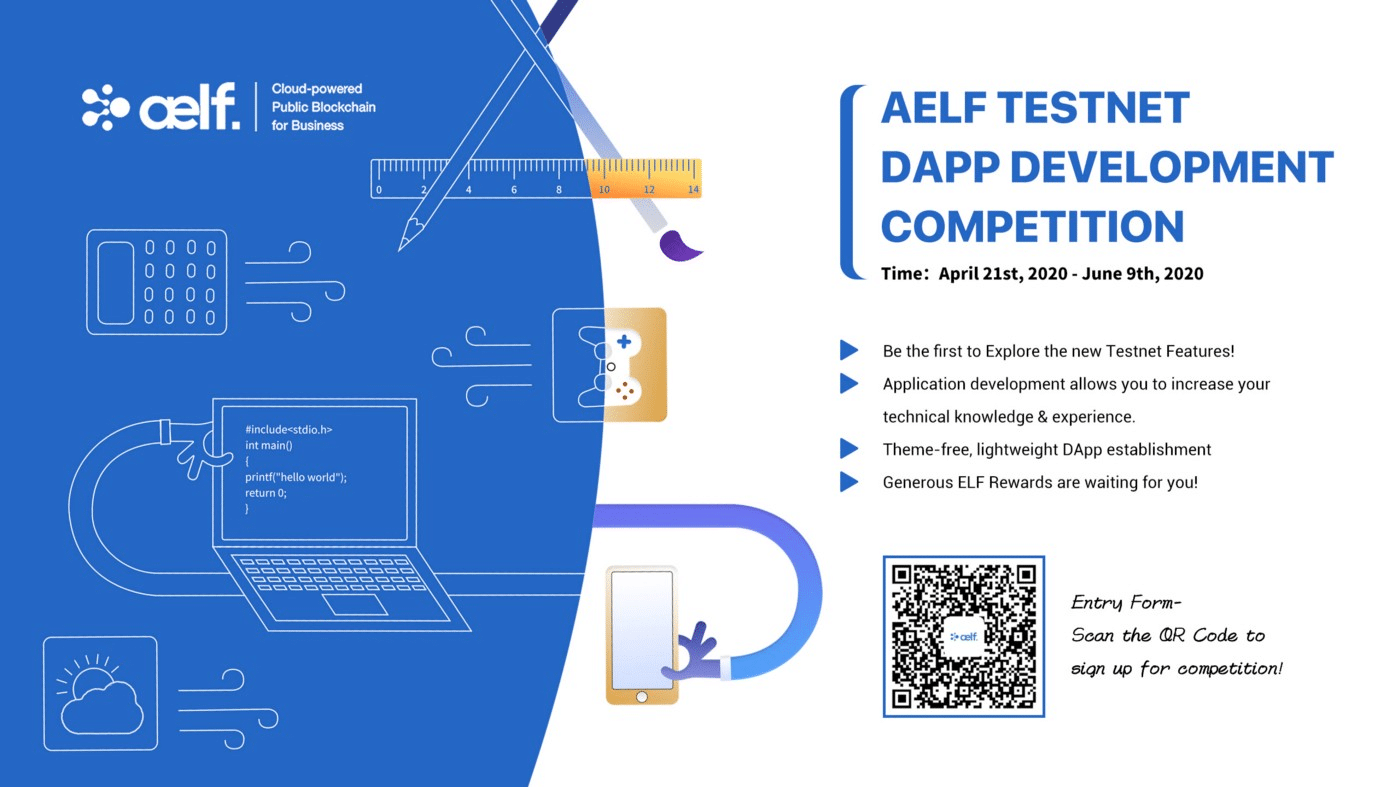 In the cohesive dApp ecosystem, the platform has built an Aelf OS based on an open-source operating system. This platform's major characteristic is that it communicates with an external blockchain system, smart contracts, and a mix of fundamental components. As a result, the system lowers data complexity to achieve high customization. It also allows for key on-chain decisions to be made through the community voting mechanism, which includes selecting a minting node, releasing a new feature, and making other significant decisions to make the system self-activated. In addition, the network employs the delegated proof of stake protocol, which is a native PoW and PoS protocol. Furthermore, the ELF token is a utility token backed by the ERC-20. 
As a result, the Aelf blockchain now enables dApps, DeFi, sub-chains, and other applications. Everything is connected and flows without major difficulties because the team behind this project built it with scalability as one of its primary characteristics.
Aelf (ELF) coin: is it a good investment?
Recently the Chinese government has supported the Aelf blockchain. During its New Generation Innovation and Development Forum, Tianjin City Government declared Aelf Enterprise its first blockchain infrastructure. Since blockchain was included in China's Development Strategy in 2019, the Tianjin Municipal Government has prioritized the usage of the Innovation Center and the blockchain business ecosystem. 
Aelf has eagerly responded to national calls and has been actively engaged in related work. The announcement indeed validated Aelf's efforts in the long term, and this news has made people go crazy about ELF tokens. A long-term investment in Aelf (ELF) crypto would be rewarding. Long-term refers to an Aelf projection for 5-7 years or more. With the rate at which the future of cryptocurrency is heading, it could even be less.
What will the Aelf coin be worth in 2022?
With a live market cap of $216,196,949, the current CoinMarketCap ranking is №192. It has a total quantity of 1,000,000,000 ELF coins and a circulating supply of 544,480,200 ELF coins. According to the Aelf projection price and technical analysis, the ELF price is predicted to drop below a support level of $0.3540 in 2022.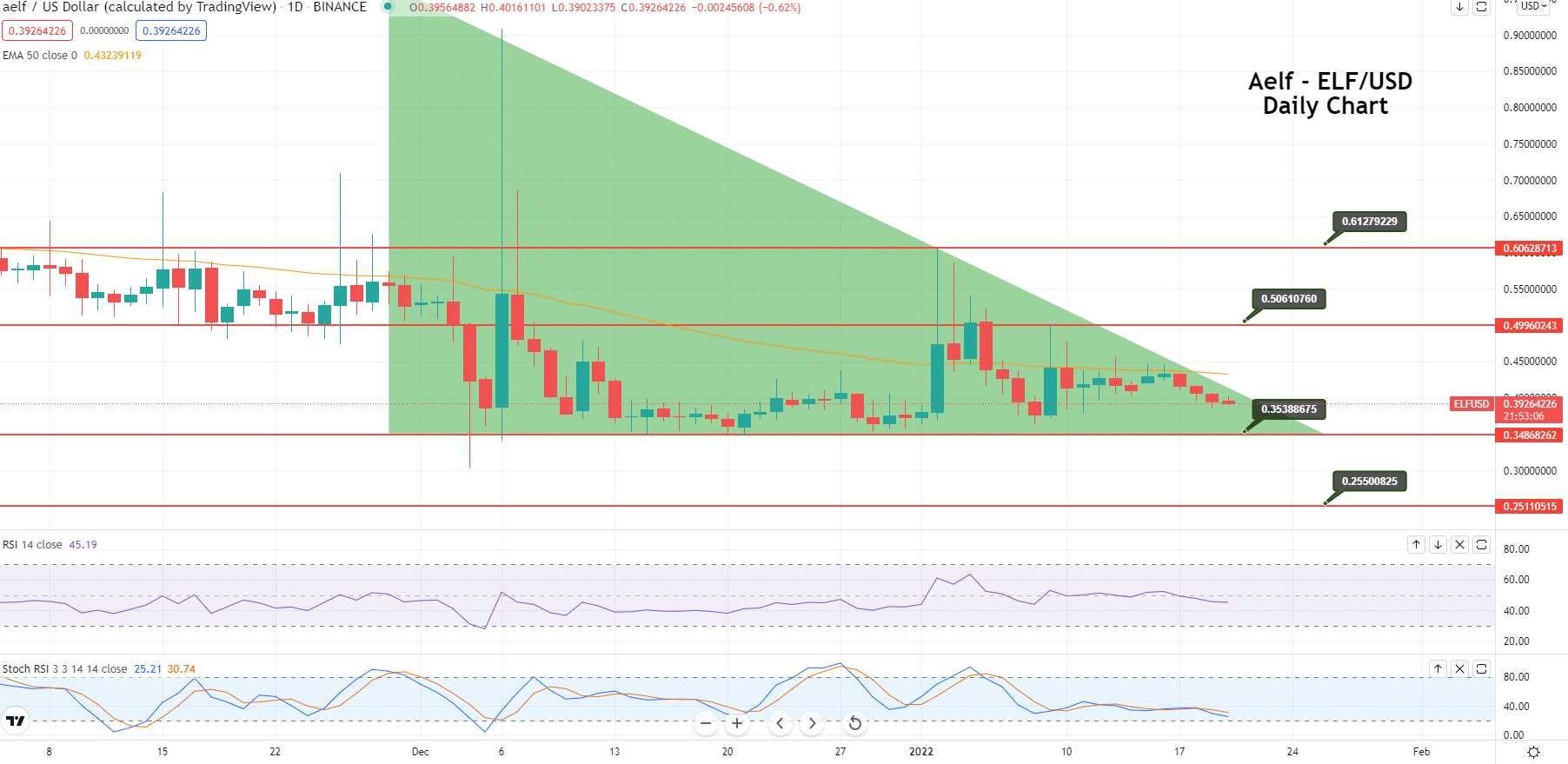 The year 2022 appears to have begun on a pessimistic note, as most of the biggest cryptocurrencies have begun to decline. Likewise, the ELF has plunged below the $0.45 (50 EMA) support zone, and the technical outlook favors a selling bias in 2022. So let's look at the price prediction section for a more technical outlook.
Aelf price prediction for 2022
At the time of writing, Aelf is trading sharply bearish at $0.3926 per coin. The ELF has formed a descending triangle pattern that supports a selling bias in the ELF/USD pair. Typically, such a triangle pattern breakouts on the lower side and signals the continuation of a selling trend. However, it all relies on the triple bottom support level of $0.3538. 
A surge in selling pressure can trigger a bearish breakout below $0.3538 and add room for selling until 0.2550. The 50-day exponential moving average supports a downtrend while providing solid resistance at $0.4500.
Technical indicators such as RSI and stochastic RSI support a selling trend. Thus, the breakout of 0.35 could expose the PPT price towards the $0.24 level. Therefore, the PPT price prediction looks pretty bearish.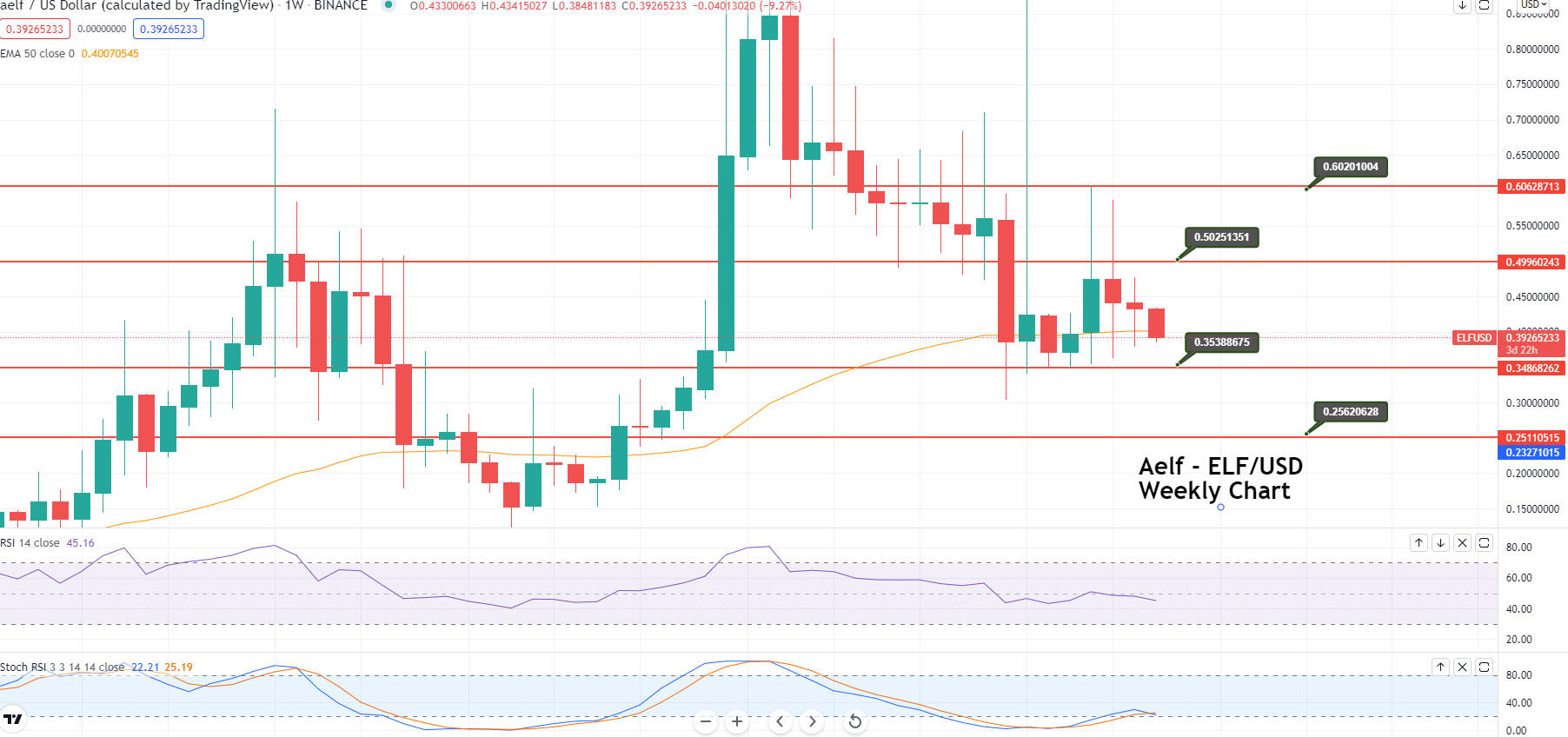 On the bullish side, the ELF coin's immediate resistance stays at $0.4500, and a surge in its demand can slice through to target $0.5061 or $0.6125 levels in 2022.
How to buy an Aelf coin?
On the bullish side, the ELF coin's immediate resistance stays at $0.4500, and a surge in its demand can slice through to target $0.5061 or $0.6125 levels in 2022.
If you are a newbie, follow these steps:
Open an account with a crypto exchange. Regardless of the options stated above, the first step is to join up for Binance or any exchange that trades Aelf tokens.
Purchase BTC to exchange it for Aelf coins.
Use the exchange to convert BTC into ELF.