Aeron (Scalper+Grid) is a Forex expert advisor that claims to be able to make profits from both volatile and stable market conditions. It is a fully automated system that works with the Metatrader 4 platform and promises to generate maximum and stable profit while keeping the risk to a bare minimum.
On the official website, the vendor has presented us with multiple verified accounts showing live trading results. We are also provided with explanations of how the strategy works, and what are the requirements for this robot. The vendor also provides us with the pricing details and presents a lengthy FAQs section.
Unfortunately, no information is available on the company that built this robot. We don't have any mention of a physical address on the company website, and the identities of the team members are not revealed either. The complete lack of vendor transparency makes us wary about investing in this EA. In order to get in touch with the vendor, you can use the email address provided on their website.
Key Features
Aeron is currently being sold for $230. The vendor claims that this is a special price that will be valid till the initial 50 copies of the robot are sold or till 2 days are over. Following this, the price will be increased to $349.
This robot trades in five different pairs, namely AUD/CAD, USD/JPY, EUR/JPY, CAD/JPY, and EUR/USD. The vendor recommends this EA for the 1-minute timeframe, but it can be used with any leverage. With each trading position, Aeron uses stop loss and take profit. It has equity management features, so you have complete control over the amount of equity you wish to risk.
This robot increases the lot size automatically as your account balance increases. Daily it places 5-10 trades on average. However, the number of trades placed, depends largely on the spread value and the broker.
Aeron (Scalper+Grid) Trading Approach
This Forex EA uses the Grid and Scalping strategies. The former is suitable for making gains in trending as well as flat markets. It follows a hedging approach, where alternate long and short trades are placed at specified levels.
The scalping strategy, on the other hand, involves purchasing a pair and holding it for a short time period to take advantage of the small price shifts. Here, a large number of trades are placed and small profits are extracted from each. While using this strategy, you must have your computer running round the clock. Since this is a time-sensitive trading scheme, it also requires a fast internet connection.
Backtesting Results
We don't have any backtesting results on the official website. This means we have to gauge the system's profitability solely based on the live trading statistics. The absence of backtesting data might deter some traders from investing.
Aeron (Scalper+Grid) Live Trading Results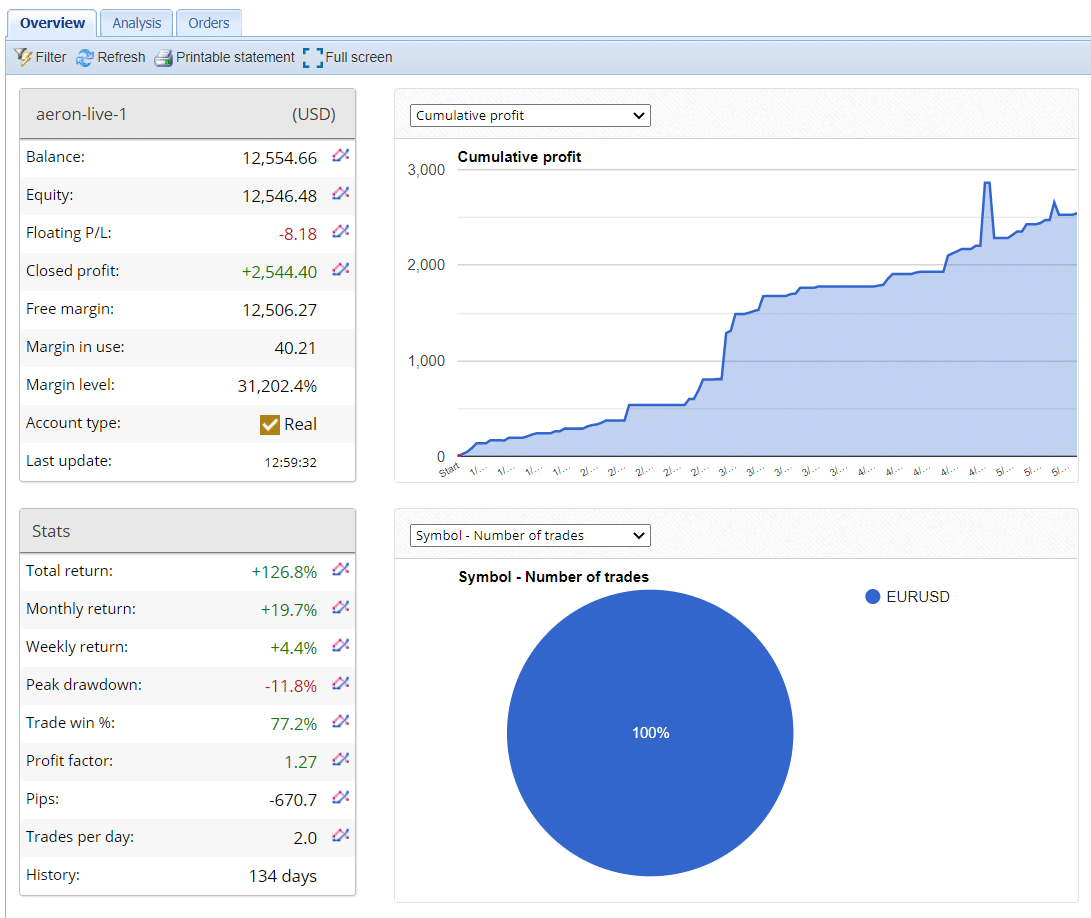 This is a live trading account that's verified by FXBlue. It has a trading history of 134 days, and in this time, it has made a total profit of $2544.40. The monthly and weekly returns for this account are 19.7% and 4.4%, respectively, while the trade win rate is 77.2%. While the results look quite impressive, we cannot put too much weight on them, due to the short trading history.
What are The Risks With Aeron (Scalper+Grid)?
Generally, it is considered unwise to purchase a product from a company you know nothing about, and this is especially true for Forex EAs. There is a lack of vendor transparency where Aeron is concerned, which makes it a risky investment prospect. Also, we don't have the backtesting data available for this robot.
Worth Noting!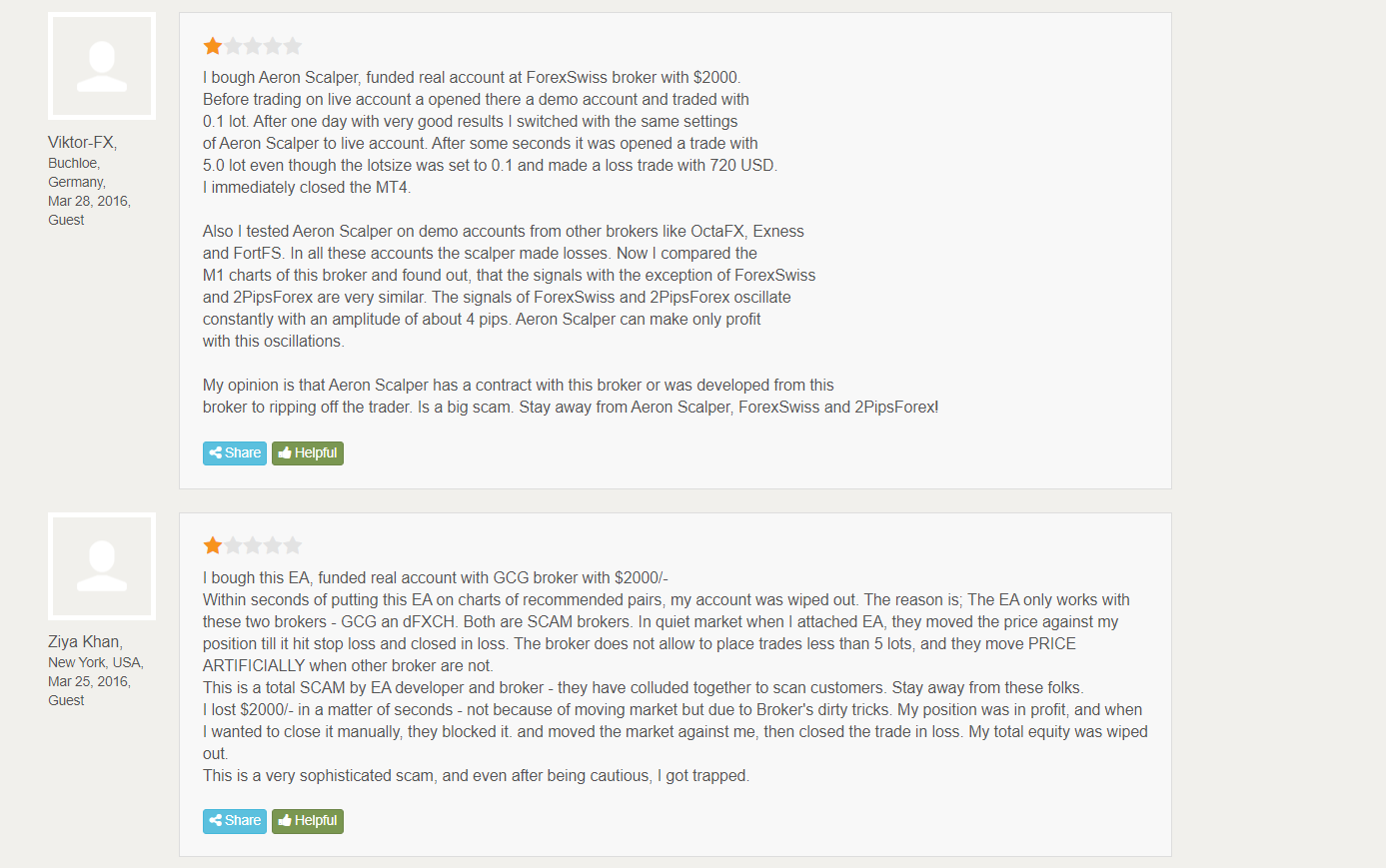 Aeron (Scalper+Grid) has a low rating of 2.026 on the FPA website, and most of the user reviews are negative. Many users have stated that this is a scam service, with some of them claiming that their accounts were wiped out after using this EA with their trading charts.
What are the Pros & Cons of Investing in Aeron (Scalper+Grid)?
| | |
| --- | --- |
| Pros | Cons |
| ✓ Verified live trading results | ✘ Lack of vendor transparency |
| ✓ Strategy explanation | ✘ No backtesting data |
| | ✘ Short trading history |
Even if we ignore the negative customer reviews, Aeron has too many shortcomings for us to recommend the robot to traders.
Final Thoughts
After conducting a detailed analysis, we have reached the conclusion that Aeron (Scalper+Grid) is a scam service. There is simply not enough information available on the vendor for us to trust this EA, and besides, it has not been trading live for too long. On top of that, there are several customer reviews claiming that the vendor is ripping off traders.
Features: 5/10
Pricing: 6/10
Strategy: 4/10
Performance: 4/10
Reliability: 2/10