Agimat Trading System is a Forex EA that works on TradingView, Metatrader 4, and Metatrader 5. According to the vendor, this system can track market movements efficiently, and find profitable trading opportunities. They have also claimed that the robot has an accuracy of 90%, but this is something we need to verify independently.
On the official website, the vendor has shared multiple videos of live trading and explained in detail how the system works. We have the link to a live trading account on FXBlue, and also the pricing details.
The developer behind this EA is Dennis Buchholz, who works with F.X. Tech Group Ltd. This is a company that is registered in the US and has offices in Spain and Hong Kong as well. We have little or no information on the company's background, and the vendor has not shared the details of the team members. It is unknown whether this team has developed other trading systems in the past. Since no contact information is available on the website, you need to use the contact form to get in touch with the service team.
Key features
This system uses an indicator known as Agimat FX Ultra that delineates the entry points as well as the take profit and stop loss. You can use this EA on Android as well as iOS devices. For processing market data, Agimat Trading System uses an Artificial Neural Network.
By purchasing the license, you will get access to the trade copier where you will get scalp trades copied to your account. The vendor provides users with a PDF manual, a tutorial video, as well as receiver software. If you don't have a VPS installed on your system, the service team can help you install one.
Unfortunately, the vendor has not mentioned the minimum deposit requirements for the trading account. We also don't know if the robot trades with leverage.
Agimat Trading System trading approach
This is a scalping bot that follows a high-frequency approach. Such systems typically do not keep positions open for too long. They look to make quick profits by capitalizing on the minor price differences in the market. Such a strategy is not suitable for a beginner and it requires you to be attentive at all times, leading to stress.
Backtesting results
Unfortunately, there are no backtesting results for Agimat Trading System. It seems the vendor hasn't tested the strategy using historical data. This essentially means the robot has not been exposed to different market conditions. Forex traders place a lot of emphasis on backtesting data, and they would not appreciate the vendor not sharing the same.
Agimat Trading System live trading results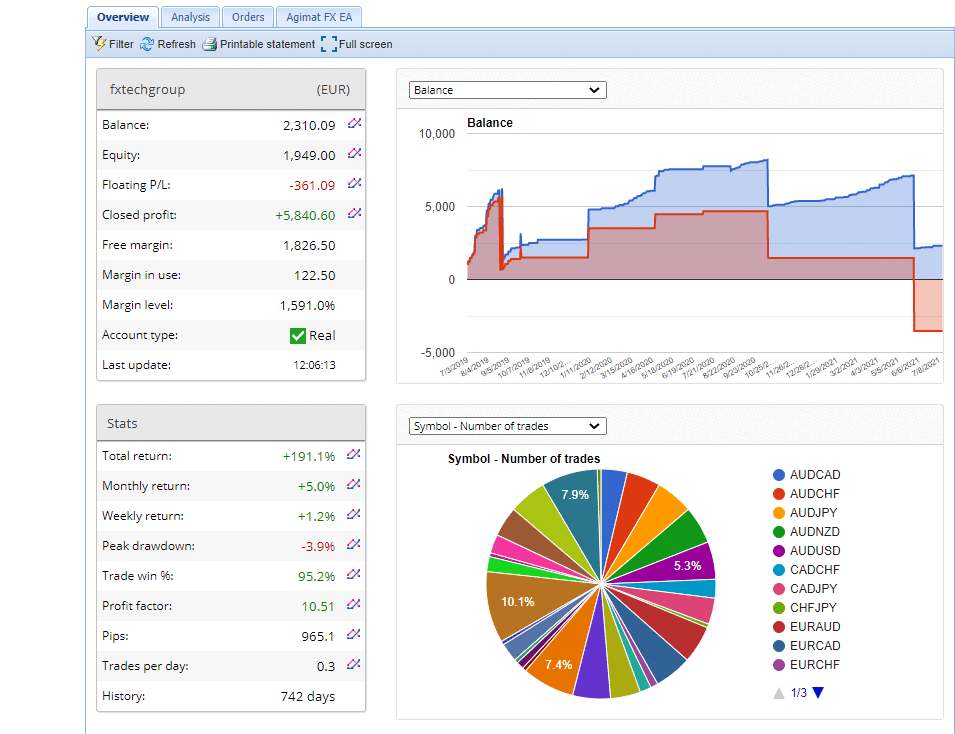 This is a live trading account for Agimat Trading System on FXBlue. The account has been active for 742 days, but to date, only 189 trades have been placed through it, which is quite odd considering this is a scalping system we are dealing with.
We can see that the daily, weekly, and monthly returns for this account are 0.23%, 1.18%, and 5.04%, respectively. Most Forex automated systems have higher monthly win rates, so we don't think the robot is as profitable as the vendor claims it to be. Furthermore, the account has a high risk/reward ratio of 2.81, which tells us that it's risky to trade with this EA.
What are the risks with Agimat Trading System?
We think Agimat Trading System is a risky EA to invest in, primarily because it hasn't placed a lot of trades through its live trading account. The vendor is not entirely transparent about their history and has not shared any backtesting data. Last but not the least, there is no refund policy to protect your investment.
Worth noting!

We came across some customer reviews for this EA on the Forexpeacearmy website. One user has claimed that at the time of writing the review, their account was at a drawdown of 80%, even after following the author's recommendations.
What are the pros & cons of investing in Agimat Trading System?
| | |
| --- | --- |
| Pros | Cons |
| Verified trading results | No backtesting results |
| | Short trading history |
| | No money-back guarantee |
As you can see, there are too many negatives when it comes to this robot. There is every sign of it being a money-draining EA, so it's better to stay away from it.
Agimat Trading System Conclusion
Agimat Trading System is a risky investment, despite the vendor claiming it to be a safe way to grow your trading account. You should never trust vendors who are not ready to back up their claims with a money-back guarantee.