Aura Rocket is a trading solution that can help traders with working on a demo or real account on Forex. The presentation includes details about how the system functions. Let's analyze its features.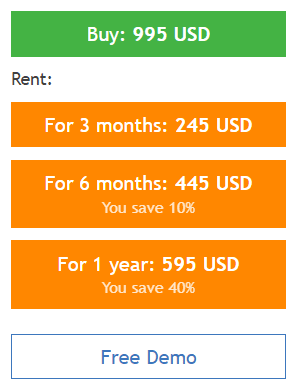 The robot can be purchased for $995 for a single real account copy. You can subscribe for it for $245 quarterly, $445 for half a year, and for $595 annually. The platform allows users to download a demo copy of the system for free.
Stanislav Tomilov is a developer from Russia. He has a 11,755 personal rate. His portfolio includes 9 products that were downloaded 4074 times and 19 signals with 159 subscribers.
Key features
The developers can provide us with information about the system and its functionality.
The system performs orders automatically on the MT4/MT5 terminal.

The robot works with machine learning and hyperparameter search technology.

There's a Grid of orders strategy behind the system.

It works with various indicators.

It opens orders in the market direction only.

The robot places SL levels for every order.

The advisor doesn't run risky strategies such as Martingale, Averaging, Scalping or Arbitrage.

The developers claimed that the same type of machine learning model requires different constraints, weights, or learning rates to generalize to different data models. These parameters are called hyperparameters.

The current price of $995 will be increased to $1295.

Users can trade with standard, moderated and high risks.

High risks can help us to double an account within 5-6 trades.

The account should be over $100.

Its leverage can be 1:20 or higher.

Trading is possible on any broker.

The system is able to follow FIFO and FTMO restrictions.
Aura Rocket trading approach
Price Action is the main strategy.

The core time frame is H1. 

We can work with XAUUSD. 
Backtesting results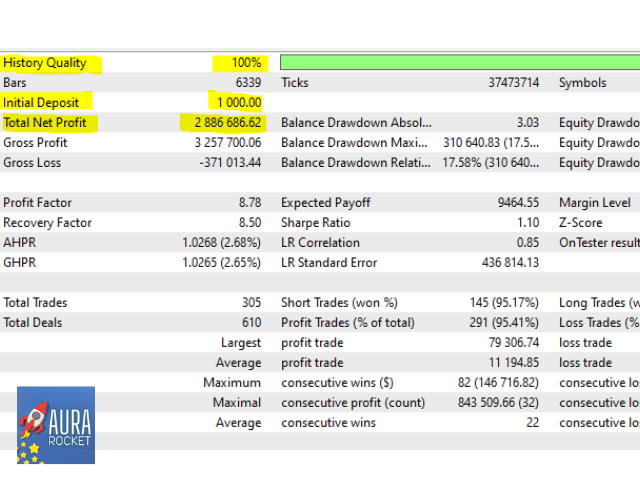 The developers provide us with a report that was received on the 100% history data. The robot could make $2,886,686 from $100. The profit factor was 8.78 and the recovery factor was 8.50. The maximal drawdown was acceptable either, 18.58%. The system performed 610 trades with accuracy of 95%.
Aura Rocket live trading results

Aura Rocket was set to trade on IC Markets live. It manages orders with 1:500 leverage completely automatically (100%). It manages deals with the maximum drawdown of 14.9% when the maximum deposit load is 1.9%. An average win rate is 89.5%. The robot managed to generate only 11.05%.

It's clear that the system has hard times to trade smoothly.

Aura Rocket works with significant losses, -$59.94. 

Aura Rocket closed only 76 orders. The best trade is $100.01 when the worst trade is -$150.76. The recovery factor is 1.03. It's a very low number. An average monthly growth is 3.88%.
What are the risks with Aura Rocket?
The system looks like a safe and reliable trading solution. Anyway, the only risk is that the system loses more than wins.
Worth noting!

We have opposite comments provided. Some users aren't satisfied with profitability of the system.
What are the pros & cons of investing in Aura Rocket?
| | |
| --- | --- |
| Pros | Cons |
| A backtest report shared | No risk advice given |
| Trading results available | No indicators explanations given |
| | Discusseable trading results |
| | Some negative feedback published |
Aura Rocket Conclusion
Aura Rocket is a system that works with Gold on the real market. Trading results showed that the system is far from being a pretty useful trading solution because it's young and we don't know if it can work stable for us. We'd like to note that it would be better to wait for upcoming results.