Botcrypto is a trading service that allows you to design and customize automated bots to meet your specific needs. The developers provide a variety of subscription packages and let you connect your algorithm to Binance or Kraken using API keys. According to the vendor, it does not require programming experience and is easily adjustable. We'll review the platform's strengths and shortcomings, essential features, and prior performance to see how efficient and effective it is in the crypto market in 2022.
Botcrypto overview
RSI, moving averages, Bollinger Bands, EMA, and other technical indicators are included in Botcrypto. It comes with pre-programmed tactics, which help customize your own trading strategy. 
Automated trading at Botcrypto: how does it work?
Botcrypto is a software that trades 24/7 in the volatile crypto market by retrieving market data. It checks the coded conditions and parameters and executes orders based on these settings. The algorithm will use API keys to send orders to the selected exchanges on your behalf.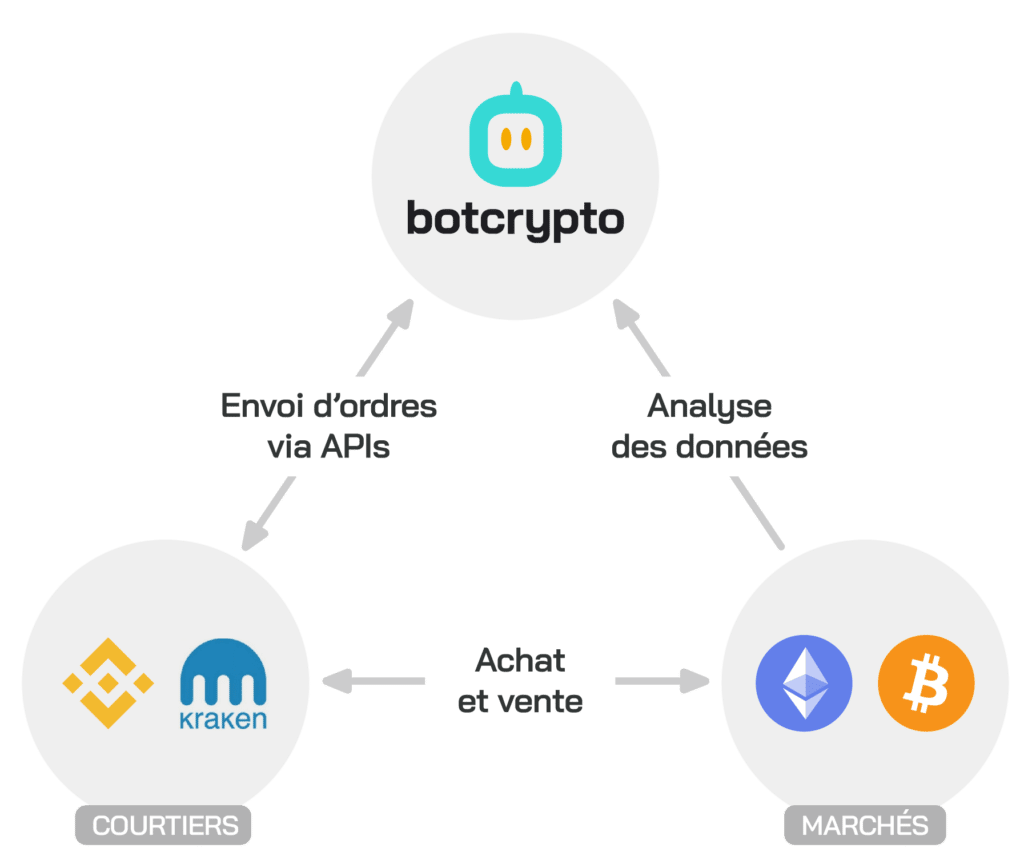 Botcrypto bot features
Following are the essential features of Botcrypto:
A simulated account with demo funds is available for beginners.

There are no coding skills required to configure the strategies.

Over 20 technical indicators such as Ichimoku Clouds, Vortex, Exponential Moving Averages (EMA), etc. 

It supports backtesting on more than three years of data and real-time simulations.
Botcrypto trading strategy: Dollar-Cost Averaging
You can use dollar-cost averaging and other pre-designed methods on the platform. Botcrypto includes over 20 technical indicators, such as the RSI, Bollinger bands, Vortex, etc. The website does not disclose any additional information on the algorithms' trading strategy, which is a poor practice.

Steps to follow to trade with Botcrypto
Traders can launch Botcrypto and start trading cryptocurrencies in the following steps:
Register your account on the website with your email and password

Choose from a variety of pricing options according to your needs

Select exchange and link via API keys

Create your strategy or select from pre-built templates

Save the settings and launch a bot
Botcrypto fees & account minimum requirements
Botcrypto does not charge commission on deposits and withdrawals. There is no minimum funding requirement at the platform as it only depends on the exchange you are trading on. 
Exchanges compatibility
Botcrypto supports crypto trading on two exchanges, such as:
Binance

Kraken
Coins supported
Botcrypto does not provide a list of supported assets on its official website but mentions that several altcoins can be traded on the platform; some major cryptocurrencies include:
Bitcoin (BTC)

Ethereum (ETH)

Litecoin (LTC)

Ripple (XRP)

Dogecoin (DOGE)
Botcrypto performance 
Botcrypto allows users to test their strategies and bots on more than three years of historical data. From these results, we could have analyzed the bot's win rate, average profits, etc. However, the records are not publicly available. There are no customer reviews from which we can determine the user experience with this algorithm. 
How to withdraw your funds with Botcrypto?
The platform does provide info about the withdrawal process of funds at Botcrypto. We only know they do not have access to cash-outs as a security measure.
Is it a costly crypto trading tool?
Botcrypto offers multiple monthly subscription plans, such as:
Virtual account with simulations and no bot on the market.
12.49 EUR per month/2 bots/2 incoming webhooks.
37.49 EUR (month)/5 bots/backtest up to 7920 candles.
74.99 EUR per month with 20 bots and 10080 backtests.
Get customized benefits and features by contacting the developer.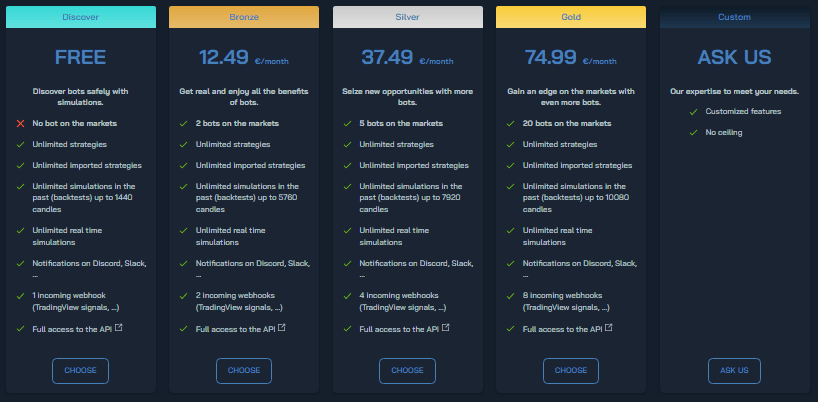 Botcrypto security and safety
Botcrypto does not have access to your assets or withdrawal rights; thus, your funds are safe in your exchange. It utilizes API keys, and a two-factor authentication system is available to secure your account.
Botcrypto regulation and legitimacy
Botcrypto does not include any regulations-related information on the website. It collaborates with Waltio, Unikname, and Semia, the French Public Investment Bank.

Botcrypto team members
The company was founded in 2017 and is based in Strasbourg, France. Constantin De La Roche, Theo Poizat, and Mehdi Boussaad are the team members behind Botcrypto.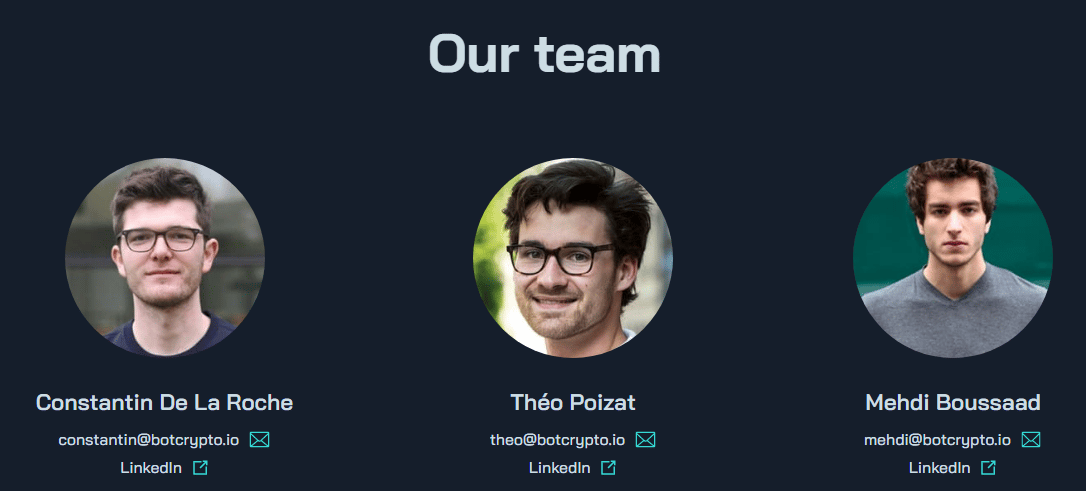 Is Botcrypto customer support good?
The customer support at Botcrypto assists users in the following ways:
Email

Chat

Discord channel
User experience
On well-known review sites like TrustPilot and others, there are no reviews regarding this company. The lack of user feedback raises concerns about the platform's effectiveness and suggests that few traders prefer it.
Is choosing Botcrypto the right choice for you?
Unfortunately, the developer does not provide any proof that the bots are profitable. Although it has been operating for five years, it still only supports two exchanges.
Botcrypto Crypto Bot Conclusion
After considering all of Botcrypto's features, we've concluded that it has little functionality due to limited exchange support. The lack of user evaluations on a reputable platform raises concerns about the product's effectiveness and authenticity. The website does not contain a list of the market strategies it employs and performance records.