Champion EA is a Forex expert advisor that can trade five pairs simultaneously. According to the developer, this system has a history of winning profits on real accounts and its drawdown has been less than 10% for a year. 
There is no official website for this Forex robot. It is sold on the MQL5 marketplace, where the vendor has briefly explained how the system works. They have also shared a list of key features, along with installation instructions and requirements. We also have a list of EA settings that can be modified to change the behavior of the system. Finally, there are some screenshots of live trading accounts and backtests, and a video explaining the robot's functionalities. 
Evgenii Aksenov, the developer behind this system, is a resident of Russia. We don't know anything about this person's background and trading history. He has  been selling his products on MQL5 for three years. Some of his other products include Batman Midnight Hunter, GOLD EAgle, Trend Line PRO, Joker EA, Gold Dragon, Joker EA, FIBO Trend EA, and Galaxy EA. The vendor has shared an email address where you can get in touch with him.
Key features 
Champion EA supports currency pairs like AUD/NZD, GBP/CAD, EUR/CAD, NZD/CAD, and AUD/CAD. You can trade all pairs using just one chart. The EA has a news filter that lets you stop trading based on major financial news announcements. You don't need to perform additional optimization or install additional set files to work with this robot. The current price of this robot is $499. There is a free demo version of the system but the vendor does not offer a money-back guarantee.
Since the EA only uses open prices internally, you should use the 1M OHLC for quick testing. For installation, you should attach it to an H1 chart for AUD/CAD. For best results, you should use a hedging account and an ECN broker with a low spread. It is also recommended that you use a VPS for stable operation. The minimum starting balance for each pair is $100.
Champion EA trading approach 
This EA looks for optimal entry and exit points in the Forex market. However, we have no idea how it does this. The vendor has not provided an explanation of the trading strategy. 
Backtesting results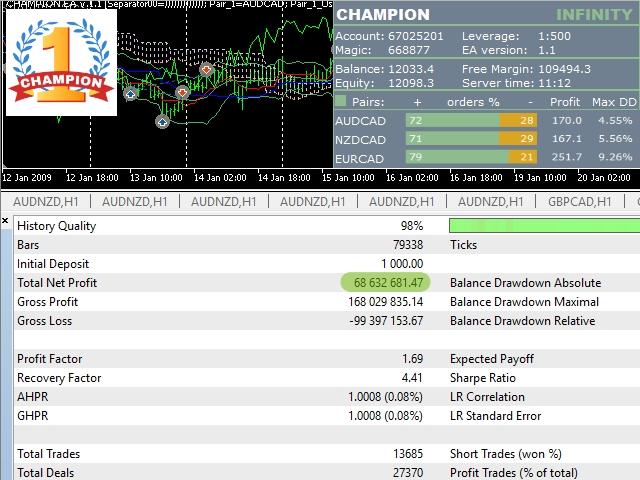 The vendor has not shared the backtesting results in the proper format. We can see that the robot started the test with an initial deposit of $1000 and conducted 13685 trades to win a total profit of $68632681.47. The profit factor for this backtest was 1.69, but we cannot see the win rate, drawdown, and some of the other parameters. 
Champion EA live trading results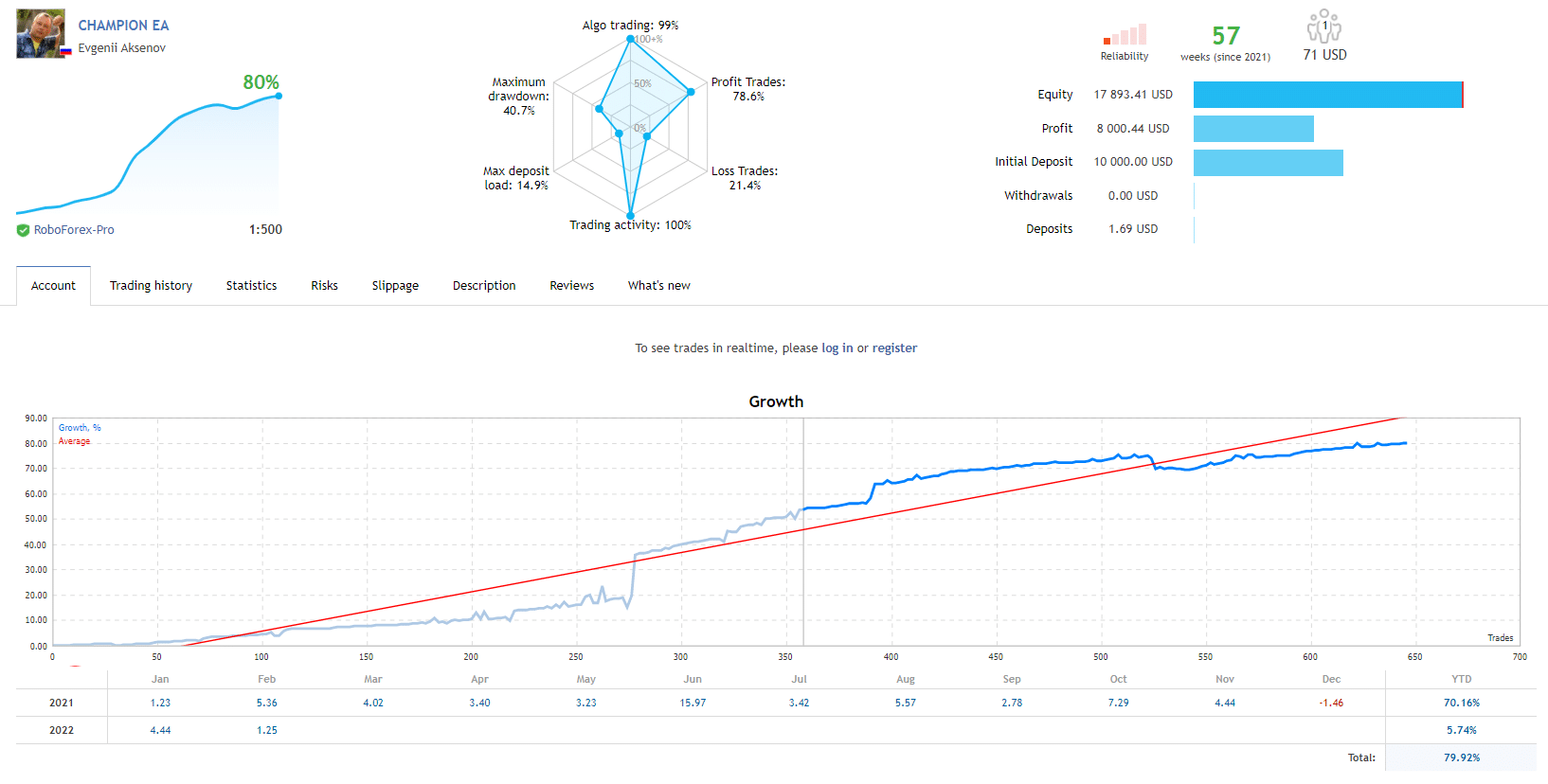 There are no verified trading accounts for this EA on third-party websites. This account on MQL5 was launched on September 22, 2021. To date, it has had 180 trading days, during which it has conducted 645 trades. It currently has a win rate of 78.60%, which is quite high compared to other systems. The total profit generated through this account is $8000.44. 
This account has a maximum drawdown of 40.7%, which is a bit too high. This tells us that there is a significant risk of suffering heavy losses while trading with this robot. There have been 22 maximum consecutive wins and 3 maximum consecutive losses for this account. It has a profit factor of 1.84, which is slightly higher compared to the backtest.
What are the risks with Champion EA?
Champion EA is a robot that comes without a refund policy. There are no verified trading results and we don't know much about the developer. 
Worth noting!

There are no user reviews for this EA on trusted third-party websites. However, on MQL5, there are a few reviews, but we have no way of finding out whether they are authentic or not.
What are the pros & cons of investing in Champion EA?
| | |
| --- | --- |
| Pros | Cons |
| Compatible with multiple pairs  | No verified trading statistics |
| | Lack of strategy insight |
| | No refund |
As you can see, there is a lack of transparency when it comes to the trading results and the trading strategy.
Champion EA Conclusion
Champion EA is a robot that has a low starting balance and drawdown reduce function. However, it is not supported by verified trading statistics. We don't know what strategy this EA follows and the vendor does not offer a money-back guarantee for dissatisfied customers.