Trading cryptocurrencies is no easy feat, as it requires some expertise to navigate the market. As a remedy, several start-ups embarked on making automated tools to aid crypto investors in this very venture. Coinrule is one such solution.
Coinrule overview
Coinrule was launched in 2017 in London with the goal of making the crypto trade less complicated. It achieved this by building a fully automated trading platform that lets users choose from more than 150 strategies. Alternatively, they could create their own strategies to follow, all without the need to write any code. It also allows for a back-test of these strategies to gauge their profitability. What's more, it boasts compatibility with more than ten popular exchanges. 
Best for:

Beginner and expert traders.

Pros:

Compatible with 10 + exchanges

Allows for back-testing on TradingView

Cons:

Doesn't feature a mobile app.

Can't create custom strategies on the demo version.

You have to be good at tech analysis to choose a strategy.
Automated trading with Coinrule: how does it work?
Coinrule allows you to choose from more than 150 built-in strategies and apply the one that suits your personal needs best. You can back-test these strategies on TradingView to gauge their profitability before risking money on them. You can also create your own custom strategies through an intuitive set of steps on the platform after you buy a subscription.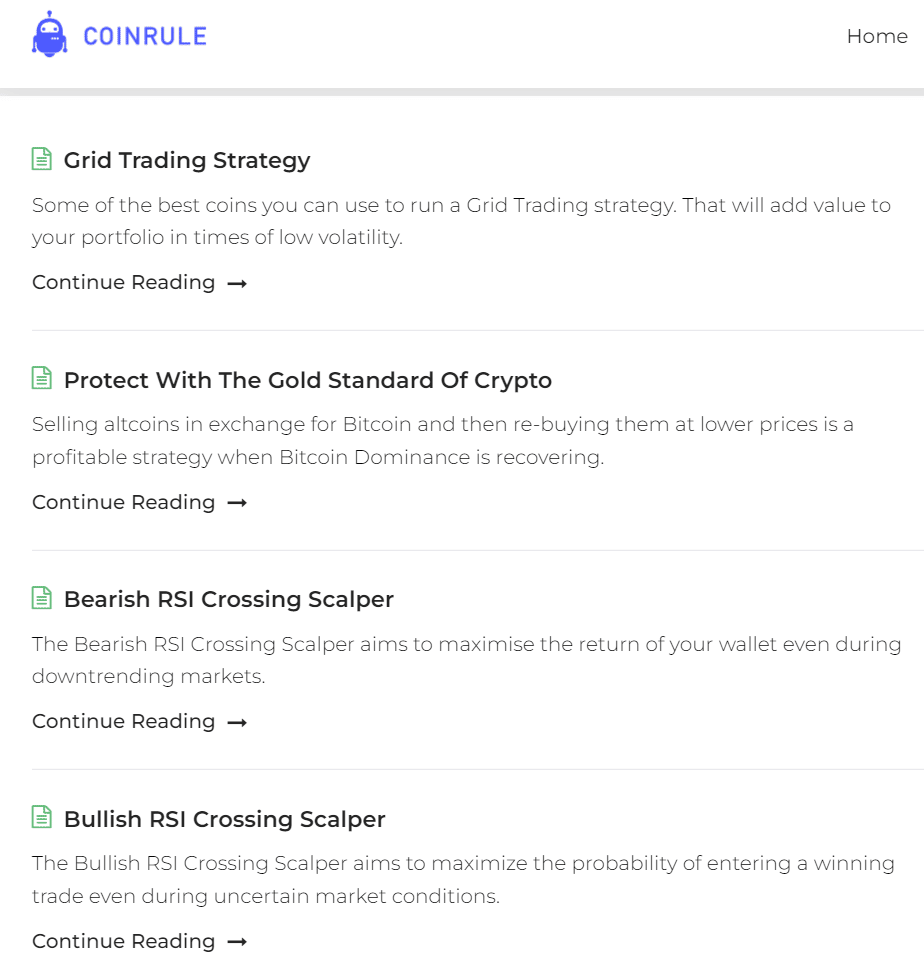 Coinrule bot features
Supports a slew of exchanges
Coinrule is compatible with most popular exchanges. These include Binance, Coinbase, Kraken, and Bitstamp, among others.

Features an intuitive interface
The platform is user-friendly, and all features can be accessed in a few clicks. Traders wishing to customize their own trading rules can do it without writing code.
150 + built-in strategies
Coinrule features templates of more than 150 strategies suitable for crypto markets. One can choose whichever resonates with their trading style and start earning passively. This makes it attractive to beginners and can result in losses and disappointment. To choose a read-to-use strategy, you still need vast knowledge of technical analysis and trading experience.
Facilitates back-testing
Regardless of whether you are using the built-in templates or a custom strategy, the platform allows you to back-test them on the TradingView charts. You can also add in commissions to get an accurate picture of its profitability after deducting trading fees. 
Coinrule trading strategy: grid bot
One of the strategies the vendor provides with this bot is the grid trading strategy. This strategy is best suited for periods of market consolidation. According to the vendor, it can be used to trade the following pairs when they're stuck in a range:
BTCUSD

DOGEUSD

ALGOUSD

LTCBTC

BCHBTC
To utilize it, you can choose the "Grid Trading in Range" template. Alternatively, you could manually create the strategy using a provided draft.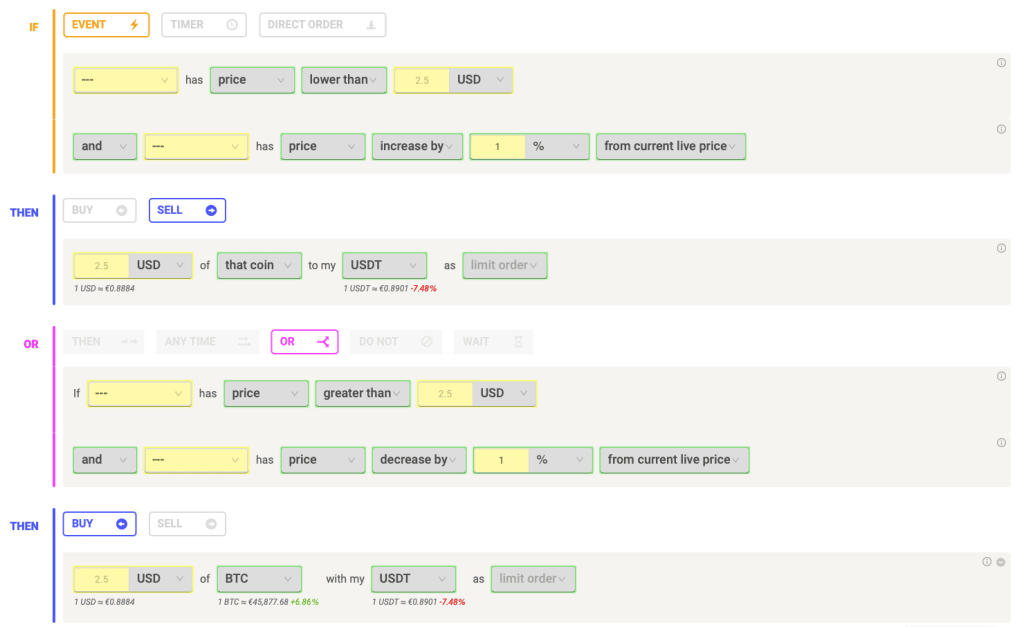 As you see, every draft is adjustable for the paid versions of the software. And beside Grid Trading in Range, there are 150+ templates to adjust and utilize. However, such experiments can be detrimental for anyone less than a profi.

Steps to follow to trade with Coinrule
To trade with this bot, you will first need to visit their website and choose a subscription plan – Starter, Hobbyist, Trader, or Pro. You will then be prompted to create an account using your email and a password. 
After setting up your account, you begin selecting strategies to implement. If you wish to create your custom trading rules, you can do so at this juncture. However, you need to connect Coinrule to one of the compatible exchanges before you can apply your strategy.   
Coinrule fees and account minimum requirements
There are four subscription packages to Coinrule. These are: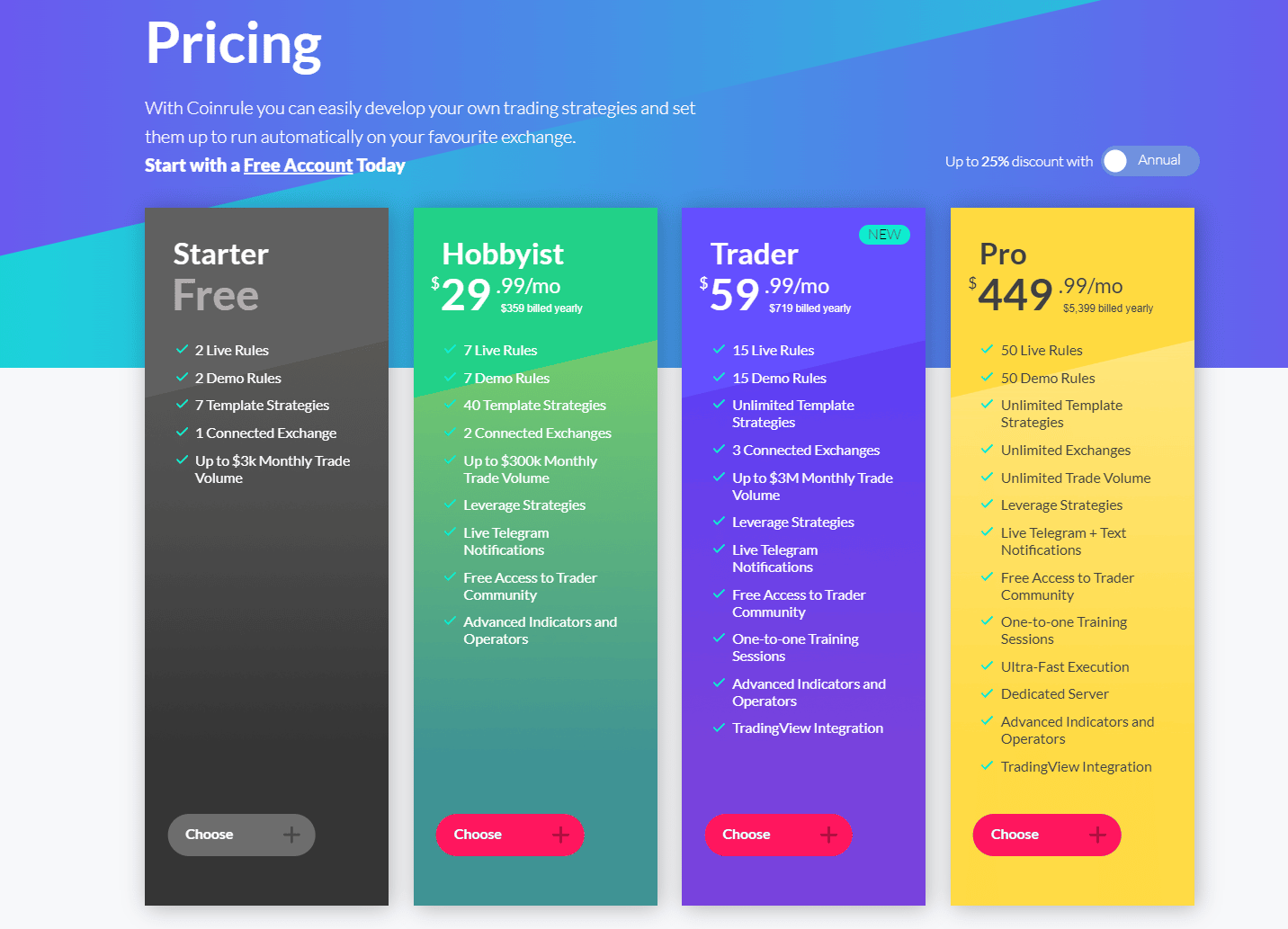 Starter
Free of charge

Can connect to only one exchange.

Allows monthly trading volume of up to $3,000
Hobbyist
Costs $39.99 monthly or $359 billed annually

Can connect to a maximum of 2 exchanges

Can trade monthly volumes up to $300,000
Trader
Costs $79.99 monthly or $719 annually

Can connect up to 3 exchanges

Maximum monthly permissible trading volume is $3 million
Pro
Costs $499.99 monthly or $5,399 billed yearly

Can connect to an unlimited number of exchanges

Has no maximum monthly trading volume
Their offering of the free Starter package is commendable, but it features limited functionality. Some of the paid packages are quite pricy compared to the industry average. However, by paying annually, the vendor grants discounts of up to 25%.
Exchanges compatibility
As aforementioned, Coinrule integrates with more than ten popular exchanges. These include:
Binance

Coinbase Pro

Okex

HitBTC

Bitstamp

Bitpanda pro

Kraken

Poloniex

BitMEX
Coins supported
Coinrule is not an exchange itself, but it integrates with numerous exchanges. To that end, it is capable of trading any coin listed on the aforementioned CEX/DEX platforms.
Coinrule performance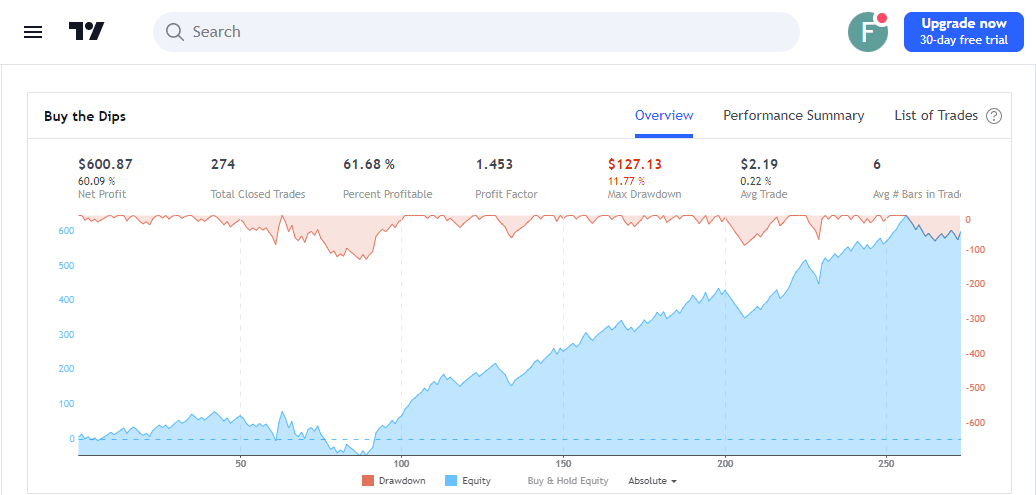 TradingView ran a backtest of Coinrule's "Buy the Dips" strategy on LINKUSD. The test ran from January to November 2020. The bot made a total of 274 trades and culminated in a 60% net profit from an initial deposit of $1,000. This was a 61.68% profitability or a profit factor of 1.453. Within this period, the maximum drawdown was 11.77%.
These are impressive results, but not all strategies will post such profits. What's more, we could not find the results of live tests of the bot on third-party websites. Therefore, there is no way to tell if the bot's performance holds up to live market conditions.
How to withdraw your funds with Coinrule?
Coinrule does not take custody of your funds, which means they remain in your chosen exchange's wallet. As such, you can't make any withdrawals from Coinrule. You can only do so from your exchange.  
Is it a costly crypto trading tool?
For the starter package, there is no fee, but functionality is limited. For advanced features, you would have to subscribe to the paid packages, some of which are quite pricy. 
Coinrule security and safety
Coinrule does not take custody of your funds. The vendors also claim that it utilizes military grade encryption for extra security. 
Coinrule regulation and legitimacy
Again, Coinrule is not an exchange. Thus, it is not licensed or subjected to strict regulations as exchange platforms usually are. Nor does it have to be as such. However, as proof of its legitimacy, it is a registered company in London, UK, under number 11265766.
Coinrule team members
The Coinrule company was founded in 2017 and has its headquarters in London. The founding team consists of Gabriele Musella as CEO, Oleg Giberstein as COO, and Zdenek Hofler as CTO.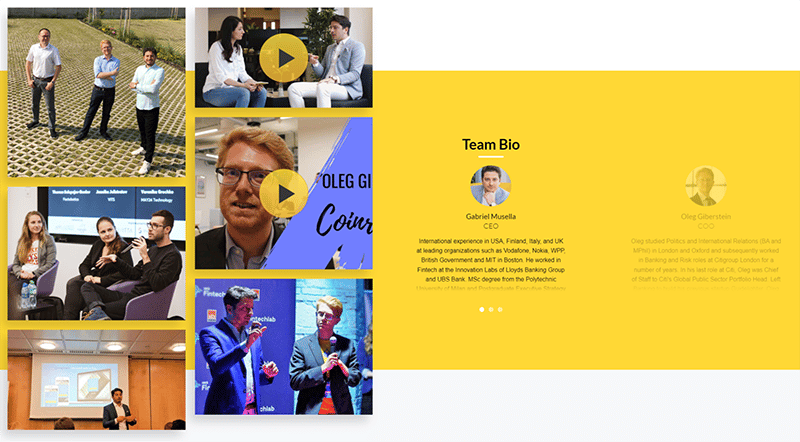 The company site provides exhaustive information on the top management an development team. They also offer the volunteers to take part in the monthly calls.

Is Coinrule's customer support good?
For any queries or feedback, you can reach support via email at [email protected]. Otherwise, you can call them at +44 79 2665 1198. Typically, they respond within a few hours or days.
User experience
Coinrule has a claimed accounon TrustPilot, which adds a few points to its reliability. And their rating, based on 74 reviews, is 4.3.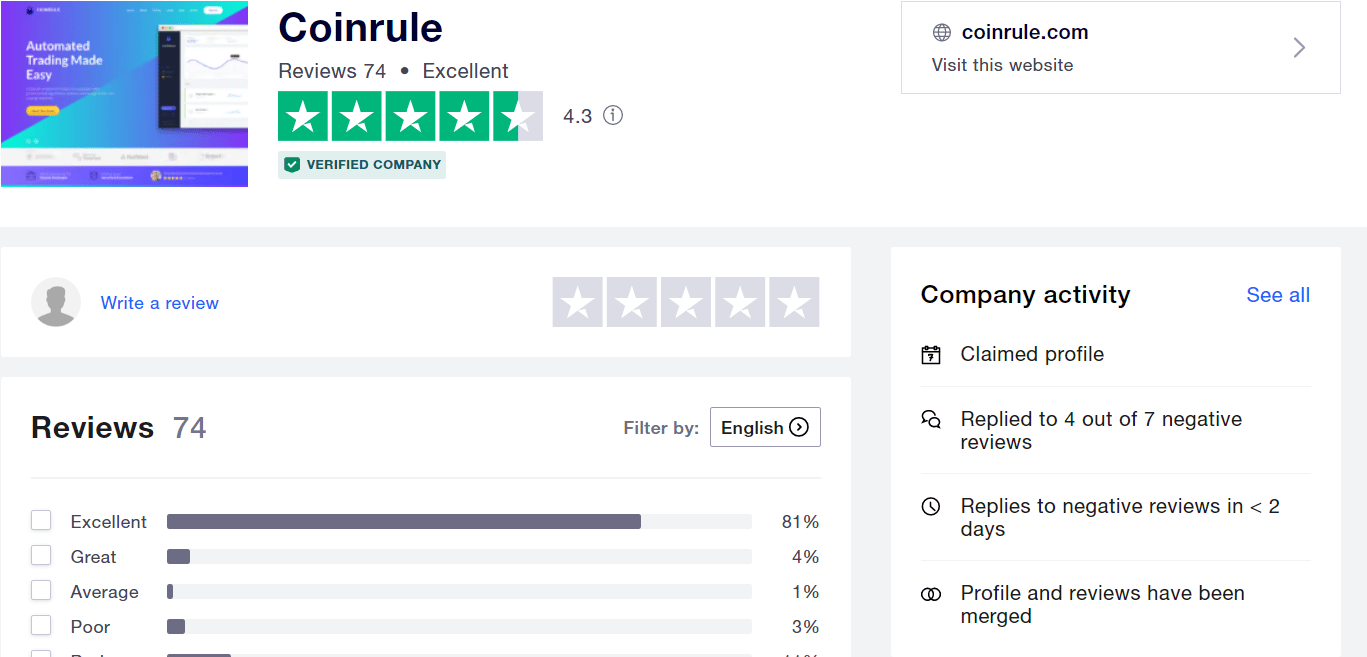 Generally, users seem to like Coinrule. It has a 4.3/5 rating on Trustpilot, with more than 70 reviews.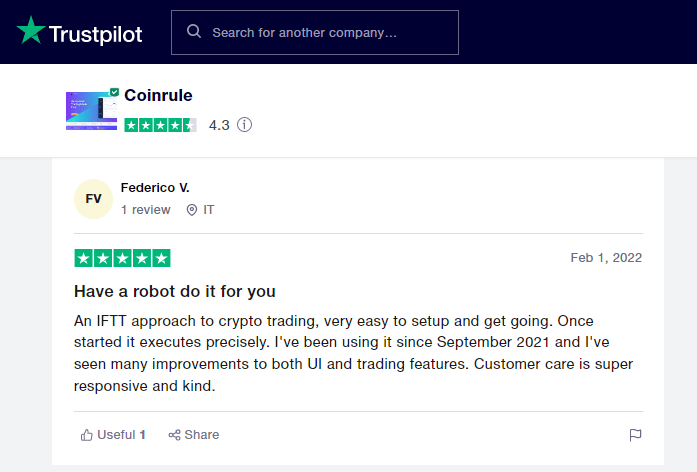 However, there are some negative reviews, which the vendor does not always respond to.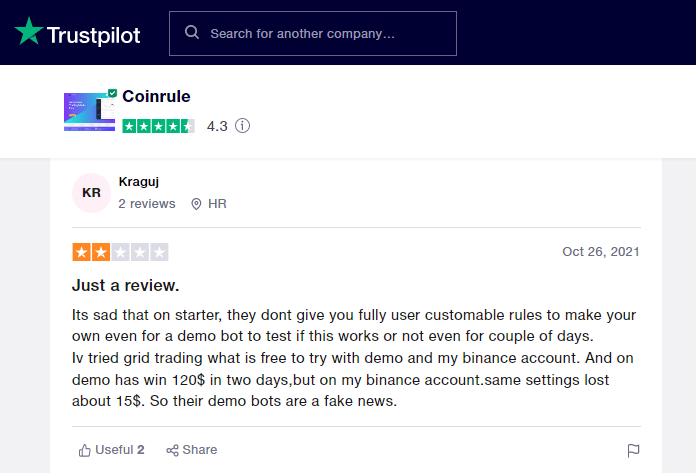 Is choosing Coinrule the right choice for you?
Coinrule is a good choice if you have no time to actively analyze the markets. However, its subscription fees could add up quickly, so it's best to start with the Starter plan first. This way, you can gauge whether paid tiers are worth the extra costs.  
Final thoughts on Coinrule
Coinrule sells itself as an invaluable solution to the tedious work that is crypto trading. It boasts a variety of attractive features and promises exemplary performance. The back-tests just about confirm this. However, there is no record of live tests of the bot strategies. Nothing, except the limited access to run the tests yourself on TradingView with the basic subscription plan. And you need proficiency to perform that. Its paid tiers are also quite expensive, and there is no mention of a money-back guarantee, which is a great disadvantage.