Control Forex is a team of experienced traders that manages clients' funds to make more profits. They charge a commission monthly. The main claim is "14,103 earned across all systems." It doesn't seem to be true.
Key Features
The system has a medium level of informativeness. The presentation doesn't include info about how well these trading solutions were tested. The developers mentioned 10 accounts, but we are allowed to see only six of them.
The company was founded in 2015.
The developers provided no intel about registration.
The total profit has amounted to 14,102%.
These numbers don't match what we see on Myfxbook.
There are ten verified live accounts.
The same, there are only six accounts.
We have an "unparalleled trading system, super reliable and profitable – ControlFX."
We can trade on the MT4 only.
Traders have over 13 years of trading experience.
The ControlFX system can make from 50% to 200% monthly.
The developers suggest we work with 5% risks.
It's rare to see advice like this. Others suggest we use a 1% or 1.5% risk.
"ControlFX is a complex, highly intelligent system that uses the power of 3 servers to maintain its accurate and reliable operation. Each of the servers additionally has a system that ensures its uninterrupted work. In case one of the servers fails, the other two will take over its work, providing a non-stop stable operation of the system for as much time as needed."
It looks ridiculous because the system doesn't need to be backuped during trading. A VPS server solves all problems.
The system can trade 25 trades at once.
The advisor seeks for trading opportunities 24/7.
There's a solid risk to reward ratio.

We can work with different risks.
We can get up to 1000%-2000% annually with the max risk.
We can't buy the robot because devs aren't allowed.
They insisted that the results like this can be obtained only here.
We have to contact them to discuss details about our account.
To get started, we must share our trading account details.
The account is still under our full control.

Control Forex charges a monthly commission for total profits. The performance fees vary from 15% to 50%. We may get started as soon as we have from $10,000 to $50,000 on the deposit. The performance fees can be discussed. We can contact developers to ask for copying trades from them.
Control Forex Trading Approach
The system is a scary Grid of orders with Martingale.
It works with 25 cross pairs.
There's no information about a time frame.
Backtesting Results
The presentation isn't featured by any backtest. It's so suspicious because we have no idea if these systems belong to them. Even if so, were they tested well or not? It's unclear.
Control Forex Live Trading Results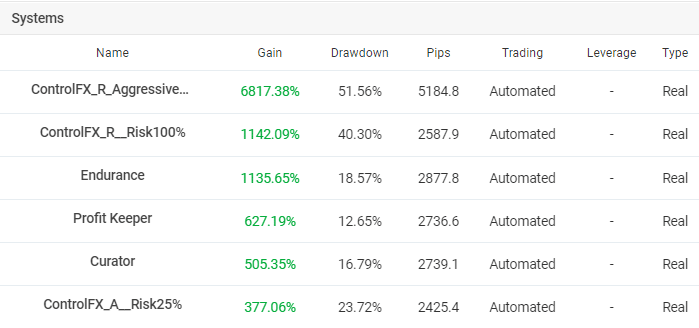 We've got six accounts instead of ten that were mentioned in the presentation.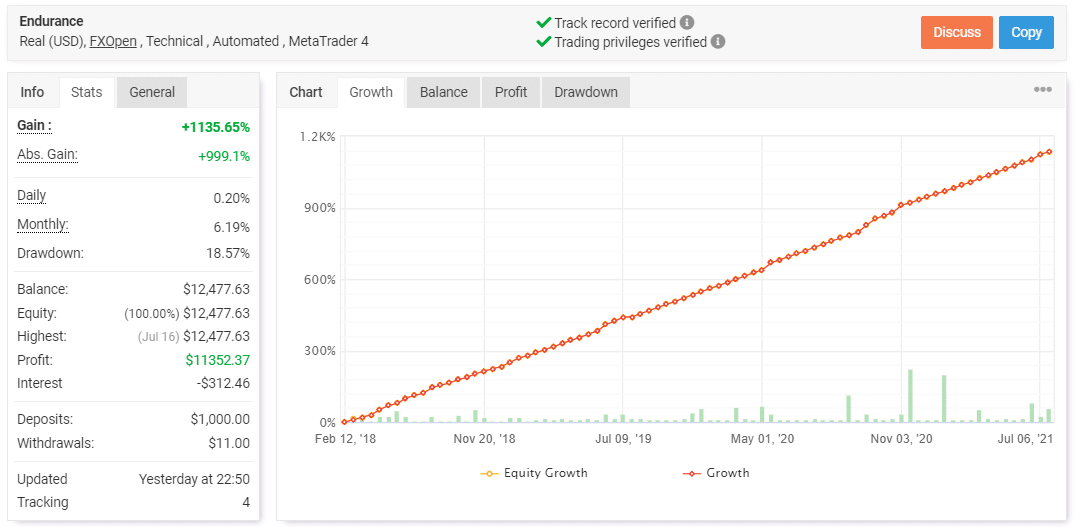 There's an account called Endurance with a robot application that works automatically on FXOpen. There's no leverage mentioned. The platform is MT4. The account has both verified track record and trading privileges. It was deployed on February 12, 2018, deposited at $1,000, and withdrawn at $11. Since then, the absolute gain has become 1135.65%. An average monthly gain is 6.19%. The maximum drawdown is 18.57%. The account is tracked by four traders.

There were 188 deals traded with 2877.8 pips. An average win was 52.55 pips when an average loss was 1.5 times higher -72.48 pips. The win rate is 77% for longs and 74% for shorts. An average trade length is six days (intraday). The profit factor is 2.33.

The system executes orders on AUDUSD. The short direction was traded a bit more than the long one.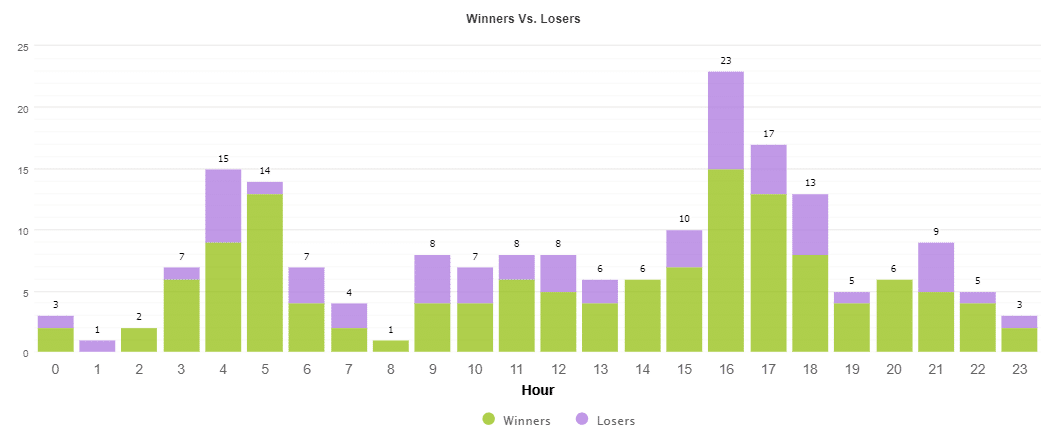 Asian and American are the most active trading sessions.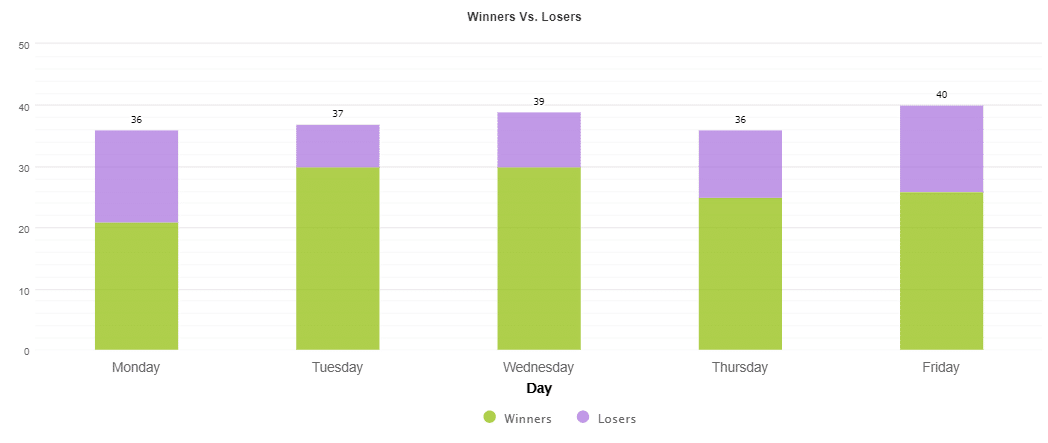 It tries to trade equally during a week.

The system works with medium risks to the balance.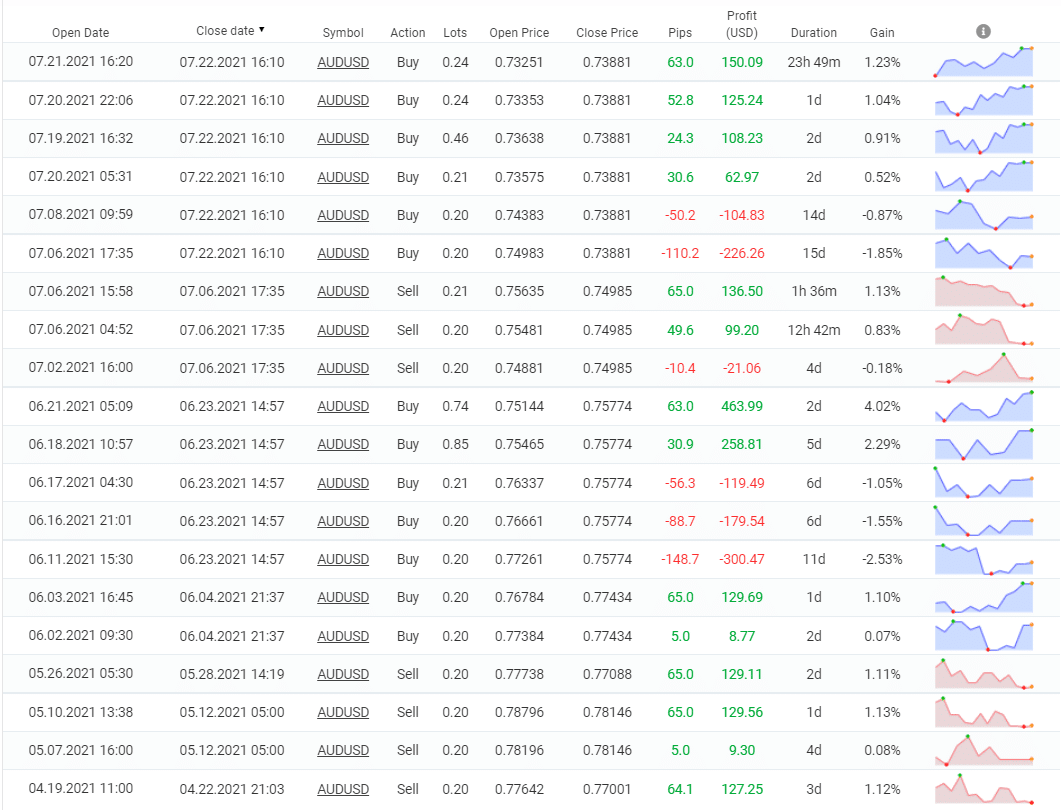 As we may note, the system works with quite deep SL levels (-148.7 pips).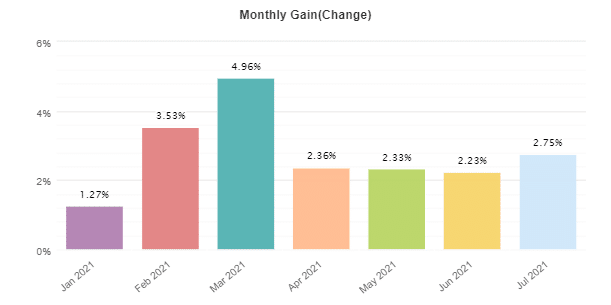 The profitability was higher at the beginning.
What Are the Risks With Control Forex?
The system uses risky strategies like Grid and Martingale that can easily halve your account within several hours if something goes wrong on the market. The advisor works with quite deep SL levels.
Worth Noting!
There's a group of developers that have been trading on the market since 2008. They inform that they provide a reliable service and support clients all day, every day. The company hires people. It's a lie because there's no LinkedIn profile. They test (it's a lie because no backtests were provided) various trading systems.
What Are the Pros & Cons of Investing in Control Forex?
| | |
| --- | --- |
| Pros | Cons |
| Real-account trading results | No team revealed |
| | No strategy explanations provided |
| | No risk advice given |
| | No backtest reports shared |
| | Grid and Martingale on the board |
| | No people feedback published |
Control Forex Conclusion
Control Forex looks like a weird service because we have risky strategies behind the system, no backtest reports at all, high commissions, and no people's testimonials. There is an endless wall of those kinds of systems on MQL5 for $199-$399. There is no need to pay a commission for this solution.