DDMarkets is a signal-providing company that shares signals for Shorts securing them on Forex. We can save time, trading their signals. They claim that it is the "Best Forex Signals Provider for Online Trading." Let's check it out.
Key features
Let's talk about details, features, and other useful information.
The devs claimed that the system that provides signals is well-tested.
It controls risk levels, a number of opened orders, and lot sizes.

This service is not related to any broker house.
"The developers fight against fraudulent schemes."
We couldn't find any sign of features that could work to help in this.
The signals are generated by real traders or analysts.
We have "day, part-time, and swing traders" who can provide us with signals.
We have an offer "a bi-weekly or a monthly price for our forex signals via PayPal, which we find an extremely secure payment method."
There are possibilities to work with social trading, advisors, and indicators.
We can receive details about signals via email.
The entry points are calculated on the low time frames.
There's a "price range in which the signal may still be executed, which adds to the experience of using our forex trading signals that are suitable for all investors and traders."
We can execute recovery signals on "all forex brokers (STP or ECN) and trading platforms such as the MT4, MT5, NinjaTrader, cTrader, JForex, and more."
The main risks are controlled on the developers' side.
They created a company seven years ago in 2014.
"Every trading signal is fully documented to the greatest extent for extreme transparency since 2014."
The system works with quite deep Sri Losses that could set an account at danger.
There are three stop losses calculated: TP1, TP2, and TP3.
We can decide what leverage we want to work with.
The developers started generating signals for Bitcoin (BTC/USD). Ethereum (ETH/USD) and Ripple Coin (XRP/USD).
The devs claim that crypto signals are as good as Forex ones.
The signals have proper TPs to cover potential swaps and commissions.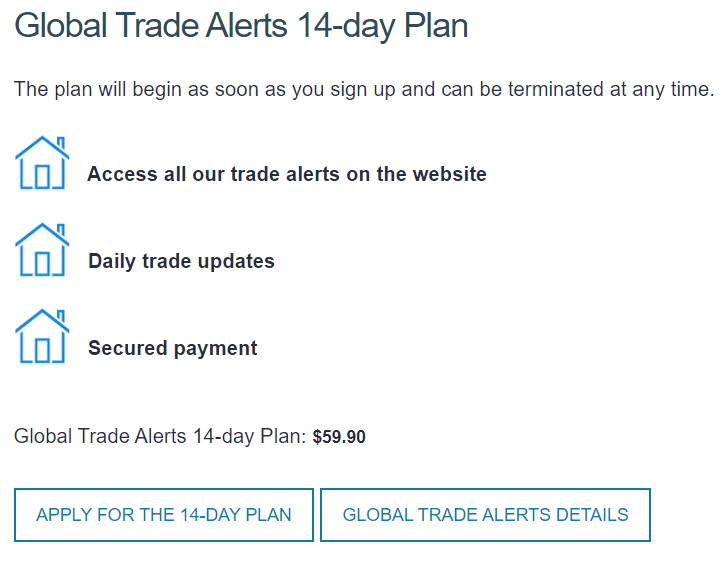 We can subscribe for global trade alerts for 14 days for $59.90. For 30 days, the price is $87.40.

We can expect that for 90 days we have to pay $230.60.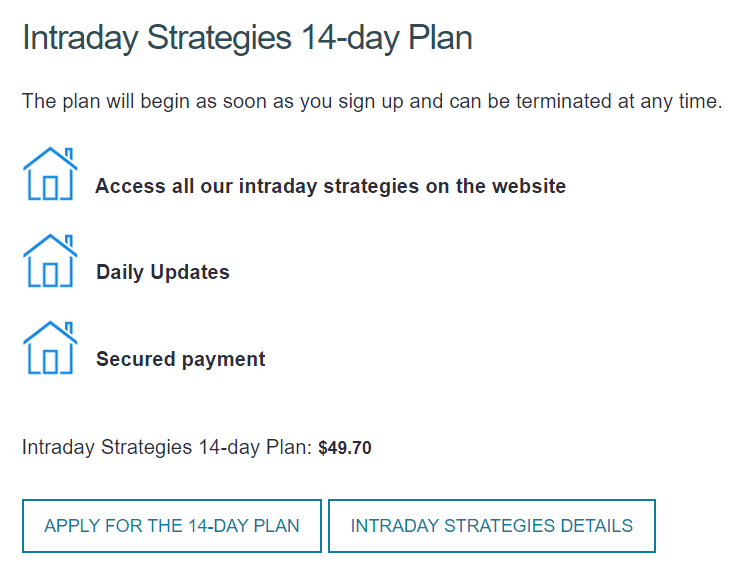 The intraday signals for 14 days can be bought for $49.70. There's access to their intraday strategies on the website.

The intraday signals for 30 days can be purchased for $74.40.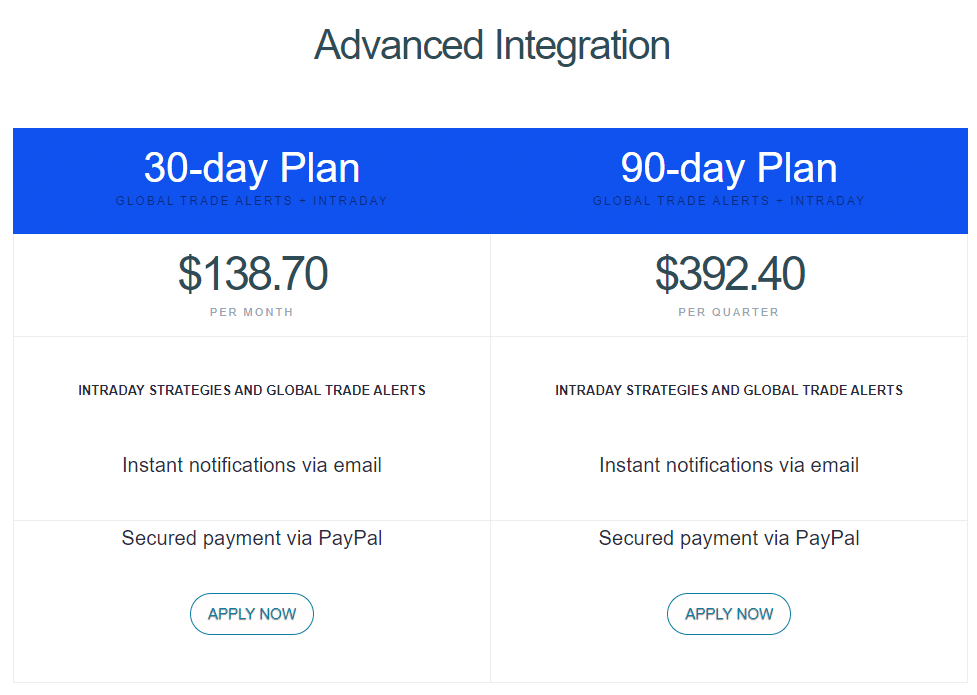 There's an advanced integration feature. The 30 days of it costs $138.70. The 90-day integration costs $392.40.
There's a possibility to hire them to wire a report for $49.70. We don't know it's quality.
The last offer is a crypto signals pack for $71.50 for 30 days. All packs don't include a refund policy.
DDMarkets trading approach
We have some mentioned strategies applied: day trading, swing trading, trends, and so on.
The signals are for Forex and crypto pairs.
The time frame isn't mentioned.
Backtesting results
We don't have any backtest reports that would confirm that the system the developers mentioned was tested well and it's a safe solution to work with on a real account.
DDMarkets live trading results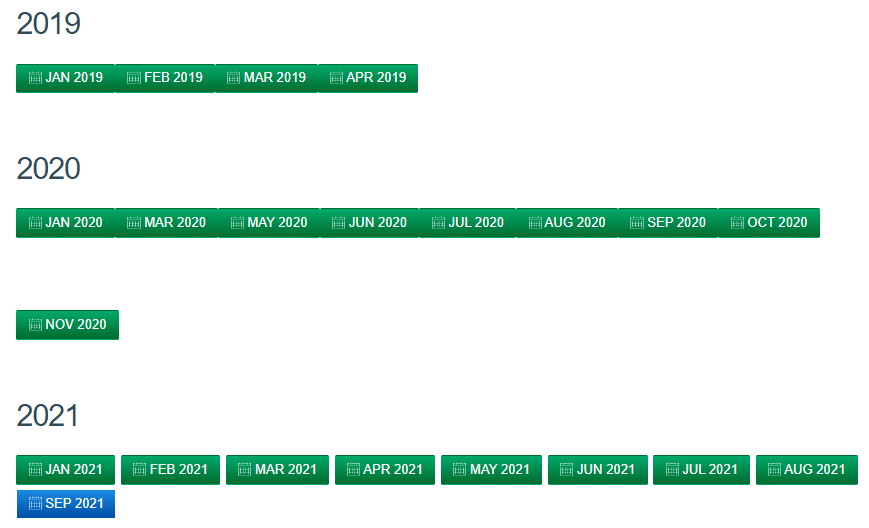 The presentation includes only unverified numbers of how the system could trade. We may note that in 2020 even not all months were presented.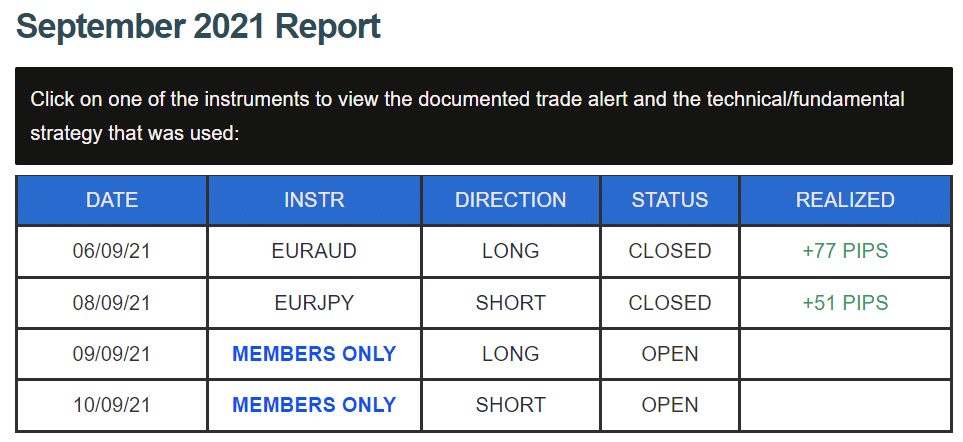 They published reports where we see only four signals provided in September where only two of them were closed. It's nothing. Many services provided 2-5 free signals weekly. These numbers weren't proven by sites like Myfxbook or Trustpilot. It's risky to trust them blindly.
What are the risks with DDMarkets?
The risks are huge. We have no sign of verified trading results and of backtest reports. We don't know if people can make these profits.
Worth noting!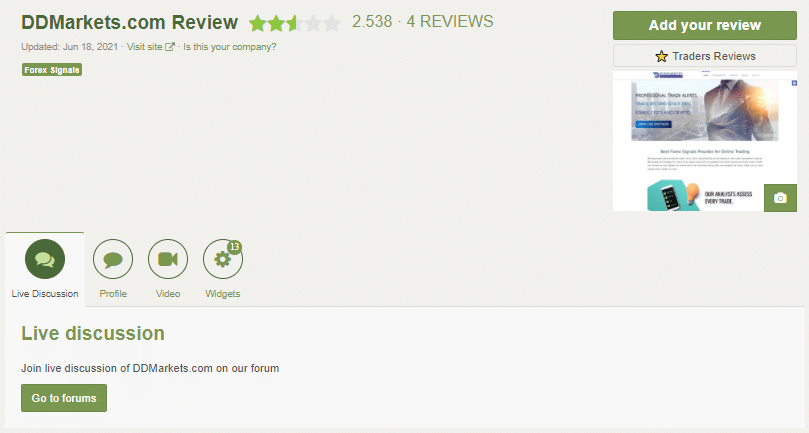 The Forex Peace Army site has a page of the company. There were four testimonials written that formed a 2.5 rate.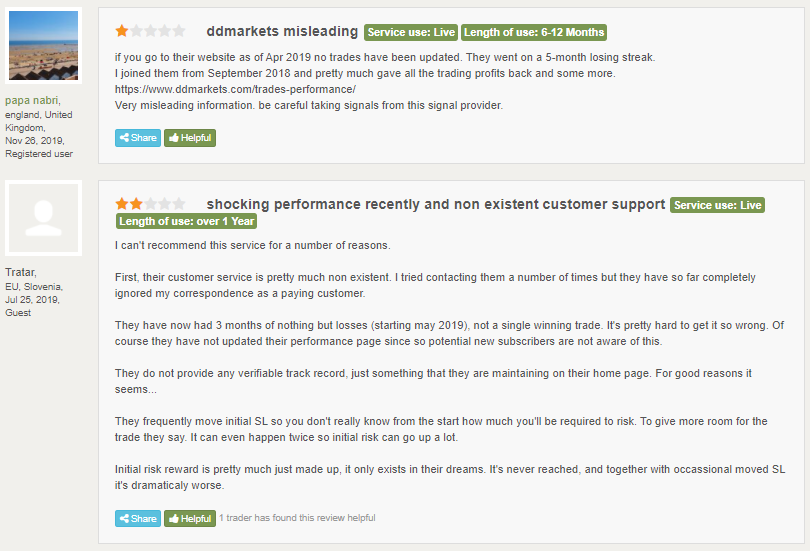 So, there is no positive feedback at all. Clients couldn't be profitable with these signals. So, the devs showed a fake picture of success.
What are the pros & cons of investing in DDMarkets?
| | |
| --- | --- |
| Pros | Cons |
| Signals have big take profits | No team revealed |
| | No risk or money management advice provided |
| | No backtest reports provided |
| | No trading results shown |
| | No refunds provided |
| | Many negative testimonials written |
DDMarkets Conclusion
DDMarkets is a signal-providing company that has an awkward presentation. It doesn't include backtest reports and verified trading results. It means that the developers are afraid of investing their money in real trading. We cannot suggest this service to give it a try.