Elemental EA is a multicurrency night robot that does not utilize grid, martingale, or arbitrage. The developer advises against trading all supported currency pairs on a single chart. The system works with any broker with small spreads and fast order execution.
The author of Elemental EA is Evgeniy Machok. This is a developer based in Russia who has 8+ years of trading experience in Forex. His portfolio includes 15 products, 3 signals, and 3 subscribers.
The EA is currently available at a discounted price of $199 on mql5. The package does not come with a money-back guarantee.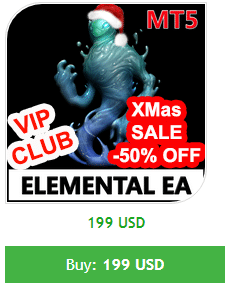 Key features
The main features of this robot are listed here:
It has a limited number of parameters that make it accessible even for novice traders.
The system always protects positions by stop loss and DD parameters.
The minimum recommended deposit is $100.
It mainly trades on the EURJPY, EURUSD, CHFJPY, USDCHF, USDCAD, EURCAD, AUDUSD, and USDJPY currency pairs.
The working time frame is M5, while the trading terminal is MT5.
You are advised to set up the EA on separate charts.
Elemental EA trading approach
Elemental EA prefers to trade at night, a time when market liquidity is low. Trading is also conducted with pending "limit" orders for extra protection from slippage. The system particularly applies the trend approach. The idea behind this methodology is that since each trend has its current boundaries, the price will always come to an equilibrium state. So, the robot determines the boundaries of the current trend by dynamic support and resistance levels, which are updated at each candlestick.
Backtesting results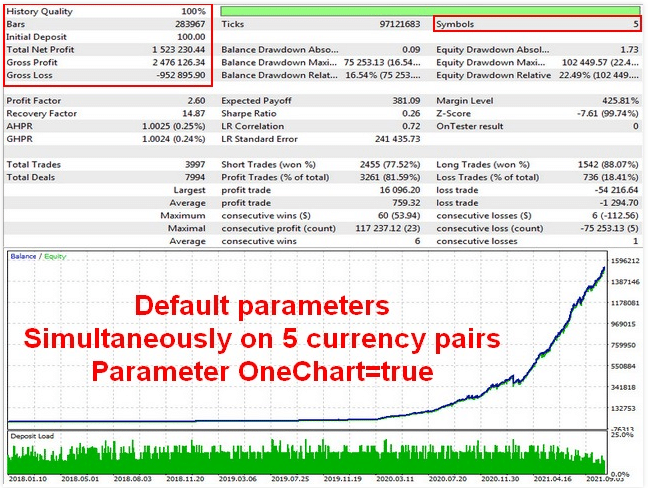 During this backtest, the EA used a single chart to trade 5 different currency pairs. The end result was a profit of $1523230.40 from 3997 trades. A drawdown of 22.49% was generated, which proves that the robot traded with middle-risks to the balance. There were win rates of 77.52% for long positions and 88.07% for short ones.
The average profit trade was $759.32, but the average loss trade was much higher -$1294.70. Apparently, the losses made were higher than the profits.
Elemental EA live trading results
We could not find verified trading stats for this robot on a trustworthy site like Myfxbook.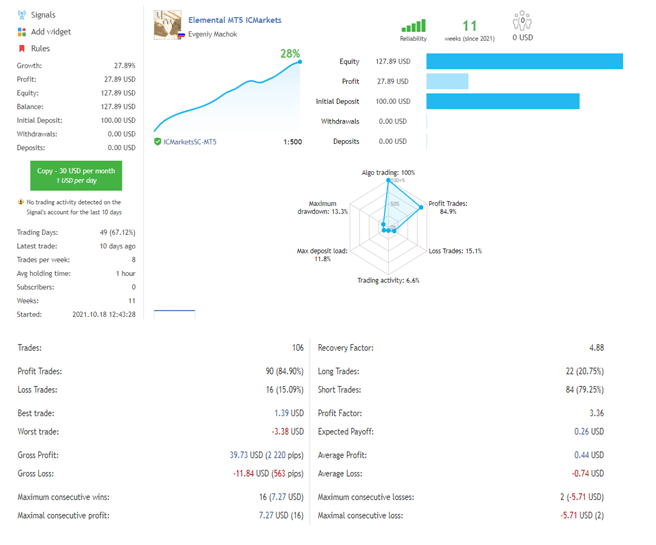 Elemental EA has traded on this account for 49 days, completing 106 orders while at it. A deposit of $100 has been used to make a profit of $27.89. This profit is undoubtedly small and uninspiring. The maximum drawdown is 13.3% and significantly lower compared to the one showcased in the backtest report. It appears that trading risks are much lower in the live market. The average profit is $0.44 when the average loss is -$0.74.
What are the risks with Elemental EA?
Elemental does not have verified trading data. This makes trading with it risky. You won't know for certain what kind of results it will generate. Consequently, you can't tell the efficiency of the strategy beforehand and whether it will give you value for money or not.
Worth noting!
There are three customer reviews for this system on mql5. The customers admit that the EA is profitable, and the author is keen on answering enquiries.

What are the pros and cons of investing in Elemental EA?
| | |
| --- | --- |
| Pros | Cons |
| Fairly priced | Trading results are not verified |
| Backtest results are present | Short trading history |
| | Only a few testimonials are available |
Elemental EA Conclusion
The available backtest results enable you to predict how the robot can work for you over a prolonged period. Unfortunately, the vendor does not provide verified trading data, which is quite suspicious given that the backtesting report shows outstanding performance. Other disadvantages of the robot include a short trading history and inadequate customer reviews.