ELITE Automated Algorithm EA claims to never have suffered a losing day. This is quite a bold claim and we need to verify this independently. On the official website, the vendor has made an extremely brief presentation, providing us with a short introduction to the system and its features. There are separate tabs containing other information like the vendor's background and history, contact details, trading results, and membership programs.
This EA has been developed by Nick Ross, an American trader based in Long Island, New York. Mr. Ross has a background in Business Management and is an expert in the MQL4 programming language. We don't know if this person works alone or has other people working under him. It seems ELITE Automated Algorithm is the only system developed by this person.
To get in touch with Nick Ross, you can use the contact form provided on the website. The business hours of the company are between 9 AM to 11 PM so you can expect a reply in that time period. Alternatively, you can call the support team using the phone number provided on the website.
Key Features
ELITE Automated Algorithm carries a recurring charge of $299 every month. We think this is too expensive and many Forex traders won't be able to afford such high monthly rates. On top of that, the vendor has a strict no-refund policy.
This robot mainly deals in five currency pairs, namely USD/JPY, EUR/USD, EUR/GBP, EUR/CAD, and AUD/USD. According to the vendor, this EA is more suitable for balances of $5000 and more. Again, the minimum deposit requirement is much higher than other robots. For the live trading account, ELITE Automated Algorithm EA uses a leverage of 1:1000.
This EA is powered by Artificial Intelligence technology and it manages your trading account on a 24/7 basis. It takes care of the entries and uses stop losses and take profits with each trade. As per vendor claims, it eliminates risk by using trailing stops to secure gains.
ELITE Automated Algorithm EA Trading Approach
The trading scheme used by the EA has not been disclosed by the vendor. This is disappointing because every trader wants to know what kind of strategy a Forex robot is using. There is no one strategy that suits all, so it makes sense to understand how the robot secures profits.
Backtesting Results
We don't have the backtesting data for ELITE Automated Algorithm EA. This means the developer has not tested the system using historical data or he is not willing to share the long-term outcomes for this EA.
ELITE Automated Algorithm EA Live Trading Results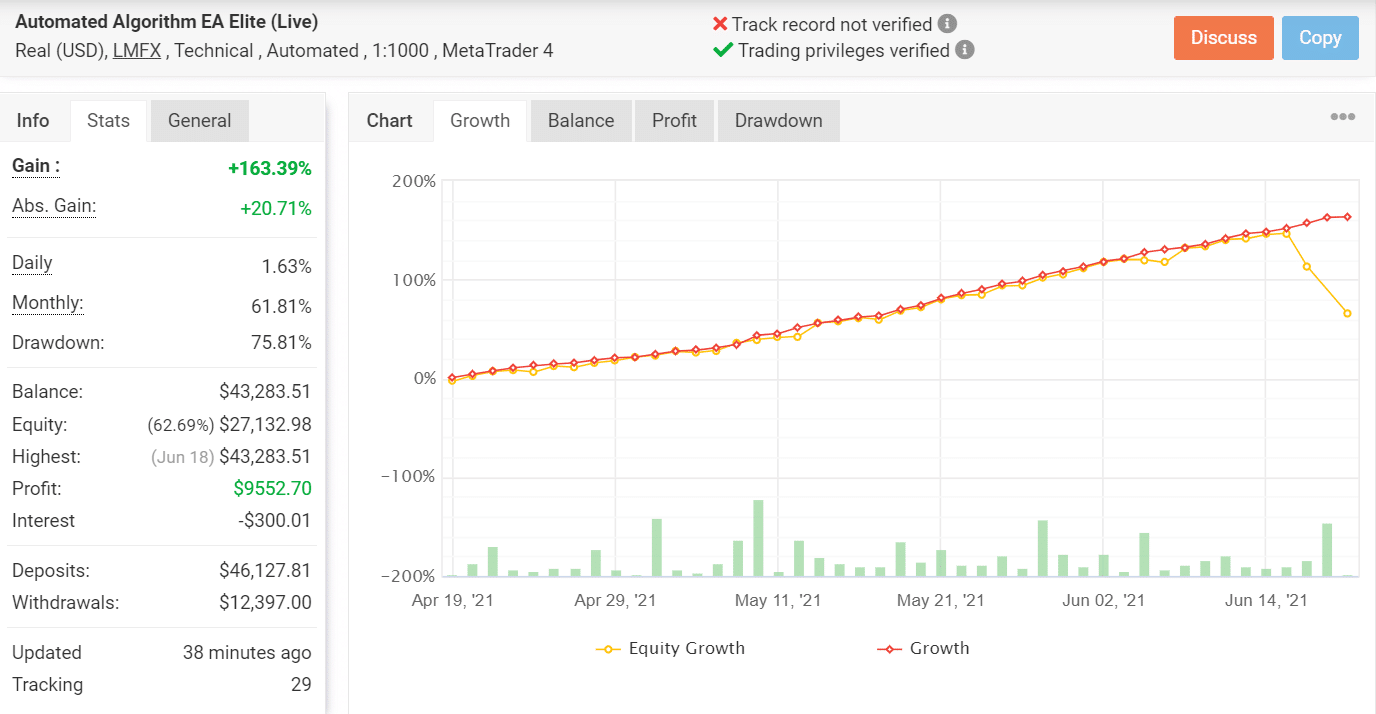 Here we have the live trading results for the Forex EA on Myfxbook. This account has been active since April 19, 2021, and to date, 1287 trades have been placed through it. After winning 65% of the trades, a net profit of $9552.70 has been generated through this account.
What we find concerning live trading performance is the incredibly high drawdown of 75.81%. This tells us that the system follows a high-risk trading approach. Most Forex traders would not be comfortable with such a high drawdown level.
What Are The Risks With ELITE Automated Algorithm EA?
First of all, we don't know what kind of trading scheme the robot uses and this immediately makes it a risky purchase. To add to that, it has a high drawdown, and the vendor does not provide a money-back guarantee in case you are not satisfied with the performance.
Worth Noting!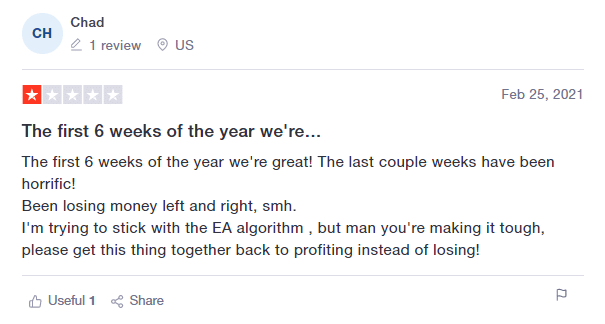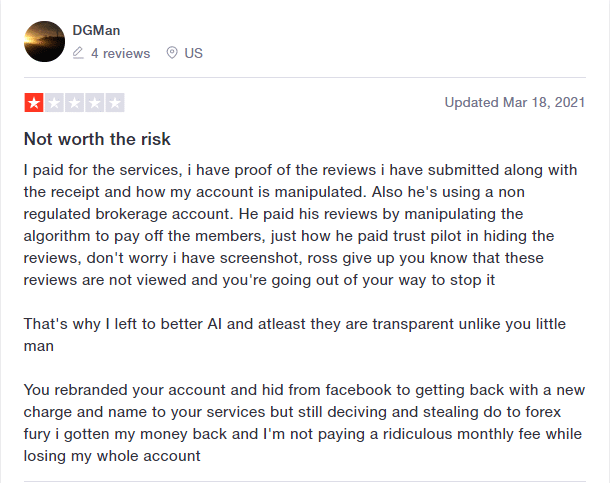 On the Trustpilot website, there are several reviews from disgruntled customers complaining about losses suffered while using this EA. One customer has also claimed that the vendor uses a non-regulated brokerage account. Considering the high drawdown, we think it is very likely that traders are losing money while trading with this robot.
What are the Pros & Cons of Investing in ELITE Automated Algorithm EA?
| | |
| --- | --- |
| Pros | Cons |
| Verified live trading results | High monthly fee |
| | High drawdown |
| | No money-back guarantee |
| | Absence of backtesting results |
This EA clearly has some major disadvantages that make it impossible for us to recommend it. Although live trading results are shared, the trading history is rather short.
ELITE Automated Algorithm
ELITE Automated Algorithm is an extremely risky investment because it carries a high monthly fee without the promise of a money-back guarantee. There is no way you should consider paying such a high amount every month for a robot that has such a high drawdown.