Forex Astrobot has a ridiculous presentation for a professional trading advisor. Ridiculousness is based on its composing. We have an endless wall of text, and nothing told about backtests or verified trading results. The developer claimed that it's "The most anticipated product for Forex traders!"
Key Features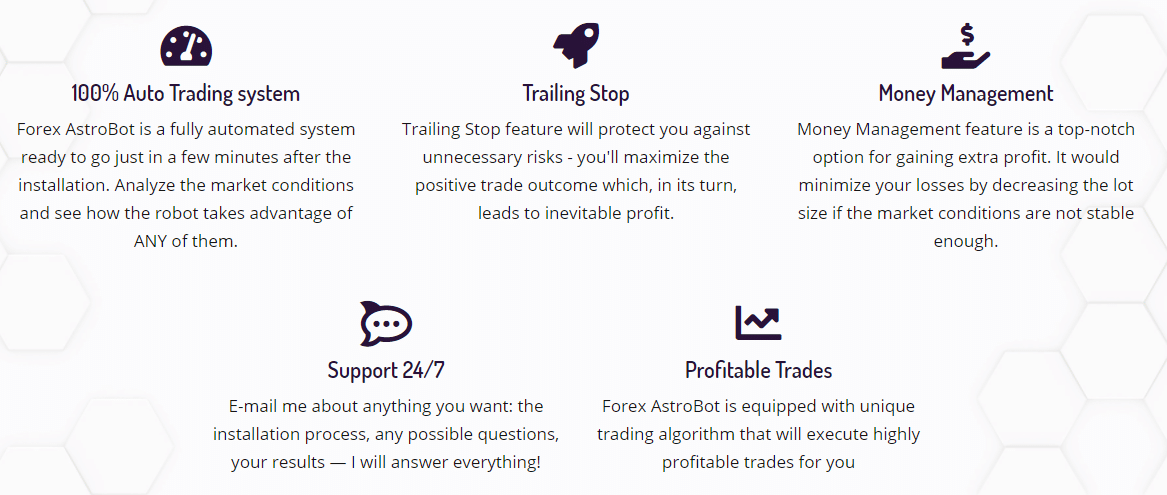 It was a challenge for us to gather or guess the intel about how the system works:
Forex Astrobot is a fully automatic trading advisor.
We can install the system on the terminal for several minutes.
It serves the market 24/7 to find the best trading opportunities.
The system is featured by a trailing stop loss feature.
It's able to "minimize our losses by decreasing the lot size if the market conditions are not stable enough."
There's welcome full-time support if we have some questions to ask.
There's a "unique trading algorithm."
We don't know what this algo is based on.
The money management system calculates proper levels of Lot Sizes for each order based on the available margin.
It opens orders only when the market conditions fit the inner calculations.
It was designed to work on MT4.
We have to have $200 or more on balance to get started.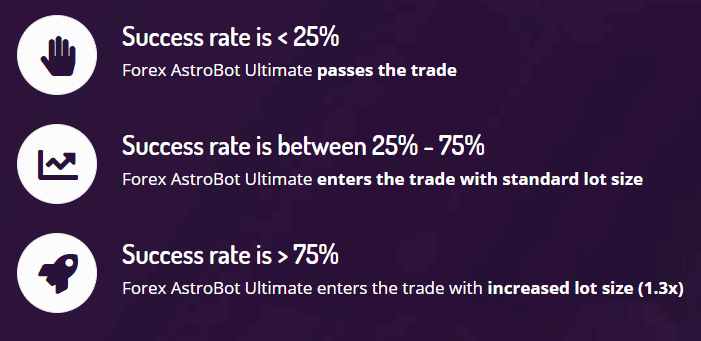 The robot can increase lot sizes for deals that have a higher possible win rate.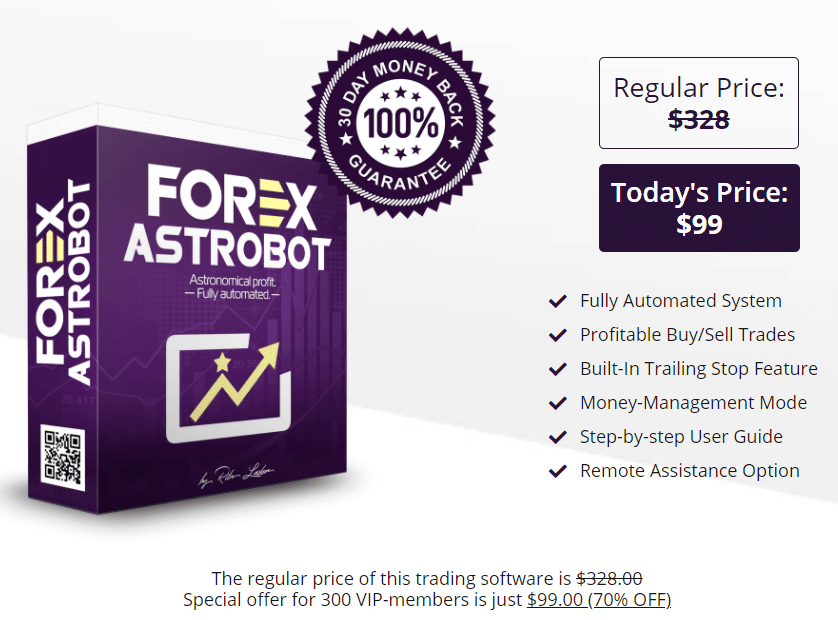 Forex Astrobot is available as low as $99 for a real license. The starting price was $328. After 300 copies are sold, it will come back to $328. We can't believe it's possible. The system is sold with a 30-day refund.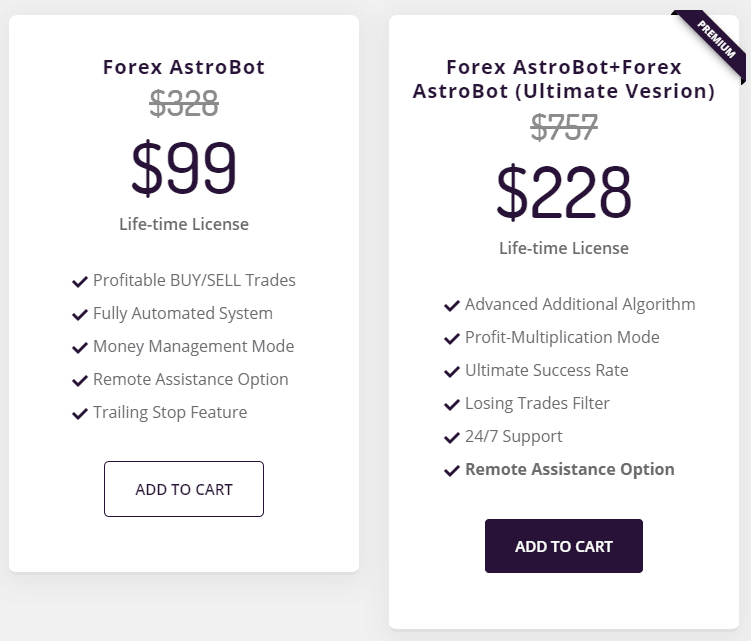 A bit lower, we may see an extended package for $228 when its original price was $757. We have no idea what an ultimate version can do for us. The package is featured by advanced additional algorithms (unknown), profit multiplication mode, ultimate success rate, losing trades filter, 24/7 support, and remote assistance option. What remote assistance option includes and how quickly it's delivered, we don't know.
Forex Astrobot Trading Approach
It seems that the system is based on buy/sell indicators and can be treated like a Price Action advisor.
According to balance requirements, it can work on M15.
Most likely, because of Price Action, it can be used on any currency pair.
Backtesting Results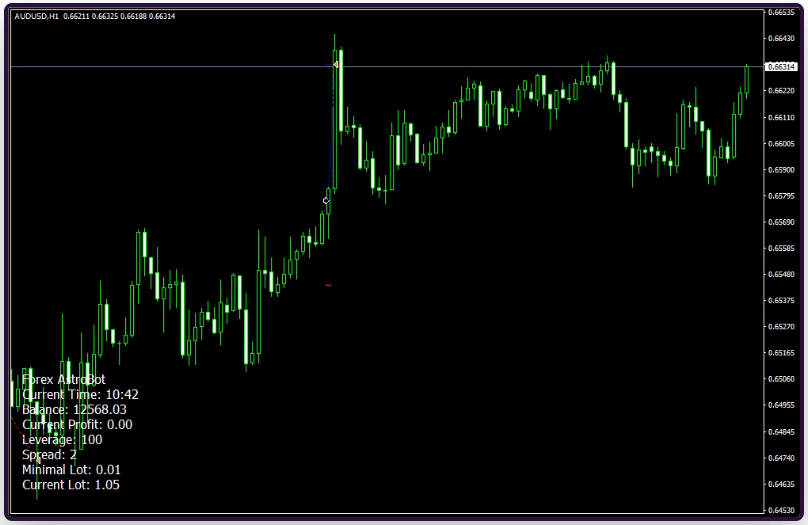 This screenshot is everything we've got about how the system was tested. It's a huge con because we don't know if this is another system or Rita tries to sell her only robot once again under another name.
Forex Astrobot Live Trading Results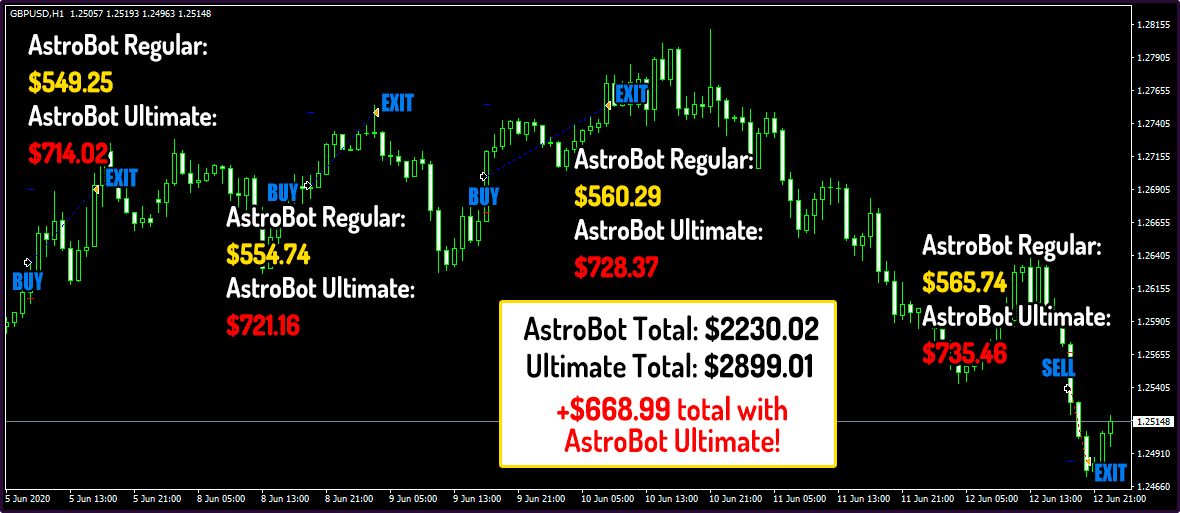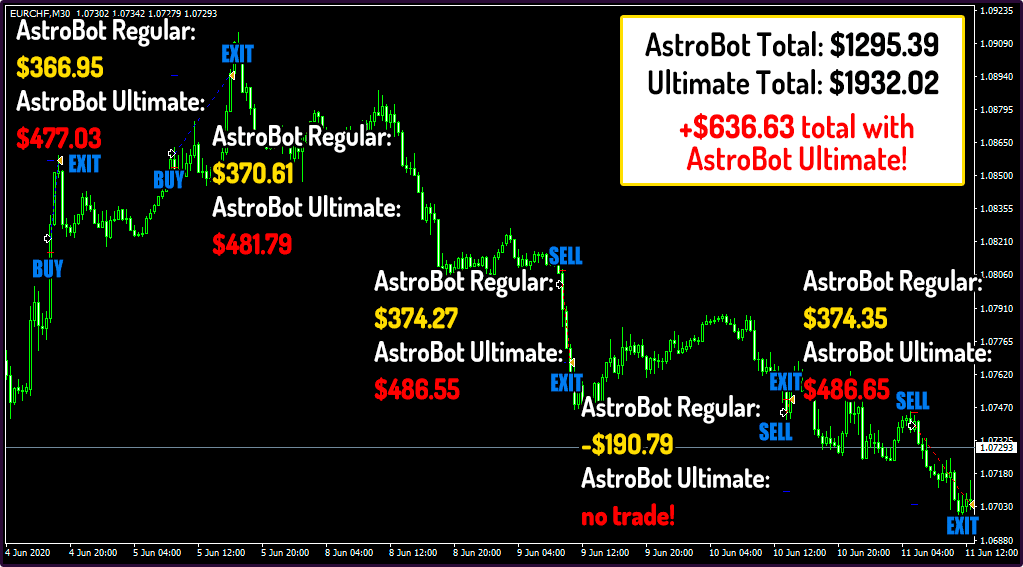 These screenshots are absolute, pure scams. First, nothing is connected to the chart. It's simply seen in the top right corner. Usually, any system places an icon or icon and text there. So, these profits and gains didn't exist and were just photoshopped over the chart. Real or demo 3rd-party verified trading results of current trading activities are what we need. We may note these screenshots were taken at the beginning of June 2020. Now, it's the middle of July 2021. Much changed on the market. For a year, everything must be updated to work well.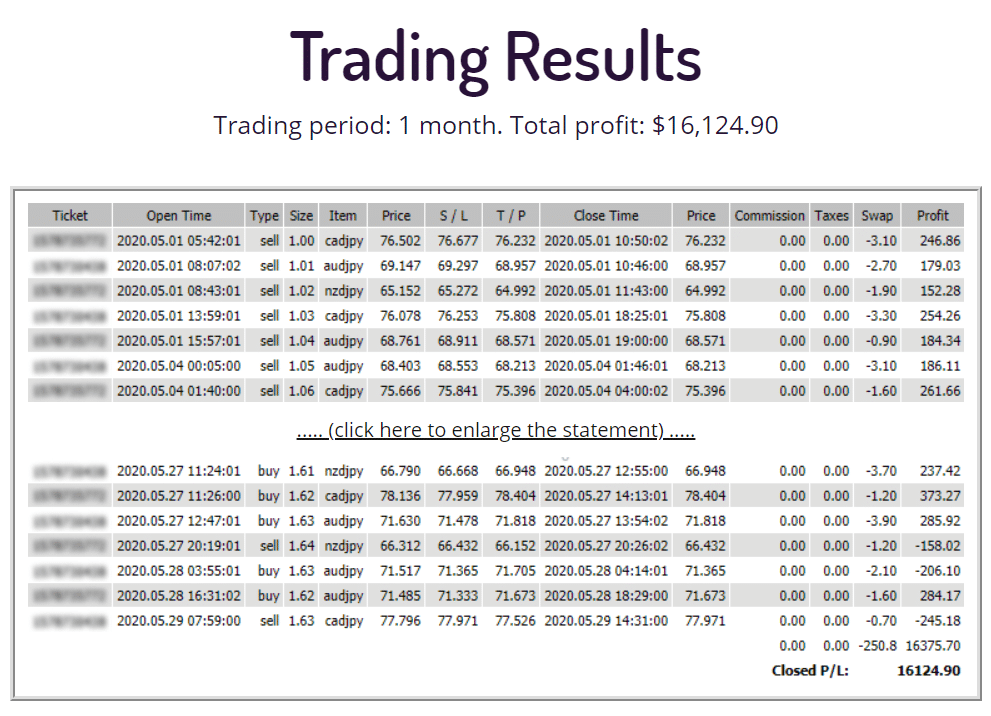 We have an old report that could be easily photoshopped or data taken from a demo account, or even it was received from another advisor trading activities. There's nothing for sure.
What Are The Risks With Forex Astrobot?
Risks are mostly 100% to get a scam advisor. We have no proof that the system is profitable here and how in the middle of summer 2021. She must provide us with relevant intel that is able to convince us that the system is good to go.
Worth Noting!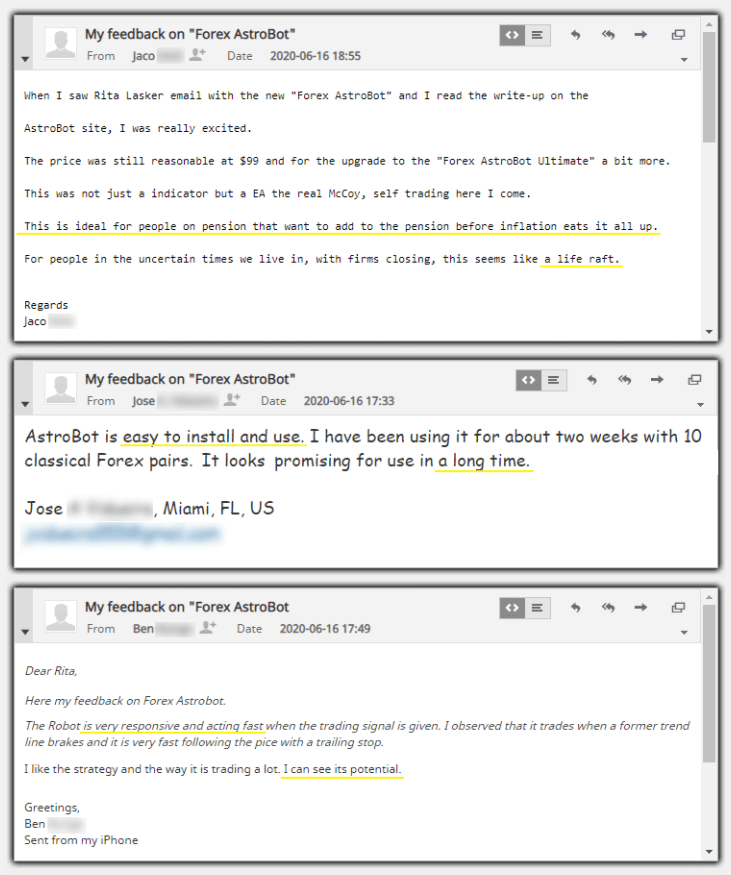 There are fake testimonials published on the site. They were screenshotted within two hours on the same day. We can't trust them blindly after all the scams we saw in the presentation.
What are the Pros & Cons of Investing in Forex Astrobot?
| | |
| --- | --- |
| Pros | Cons |
| A money-back guarantee provided | No team revealed |
| | No settings explanations provided |
| | No strategy explanations provided |
| | No risk advice shared |
| | No backtest reports provided |
| | No trading results shared |
| | No real people feedback provided |
| | Weird pricing |
Forex Astrobot Conclusion
Forex Astrobot is a trading advisor that has a horrible and wordy presentation. We have no strategy explanations provided. It is crucial because we have to know what to expect from it. The presentation lacks backtest reports and trading results, as usual. We are sure that the advisor should be avoided for the best.