Forex Gold Investor is a gold-trading expert advisor that is compatible with the Metatrader 4 platform. As per vendor claims, this system is a revolution in gold trading. Of course, we can determine the true profitability of the EA only after analyzing its live performance and other factors.
On the official website, the vendor has highlighted the main features of the system and has shared the links to live trading accounts. We have some general information on gold trading and how this robot works. There are separate backtesting results for fixed lots and money management and finally, we have the pricing details.
We don't have much information available on the vendor. FXautoamter is a Seychelles-based organization that has been building automated systems for several years, but we have no data on the company's service history. The vendor hasn't shared any contact information or the official address, but we have the links to the social media handles. To get in touch with the service team, you must use the contact form on the website.
Key features
Forex Gold is priced at $227. The vendor claims the true price of the system is $297 and that this is a discounted price. By purchasing the robot, you get access to one real-money account and several demo accounts. The vendor also offers a 60-day money-back guarantee for this robot.
This gold-trading EA has a money-management functionality that calculates the size of your trading lots automatically based on the chosen level of risk. It also has a broker spy module that prevents unscrupulous brokers from cheating you with high spreads and negative slippage. If you wish to avoid trading on days when major news releases are scheduled, you can use the news filter feature.
This robot comes with a quick start guide that will help you set the EA up. The vendor has not shared any information related to the minimum required deposit or the leverage.
Forex Gold Investor trading approach
There is no information on the official website about the trading strategy used by Forex Gold Investor. The vendor mentions that there are two trading strategies, but fails to provide an explanation for either of them. They have hinted, however, that the EA follows a high-frequency strategy, opening multiple orders every day. As we know, such trading schemes are often stressful and quite risky.
Backtesting results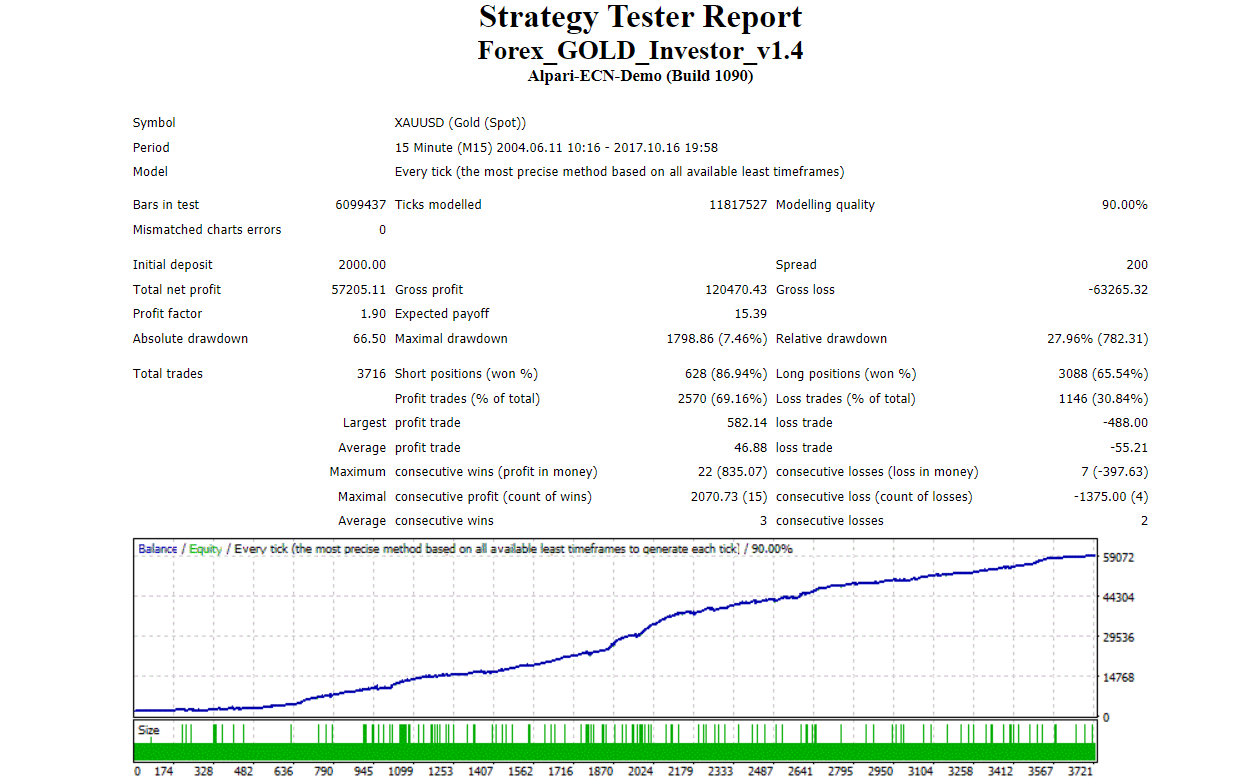 This backtest was carried out with fixed lot size from 2004 to 2017. The EA started off with an initial deposit of $2000 and placed a total of 3716 trades, winning 69.16% of them and earning a net profit of $57205.11. There were 22 maximum consecutive wins and 7 maximum consecutive losses during the testing period.
The relative drawdown for this backtest is quite high at 27.96%. Considering the EA follows a risky high-frequency strategy, this is not surprising.
Forex Gold Investor live trading results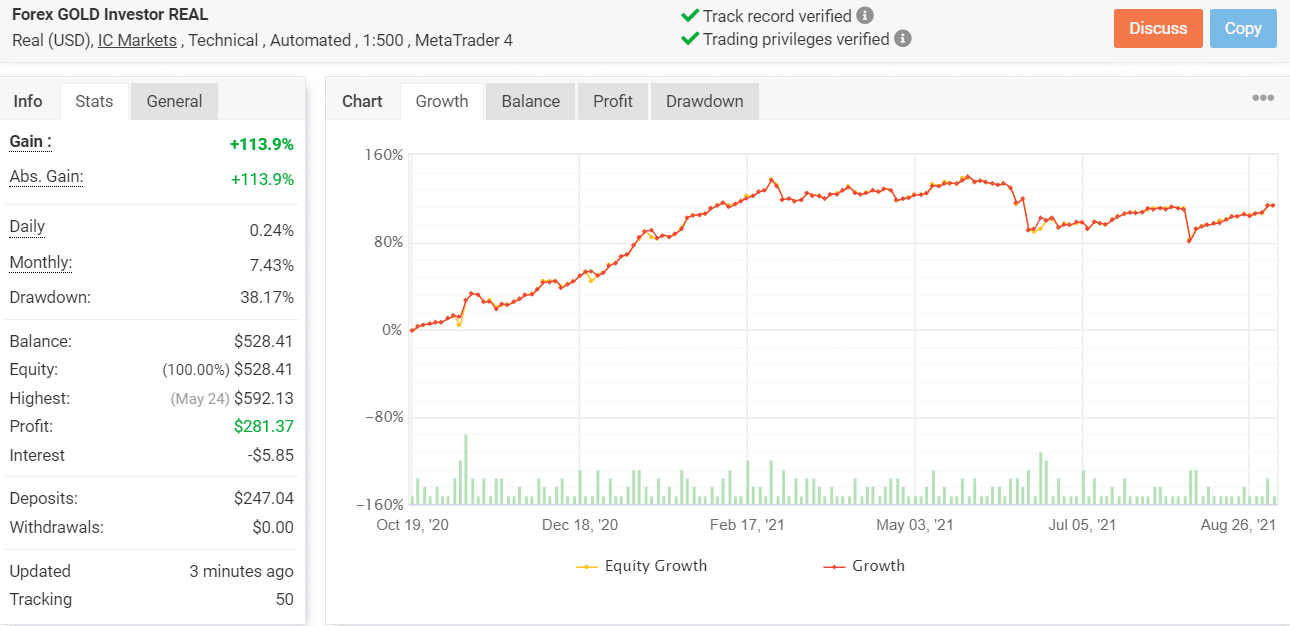 This trading account was launched on July 27, 2020. To date, the EA has placed only 250 trades through this account, winning 177 out of them and generating a small profit of $281.37. Considering the fact that it has been live trading for over a year, one would expect the total profit to be higher.
At this moment, the daily and monthly profits are 0.24% and 7.43% respectively. The drawdown of 38.17% is much higher in comparison to the live trading statistics, while the profit factor is 1.47.
What are the risks with Forex Gold Investor?
Forex Gold Investor is definitely not a safe and reliable trading system. The vendor has not shared any information on the trading strategy and the live account exhibits high drawdown. There is also the fact that there are no user reviews for this robot.
Worth noting!
The vendor provides customer support, but we don't know through what mediums, since there is no live chat option on the website. Unfortunately, there are no authentic customer reviews for Forex Gold Investor on third-party websites.
What are the pros and cons of investing in Forex Gold Investor?
| | |
| --- | --- |
| Pros | Cons |
| Verified trading results | Lack of vendor transparency |
| | No user reviews |
| | High drawdown |
After weighing the pros and cons of the system, we can see that this EA is not a safe investment. It has too many downfalls for us to consider it reliable.
Forex Gold Investor Conclusion
We think Forex Gold Investor is a system that makes several promises but fails to deliver in the live market. It uses an extremely risky strategy that leads to high drawdown, so you'd do well to avoid this system.