Forex Gump is an expert advisor that places and manages trades automatically. Its developer states that the EA take profit of each order is always unique by adjusting to the current situation in the FX Market.
The software is offered in 3 different settings: High, Middle and Low settings. According to the developer, this technology protects the trader from losing more money than what is specified in the settings of the EA, even if the system crashes.
The robot is presented and offered by Forexgump.eu. The vendor's identity is not provided.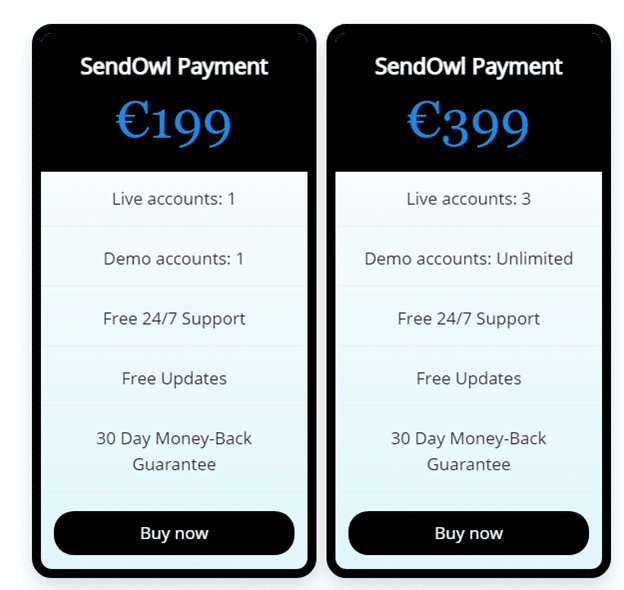 Get started with Forex Gump
The EA has two packages which a trader can choose from. First package costs EUR199 and comes with 1 live and 1 demo account, free support and free updates. The second package on the other hand goes for EUR399 and comprises 3 live and unlimited demo accounts, free support and free updates.
The EA provides a 30-day money back guarantee in condition of loss. To apply for a refund you must send your live account statement of 20 days trading history by using Forex Gump EA. If your account balance is in loss with a recommended deposit then you will be issued with a refund. Your statement must be valid. If you do not provide the necessary requirements, your refund request might be rejected.
The support can be contacted through the "Contact Us" page on the EA website.
Key Features
The Forex Gump EA works on MT4 trading platform with any broker. You can run the EA on a $4000 account, or a minimum of $40 on a micro (cent) account. Its developer recommends a leverage of 1:100 and higher.
It trades 9 currency pairs namely AUDUSD, EURCHF, EURGBP, EURJPY, EURUSD, GBPUSD, USDCAD, USDCHF and USDJPY. The software trades on M1 timeframe.
Upon the purchase, you are required to download the software, install it on your account, turn it on and let trading begin.
Forex Gump Trading Approach
The trading strategy for the robot is not disclosed. This is a red flag. We are only told that using this system is not affected by emotions, negative circumstances, or even the need to meet daily physical demands. That it just keeps working, programmed with 100% market evaluation and implementation.
The developer adds that the EA stays operational 24/5 searching for profitable trading opportunities and unless you turn it off, you won't miss a single lucrative trade option. How can we give room for a software to trade for us without knowing the trading strategy behind it? We expected the developer to explain how the EA searches for profitable trading opportunities and what criteria is used to execute the trades.
Backtesting Results
The developer does not provide any backtesting results.
Forex Gump Live Trading Results
The trading data for the live account below is powered by FXBlue. The robot has made a net gain of $68,008 representing 2711%. The monthly return is 9.7% while the winning percentage is 74%. The software executes 14.6 trades per day with some running for 4.5 days.
Looking at the floating P/L, we can state that there is no proper risk management. If the system decides to close the running trades, the balance will reduce to $70,145 from $107,780. That's a huge loss.


What Are The Risks with Forex Gump?
This EA is not safe and reliable because of the following reasons:
Trading strategy is undisclosed
Vendor identity is not provided
Developer trading experience not provided
Backtesting data report is not provided
Worth Noting!
The Forex Gump EA has a page on TrustPilot platform with a star rating of 3.7 out of 5 based on one review which is attached below.
Our searches on FPA and Quora platforms couldn't yield any information.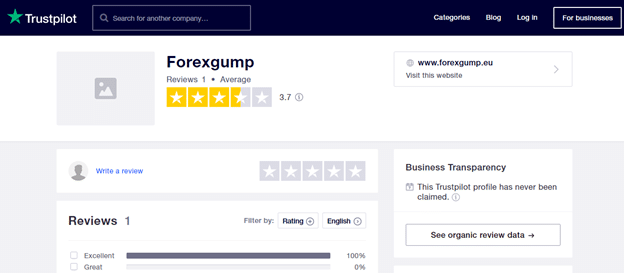 Affiliate Program
The trading system also has an affiliate program where traders are paid 30% for every sale they make by visitors they refer to Forex Gump. After registration, the trader will get a unique affiliate ID and a link to share.
What are the Pros & Cons of Investing in Forex Gump?
| | |
| --- | --- |
| Pros | Cons |
| Customer review | Expensive |
| Live trading results | No backtesting report |
| Can run on small account | No explanation on trading strategy |
| Works on MT4 with any broker  | Trades only 9 currency pairs |
|   | Lack of customer reviews |
We would not invest our money in a robot that does not give us a clue on its functionality. The vendor needs to do a lot in his presentation to attract customers.
Get started with Forex Gump
Forex Gump conclusion
There are a lot of questions that Forex Gump EA does not answer in its presentation as an automated Forex trading tool. We do not advise any trader to buy from a vendor who cannot show to the public who he is.