Forex Pulse Detector is an expert advisor that belongs to the Automated Forex Tools portfolio. They claim that their system can "take advantage of the market impulse." The main page was updated with discount information about the Black Friday sale.
Key features
The system works automatically.
There's a recovery system.
It trades GBPUSD and EURGBP cross pairs.
We can customize the system to work with other pairs.
We have broker protection.
There's money-management applied.
The account should be $1000 or more.
Forex Pulse Detector trading approach
The advisor has many features and settings explained. The devs tried their best to explain everything to us.
The system helps us with opening and closing orders for us.
"Indicators behind the system check where the market goes in every single moment."
The main time frame is M15.
It opens orders quite frequently on the terminal.
The low time frames are the best for it.
We can work with it on PC or Mac.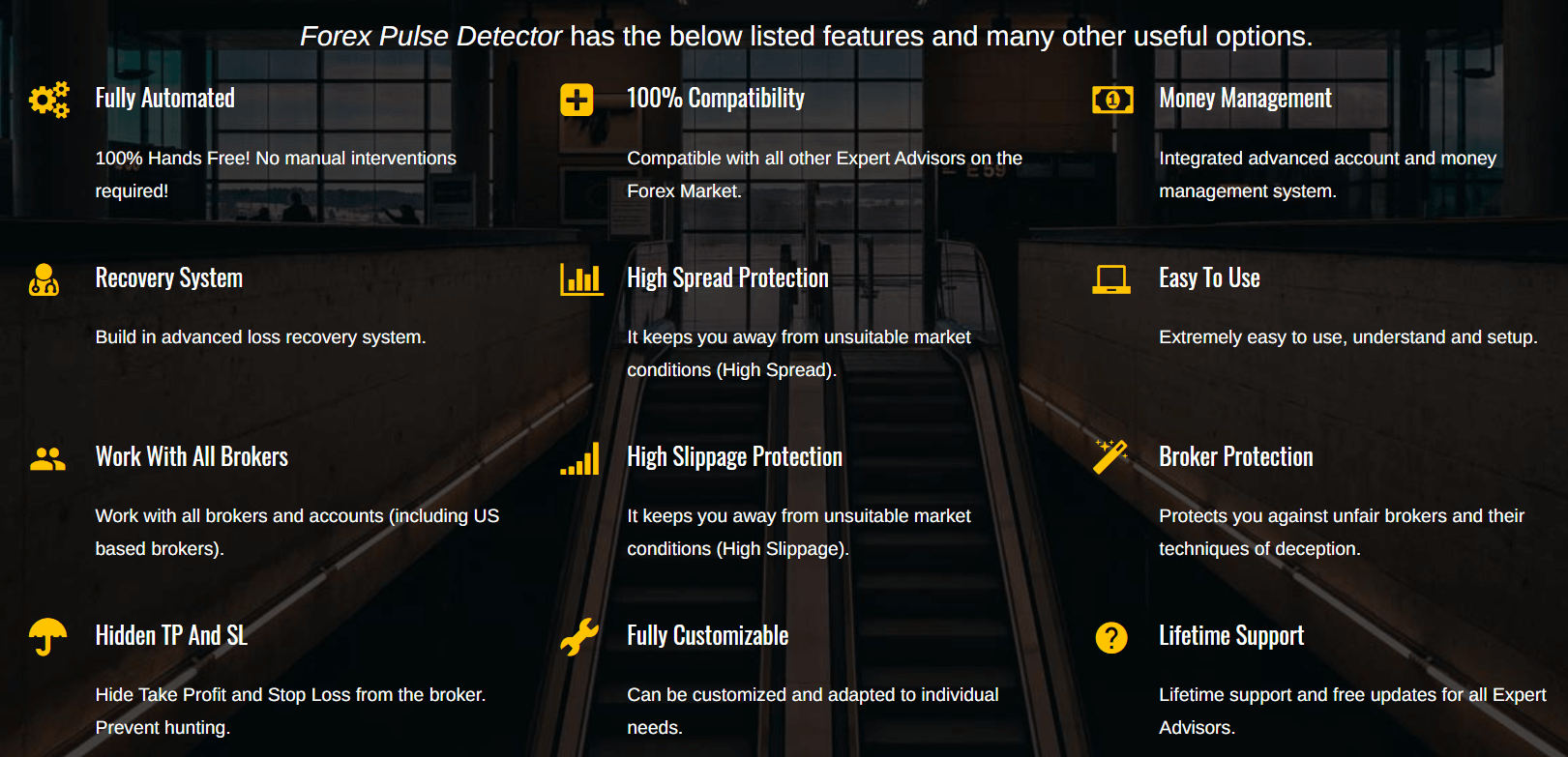 Martingale was applied as well.
We can open orders on any broker we want.
There's a broker protection feature applied.
It can protect us from high slippages and spreads.
There's a money management system.
The EA is easy to work with.
We can rely on 24/7 support.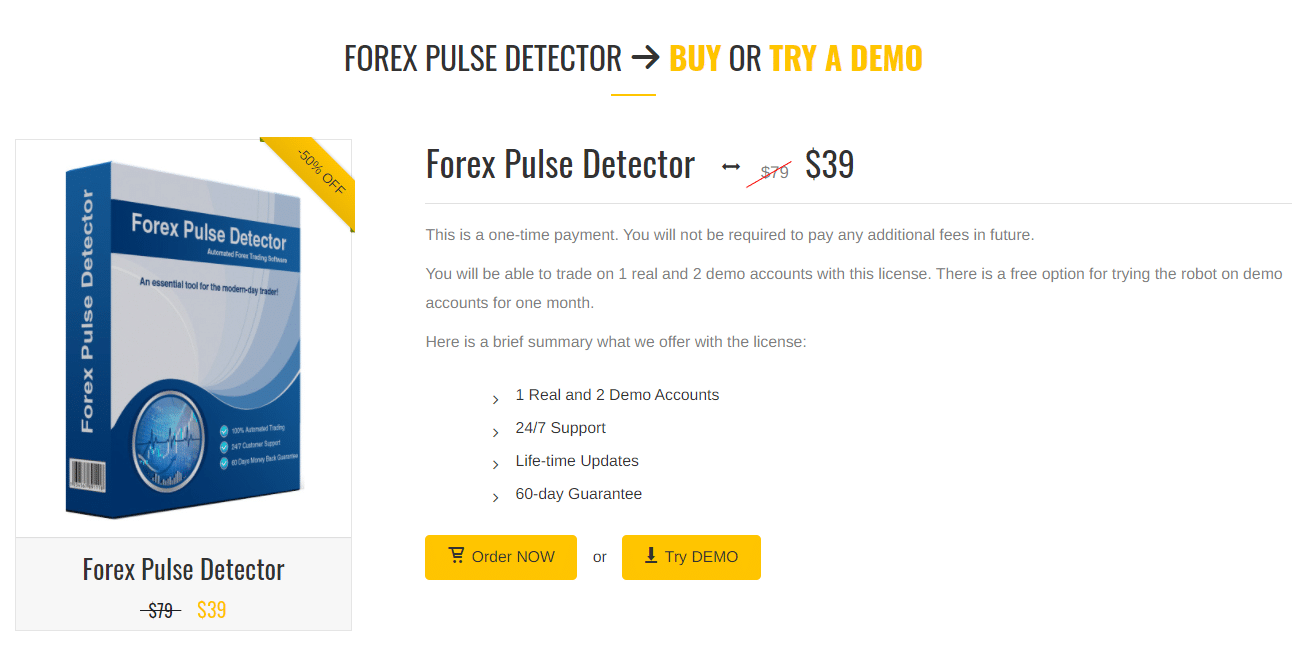 Forex Pulse Detector can be purchased for $39. The previous discount price was $63. We can expect that the package is featured by a single real license and two demo ones, 24/7 support, lifetime updates, and a 60-day money-back guarantee.
Backtesting results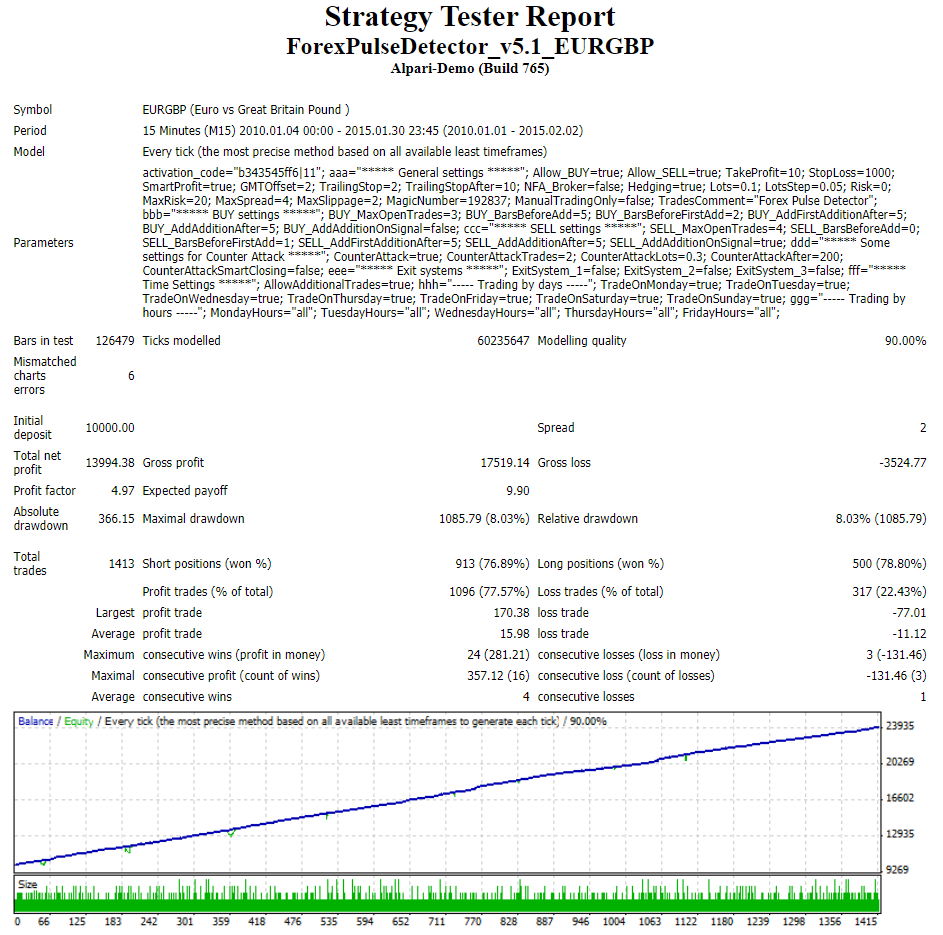 It's a EURGBP report that was performed on M15 time frame. The tick data was chosen from 2010-2015. The modeling quality was 90.00% with 2-pip spreads. An initial deposit was set at $10,000 that turned into $13,994 of the absolute growth. The profit factor was 4.97. Forex Pulse Detector has closed 1413 orders. The win rate was 76-78%.
Forex Pulse Detector live trading results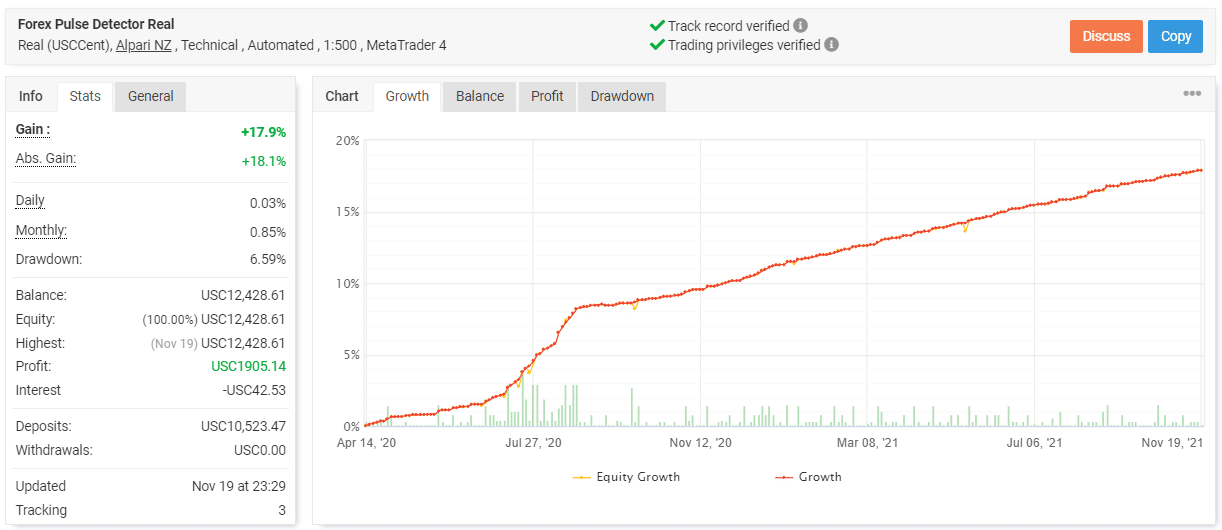 The system trades only on a Cent account. The broker is Alpari NZ. It works with 1:500 leverage on the MT4 platform. The account has a verified track record. So, the data must be relevant. It was created on April 14, 2020, and deposited at 10,523.47 USC. Since then, the absolute gain has become 17.90%. An average monthly gain is 0.85%, while the maximum drawdown is 6.59%.

The system traded 503 deals with only 865.1 pips. An average win is 13.80 pips when an average loss is -22.37 pips. There were 27.41 lots traded. An average win rate is between 65% and 75%. An average trade length is 14 hours 26 minutes. The profit factor is 2.35.

We have only GBPUSD traded without mentioned EURGBP. The short direction is traded almost five times more frequently than the long one – 415 orders.

The most traded sessions are American and Asian.

Thursday is the less traded day with 78 deals closed.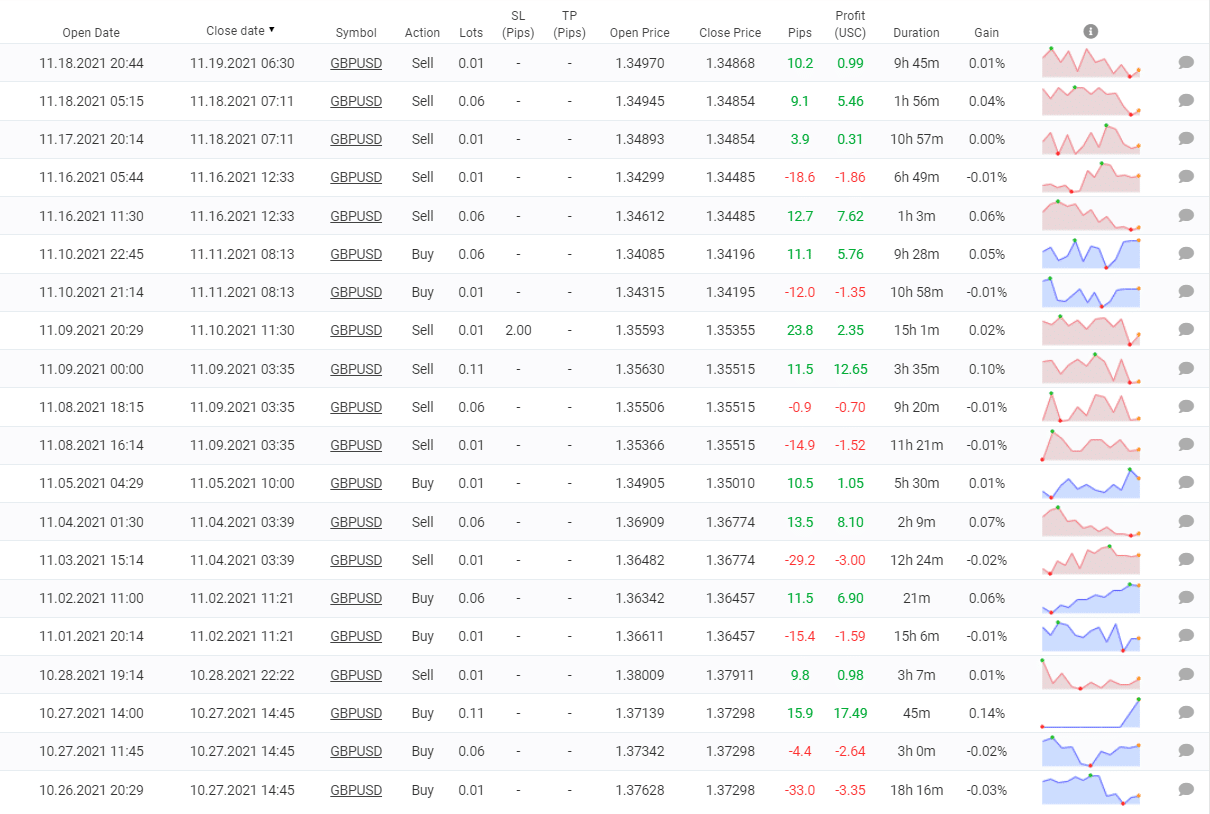 It uses twice as aggressive Martingale than it should be.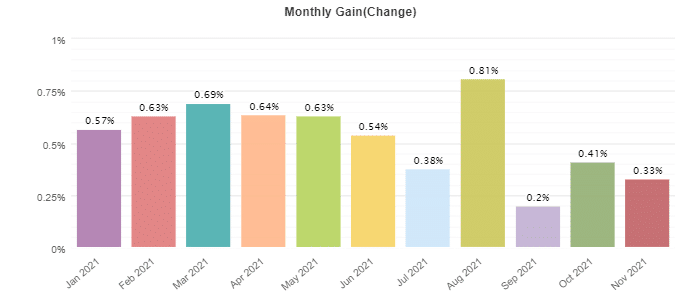 The robot was profitable this year and it hasn't lost any month.
What are the risks with Forex Pulse Detector?
The risks are medium. The system works with Martingale. Based on the win rate, it could be risky to recover after losses.
Worth noting!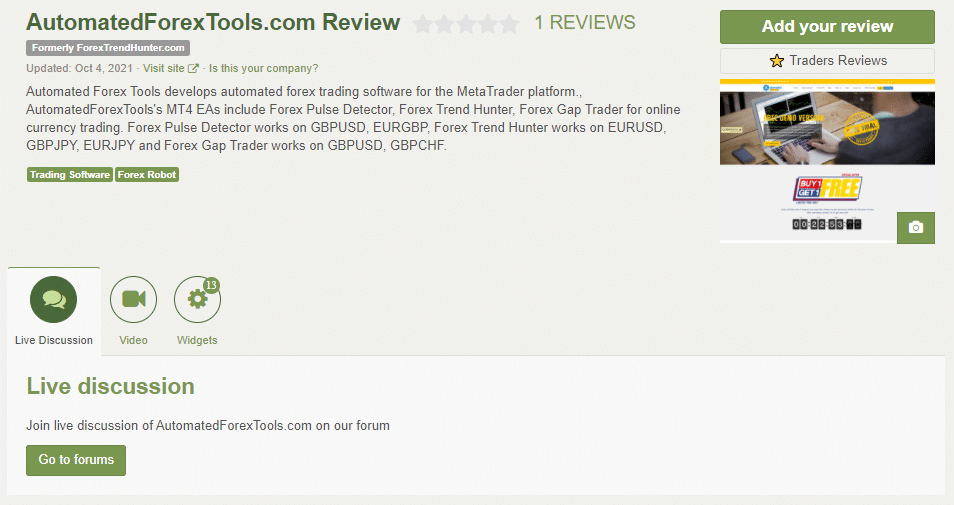 There's a page of a mother company on Forex Peace Army created.

All testimonials look fake. We can't trust them blindly.
What are the pros & cons of investing in Forex Pulse Detector?
| | |
| --- | --- |
| Pros | Cons |
| Backtest reports published | No risk advice given |
| Trading results provided | Martingale is on the board |
| A Balck Friday deal released | No people testimonials written |
| An extended 60-day refund policy provided | The system trades with one pit only |
Forex Pulse Detector Conclusion
Forex Pulse Detector works with aggressive Martingale. The system is profitable but it's too easy to lose half of the account within a day. We cannot suggest you use it. The developers didn't provide us with much feedback about how the system functions on clients' accounts.