FX Fortnite is a trading advisor with a presentation of an acceptable level. The system runs a real account that can be treated like a pro. There's a simple main claim that informs us that it's "100% Full Automated MT4/MT5 Expert Advisor." So, let's check everything out.
Key features
The advisor works automatically for us.
It calculates the best entry points.
It manages SL and TP for us.
The system closes orders automatically.
It works with EURCHF.
We are allowed to trade on the H1 time frame.
IC Markets is a suggested broker.
Recommended balance is $1000.
Trading strategy

The presentation includes some information about what we should expect if we decided to buy the system and set it to work on our account.
It was designed to help its owner with automatic trading.
It can be used on the MT4 terminal.
There can be Hedge and Trend strategies.
Many conservative traders don't use a Hedge strategy.
There are several risk levels: Conservative, Medium, and Aggressive.
We can work with 1:100 leverage or bigger.
"Inbuilt indicators analyze the market's divergences and convergences."
The devs provide welcome support 24/7.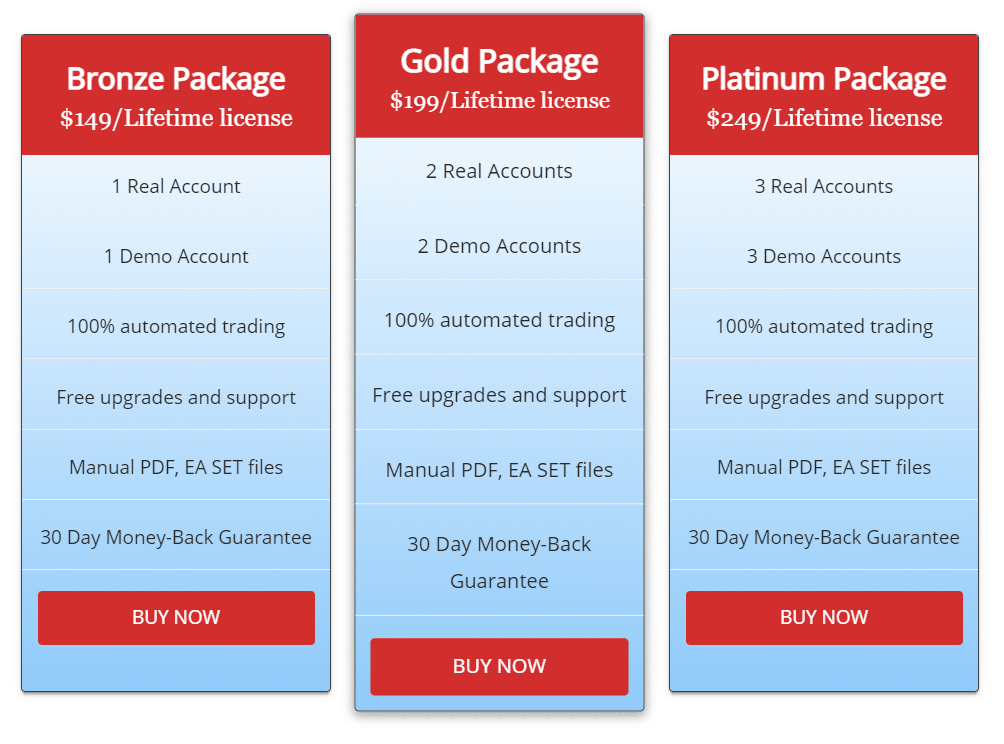 So, we've got three packages. The Bronze pack costs $149 for a lifetime license. There's one real and one demo account. The Gold package is available for $199. There are two real and two demo accounts. The most expensive pack is Platinum for $249. There are three demo and real account licenses. It's a pro that we have a 30-day refund policy if something goes wrong.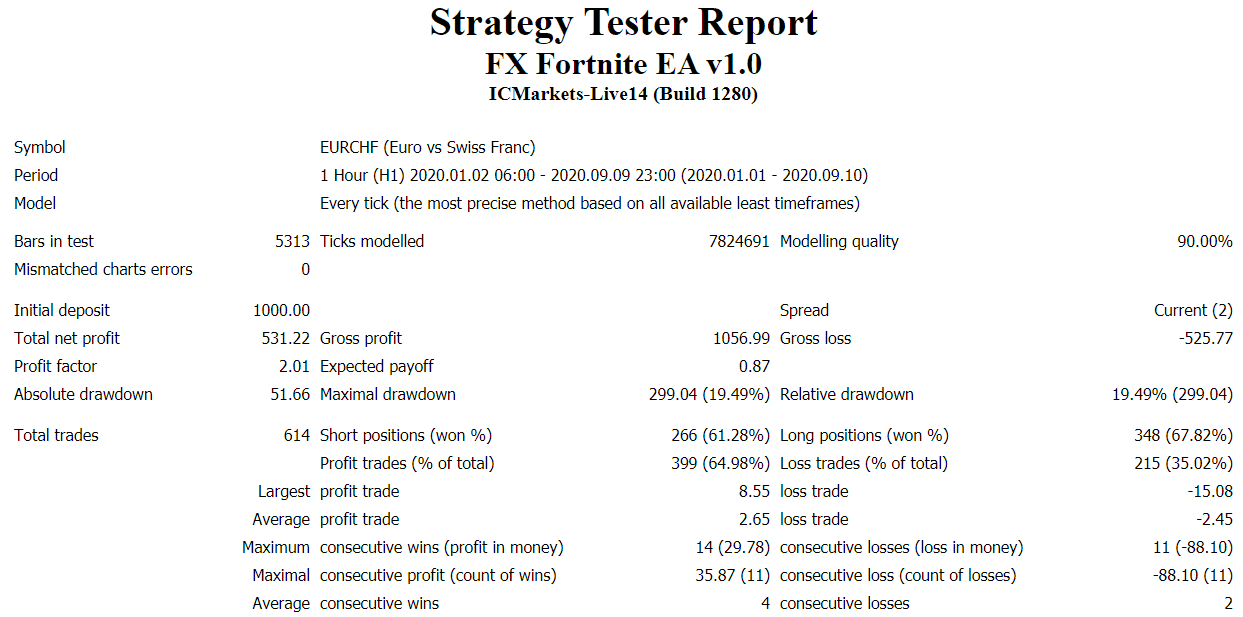 It's an advantage that the devs shared a report of EURCHF tested on the H1 time frame. The data period was a bit less than 1 year. The modeling quality was 90.00% with a 2-pip spread. An initial deposit was $1000 that has become $531.22 of the total net profit. The profit factor was 2.01. The maximum drawdown was 19.49%. There were 614 deals traded with a 61% win rate for short and 67% for long trading positions.
FX Fortnite live trading results

The advisor can work with orders on a real account. The floating loss is deep, as usual, -$69.30. The closed profit is $633.90. The margin level is 1880.9%.

The total net return is 136.8% when an average monthly return is 45.3%. An average accuracy is 77.6%. The profit factor is 3.42. It's twice higher than the minimum number for a paid advisor. An average trade frequency is 13.1 orders weekly.

The average trade length is 45 hours. An average win is $1.39 when an average loss is $1.41.

The advisor has a better profit factor (5.41) on the sell direction over than the buy direction (2.64).

It works with a single magic number.

Friday is still ahead in trading with 238 deals closed.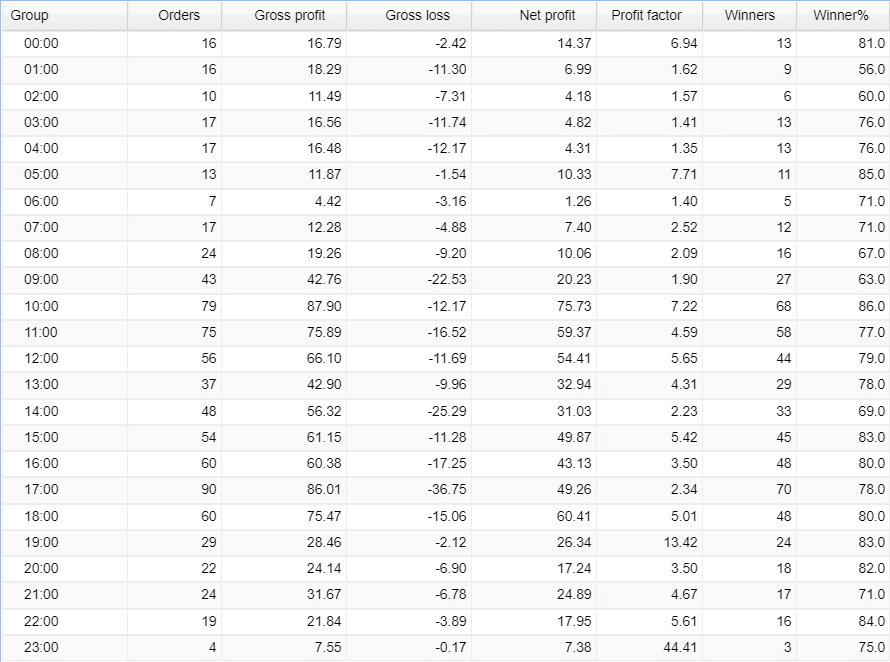 Most of the orders are placed on the market during the European trading session.

It trades unpredictable by frequency and profit factor from month to month.
What are the risks with FX Fortnite?
The risks are medium because the robot keeps orders on the market over a weekend that can trigger a huge loss on Monday night.
Worth noting!
The presentation isn't featured by testimonials. So, we have no idea if the system works well and shows the same results on people accounts.
What are the pros & cons of investing in FX Fortnite?
| | |
| --- | --- |
| Pros | Cons |
| Backtest reports provided | No team revealed |
| Trading results revealed | No risk advice given |
| A refund policy applied | The advisor trades on a low deposited account once again |
| | No people feedback written |
FX Fortnite Conclusion
FX Fortnite is an expert advisor that was set to work on a low deposited account after being updated. It makes some profits, but works unpredictable. The last two weeks were much worse than the previous ones.