FXMAC is a service company that provides PAMM and MAM features for Forex traders and other clients. The key statement informs us that "Start making money with our Forex Managed Accounts. Making it Easy for You."
Key features
There are a short list of features available:
There are four investment possibilities on the board.
"Forex Investment Program 1 is a Trend strategy (no grids, no martingale) based on Candlestick Patterns, Moving Average and Fibonacci Levels."
It can provide no more than 150% annually.
We can enjoy a more aggressive version.
Following this risk, it can double profitability.
The system hides SL and TP levels from a broker.
The profit factor is 1.53.
The maximum drawdown is 20%.
The aggressive version has 40% drawdowns.
The brokers are Vantagefx, Fusion Markets, and IC Markets.
We have to be ready to deposit $15,000 for aggressive version signals.
The regular version needs $25,000.
The performance fee is 35%.
LMFX broker helps with US clients.
The minimum investment $5,000 (version #1) and $3,000 (version #2).

Additional brokers are Fusion Markets and FXChoice.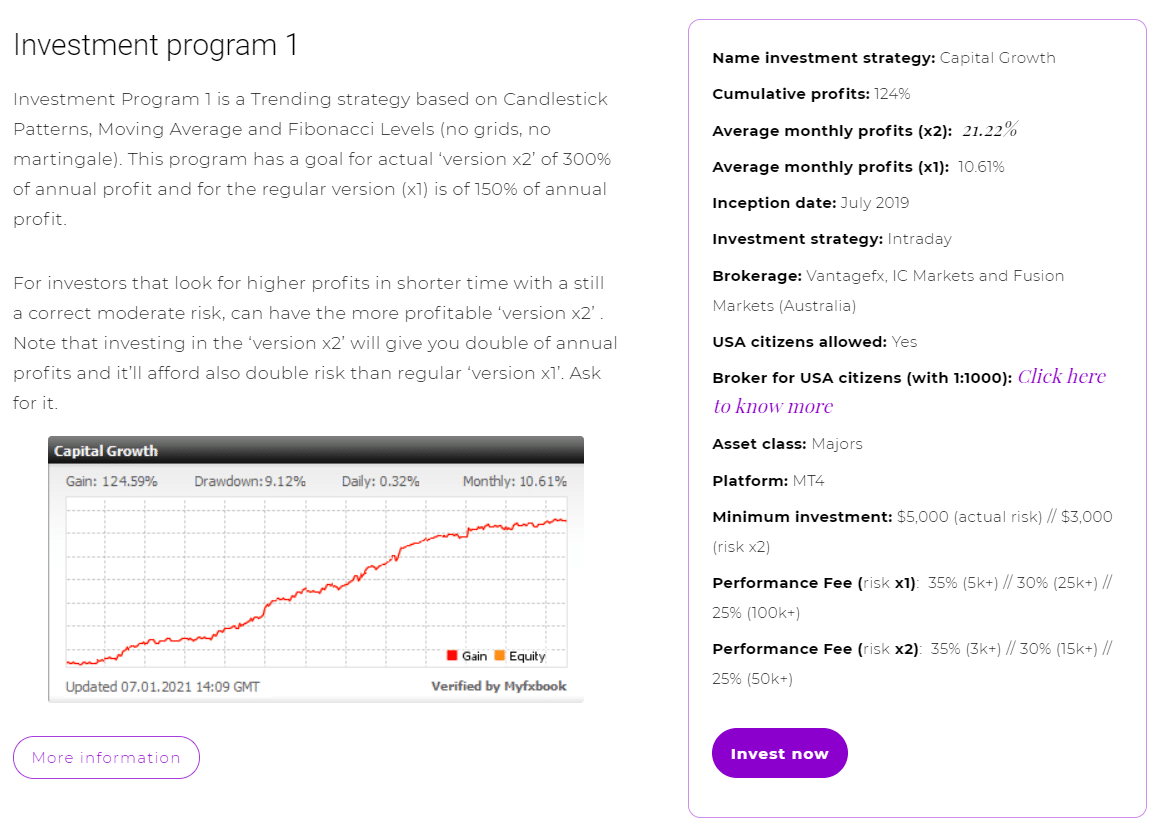 We have only these statements without proof:
​Cumulative profits: 124%
​​Average monthly profits (x2): 21.22%
Average monthly profits (x1): 10.61%
Investment strategy: Intraday
Asset class: Majors
The performance fees are 35% for $5,000, 30% for $25,000, and 25% for $100,000 accounts.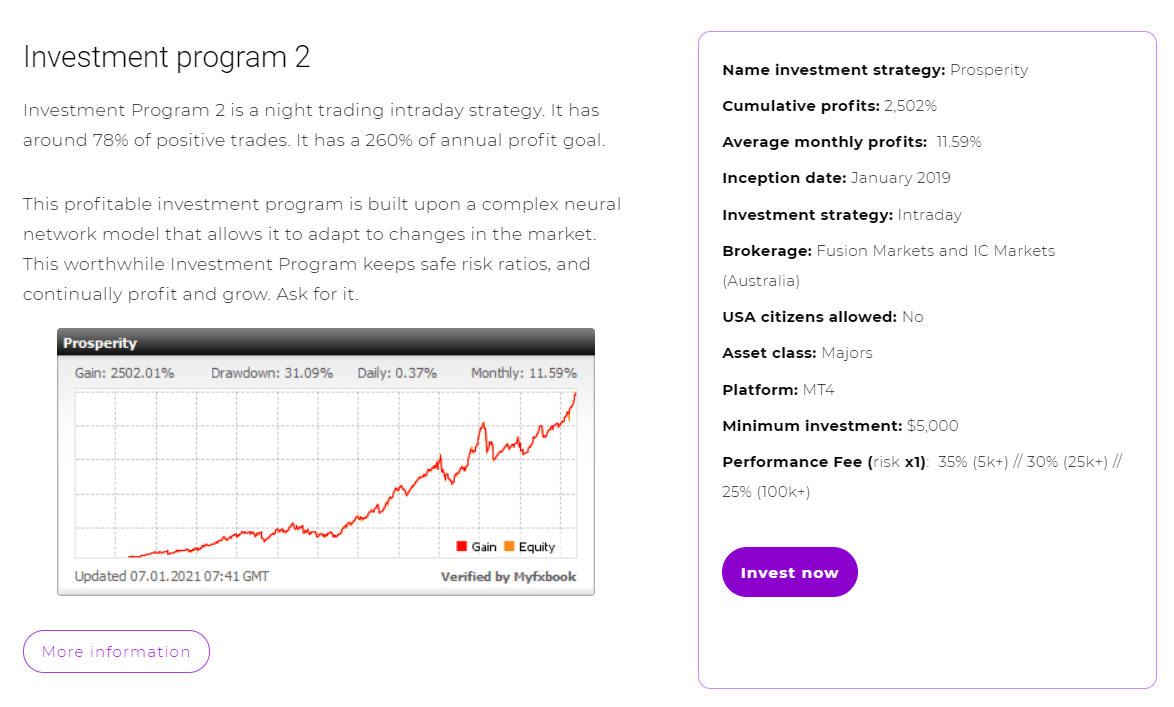 We have a night intraday strategy on the second system.
The win rate is 78%.
An annual profit is 260%.
"This profitable investment program is built upon a complex neural network model that allows it to adapt to changes in the market."
An average monthly gain is 11.59%
The suggested brokers are good ones: Fusion Markets and IC Markets (Australia).
US citizens aren't allowed because FIFO rules aren't followed.
Asset class: Majors
The minimum number of funds should be $5,000.
The performance fees are 35% for $5,000, 30% for $25,000, and 25% for $100,000 accounts.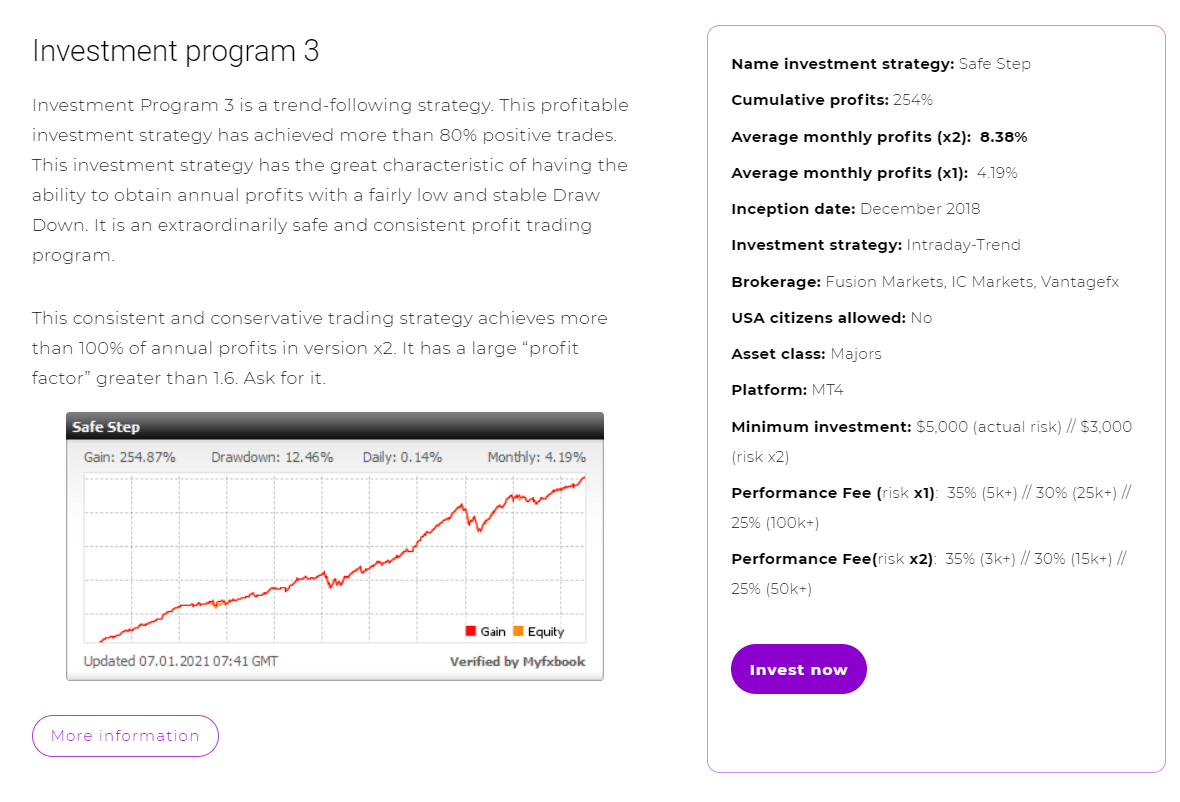 Trend following is the third strategy.
We can expect an 80% win rate.
The robot works with low drawdowns.
The profit factor is 1.6.
An annual profit can be 100%.
An average monthly profit is 8.38%.
We can use it on Fusion Markets, IC Markets, and Vantagefx broker houses.
People from the US are not allowed again.
Asset class: Majors
The minimum deposit is $5,000.
The performance fees are 35% for $5,000, 30% for $25,000, and 25% for $100,000 accounts.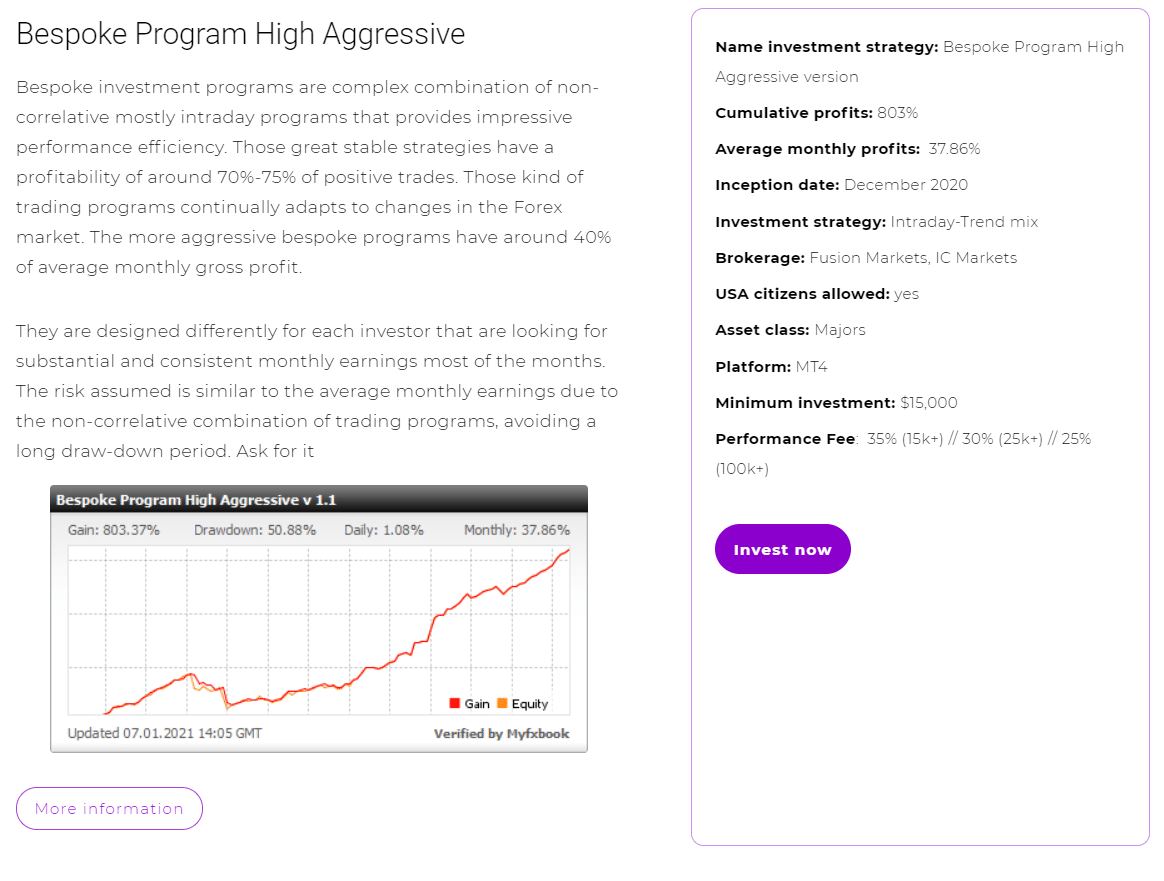 The system is called "Bespoke Program High Aggressive."
"Bespoke investment programs are a complex combination of non-correlative, mostly intraday programs that provide impressive performance efficiency."
The accuracy rate is 70-75%.
An average monthly profit can be as high as 40%.
The system can be customized for risks we want to take.
The brokers work with Fusion Markets, IC Markets.
US citizens are allowed.
The minimum deposit requirements are $15,000.
The performance fees are 35% for $5,000, 30% for $25,000, and 25% for $100,000 accounts.
FXMAC trading approach
The systems provide us with signals that we can copy on our terminal.
They work with major currency pairs.
Time frames weren't mentioned in the presentation.
Backtesting results
The systems don't have backtest reports that would inform us about what success it could manage to achieve. It's a significant con because we don't know details and if these systems belong to the developers.
FXMAC live trading results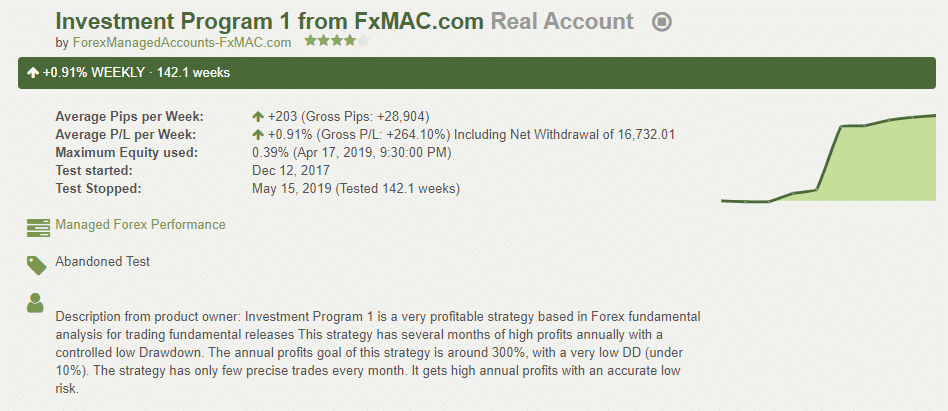 The only trading results we have are published via the Forex Peace Army site. The system was started at the end of 2017 and stopped at the beginning of 2019. It was tested 142.1 weeks in total. So, how are they going to manage to provide signals from stopped accounts? It's literally impossible.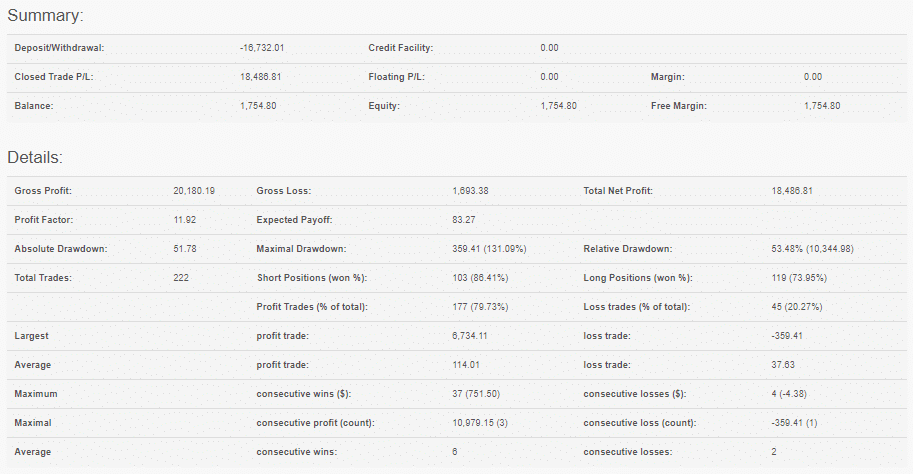 The total profit was $20,180.19. The profit factor was 11.82. The maximum drawdown was unfriendly -51.78%. It's much higher than the developers mentioned when they talked about their systems.
One of the systems has traded 222 orders. The win rate was 86% for shorts and 73,96% for longs.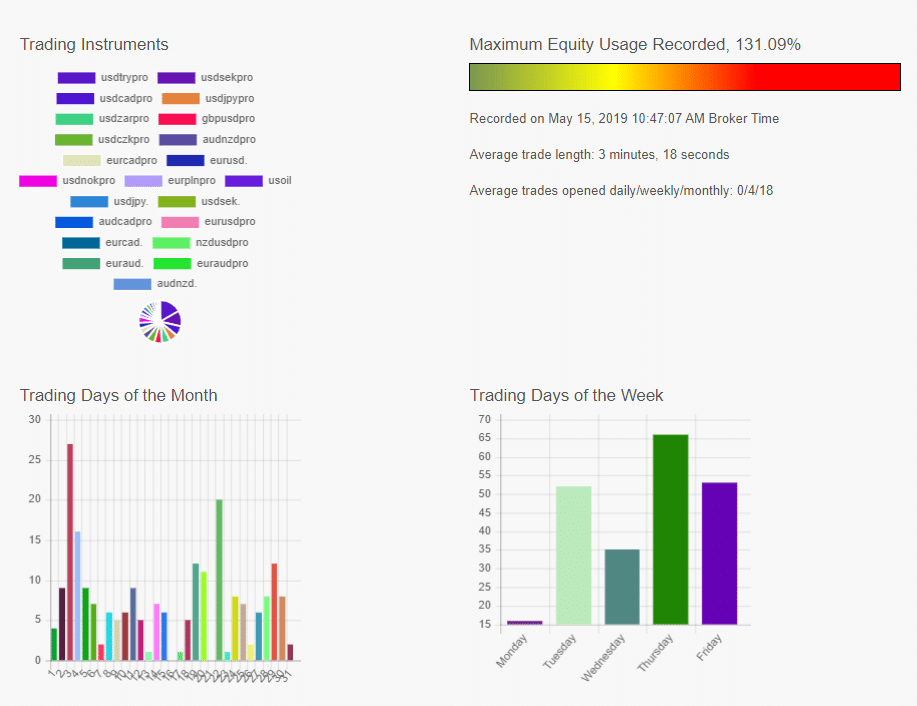 The system traded 22 trading pairs. An average trade length was 3 minutes 18 seconds. So, it looks like a scalper on the M1 time frame. An average trade frequency was 18 orders a month. The system didn't open orders on Mondays.
What are the risks with FXMAC?
There are almost 100% risks of working with FXMAC. We couldn't find an active account from which they are able to provide us with signals. Most likely, the service is abandoned.
Worth noting!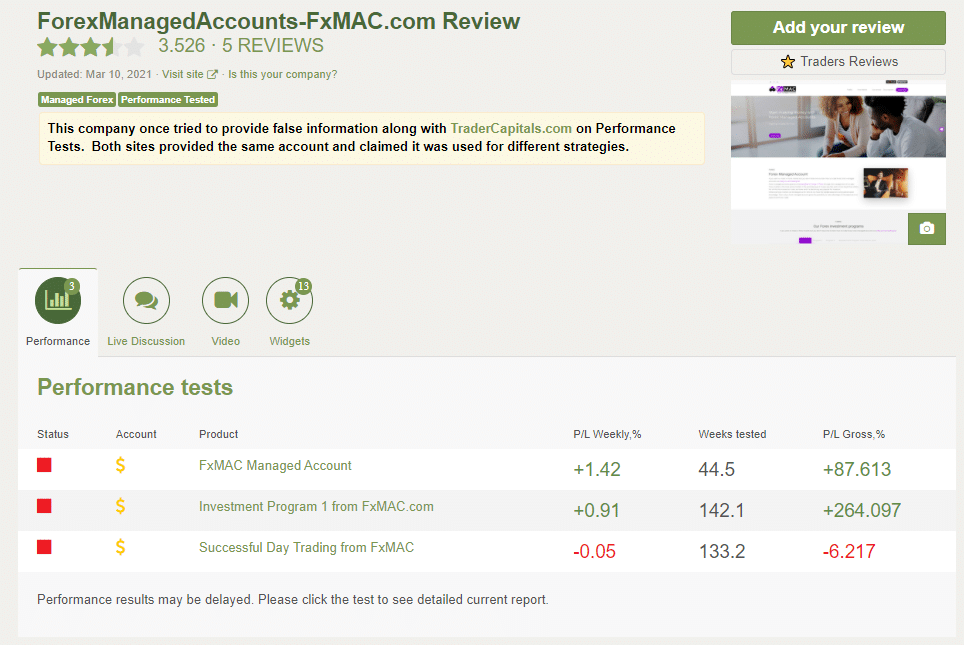 We have an FXMAC page on Forex Peace Army with a 3.526 rate based on five reviews. We may note three real accounts stopped where one was blown.


The clients weren't happy to use the services from FXMAC. So, we have to stay aside from it.
What are the pros & cons of investing in FXMAC?
| | |
| --- | --- |
| Pros | Cons |
| Trading results provided | No team revealed |
| | No backtest reports provided |
| | We have trading results from abandoned accounts only |
| | Various commissions |
| | No proof that the system can make profits in 2021 provided |
| | Many negative testimonials |
FXMAC Conclusion
FXMAC is a company that provides signal services without any live account. It means the firm is a scam. We'd like you to stay aside from them before they reveal trading results for several years on the real account.