FXParabol can supposedly generate an average win rate of 70% for users. It has undergone tests on historical data since 2015 and has been trading live for more than 18 months now. Unfortunately, the developers behind this Forex robot are unknown as this info is not in the public domain. This makes it difficult for us to assess their competencies and reputation in the market. 
The current price of this EA is $289. Once you buy the robot, the vendor will give you two versions of the program, which are compatible with both the MT4/5 terminals. You will also be allowed to manage your license online in a Personal Area. Other additional features include a detailed user manual, free updates, technical support 24/7, and a 30-day refund policy. 
Key features 
FXParabol is designed to trade on the USDCHF and USDJPY currency pairs on either the MT4 or MT5 platform. The system includes a drawdown control feature that enables it to maintain low drawdown levels. All account types and brokers are supported, so you can easily configure it to align to the requirements of your broker or account size. 
FXParabol trading approach
The EA uses the Parabolic SAR and Bolinger bands to spot a trend in the market. It then initiates trades in the trend's direction based on the information supplied by these indicators. The devs also indicate that a special mathematical algorithm is integrated into the system to enable it to recover losses. 
Backtesting results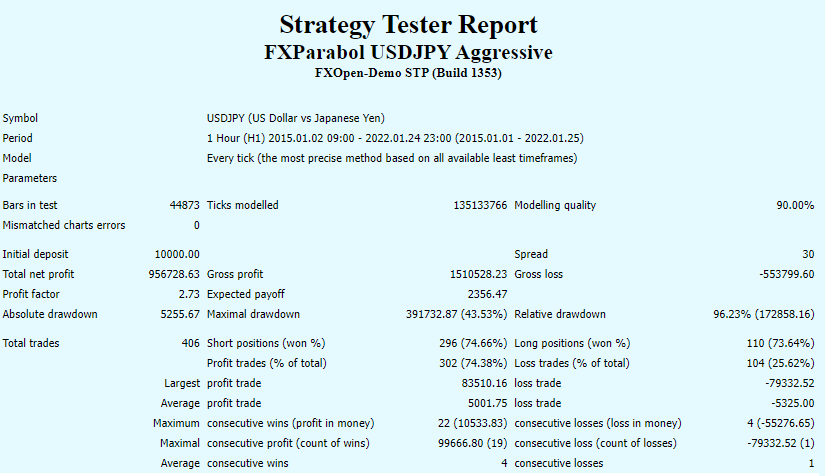 These are the backtest results for the USDJPY currency pair conducted between January 2015 and January 2022. By trading on the H1 chart, the system was able to implement 406 trades using a deposit of $10000. The outcome was outstanding as a total net profit of $956728.63 was realized. 
The resulting win rates for short and long positions were 74.66% and 73.64%, respectively, and were far below what we would term as excellent. The drawdown (43.53%) made should raise serious concerns about the risky nature of the trading method used. 
FXParabol live trading results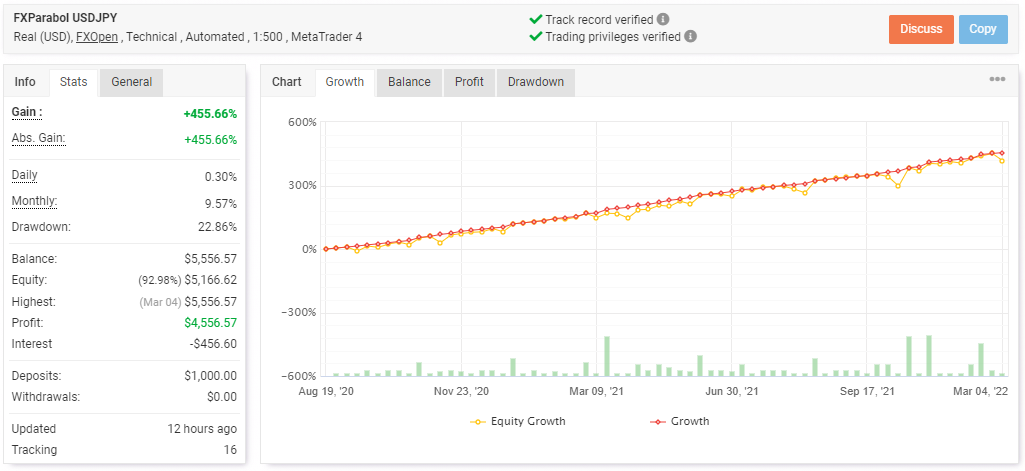 This account has been active since August 19, 2020, and the EA has worked on it to make a profit of $4556.57 multiplying the capital ($1000) immensely. The total gain (455.66%) attained is also impressive and depicts FXParabol as a lucrative tool. There's a drawdown rate of 22.86% and far lower than the one shown in the backtest report. So, the system's trading activities are less risky under real market conditions. 

FXParabol isn't a regular trader as it can hold trades for up to 10 days. As a consequence, it hasn't managed to implement many trades—142. The long trades (78%) perform better than short trades (63%).The best trade has contributed to a profit of $698.12, while the worst one has led to a loss of -$360.15.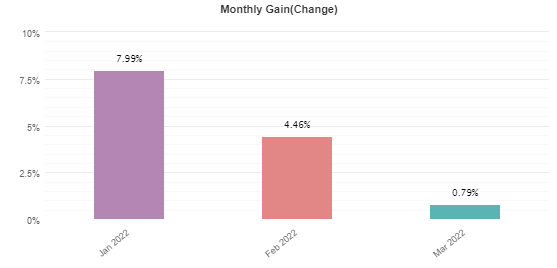 The profitability rate of the system has been declining this year. 

The account's value can decrease by 50% if the EA makes 33 consecutive losses.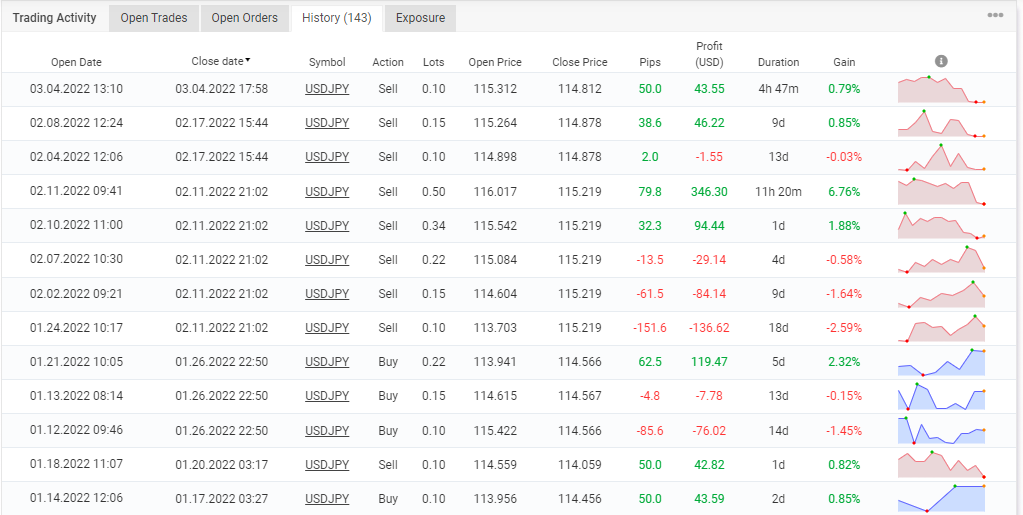 The system works with dangerous approaches—grid and martingale. It has generated far-reaching losses as a result. 
What are the risks with FXParabol?
We have confirmed that the system uses a combo of grid and martingale strategies. These approaches are really risky and can drain a user's capital. 
Worth noting!
Presently, the EA has no customer reviews on any of the third-party verification websites such as Trustpilot, Myfxbook, or Trustpilot. It is possible that traders have not applied the system on their accounts. 
What are the pros and cons of investing in FXParabol?
| | |
| --- | --- |
| Pros | Cons |
| Profitable | Grid and martingale are present |
| Live records are available | High risk of ruin |
| A 30-day refund policy offered | No feedback from customers |
FXParabol Conclusion
We have established that FXParabol is a lucrative tool that can increase your capital substantially within a short period. However, the grid and martingale strategies on the board present real threats to a user's trading account. Twists and turns in the market can lead to huge losses.