FXQuasar is a "powered by Forex Store" robot that has a simple robot presentation. The vendors have zero transparency. They failed to provide information about themselves and if they have proper trading experience on the Forex market. Customer support is available via email. The main claim is that FXQuasar is a "Cosmic Forex Advisor." In this review, we will check the veracity of vendors' claims and find out whether this FX robor is a good system to invest in.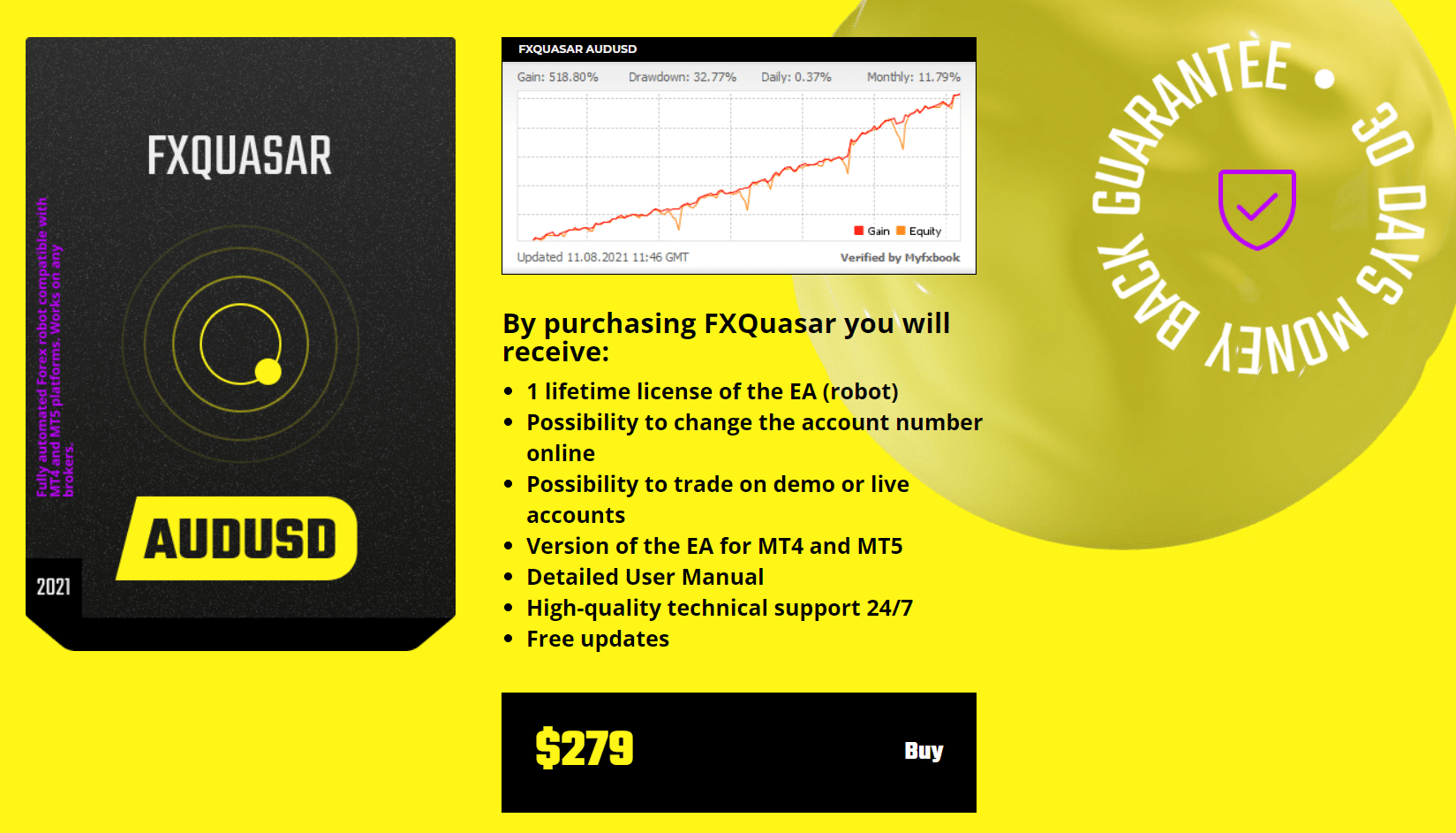 We can purchase the advisor for $279 for a lifetime copy. It's not a big price at all. The package includes one lifetime and an unlimited number of demo accounts, free account switching, a detailed user guide, 24/7 support, and free updates. We can rely on a 30 day refund.
Key features
The system has several features, settings, and other details explained. We have grouped them up in the list.
We can expect from the system automatic trading on our terminal.
We will receive MT4 and MT5 copies.
The system works under NFA rules.
We can keep our broker to work with this advisor.
It's profitable with any spreads.
Every type of an account is allowed for trading.
It comes with a money-management feature.
FXQuasar trading approach
It works based on a price action strategy.
"The system works with six various sessions. Three of them for Long and three for Short directions."
There's "a special risk limiting system, which will protect you from losses that you are not ready to bear. This will let you secure your investment and allow you to regain losses."
That's it. We have no more details shown about how everything has to work.
Backtesting results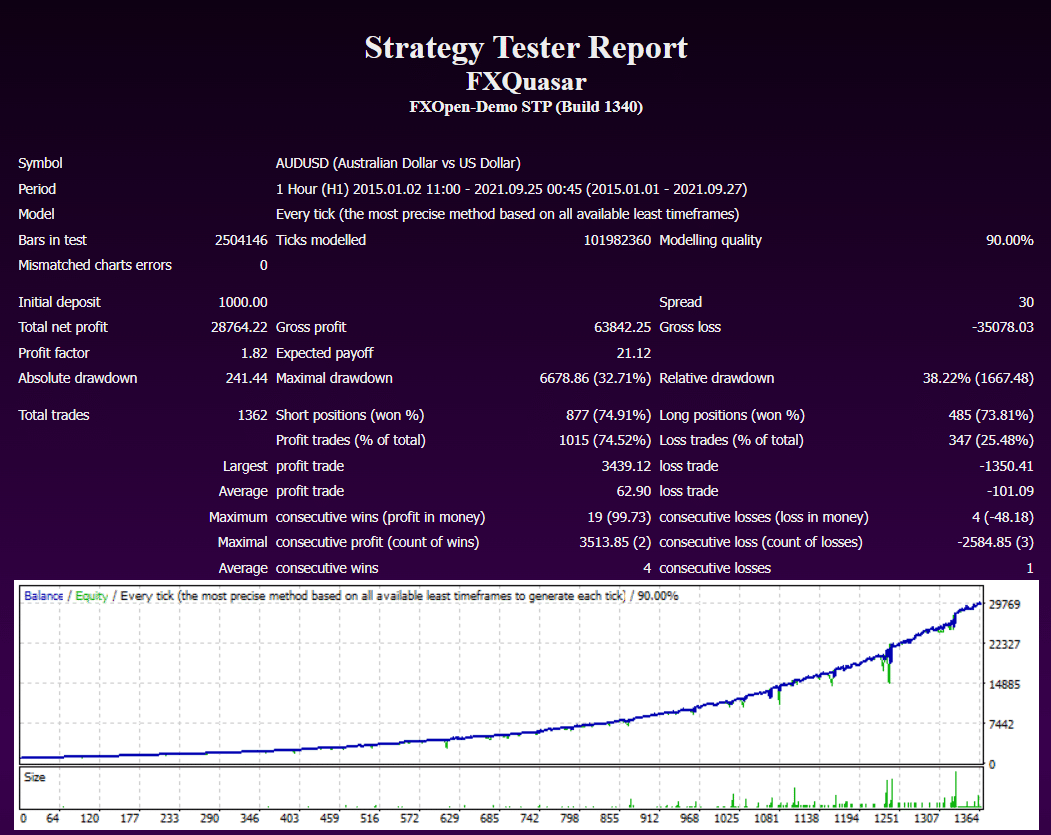 There's a test where the system worked with AUDUSD test on the six-year tick data. The time frame was H1. The modeling quality was 90,00% with 30-pip spreads. They are high and this is good. An initial deposit was $1000.The total net profit has amounted to $28,764. The profit factor was 1.82. The maximal drawdown was 32.71%. The robot executed 1362 deals with an average win rate of 73-74%.
FXQuasar live trading results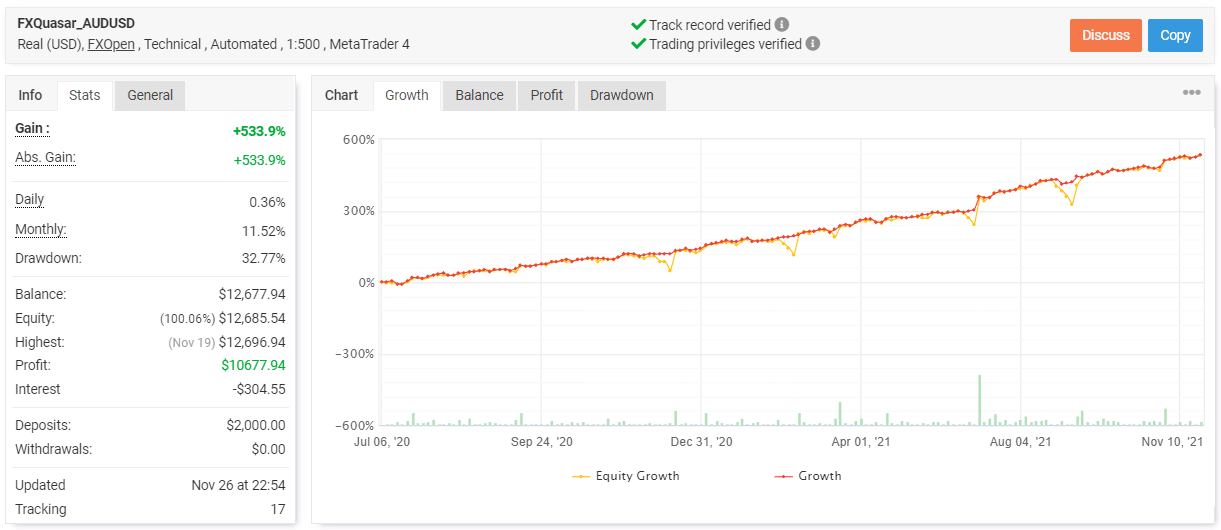 As usual, the presentation is featured by one or even several widgets on Myfxbook verified accounts. The robot has been trading on a real USD account on FXOpen with 1:500 leverage on MT4 automatically. The account has a verified track record. It  was created on June 06, 2020, and deposited at $2,000. Since then, the total gain has become 533.9%. An average monthly gain is 11.52%. The maximum drawdown is 32.77%.

We have 326 deals with 981.7 pips traded. There are 77.59 lots executed. The system has performed 323 deals with 869.0 pips gained. An average win is 38.84 pips when an average loss is -101.90 pips. The win rate for both long and short trading positions is 74%. An average trade length is three days. The profit factor is 1.81.

The advisor picked five hours to work with.

Monday is the less traded day with 46 orders executed.

The risks are medium-high to lose at least 10% of the balance.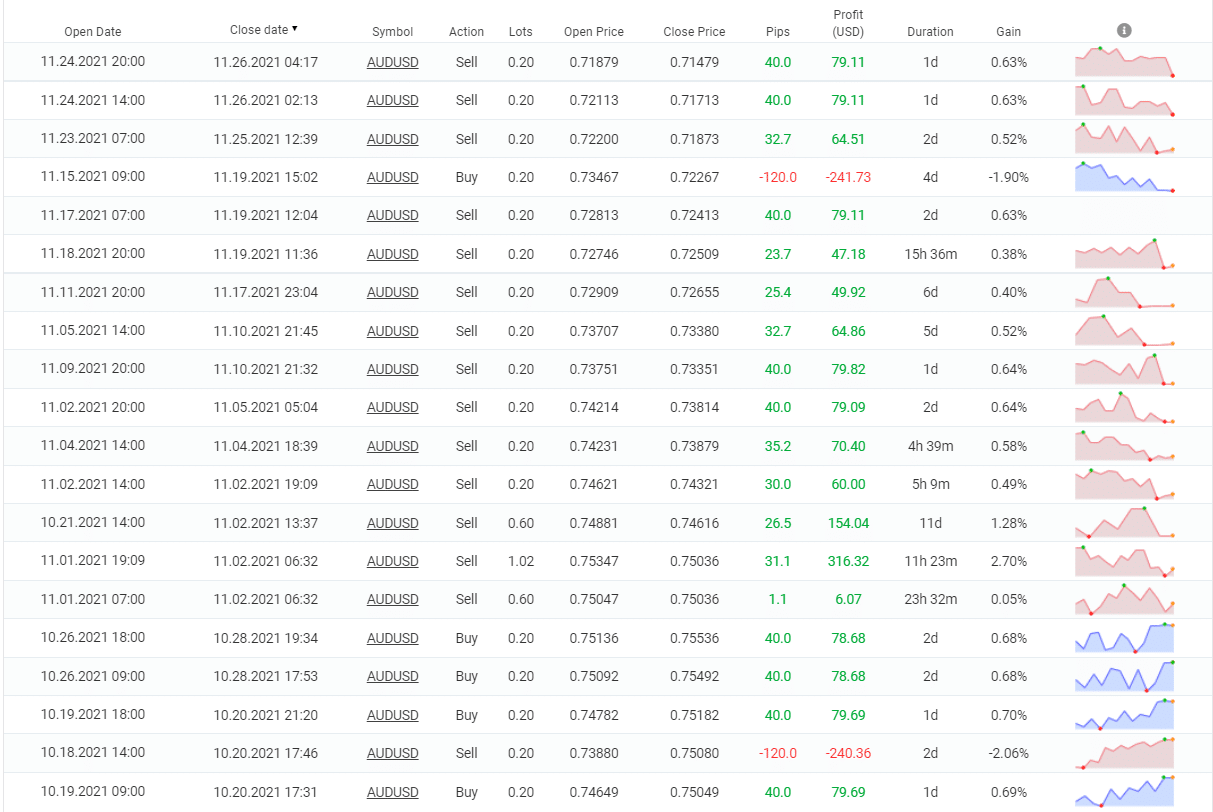 The robot uses medium risky Martingale to recover after losses.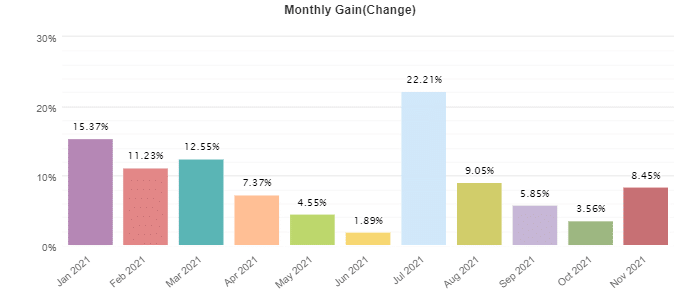 The system closed all months in a profit this year.
What are the risks with FXQuasar?
The advisor works with huge and deep stop loss levels. It's unhealthy to keep them that deep.
Worth noting!
We have no testimonials written about if the system is that profitable on clients' accounts. It's a significant disadvantage.
What are the pros & cons of investing in FXQuasar?
| | |
| --- | --- |
| Pros | Cons |
| Backtest reports provided | No risk advice given |
| Trading results shown | No settings explanations provided |
| A refund policy applied | The system works with Martingale and deep Stop Losses |
| | No people's testimonials published |
The system has both pros and cons. So, there's still a high risk of using this robot on a real account.
FXQuasar Conclusion
FXQuasar is a trading advisor that works on a real account using a price action strategy. The system works with huge stop losses and uses Martingale to recover after losses. Alas, we don't have proof that this works well on clients' accounts.