GOLD EAgle is a robot launched on 26th September 2020. According to the vendor, it uses a mathematical strategy that allows it to win consistent profits in the Forex market. However, this is a claim that needs to be verified independently.
GOLD EAgle is sold on the MQL5 website, where the vendor has provided links for the live trading signals, the user manual, and the official Telegram group. We have a short introduction to the system, followed by a list of recommendations. There are also some screenshots explaining how to place deals manually using the EA.
This robot is sold on MQL5 by a Russian trader called Evgenii Aksenov. We don't know anything about this person's background or what kind of trading experience he has. Apart from GOLD EAgle, he has built other systems like Sakura, Level Trend EA, Genesis EA, Galaxy EA, FIBO Trend EA, and Trend Line. To get in touch with the vendor, you need to message him through MQL5 or Telegram.
Key Features
This EA is sold at the price of $249, which is pretty close to the market average. A free demo version is available for those who wish to test the performance before using the system for live trading. There is no money-back guarantee for this EA, which is quite disappointing. Very few traders would trust a robot that doesn't have a refund policy.
This is a system that only trades in gold for the M1 and H1 timeframe. However, the vendor has provided a set file using which it can be made to work on the M5 time timeframe as well. It has a mobile platform where you can manage the auto-trading functionalities and open trades manually. The vendor has provided users with a recommended set file that comes attached to the user's manual.
You have the option of choosing between two trading styles, namely conservative and aggressive. In the EA settings, there are two parameters called Candle filter and HTF that can be configured to change the trading style of the robot.
GOLD EAgle Trading Approach
This EA follows a grid strategy where a series of orders is opened with a small profit target. It tries to take advantage of the market movements within a particular time range. This strategy can lead to disastrous consequences if the market conditions are unfavorable.
Backtesting Results
The vendor has not shared the backtesting results on the MQL5 page of the EA. Most seasoned traders look for a system that has been tested using historical data for several years. So this comes as a major red flag.
GOLD EAgle Live Trading Results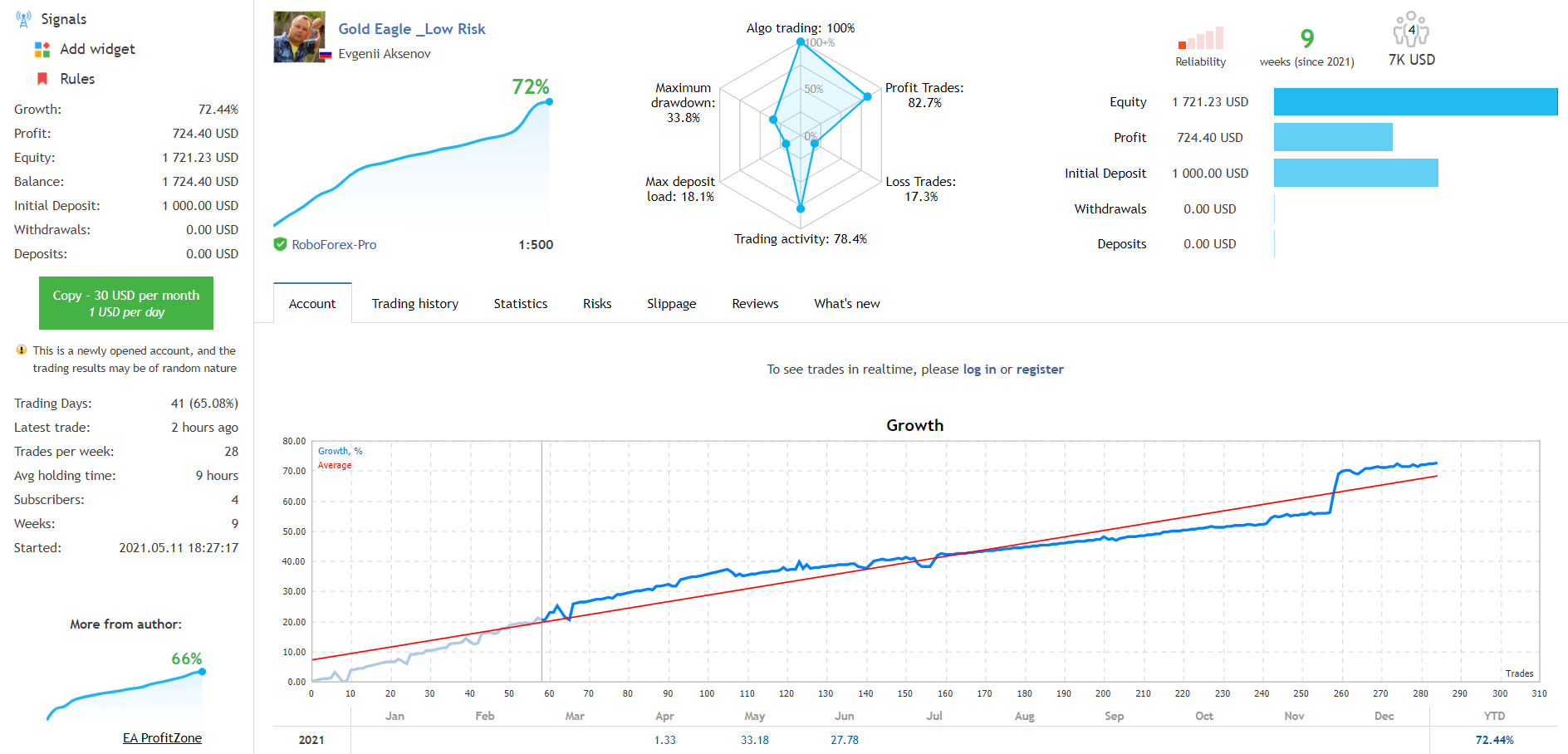 The vendor has published the live trading results of the robot on the MQL5 website. These are not verified by a third-party website like Myfxbook, FXBlue, or FXStat, hence we cannot assign too much importance to them. Nevertheless, the account has a short trading history of 41 days, during which it has managed to generate a profit of $724.40.
A total of 284 trades have been placed through this account, out of which the EA has won 235. Thus, it has a win rate of 82.74%. The maximum drawdown is a bit high at 33.8%, and indicates a risky trading approach.
What Are The Risks With GOLD EAgle?
GOLD EAgle is definitely not a reliable trading system. It doesn't have verified live trading results or backtesting data, which means it is largely unproven in the live market. It uses a risky grid strategy which can lead to high losses.
Worth Noting!

There are no customer reviews for GOLD EAgle on third-party websites. On the MQL5 website, there are a few reviews where the customers have complained about the low profitability and the low trading frequency.
What are The Pros and Cons of Investing in GOLD EAgle?
| | |
| --- | --- |
| Pros | Cons |
| Free VPS provided | No money-back guarantee |
| | Myfxbook or fxblue trading results are not provided |
| | Backtesting data is not available |
As we can see, this EA has too many downsides. It would be unwise to place your trust in it based on the words of the vendor since it does not have verified trading results.
GOLD EAgle conclusion
GOLD EAgle is definitely not a robot you should consider buying. It is most likely a scam EA that can drain your account. On top of that, because of the no-refund policy, you won't get any of your money back. It is advisable that you go for a different EA that comes with verified live statistics.