Gold Scalper Pro is a Forex EA from the FXAutomater team that claims to follow a simple trading logic that allows it to maintain a low drawdown while trading. It is a fully automated system that can be used by both experienced and novice traders.
The vendor makes a detailed presentation on the official website, with all the main features being highlighted. We have detailed descriptions for these features, along with live trading results and backtesting data for different risk levels. The backtesting process for this robot has also been explained in detail, and finally, the pricing details are outlined.
FXAutomater is a company based out of Seychelles that has been manufacturing Forex robots for a while now. Their other EAs include Grid Master Pro, BF Scalper Pro, BF News Trader, News Scope EA Pro, Omega Trend EA, etc. To get in touch with the company, you can use the contact form provided on the website to send a message to the service team. However, we don't know anything about the traders and developers working for this company.
You can purchase Gold Scalper Pro for $97, which is pretty cheap compared to the market average. This gives you access to 1 real and 3 demo accounts. The vendor provides a 60-day money-back guarantee for this product.
Key Features
This Forex EA only trades in Gold (XAU/USD). It places trades in the M15 timeframe and works best with an initial deposit of $1000. Gold Scalper Pro has an advanced time management system and a news filter that helps it attain high profitability. It is based on a 14-year backtest performance and has a low drawdown and a highly effective exit logic that allows it to exit trades at the right time after the profit level has been reached.
The robot trades 24 hours a day, 5 days a week. It has several safety measures, including broker protection, high slippage, and high spread. While trading with this system, users receive notifications via email and push messages on their phones. Due to its stealth mode, your trades are hidden from other brokers.
Gold Scalper Pro Trading Approach
This Forex EA does not use risky strategies like martingale or grid. Its algorithm is based on the Average True Range (ATR) indicator. The vendor does not reveal how this indicator is used, however, which is why we consider the strategy explanation to be inadequate. In order to properly evaluate a system's profitability, we need some technical details pertaining to the strategy, and the absence of the same might deter many individuals from investing.
Backtesting Results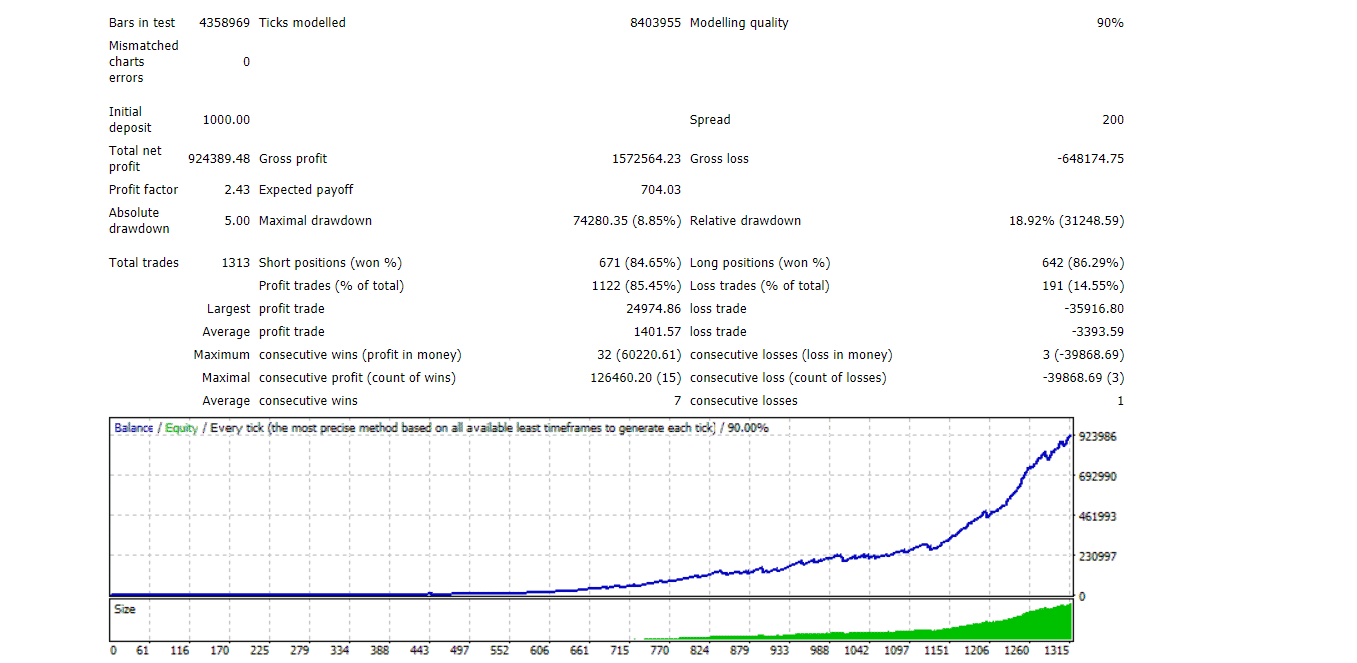 This backtest was conducted for more than 14 years using an initial deposit of $1000. A total of 1313 trades were placed during this time period, out of which 1122 trades were won, with a win rate of 85.45%. The total net profit generated as a result was $924389.48.
There were 32 maximum consecutive wins and 3 maximum consecutive losses for this backtest. The relative drawdown and profit factor were 18.92% and 2.43, respectively.
Gold Scalper Pro Live Trading Results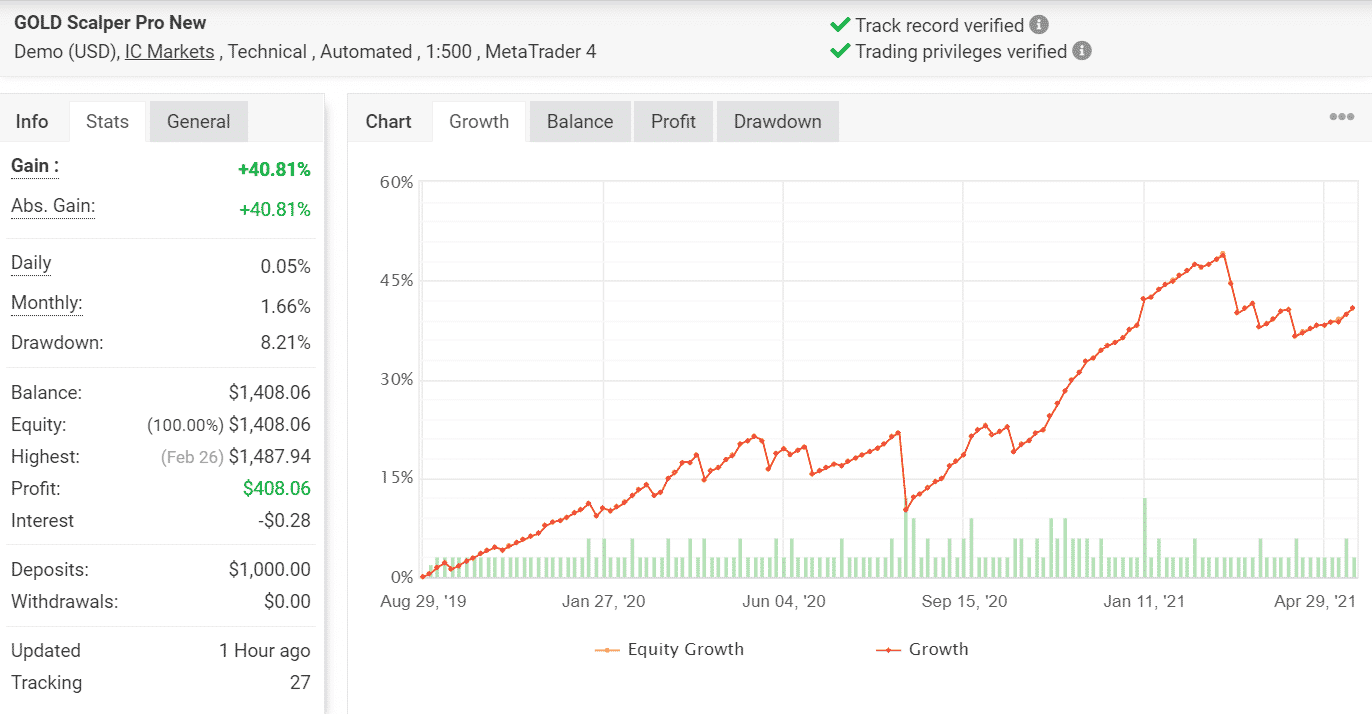 On the Myfxbook website, we have a live trading account for Gold Scalper Pro that has been active since 29th August 2019. However, it has only placed 170 trades to date, which leaves us with a very small sample size to base our assessment on. After winning 87% of all trades placed, it has managed to generate a small profit of $408.06.
Currently, the daily and monthly profits for this account are 0.05% and 1.66%, respectively, and the drawdown is 8.21%.
What are The Risks With Gold Scalper Pro?
There is some confusion surrounding the trading strategy used by Gold Scalper Pro. It is a bit risky to trade with a system that uses an unknown strategy. Moreover, it has a very small trading history, which makes it difficult for us to put too much weight on the live statistics.
Worth Noting!
It is mentioned on the official website that the Forex robot has a professional support team that assists customers with all issues. There are no user reviews available for it on websites like Myfxbook, Quora, Forexpeacearmy, and Trustpilot.
What are the Pros & Cons of Investing in Gold Scalper Pro?
| | |
| --- | --- |
| Pros | Cons |
| ✓ Verified live trading results | ✘ Lack of strategy insight |
| ✓ Money-back guarantee | ✘ Short trading history |
| | ✘ No customer reviews |
As we can see, the cons outweigh the pros, and hence, we don't think it would be prudent to invest in this Forex EA.
Gold Scalper Pro EA Review
After conducting a detailed analysis of all the system aspects, we have reached the conclusion that this is a risky investment prospect. It is advisable that you invest in a robot that has a longer trading history and that provides some kind of strategy explanation.