Gravity FX NG provides both backtesting and live results to verify its performance. The robot offers a solution to those trades who have trouble managing their emotions and are inconsistent in the markets. It uses low-risk scalping methods on short and medium trends. Our article will discuss all the best and poor features of the system and provide details on its performance.
Pricing
The robot comes with three packages that offer a subscription for 6 and 12 months, respectively. The first one offers one license for $599, while the latter provides 3 for $999. It is also possible to obtain seven keys for and an annual payment of $999. There is no money-back guarantee.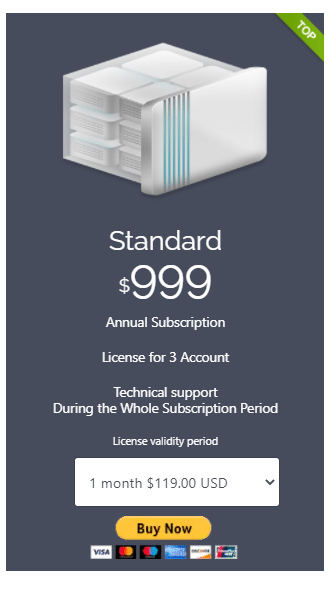 Vendor transparency
There is no information available on the developer of the trading system, which is a poor practice. You can only contact them through skype or email or by filling out a form on the website.
Key features
The Gravity FX NG has the following key features:
It comes with a broker spy module
It is compatible with ECN brokers and detects 4 and 5 digit brokers automatically
It has a builtin stealth mode
It does not require any manual intervention from the trader
The website does not present the time frame, leverage, and the recommended brokerages. On the Myfxbook account, the developer uses 1:500 leverage which is quite high.
There is also no information on the minimum deposit traders can use to start trading with the system. Lack of required knowledge is a poor activity.
Gravity FX NG trading approach
For a robot that demands a lot of money, there is little to no information on the strategy. The developer states that it uses a scalping method on short and medium trends. It only opens positions when there is a high probability of profit and uses a stop loss. To understand better, we use the history on Myfxbook. From there, it is evident that the robot uses small profits of 4 pips to cover high losses. The stop losses and take profit are virtual. The average trade duration is 6 hours and 52 minutes which states a day trading approach.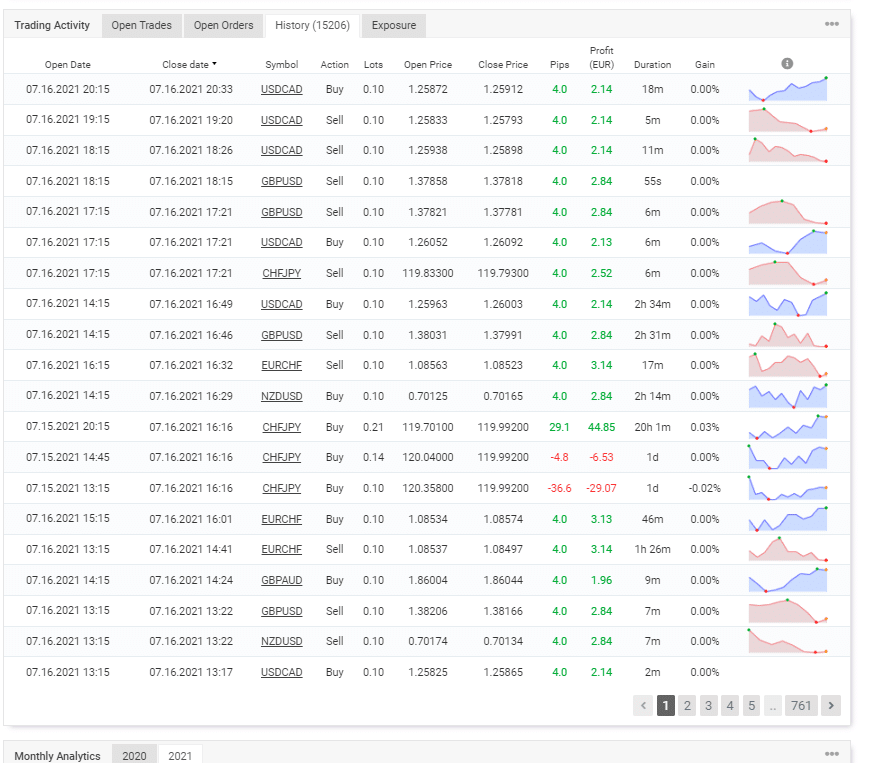 Backtesting results
Backtesting results are available for unknown currency pairs. For our analysis, we use the one for the whole year of 2020. For 2020, the robot had a maximum drawdown of 11.13% and turned an initial deposit of $50000 into $161385.17. It had a winning rate of 84.77% with a profit factor of 1.40. The average profitable trades were $34.01, while the losing deals were -$135.04. There were a total of 9443 trades executed. There is no detailed statement, and the results are only available through images which is a poor approach.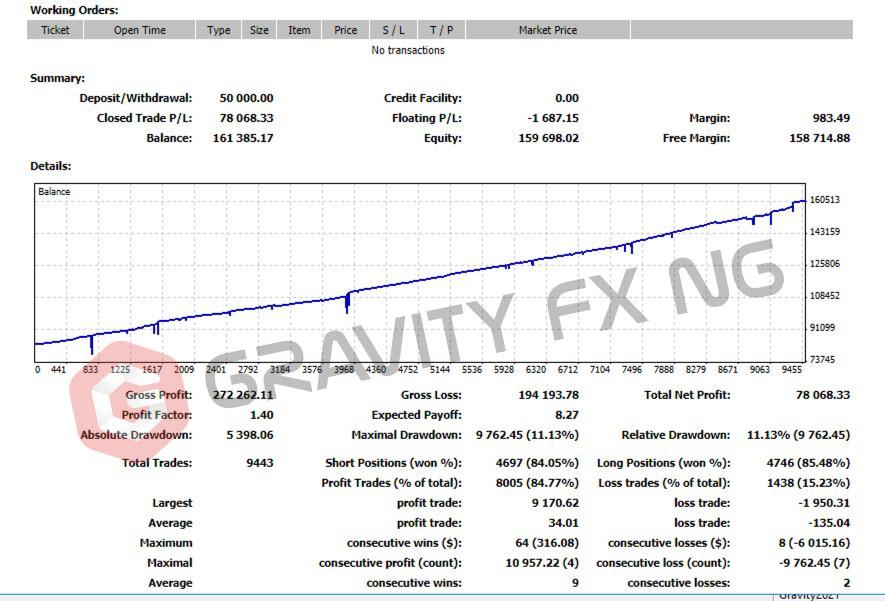 Gravity FX NG trading results
Live trading results are available on Myfxbook, which show performance from June 2, 20210, till the current date. The robot has had an average monthly gain of 9.61%, with a drawdown of 23.18%. There were 15209 trades in total, with 5989.80 lots traded. It traded with a winning rate of 85% with a profit factor of 1.41. The best trade was 15539.80 Euros, while the worst one was -3172.42 Euros. The robot trades on a demo account that does not conform to real market conditions.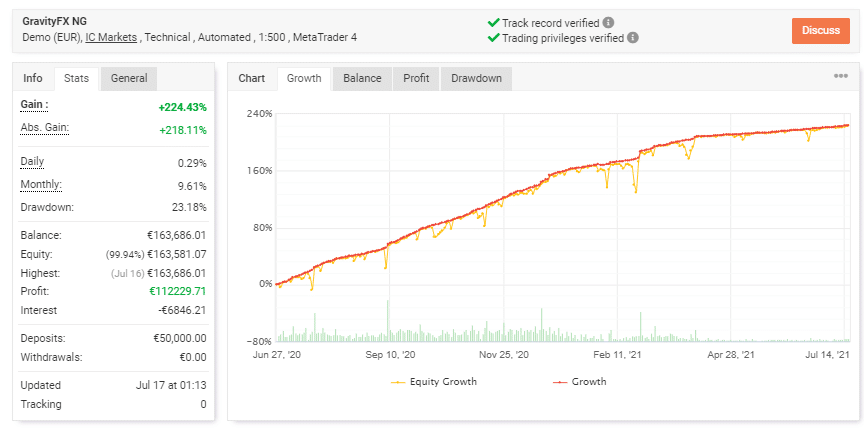 What are the risks with Gravity FX NG?
We can observe the following risks while trading with Gravity FX NG:
Trading records on Myfxbook are on a demo account
Performance is only available till July 16, 2021
There is no transparency from the developer
Worth noting!
Customer support is only available through Skype, email, and by filling out a form. There is no clear information on the response time and whether the developer is available 24/7 to answer inquiries.
What are the pros and cons of investing in Gravity FX NG?
Pros
Multiple packages are available for subscription
Cons
No transparency from the developer.
Performance tracking is available on a demo account.
There is little transparency from the developer
Gravity FX NG Conclusion
Gravity FX NG is not a trustworthy system as it does not offer results on a live account. Demo portfolios do not respect real market liquidity and slippage. Therefore it is not worth investing in the robot.