Grey Wolf is a trading solution that has several lines of explanations. The system can be found on the MQL5 market. It was published over a year ago in April 2021. Interested in the system traders can purchase it for $70. A monthly subscription costs $30. This offer is pretty affordable. There's also possibility to download the robot for demo usage.
The developer of Grey Wolf is Alexander Oropesa Marrero. He is from Cuba and he has a 2747 rating among Forex traders. His trading portfolio includes 21 products that were downloaded for demo usage 19 times only. 
Key features
The presentation includes details about the system which are clearly not enough to form a wise opinion about using this system. 
The robot can provide us with automatic orders execution.

It was tested on USDCAD and AUDUSD. 

The only time frame is M5. 

It focuses on providing 25% of the monthly profits. 

We can be sure that our account can't be zeroed. 

The minimum balance has to be $100. 

It was tested on trading with $50. 

A VPS service is recommended. 

If we increase a balance to $2000, it's possible to trade with 0.2 lots. 
Grey Wolf trading approach
The system works with an unnamed strategy. So, it makes an approach for opening and closing orders on the market unclear. 
Backtesting results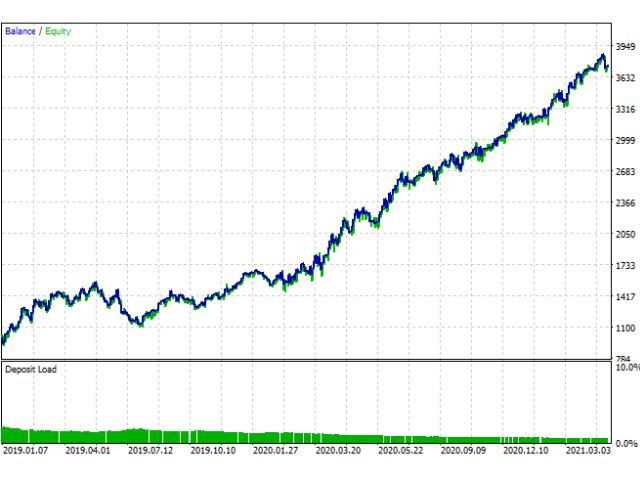 We have only a picture of the backtest report growth chart. It's suspicious that no modeling quality is mentioned in the top left corner. The chart doesn't look smooth and includes significant periods of drawbacks. 
Grey Wolf live trading results
The presentation doesn't include trading results provided. Most likely, the developer is not ready to invest money in trading. This looks suspicious because if the system doesn't work stable, it shouldn't be sold. Actual trading results are the best motivator to purchase a robot. 
What are the risks with Grey Wolf?
The risks can lie in the field of system profitability. There are no signs that could prove that the advisor can make profits under the real market conditions. 
Worth noting!

We have a single testimonial without a rate and text. It's not enough to understand if people can use this system for profits on the real account.
What are the pros & cons of investing in Grey Wolf?
| | |
| --- | --- |
| Pros | Cons |
| Affordable pricing  | No risk advice given  |
| | No strategy details explained  |
| | No settings list revealed |
| | No backtest reports provided  |
| | No trading results available  |
| | No refund policy applied  |
Grey Wolf Conclusion
Grey Wolf doesn't look like a sure bet. The presentation includes almost no explanations about the robot performance and features. In addition, we don't have the final table of a backtest report and actual trading results at all. The developer should increase a level of transparency so his products become more popular.