Gunbot is a crypto bot that supports well-known exchanges such as Binance, Bitmex, Bitterex, etc. The system comes with lifetime updates and offers technical support via Telegram. Traders can use Tradingview charting services to send their buy/sell orders. The review below will explain the features, price, company profile, etc., to give readers a better idea if this tool is a good investment for the current period.
Gunbot overview
Gunbot's primary purpose is to automate your trading so traders may avoid complex calculations. According to the authors, the platform comes with a new graphical layout to make things straightforward. At the same time, complex tools such as advanced trading indicators, reversal trading, dollar cost average down, etc., are available for experienced traders.
Best For:

Experienced traders

Pros:

It is compatible with popular exchanges 

Cons:

It does not come with a money-back guarantee 

Payment can only be made via digital currency. 

The vendor is not transparent in their portfolio
Automated trading at Gunbot: how does it work?
Traders can develop their strategy or use a pre-programmed approach. After setting up, the bot automatically begins trading based on the established parameters. It monitors the market 24 hours a day, seven days a week, and places buy/sell orders accordingly.
Gunbot bot features 
The following are the key characteristics of the algorithm 
Free of cost, lifetime updates are available

It trades using multiple strategies 

The bot is compatible with more than 100 crypto exchanges 

It comes with a backtesting addon and sight profit tracker 

Multiple purchasing plans are present

The vendor provides customer service via Telegram
Gunbot trading strategy
The platform executes multiple strategies using technical indicators such as Ichimoku, MACD, MACDH, Ping Pong, SMACROSS, Stepgain, TSA, and TSSL. Traders may mix and match different trading techniques and modify the trading style to their preferences.
Steps to follow to trade with Gunbot
Users must follow the following steps to get started with the system 
Install and run the software into your computer 

Link Gunbot to your favorite exchange using your API keys

Select the currencies to trade, and the trading method for each pair

Decide how many asses you want to swap

Chose a pre-programmed strategy or develop a unique strategy

Save the settings and launch the bot; it will send you Telegram notifications about your deals
Gunbot fees & account minimum requirements
The bot is available in multiple pricing options starting from 0.014₿. Each plan includes free updates, a lifetime license, customer support, and many more. It only accepts Bitcoin, Ethereum, Litecoin, and Dash as payment currencies.  
Traders must pay additional fees for add-ons, premium support, and configuration packs.

Exchanges compatibility
Gunbot supports over 136 different exchanges. A few notable ones are Binance, Bitmex, Bitrex, Coinbase Pro, Kraken, and Cobinhood.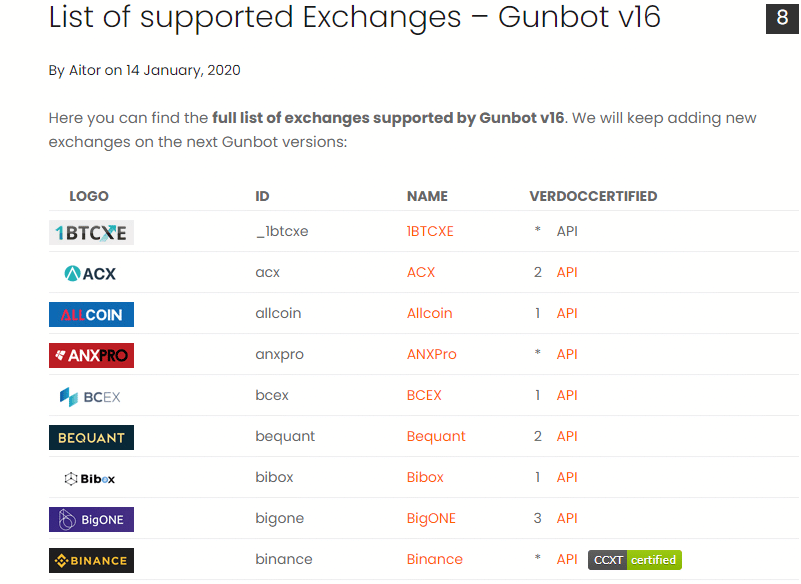 Coins supported
Traders can trade the available coins at their respective exchange. 
Gunbot performance 
We can't examine the software performance because it has no statistical data available on the website. Backtesting and other essential features are available as add-ons, so you'll have to pay for them.
How to withdraw your funds with Gunbot?
There is no information provided on the website about the fund's withdrawals. As it is a crypto bot, traders must carry out the transaction from their exchange.
Is it a costly crypto trading tool?
The bot is available at a high price with no refund policy as compared to other cryptocurrency tools. 
Gunbot security and safety
To connect to cryptocurrency exchanges, Gunbot employs API keys. Traders can install the software on their computers or use a virtual private server to operate it. The platform does not collect personal information from users.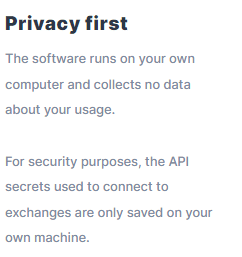 Gunbot regulation and legitimacy
For security considerations, Gunbot trades through the cloud. Only you have access to your API keys and trade monitoring.
Gunbot team members
The company is not transparent about its portfolio as it does not provide details on its team members, location, and foundation year. The noted approach is considered very unprofessional and illustrates the platform's inadequacy.
Is Gunbot customer support good?
The company provides technical support via telegram for its members. A premium support option is also available for 0.0075 ₿ that comes with multiple support options, VIP zones, personal installation guidance, etc.
User experience
The company has a rating of 4.1 based on 111 feedback on Trustpilot. One customer states that traders should stay away from Gunbot since the program is unreliable and the customer service is much worse. He further adds that it made him lose $600 in a single trade.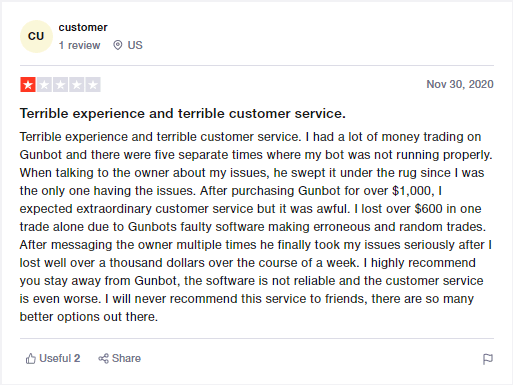 Another customer commented that the developer provides good customer support, and the team replies quickly.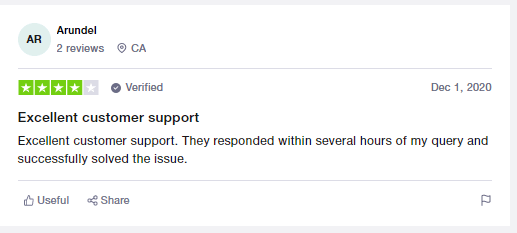 Is choosing Gunbot the right choice for you?
The developers state that any investment decisions made based on information provided on the website or through social media groups are not the platform's responsibility. The lack of proper records is a red flag to consider before choosing to trade with Gunbot.
Final thoughts on Gunbot
Gunbot is available at a high price and does not have a refund policy. Who the company creators and the product devs are is unclear, raising questions about product reliability. Customer support is only available after providing a certain fee.