Haasonline is a system that unites several core features like crypto bots and a solution to make our own with a cloud deploying in addition. The devs insisted that it's the world's most advanced automated crypto trading bots. Also, we can get started within several minutes. Let's check what is true from these claims.
Automated trading at Haasonline: how does it work?
The robots consistently seek trading opportunities to make some profit on the Crypto market. The system calculates a precise entry point and SL with TP levels for an order.
Haasonline bot features
We have a list of features that should help you to make the right decision about the system.
The bot can manage our orders with close prices or order book based price methods.

The system allows us to keep our generated API keys on the market.

All settings can be customized properly before being used.

We can develop our own bots and test them.

Backtesting allows everyone to decrease risks of significant losses in real trading.

There's a HaasOnline TradeServer.

We can configure the robot properly.

It supports a HaasScript language to design our strategies.

We are allowed to work with various solutions directly on the cloud.

The developers create Haas coding language that lets us customize, develop, and test strategies properly.

We can do it properly stage after stage.

The system includes various verified strategies.

The developers provide us with Telegram and Discord support.

There are no hidden restrictions like exchanges, trade volumes, or percentages applied. 

Testing process covers us from surprises during performing on the real market.

We can enjoy the following features: custom order types, bot extensions, market scanners, portfolio management, etc.
Haasonline trading strategy: the pack of strategies
The developers don't reveal details, but, most likely, there should be price action, trend, grid, reverse grid, and so on. Some of them are conservative like Trend or Price Action. Others like Grid, Reverse Grid can be treated as risky ones because they require much more margin to function well. 
Steps to follow to trade with Haasonline
The system should be properly tested before using. We have to customize settings according to our trading trading needs and preferences.
Haasonline fees & account minimum requirements
The developers introduced several packages that can be used by anyone:
The Beginner package is available for 0.009 BTC annually. We can save 0.007 BTC. We can rely on the following features: 10 active trading bots, backtest and paper reading, access to 11 endurances, 10 safeties, 20+ indicators, restricted core features, unlimited fees free trades, access to 22 exchanges. There's support provided via a chat. 

The Advance package is available for 0.016 BTC annually. It's possible to save 0.008 BTC annually. There are extra features provided: 20 active trading bots, backtest and paper reading, access to 13 endurances, 20 safeties, 40+ indicators. 

The last package costs 0.026 BTC annually. We can save 0.01 BTC with it. There are unlimited active trading bots, backtest and paper reading, access to unlimited endurances, safeties, indicators provided.
We shouldn't rely on a refund policy with this package.
Exchanges compatibility
The list of exchanges includes many well-known platforms to trade.
Binance 

Binance Futures 

Binance.US 

Bitfinex 

BitMEX 

Bitpanda Pro 

Bitstamp 

Bittrex 

ByBit 

CEX.IO 

Coinbase Pro 

Deribit 

FTX 

Gemini 

HitBTC 

Huobi 

Ionomy 

Kraken 

Kraken Futures 

KuCoin 

OKCoin 

OKX 

Poloniex
Coins supported
The platform support many coins where the most important are Ethereum, Bitcoin, Binance, Solana, Litecoin, etc.
Haasonline performance 
We don't have any trading results provided to be sure that the bots can make profits here and now. So, this requires us to experience them on a low-deposited account.
How to withdraw your funds with Haasonline?
A withdrawal process goes as usual for trading on centralized exchange. The robot isn't involved in this process.
Is it a costly crypto trading tool?
Yes. The pricing is high, compared with other solutions.
Haasonline security and safety
The system works on the cloud and uses API keys. This allows a robot to act on our behalf, but there's a restriction on withdrawing the account.
Haasonline regulation and legitimacy
The system isn't regulated by any authority. We can work with it from any country where crypto trading is allowed.
Haasonline team members
The owners created a company in 2014. The presentation mentioned the following people: Stephan de Haas–Chief Executive Officer, Quintus de Haas–Chief Technology Officer, Josh Becker–Chief System Operations. Rustim Rhoda–Research & Development. Raynaldo Rivera–Chief Communications Officer. Jeff Vernon–Chief Marketing Officer.
Is Haasonline customer support good?
Yes. The developers provide solid support where our questions are answered within several hours.
User experience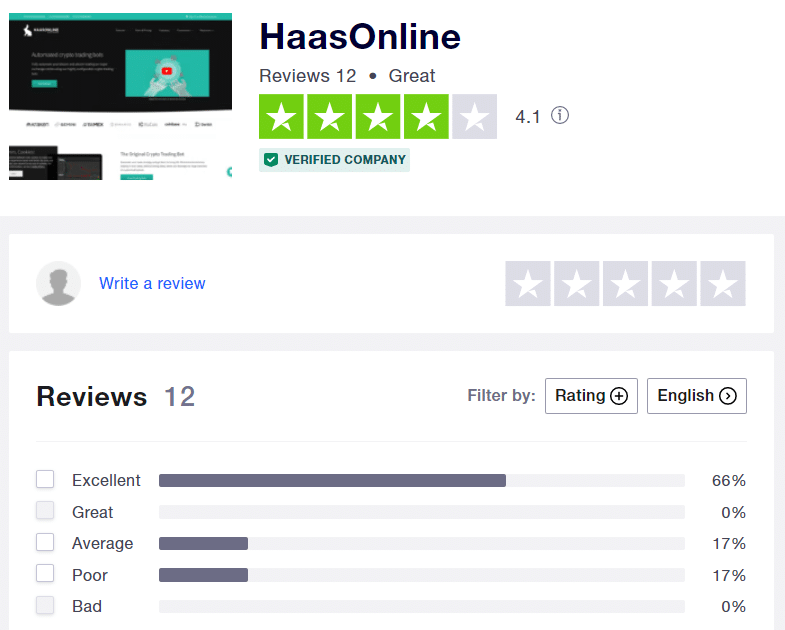 We have a verified profile of HaasOnline company on the Trustpilot site. It's a good sign that the developers and their service are transparent.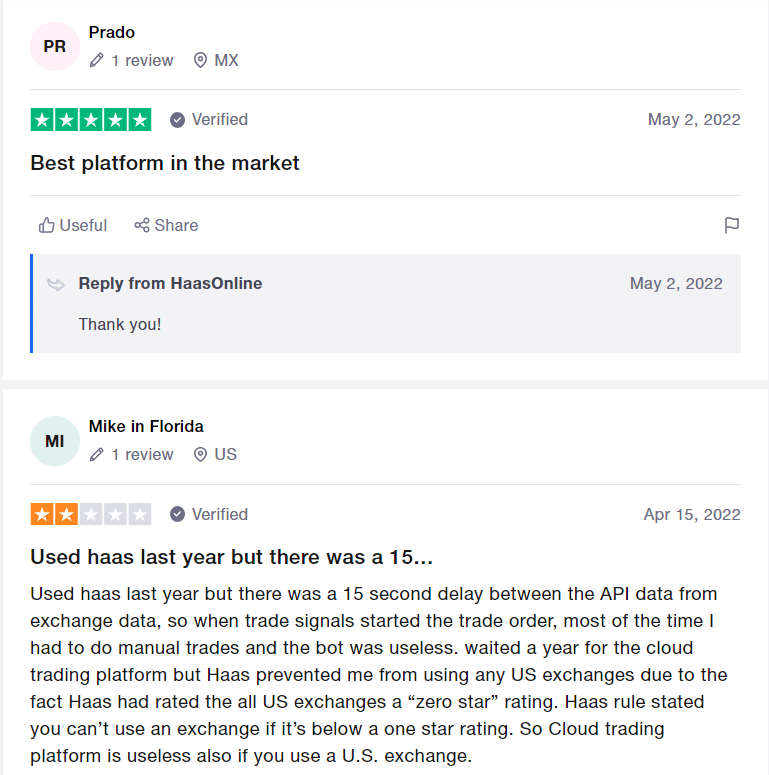 People published testimonials with opposite opinions about how robots work for them. We don't know who we should believe. So, the final decision is up to you. 
Is choosing Haasonline the right choice for you?
We can't claim this for sure without actual trading results. The system has to be profitable before it can be suggested to anyone.
Haasonline overview
The system is a trading solution that can help us with managing our crypto assets. 
Best For:

Traders with any level of experience

Pros:

Automated trading solution 

It manages orders on the market for us

We can develop our own bots

Cons:

No risk advice given

No trading results shown 
Haasonline Crypto Bot Conclusion
Haasonline is a trading solution that unites cloud services, bots, and a platform for design bots in one software. The developers provided us with various explanations about it. Anyway, we don't have trading results that could convince us that we are secure.