Happy Market Hours is a robot from the Happy Forex portfolio. The developers published many features, details and other explanations about the robot. It's a pro because it shows that the company focuses on transparency, selling its advisors. We have decided to take a closer look at this trading solution to see whether it is a good bet to invest in.
The dev offers two packages published on their website. The first package costs 299 EUR and it's featured by two real account licenses. If we pay 499 EUR, we can rely on five licenses for trading on real accounts. Both of the packages include ten EAs and one indicator as a bonus, updates, upgrades, a 30-day refund policy.
Get started with Happy Forex
Key features
For your comfort, we have systemized all available features and explanations in the following list, prioritizing them in order.
We can expect that the system will work for us automatically.

The system united several strategies such as Trend and Scalping.

Happy Market Hours is working with six symbols: EURUSD, EURCHF, EURGBP, USDCAD, USDCHF, and GBPUSD.

There are two account types: Standard and ECN.

There's a spreads filter on the board.

It includes dynamic stop loss and take profit levels.

This lets us catch the whole move of the market.

We can work on any account type.

The developers test the robot properly.

There's a trailing stop loss feature on the board.

We should trade during high impact news.

The filters have to be set on the following symbols: USD, EUR, GBP, JPY, AUD, CAD, CHF, NZD, CNY.

There's an auto GMT setting according to your broker.

The system works on the MT4 platform only.

it supports the account types: Micro, Mini, and Standard.

We have to start trading with $100 on the board.
Happy Market Hours trading approach
The dev claims that the system isn't involved in trading with risky strategies: Martingale, Hedge, and Grid.
The live trading results show that the core strategies to make profits are Scalping and Trend trading.

The core time frame is M15.
Backtesting results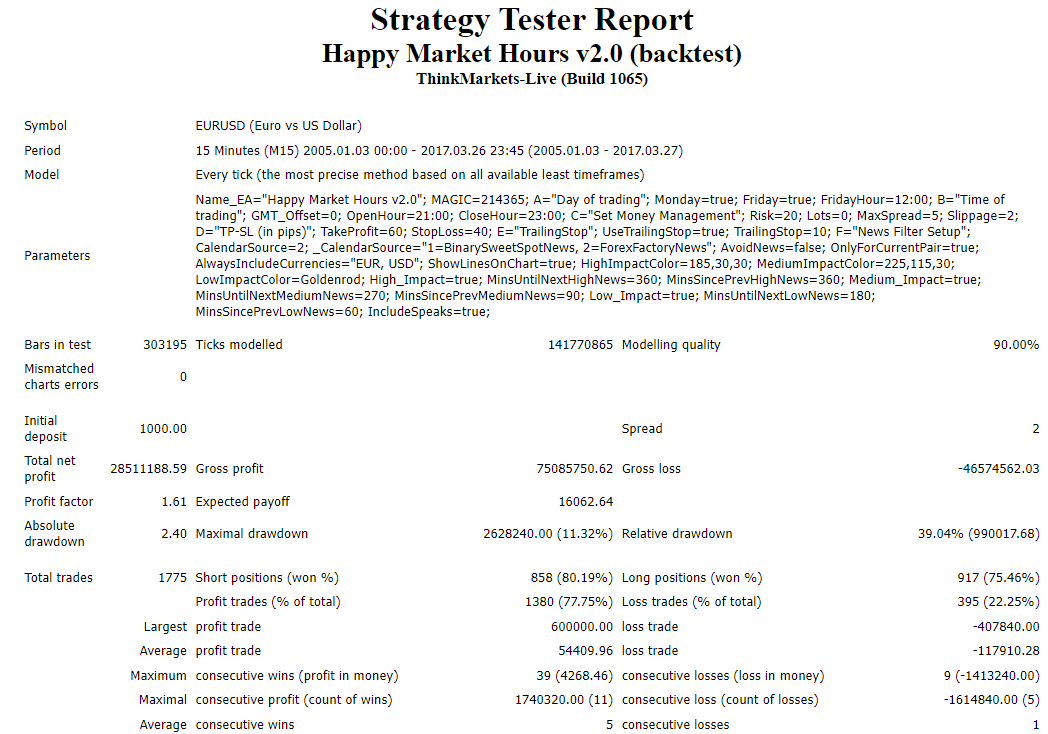 The system was properly tested on the M15 time frame on the EURUSD currency pair. The period of testing was 12 years. The modeling quality was 90.00% only with 2-pip spreads. An initial deposit was $1,000. There were $28,511,188 profits gained. The profit factor was 1.61. Happy Market Hours has performed 1775 orders with the win rate of 80.19% for short and 75.46% for long trading positions.
Happy Market Hours live trading results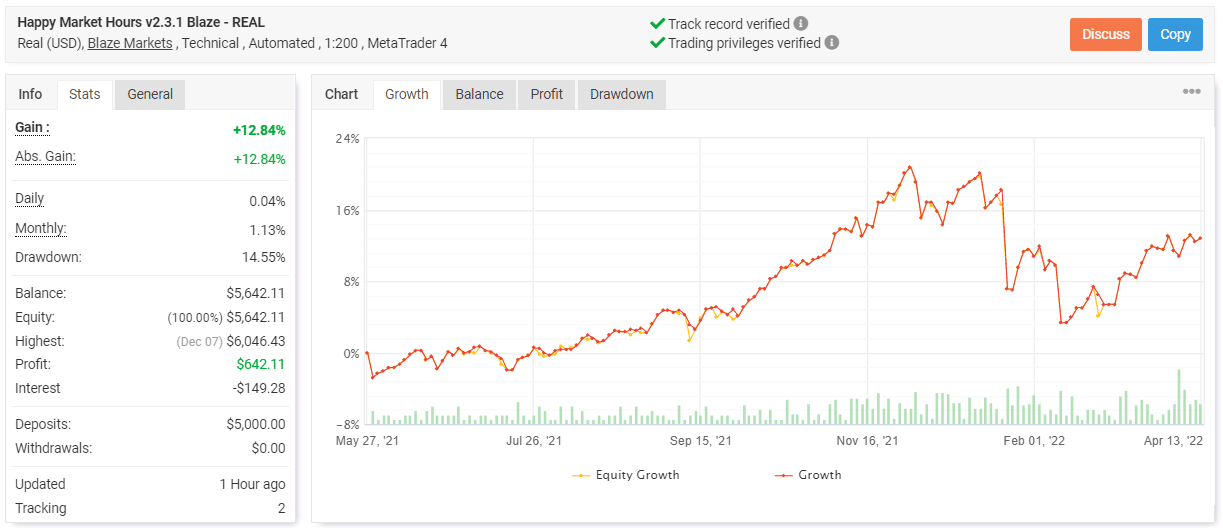 Happy Market Hours keeps trading on a real USD account. The broker is Blaze Markets. It works with 1:500 leverage on MT4. The account has a verified track record. It was created on May 27, 2021, and funded at $5,000. For over 1 year of trading activity, the system could grow its total account balance to 12.84%. An average monthly gain is 1.13%, while the maximum drawdown was 14.55%. The growth chart above shows that the robot had some hard times in the past.

It performed 447 deals with 448.8 pips. An average win is 3.36 pips when an average loss is -2.77 pips. The win rate is 62% for long and 60% for short trading directions. It means that approximately half of the orders the systems opens are closed with loses. 

The robot has been working with EURUSD, GBPUSD, and USDCAD cross pairs. It closed the short direction on USDCAD with a loss of -$355.58. 

The risks can be treated as high ones. This is because there's a 26.35% chance of losing 10% of the balance.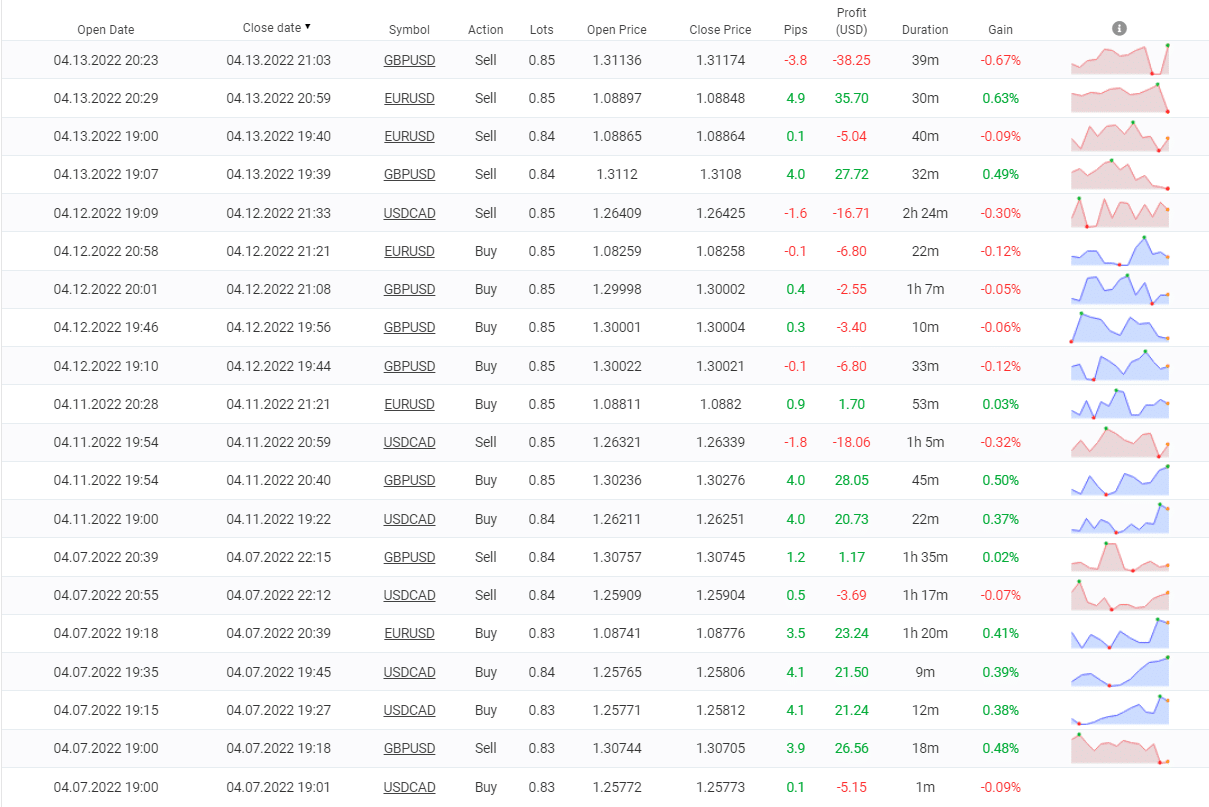 The robot closed many orders with losses. However, the system closes orders in case the loses occur. 
What are the risks with Happy Market Hours?
The risks are standard. We have to check the robot from time to time to be sure it works well.
Worth noting!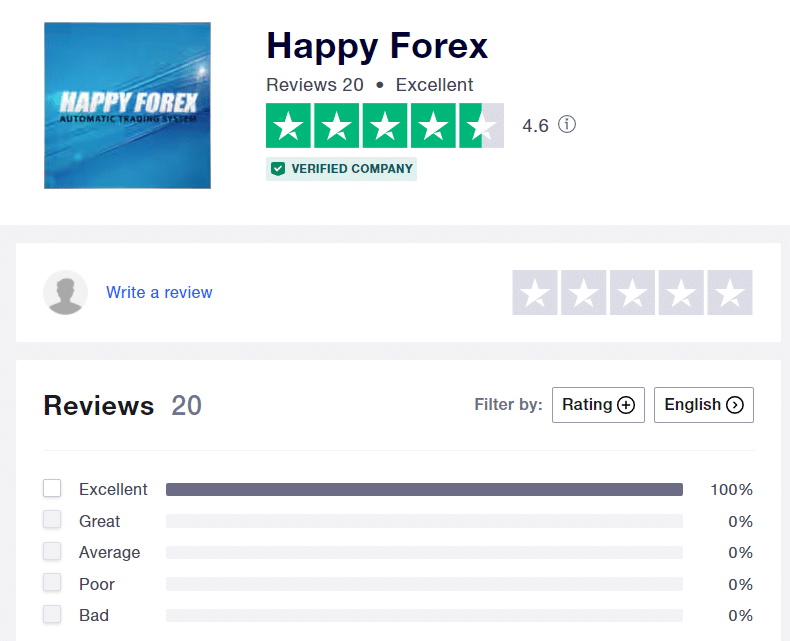 Happy Forex created a profile on Trustpilot where we can find 20 reviews that form a 4.6 rate. This means that people trust the company.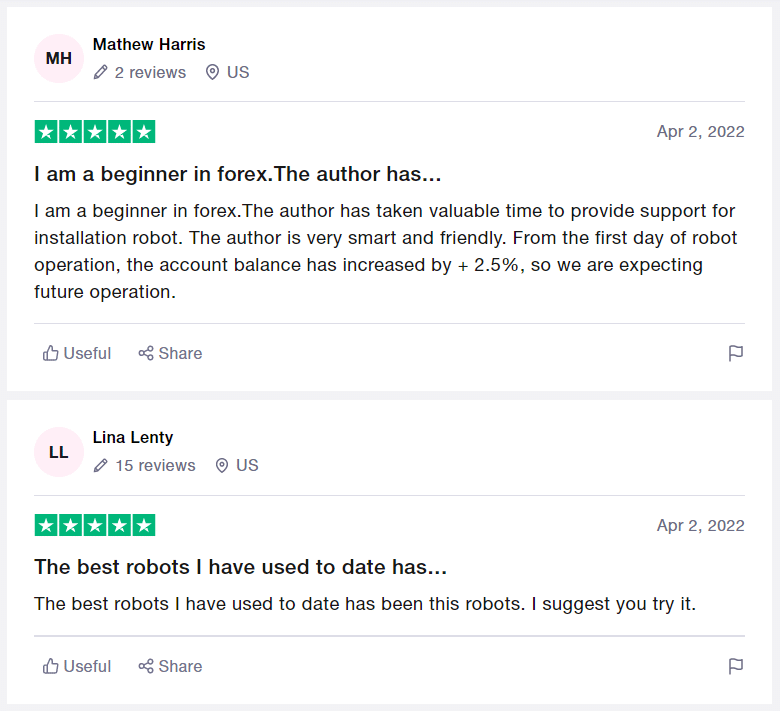 Although we could not find any review about the Happy Market Hours EA, on FPA there are many positive reviews about the trading robots designed by Happy Forex.
What are the pros & cons of investing in Happy Market Hours?
| | |
| --- | --- |
| Pros | Cons |
| Happy Forex is a well-known company | No team revealed  |
| Backtest report shared | |
| Trading results provided | |
| We can work without previous trading experience | |
| A refund policy applied  | |
| Many positive testimonials written  | |
Get started with Happy Forex
Happy Market Hours Conclusion
Happy Market Hours is a trading robot that works on a real market, trying to keep accounts profitable. However, the system does not bring large income as for 1 year of trading activity i could grow the account balance to $640. Additionally, it trades with high risks to the account balance, and 8 out of 11 recent trades were closed with losses.