Happy Power is a Forex EA that uses the power of artificial intelligence to find the best entry points in the market. This is a 100% automated system that is supported by high-quality backtesting data. 
On the official website, the vendor provides us with a brief introduction to the system. We have a list of the main features as well as a list of recommendations from the vendor. There are several backtesting results for different risk levels, as well as a verified live trading account showing real-time results. 
Happy Power has been developed by the Happy Forex team that is based in Germany. Their other systems include Happy Neuron, Happy Breakout, as well as 10 other Forex EAs. We don't know much about the company's history and the identities of the team members have not been revealed by the vendor. In order to get in touch with the Happy Forex team, you can use the contact form on the website to send a message, after entering your email address and full name.
Get started with Happy Power
Key Features 
Happy Forex is available for 325 Euros, and when you purchase it, you get the bonus Happy Forex Full Pack containing 10 EAs for free. If you have previously purchased the Full Pack EAs, you can enjoy a discount of 30%. The vendor offers a 30-day money-back guarantee for this product. 
This robot works on both MT4 and MT5 trading platforms and supports ECN brokers. It is a 100% automated system capable of operating without any manual intervention. It is easy to install and can perform autodetection of 4 or 5 digit quotes.  Happy Power is not a broker-sensitive EA, so you can run it with any broker of your choice.
The operating systems supported by this robot include Windows 7, 8, 10, as well as Linux and Mac OS. You can use this robot to trade in the EUR/CHF pair for the M30 timeframe. The vendor recommends using a minimum deposit of $1000 for this EA. You only need to pay for the license once, and after the initial month, it gets automatically renewed for a lifetime.
Happy Power Trading Approach
This EA runs on an algorithm that is capable of adapting itself to the changing market conditions. Because of the reinforced learning mechanism, you don't need to provide labeled input and output pairs for this robot.
The vendor has not clearly explained the trading strategy on the official website. So we don't know what kind of indicators this robot uses or how it gauges the strength of a trend. The absence of strategy insight might be taken as a red flag by some of the more technically inclined traders.
Backtesting Results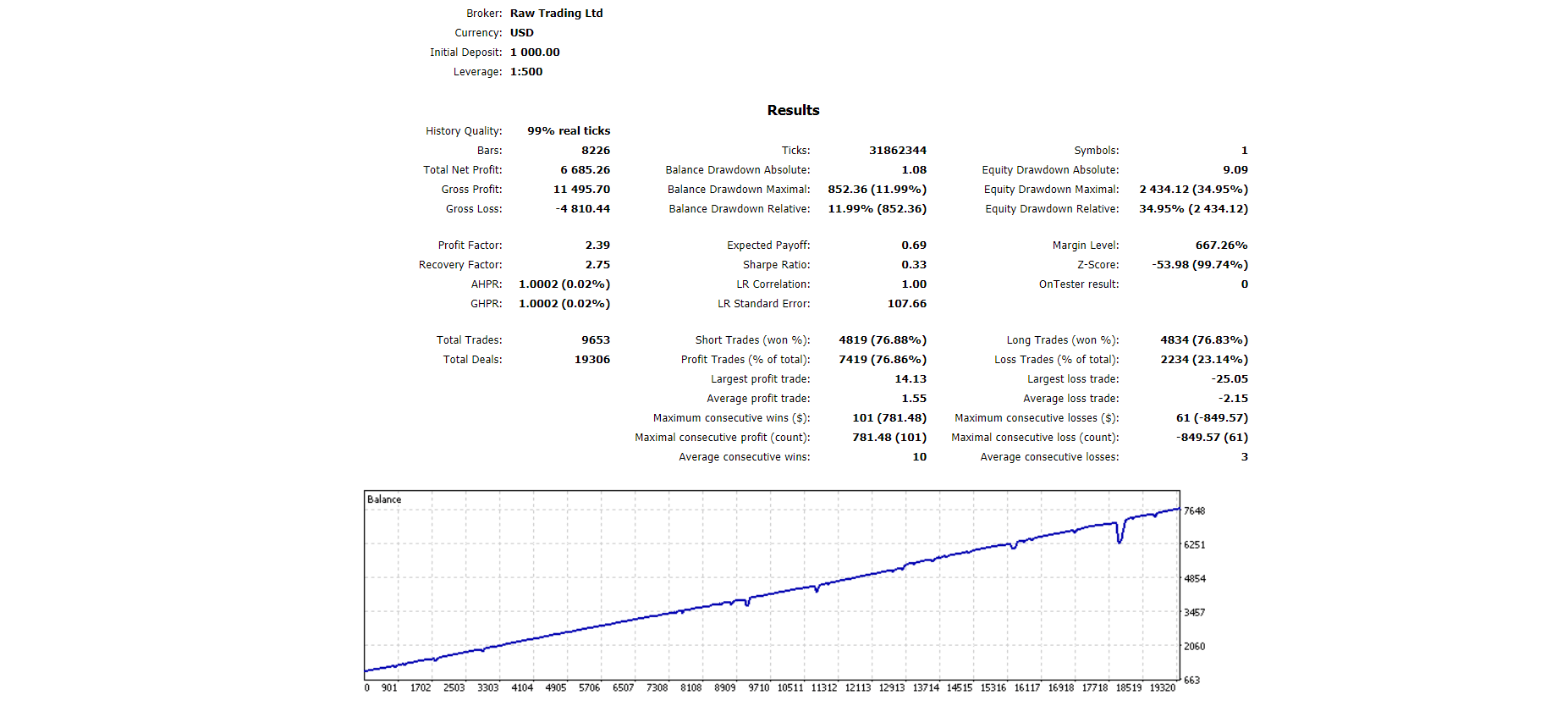 This backtest was conducted using 99% real tick data and leverage of 1:500. An initial deposit of $1000 was made for this test, and the total profit generated was $6685.26. A total of 9653 trades were placed during this backtest, out of which 7419 were won, and this represents profitability of 76.86%.
Happy Power Live Trading Results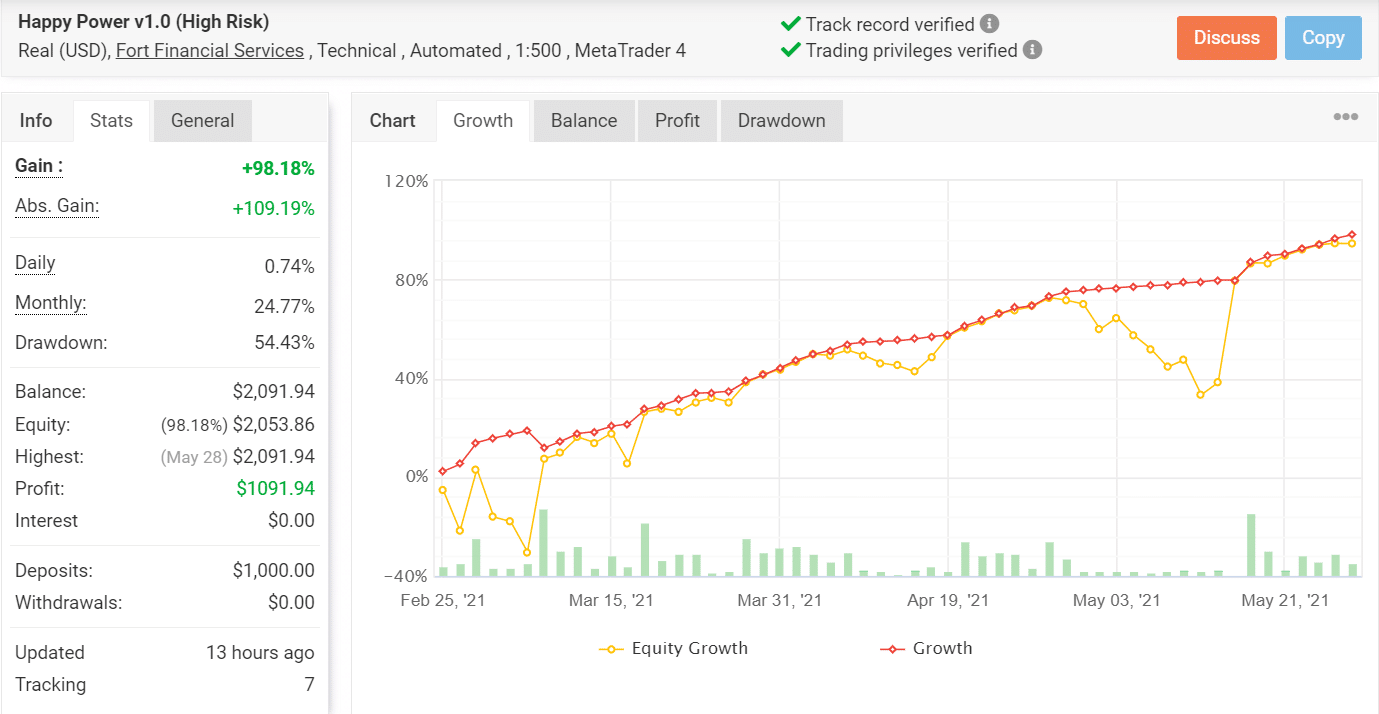 This live trading account has been active since 25th February 2021. To date, 1436 trades have been placed through it, out of which 1095 have been won. In spite of having an impressive win rate of 76%, the drawdown for this account is much too high at 54.43%, and this indicates a high risk of ruin.
What are the Risks With Happy Power?
There are too many risks involved where Happy Power is concerned. First of all, we have no idea what kind of trading strategy it uses. Secondly, the live trading account shows a high drawdown, which means there is a high chance you might suffer from huge losses while trading with this robot.
Worth Noting
There are customer reviews for Happy Power on websites like Quora, Myfxbook, Trustpilot, and Forexpeacearmy. Clearly, this robot has not managed to build a reputation for itself yet.
What are the Pros & Cons of Investing in Happy Power?
| | |
| --- | --- |
| Pros | Cons |
| Verified live trading statistics | High drawdown |
|   | Lack of strategy insight |
|   | Short trading history |
As we can see, there are too many shortcomings when it comes to Happy Power. Although live trading results are shared, the short trading history makes it difficult for us to place too much weight on it.
Get started with Happy Power
Happy Power is not an EA you should consider investing in, because it may lead to huge losses. This is evident in the large drawdown and the lack of strategy insight.