Happy Trend is a system that was released several times after updates. The last time happened a year ago after backtesting. So, let's check if the system is good to go in 2022.
Key features
The presentation looks standardized as usual. We have not had so many testimonials written about features, details, and settings. The presentation could have been written better.
We can rely on automatic trading when the robot is set to trade on our terminal.
We can work with many currency pairs at once.
It prefers working on the H1 time frame.
It can help us to avoid trading during high impact news periods.
We can start trading without trading experience.
The robot isn't sensitive to account balance.
The system can chart over the main chart.
It can work with the next features: UseTrailingStop, TrailingStop features.
We can trade on Windows 7, 8, 10, Mac OS, and Linux.
The system works with Micro, Mini, or Standard accounts.
We can start trading with $300 on a deposit.

The devs suggest we use Fort Financial Services as the main broker.
Qr should start trading on an ECN account.
There are 4 or 5 digits auto-quotes detection.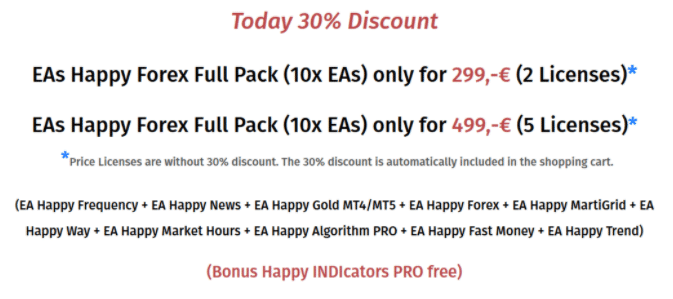 The pricing looks standardized as for Happy Forex. The two-license pack costs €299. The five licenses cost €499. As usual, there are ten EAs included in every package. They cannot be removed from packages. The offer is supported by a 30 days money-back guarantee.
Happy Trend trading approach
The robot works automatically.
A money-management system calculates lot sizes, take profit, and stop loss levels for us.
The trading approach is based on spotting a trend and placing an order in this direction.
Backtesting results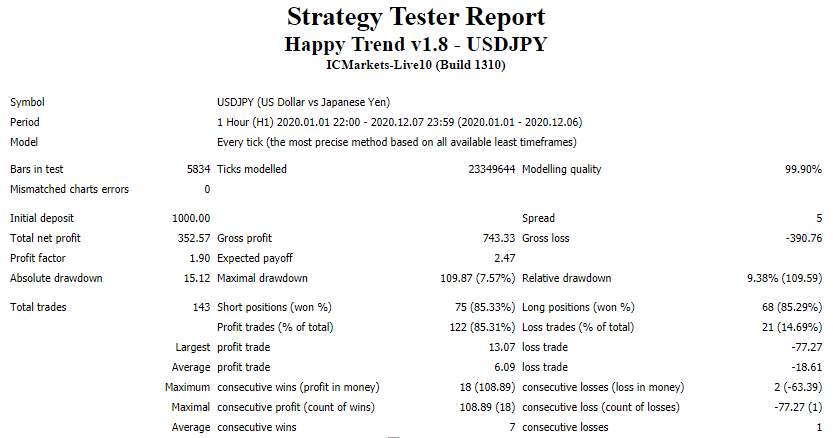 We have USDJPY tested on H1 and 11 months of tick data. The modeling quality was 99.90% with 5 pips spreads. The initial deposit was $1000, when the total net profit amounted to $352.57. The profit factor was 1.90. The maximal drawdown was 7.57%. There were 143 orders with an 85% win rate for long and short trading positions closed.
Happy Trend live trading results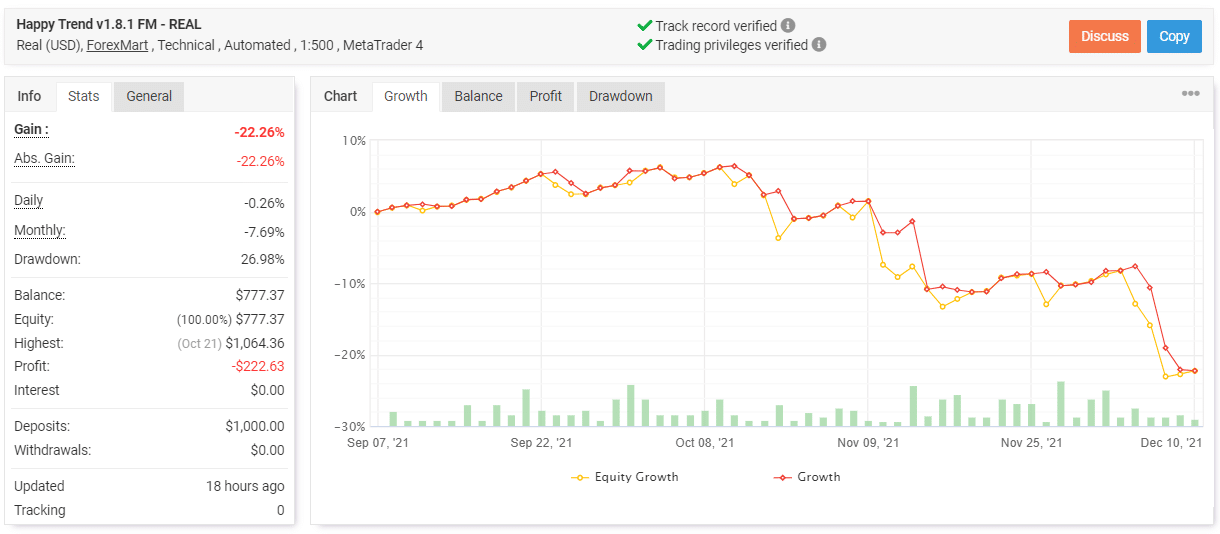 The system has been running on a real USD account on ForexMart. The leverage is 1:500. The platform was chosen MT4. The account has a verified track record. It was created on September 07, 2021, and deposited at $1000. Since then, the absolute gain has become -22.26%. An average monthly gain is -7.69%. The maximum drawdown is 26.98%. No one tracks this account trading results.

There were 178 orders executed with -404.2 pips. An average win is 3.33 pips when an average loss is -36.55 pips. The win rate was between 75% and 90%. An average trade length is 6 hours 27 minutes. The profit factor is three times less than it should be for a processional advisor – 0.55.

The only profitable symbol is GBPUSD with 44 orders traded and $53.63.

The advisor works during all sessions. It's a con for a trend-based advisor to trade between Asian and European sessions.

Monday and Tuesday are the less traded days.

The advisor works with insanely high risks.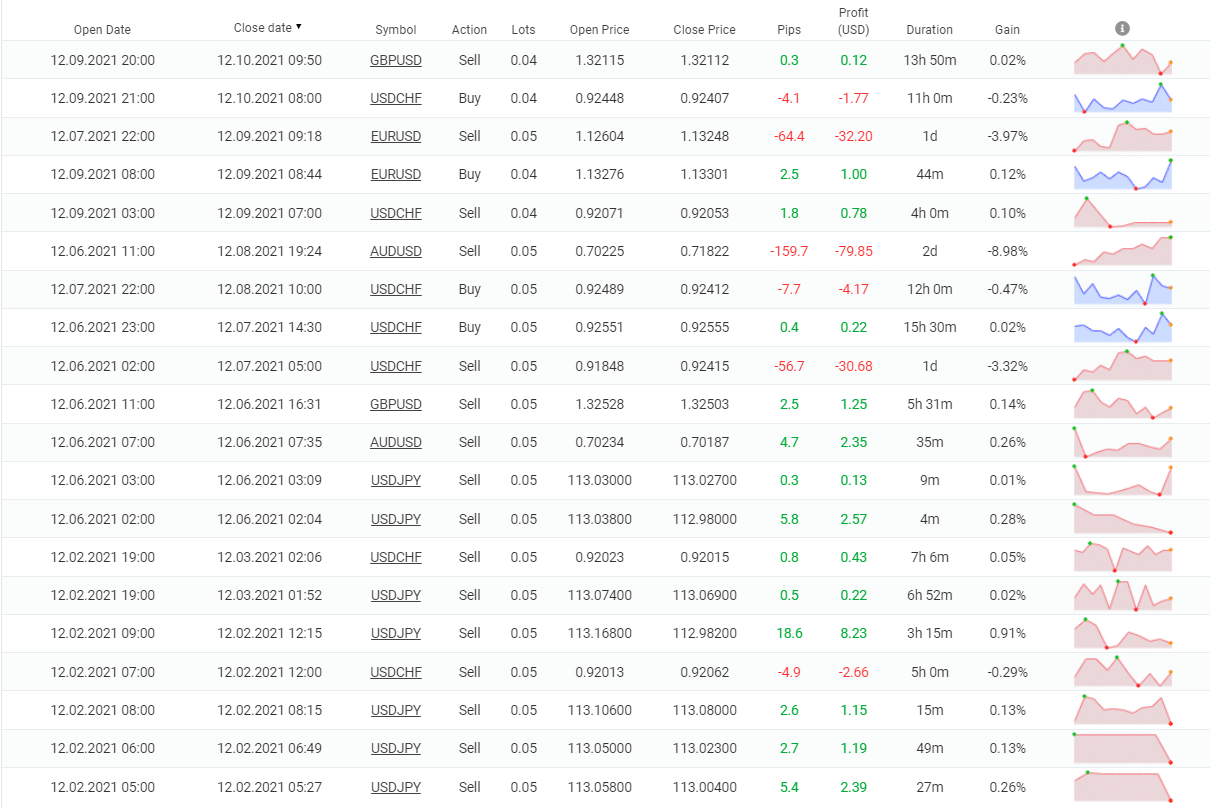 The advisor works with insanely deep stop losses as for a trend based system. It's unhealthy to lose from 50 to 150 pips. It's oblivious that the market goes against an order.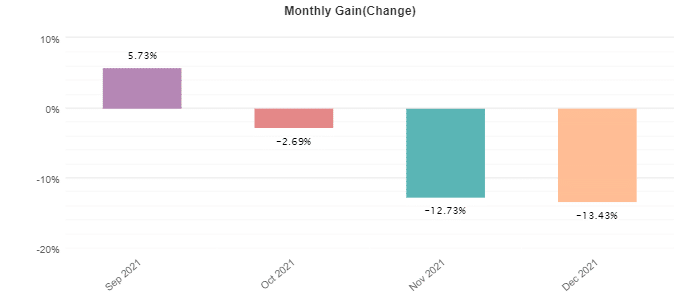 The advisor was profitable only in September 2021.
What are the risks with Happy Trend?
The risks are high because the robot can lose much in a single order.
Worth noting!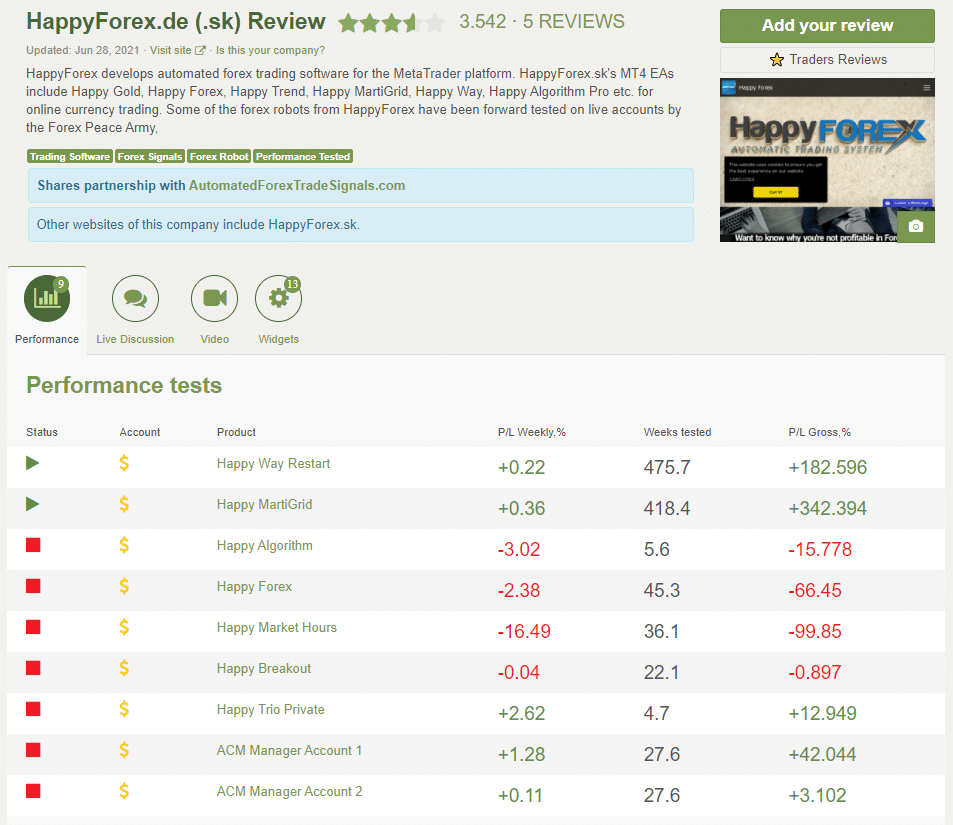 Happy Trend runs a page on Forex Peace Army for all its advisors. There are five reviews published with a 3.542 rate based on them. We may note many stopped accounts of free robots from the pack.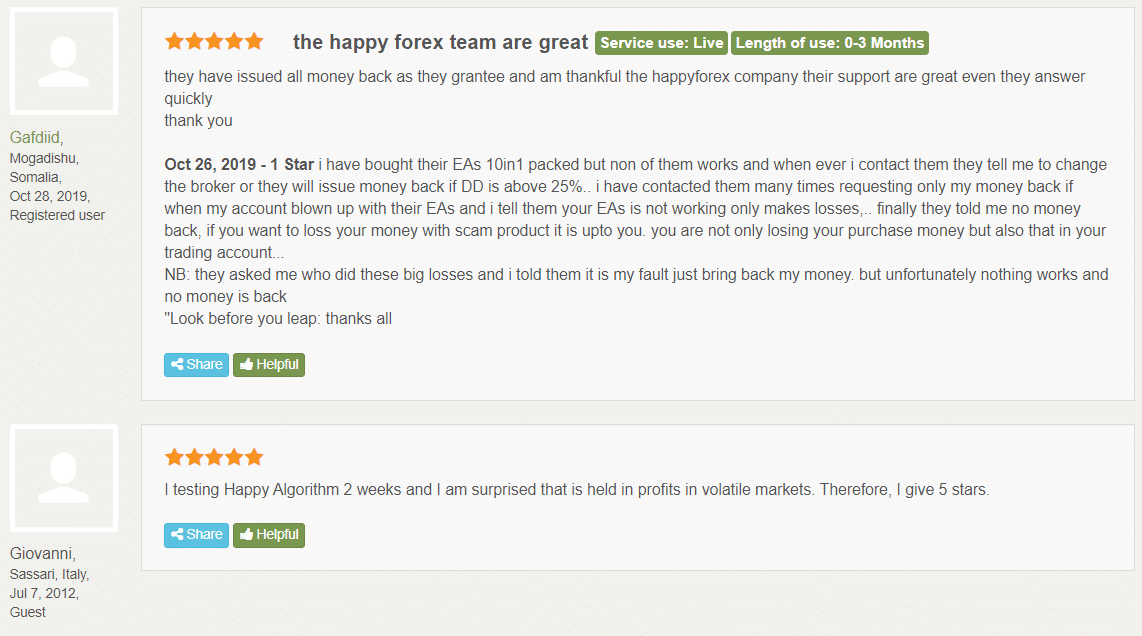 We don't know if people are satisfied with Happy Trend as a trading advisor.
What are the pros & cons of investing in Happy Trend?
| | |
| --- | --- |
| Pros | Cons |
| Backtest reports shown | No risk or money-management advice given |
| Trading results provided | No team revealed |
| A well-known design company | The advisor is unprofitable again |
| | We have no testimonials written about the system |
Happy Trend Conclusion
Happy Trend is a trading solution that was several times updated. The current version doesn't show stable performance that we could rely on. So, let's wait for the next update.