Happy Way is a trading system that works with different currency pairs and is designed for all traders, including new users in the Forex market. It can also trade on large accounts with the Metatrader application. Happy Way was created by Happy Forex. This is a company that specializes in developing Forex robots for traders interested in hands-free trading. Some of its creations are Happy Galaxy, Happy News, Happy Algorithm Pro, and Happy Market Hours.
There are 2 pricing options for Happy Way. The first plan costs €299 and affords you 2 licenses, whereas the second one is €499 and comes with 5 licenses. Notably, each pack includes 9 more EAs. Other features available in the offer are a complete tutorial user guide, unlimited use, free updates and upgrades, 2/5 real accounts, and unlimited demo accounts.

Key features
The main features of the robot include:
The system is fully automated.
It supports ECN brokers.
The EA offers a 30-day money-back guarantee.
It is easy to set up and trades 24/5.
It comes with auto-quotes detection 4 or 5 digits.
It is compatible with Windows 7, 8, 10, Mac OS, and Linux.
The robot can work on micro, mini, or standard accounts.
The supported trading terminal is MT4.
The minimum recommended deposit varies between $10 and $1000 depending on the account type used.
It works on the H1 timeframe.
The system supports several currency pairs, including USDCAD, AUDCAD, AUDUSD, AUDCHF, and CADCHF.
It provides 24/7 customer support.
Happy Way trading approach
Happy Way mainly works with the grid strategy. This method entails placing hedging orders below and above the set price. The EA doesn't utilize any indicator or the martingale strategy.
Backtesting results
There are no backtesting results for this robot. Backtesting usually evaluates the feasibility of a trading strategy by determining how it would have played out retrospectively utilizing historical data. As such, it allows traders to be aware of the profitability and risks associated with the strategy prior to risking any actual capital.
Happy Way live trading results
The devs have provided real-time data from Myfxbook that helps us to know how the EA is performing in the current market.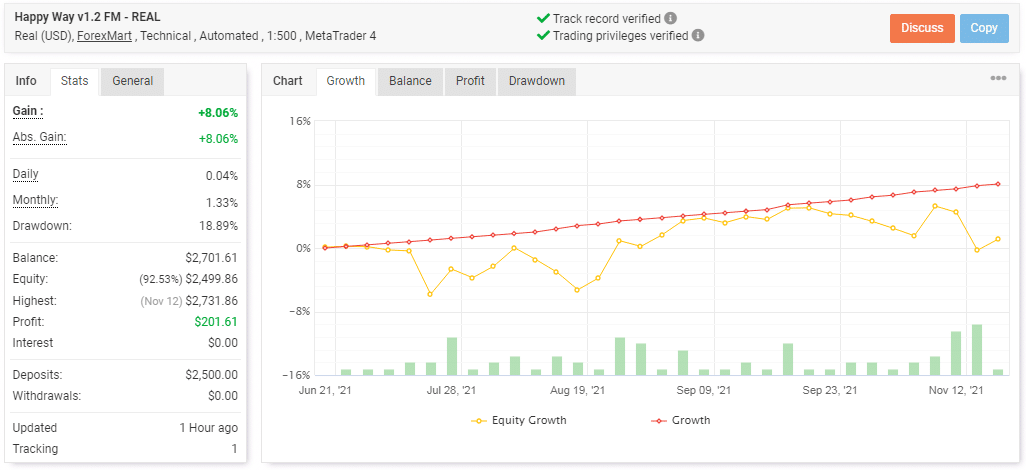 This real USD account was opened on June 21, 2021. It was initially deposited at $2500, and the EA's trading activities have led to a profit of $201.61. This amount is low. Consequently, the balance has only increased to $2701.61. Although the drawdown rate (18.89%) is small, it is far much larger than the monthly profit (1.33%). This makes the risk/reward ratio 14:1. With this value, the account has a significantly bigger chance of ending up unprofitable in the long run.

The system doesn't open trades frequently, and it can hold a position for 18 days on average. So, it has only executed 80 trades. The profit factor is 1.92, while the lots traded are 0.80. There are more losses compared to wins as we have an average win of 84.40 pips and an average loss of -97.31 pips. Win rates for long (70%) and short positions (66%) are undesirable. They show that the EA is not lucrative enough.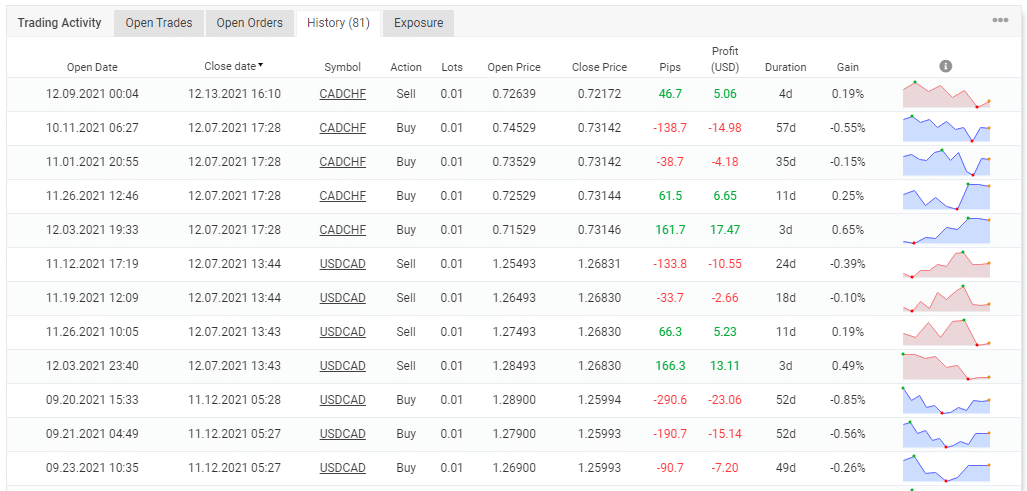 The system holds trades for long periods of time. It also works with fixed lot sizes and a grid of orders. True to the devs' claims, martingale is absent. Some significant losses have been made.
What are the risks with Happy Way?
As seen earlier, this robot applies the grid strategy, which can be very dangerous. It can possibly make your account go bankrupt. For instance, if the market continues going in a single direction and the EA keeps averaging positions, you may run out of money eventually.
Worth noting!
Happy Way lacks customer feedback. It could be that no trader has bought it yet.
What are the pros and cons of investing in Happy Way?
| | |
| --- | --- |
| Pros | Cons |
| Fully automated | Lacks a backtest report |
| Easy to set up | Zero customer reviews |
| Operates a real account on Myfxbook | Uses the grid strategy |
| | Bad risk/reward ratio |
Happy Way Conclusion
Being a fully automated system, Happy Way can easily trade in your absence. It is also easy to set up and doesn't require any experience to operate. All the same, you can't gauge the EA's long-term performance because the backtesting results are missing. The grid strategy on board is risky as it may make an account susceptible to losses.