Making profits for automated trading has become very famous in the trading industry as most trading platforms have integrated auto-trading functions. You can earn money by implementing a strategy into the system, but the best approach is to diversify the earnings from multiple uses of EAs.
Availability of technology, market size, increasing demand, and other facts introduce participants to different services and options such as signal service providers, copy trading, robots or expert advisors, etc.
Any forex trader with essential capability who also knows computer programming language such as MetaQuotes Language (MQL) can create expert advisors or trading robots. Moreover, he can earn money in several ways besides trading from his own EA.
This article will guide you on how you can boost your income from your own EA. So you can utilize your skills to increase your earnings by using proper ways and can achieve your goal of financial freedom.
What is EA?
Trading robots are programs that you can use to monitor and perform trades in the financial market. Many varieties depend on trading styles, such as hedge EA, scalper EA, breakout EA, etc. This algorithm works with historical data and technical movements to sort out profitable trading positions. The common fact about trading robots is either it is fully automatic or semi-automatic.
Users generally don't have to perform any trading activity who use a fully automatic expert advisor. The EA monitors the market and executes trades when the asset's price movement matches the conditions. No human interaction requires the use of this type of EA.
On the other hand, semi-automatic expert advisors allow human activity such as modifying parameters of trades, spreads, etc. You can also use this type of expert advisors only to send you alerts when it finds any profitable trading position. Expert advisors depend on mathematical terms and formulas to identify trading positions.
Make profits from your own EA
This part contains the ways or methods to make money from your expert advisor. Several methods are available, and you can use two or more at once to boost your income.
Profit from real trading
When you are creating an expert advisor or trading robot, then you must have skills in trading. You can make money from your EA through real trading. If your expert advisor is quite good and gets sufficient setups in the price movement, you will get a desirable amount of profits from trading. It will reduce your time spent on charts for analysis.
If your EA is fully automatic, it will execute your trades automatically when the price movement matches with conditions of your EA. You can set alerts features for semi-automatic expert advisors to send you notifications when it sorts out any profitable trading position. Then you can enter orders or ignore them completely. Profitability will be dependable on the correctness and efficiency of your expert advisor, besides your trading capital. In this way, you can increase your income from the financial market.
Regular traders perform analysis and execute trades manually. Meanwhile, your EA will generate trading ideas for you, and also you can have automatic executions.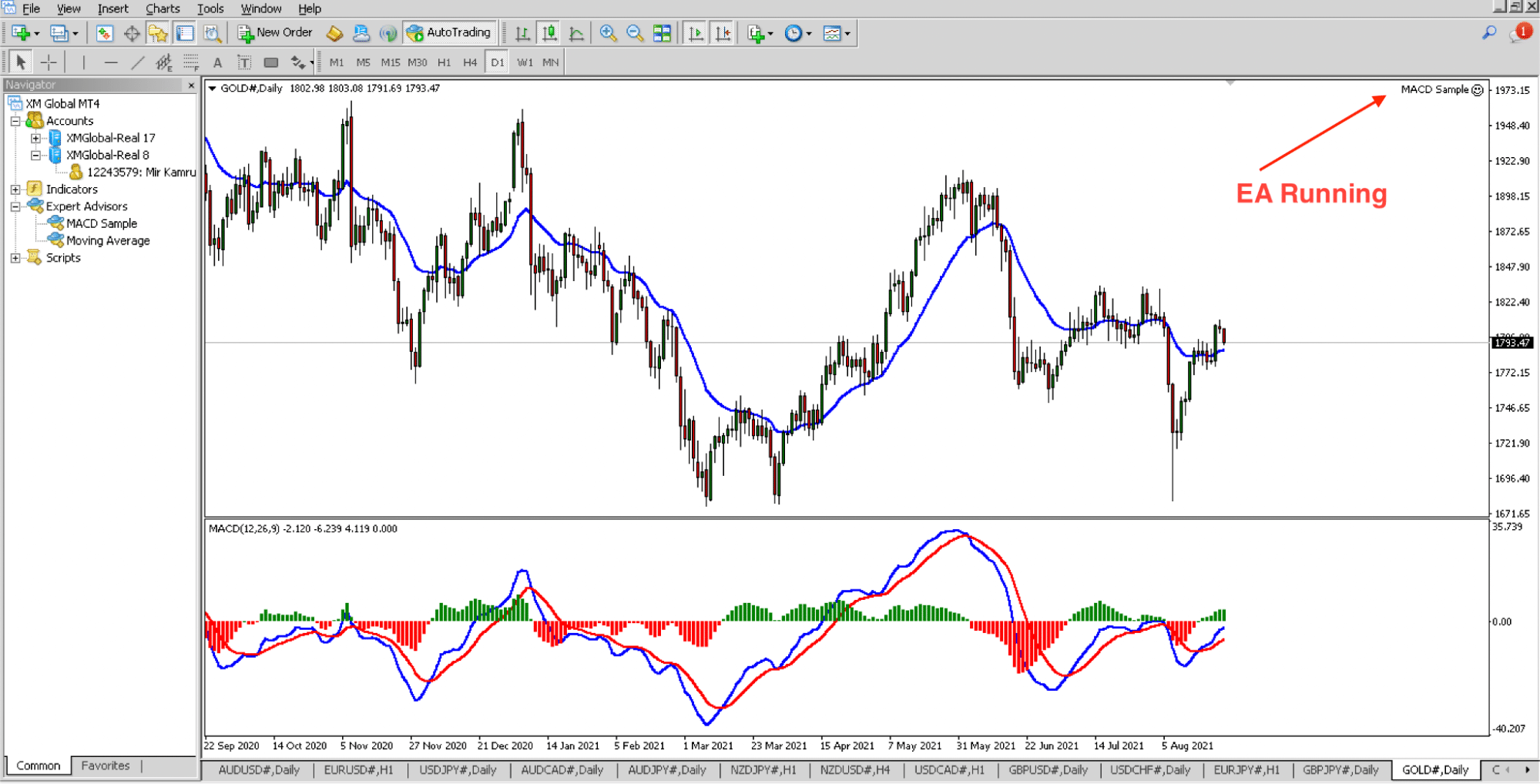 The above image shows how the platform looks like when an EA runs.
Profits from MQL5 integration
When you create a profitable expert advisor that makes continuous profitable trading positions, then you can easily increase your income by MQL5 integration. Traders follow signal services from their platforms by choosing signal services from EA providers with particular subscription fees.
You can make your EA available on the MQL5 server, so traders can see the performance of EA and choose your signal service. When they subscribe to your signal, they will pay the fee, which will go to your pocket. That would be some extra income besides trading with your EA. You don't have to perform any additional research or spend much time to earn it.
The above image shows a list of signal providers on the MQL5 website. You can also sell signals here so that people can earn money by copying your trades directly from the trading account.
Profit from selling your EA
Another way of making money from EA is to sell it. You can sell your advisor to the ones who need it. Many traders seek good trading robots to trade in the financial market. You can sell your EA to them at a reasonable price. It can be your extra income besides regular profits that you make from the financial market.
You may need to show evidence of your EA efficiency to the buyers. Traders spend $10 to thousands of dollars to purchase trading robots. The price will depend on the efficiency and capacity of your EA. Generally, the sellers create an offer price for their EA, and buyers buy at that price or negotiate. Here the seller is you; therefore, you will decide the price for your EA.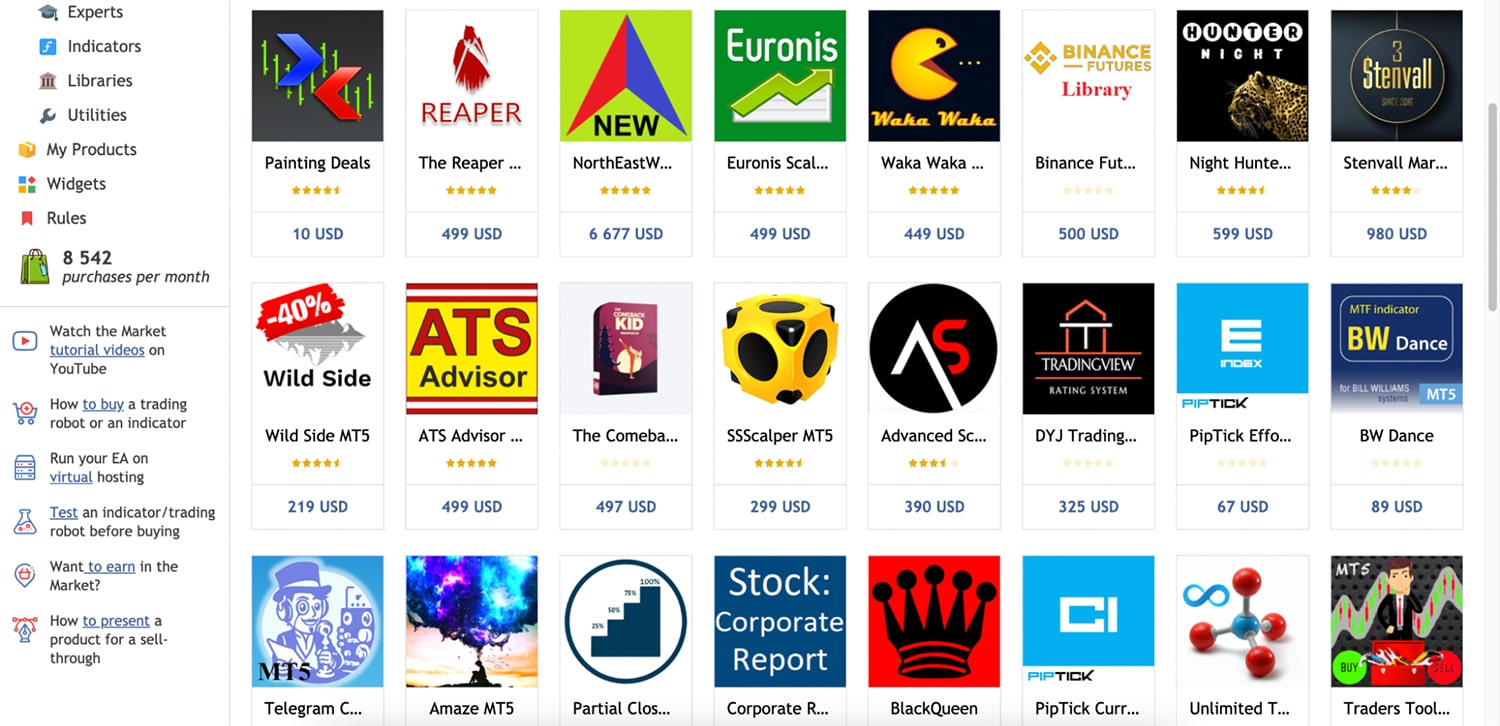 The above image shows the list of EAs available to see on the MQL5 website. You can sell your EA here and make money from it.
Investment sharing
Many investors seek fun managers to manage their investment in exchange for sharing profits. You can increase your earnings by investment sharing when you have a profitable expert advisor or trading robot. This method involves managing funds from investors besides your trading account.
Investors from anywhere around the globe can invest. You may don't have permission to make transactions or withdraw money from the trading accounts of your investors. You can perform trades using your EA on that account, and the investor will have an investor password to monitor your trading performance.
Generally, profit-sharing occurs monthly. After the end of the month, investors and fund managers share their profits from the investment. Investors share up to 50% of their profits with fund managers. So, you can make a lot of extra money besides trading with your EA from the financial market.
Final thoughts
Finally, these are the ways to make money from expert advisors. You can use any of them or two or more to increase your profits from the financial market. The central fact is you have to be the owner of an efficient and profitable expert advisor. It would be tough to make extra money if you have average trading robots, as the market is full of competition.
So it would help if you spend more time researching to make excellent expert advisors that will give you constant profits from the financial market. Moreover, you can make some extra money from this demandable marketplace with your trading robot.