Leprechaun is a trading system that manages XAUUSD on the real account. The presentation includes information that could help us to make a balanced decision about the robot. We are going to check its performance on the developer's account. 
The system can be purchased for as low as $33. It's a pretty welcome price. The previous one was $100. There's no rental options available. 
Aleksei Zaitsev is a developer who designed a single robot and stopped developing new ones. He has a 758 rate and his robot has a 4.3 rate based on 12 reviews.
Key features
We have various details explained about the robot and its functionality. We have managed to systemize all of this data in the list below. 
The advisor can provide us with automatic orders execution. 

We may do nothing in addition, supervision the system performance. 

The main strategy is based on a Grid of orders that doesn't belong to conevarive ways to trade. 

The only pair to perform is XAUUSD. 

It prefers opening orders on the American trading session. 

It doesn't keeps orders overnight so as to avoid a rough market opening. 

The volatile market conditions are good for that system. 

A calm market is not good for this trading solution. 

We have to work on an ECN account with it for better market conditions. 

The time frame should be set as H1. 

The minimum balance can be from 1000 USDC.

The recommended balance is $100. 

It's possible to work with any broker house. 
Leprechaun trading approach
It works with a Grid of orders strategy placing several orders to close the order with profit.

We can work with Gold on the H1 time frame.
Backtesting results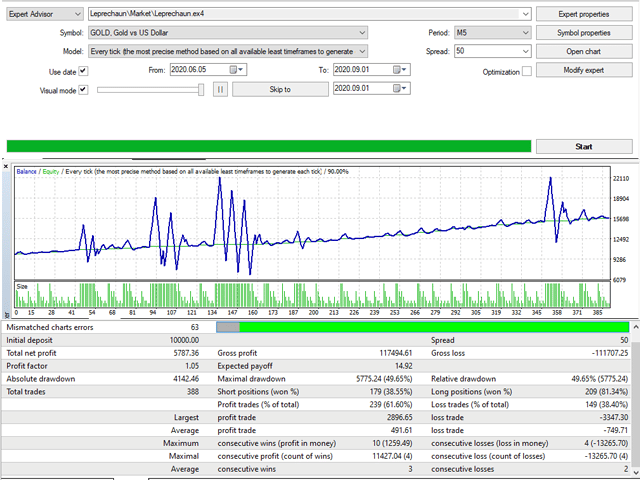 We have a weird report because the growth chart doesn't look professional. There was XAUUSD tested on M5 on the wide spreads of 50 pips. An initial deposit was $10,000. The total net profit has amounted to  $5,787. The profit factor is 1.05. The advisor has executed 388 orders. The maximal drawdown was 49.65%. The accuracy rate was 38.55% for shorts and 81.34% for longs. We don't know why they differ so much. 
Leprechaun live trading results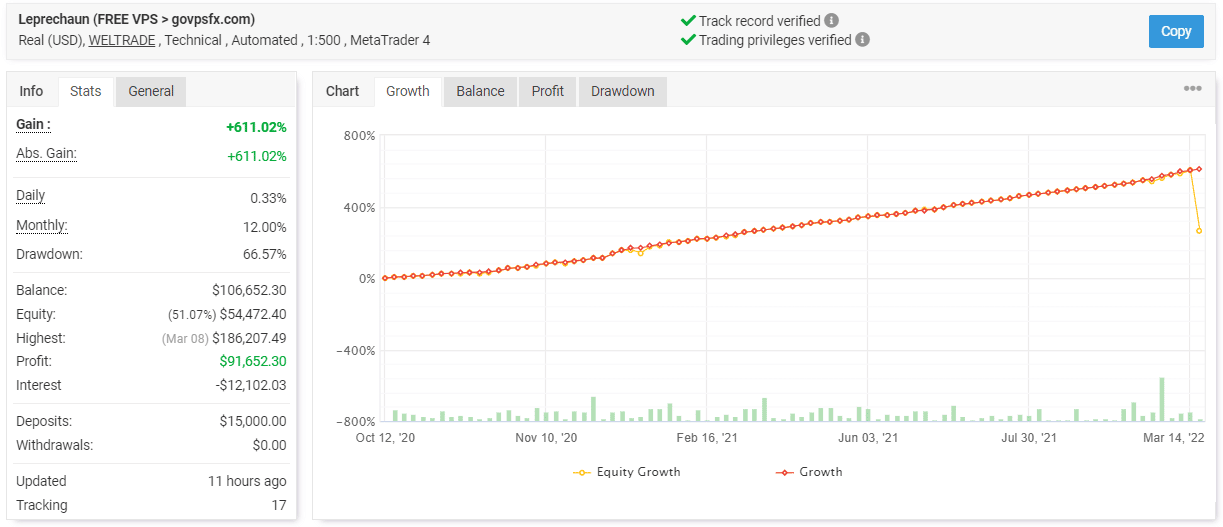 Leprechaun has been running a real USD account on WELTRADE with a common leverage of 1:500. It gets information about the market from the MT4 indicators. The account has a verified track record. It was created on October 12, 2020, and deposited at $15,000. Since then, the total gain has amounted to 611.02%. An average monthly gain is 12.00%. The maximum drawdown is 66.57%. There are seventeen traders who track the trading results.

Leprechaun performed 2,269 orders with 115,222 pips. An average win is 2136 pips when an average loss is -3860 pips. An expected accuracy is 66% for longs and 64% for shorts. An average trade length is 6 days. The profit factor is 1.14. 
The robot can make profits only in the long direction: $394,255.

The robot works with sky high risks. There's a 86.82% chance of losing 10% of the balance.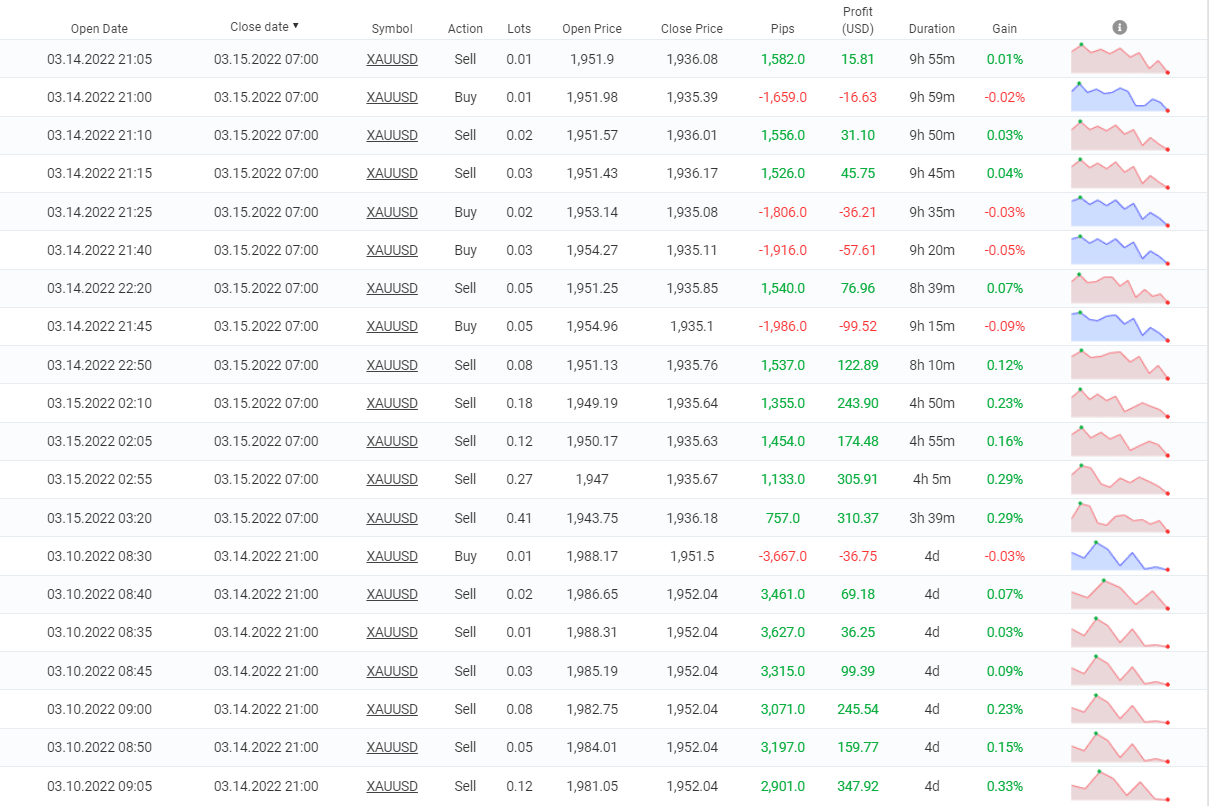 The robot works with moderately-sized Grids of orders with x41 Martingale.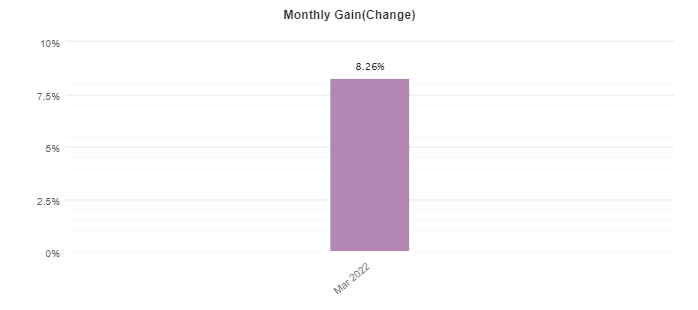 We may note that the robot hasn't been trading after March 2022.
What are the risks with Leprechaun?
The risks are significant because the robot not only uses huge Grids but also works with Martingale.
Worth noting!

We have both positive and negative comments on MQL5 One person can't customize the robot properly because of a mistake. Instead of providing support and assistance, the developer answered aggressively. 
What are the pros & cons of investing in Leprechaun?
| | |
| --- | --- |
| Pros | Cons |
| Affordable pricing | No risk advice given |
| A backetst report provided | The system works with aggressive Martingale and huge Grids |
| Trading results shared | Some negative feedback written |
Leprechaun Conclusion
Leprechaun is a robot that works on Gold using an aggressive combo of Grid and Martingale. The trading activities were stopped several months ago. The presentation includes information about how the system is going to perform and what we should expect from it. We don't know what we have to expect from the robot, because the developer doesn't provide us with actual trading results to analyze.